To all who come to this photo trivia game, welcome! Along the way, the photos can make us relive memories and see details that Walt's Imagineers put into everything we love in Walt Disney World!
I got an idea, Players. You know I sometimes ask my family and friends to name what the new challenge will be. How would you like to do it? I'll make a list of interested people and then contact one of them. They get to pick the challenge; if it should be easy/medium/hard. You realize it'd mean you couldn't play that week, but you'd get to so how other players react.
What do you think?
And now: Challenge #656:
And here's the answer: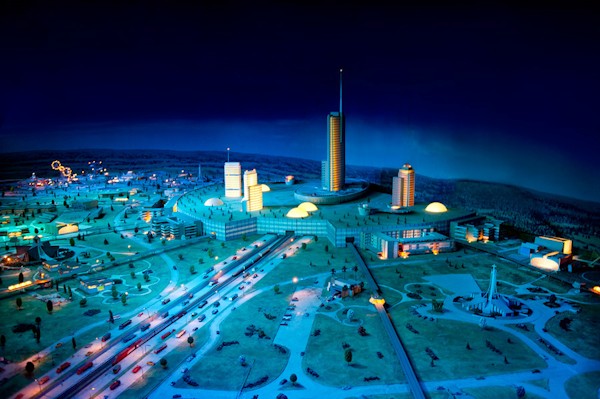 Walt's Progress City model during the PeopleMover! You can see the whole thing and him discussing it in full in the "Walt Disney Treasures – Tomorrow Land: Disney in Space and Beyond" DVD set, specifically Walt's last film, "EPCOT".  You won't see any other film that gives the most detail. One note: if you do watch this, it's the investors presentation so it's drier than the shorter one for entertainment. Kids will get bored fast.
Kerry A. put the "Paging Mr. Morrow, Mr. Tom Morrow' in my head.
Deb Ragno, I absolutely will accept People Mover. I will also accept "Couch with a breeze". 🙂 (I think Yesterland coined that term.)
This one was my husband's choice; it's his favorite ride and since it was his birthday…
Edward Suscreba was the first to send in the correct answer! Congratulations to Edward  and all our winners this week!  Sherry Knoster, Claire Gregory, Carolyn Kelley, Deb Ragno, Brian Gallant, Deb Ragno, Andreas Beer, Axel Beer, Luis Rodriguez, The Kuroly Family, Andy Hickey, Barry Gruber, Kerry A., Emily Hudson, Joseph M. Zafia, Adolph And Kimberly Timm, Team Hill, Beau Harrison, Debby Stailey, Steve Knapp, Andrew Eckert, Ronnie Alvarado, Grumpys Groupies, The Kertes Family, Barbara Hicks, Richard Long, Tim Burr, Linda College, Barbara Diclementi, Scott C, Joyce And Steve, The Parker Family, Jim Wieczorek, Ted Flory, Ken Savage, Beth Mcmeekin, Samantha B, Martha & Justin Collins, Chris Kelly, Terry G, Phyllis, Erin Hammer, Jim Finley, Shawn Mcgovern, Sue And Ed Adams, Matt Earl, Mark Brooks, Timothy Snyder, Jennifer Petix, Janet T Thorn, Tony Bivens, Matthew Cofone, The Nufranick Family, The Gunnels Gang, Joann Albrecht, Alan Gates, Anne And Jeff, Stacy Sanders, Karen Fichter, Erin Hammer, Kenneth Jackson, Mike Berg, Belicia, Scott C., Mike Haeberle, Glenn And Nancy Motson, Michelle Fure, Paul And Kelli Grundman, Theresa Maradei, Holly Baxter, Mark Hardy, Laurie Walker, Caroline Sciore, F Williams, Dawn Fowler, Les Whitten, Leisa Stoeckert, Cheryl Costello, Tom Patton, Linda Hoffman, Linda Hoffman, Marissa Mullen, Jodie S., David G Crockett, Sandie Albrecht, Jim & Lorie Sonnen, Brian Richmond, Arlene Vicek, Theresa Rucando, Christina Wendt, Robert, Shauna Major, Linda Ranatza, Roger Yee, Becky Hosinger, Kristi Jack, Jodi Cook, Josh Weiss, Reichl Family, Adam Love, Bob Patterson, Cathy Connors, Vera And Izzy Williams, Jessica Creech, Janet Petrocelli, Nance Speth, Lou Bodofsky, The Wolf Family, Shannon Benton, John Phillips, Colin Moore, Christine Dagney, Kim Juday, Richard Mckillop, John Debow, Sue Bridges, Sandra Debow, Michelle Heinz, Dave, Michael Chesmore, Vicki Britt, Herb Miller, Bob Henriksen, Elaine Prosecky, Loring Family, Tammy Cronin, Hunter Armstrong, Nancy Cole, George Mundy Jr, Sarah Kreps, Melissa Littman, Patty, Donald Purney, Russ Morgan, Robert Flaherty, Jeff Blank, Sherry Trapp, Barclay Bakkum, Ruth Woodhouse, Kristin Dormuth, Jane Johnson, Gallagher Family, John Grosz, Sherri Pell, Maddie Inman, Dee Dee Kenney, Howard Mcallister, and Monica!
Time for the monthly drawing! And the winner is: Les Whitten! Congratulations, Les! I'll email shortly about your prize!
______________________________________________________
Challenge #656 Where in the world is this?
Something easy. We're in the parks but this is very general. You can probably them everywhere, so can you identify what it is?
Do you know? Do you have a guess? Send in your answer before the end of the day on Thursday, October 8th by clicking on the blue box below. Please do not post your answers on this blog post.
See you soon, Players!

_____________________________________________________________________
Everyone who sends in a correct answer to a Where in the World Challenge this month will be entered in a drawing at the end of the month for some special AllEars® goodies!
Be sure to follow @allearsnet on Instagram and Twitter!
Check out our YouTube Channel for reviews, news, information, and more!
Click below to subscribe to the AllEars® Newsletter so you don't miss any of the latest Disney news!