Last weekend saw the opening of Pixar's latest offering Onward, which placed number one at the box office.  The fact that it was still a relatively modest opening for a Pixar film is a testament to the historical strength of the studio.  One of the many formats available for viewing Onward is 4DX, a multisensory process that adds motion, wind, light, and water to the movie-watching experience.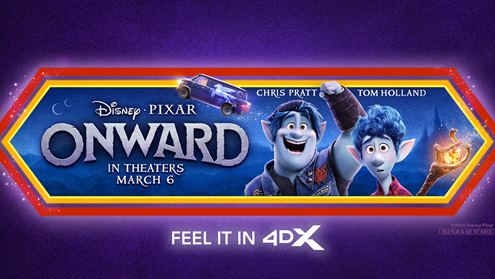 The first time I enjoyed a film in 4DX was with Frozen 2, which, with its emphasis on different elemental spirits and big action sequences, made dramatic use of the different effects.
Onward is a film a little smaller in scope than Frozen 2, and consequently I found the integration of the special effects a little more subtle.  Because a large part of the movie takes place with the brothers careening around in a dilapidated old van, the main sensory addition is the synchronous seat movement that gives viewers the feeling of literally being along for the drive.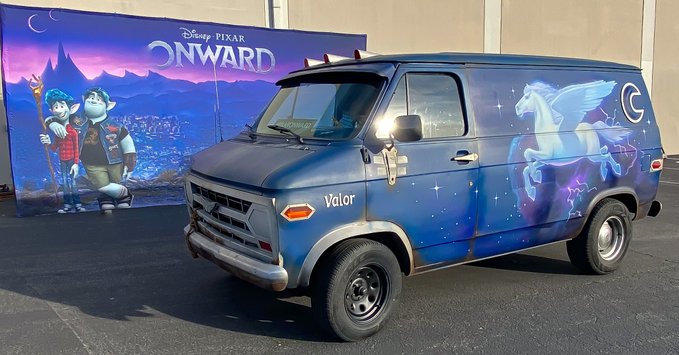 Aside from experiencing the bumps and jolts of Ian's driving, the seats also sway along with the boys floating down a waterway, and big magical spells yield wind and brief strobe lighting.  All of these enhance the movie without pulling the viewer out of the story, unlike the 4DX trailer for the next Top Gun film that played before Onward, where the movement was so violent I felt like people will need seat belts to keep from getting thrown off the seats.
As usual, the main deterrent to 4DX is the cost–one ticket for Onward in 3D 4DX at the theater I attended was around $28, while a standard ticket was about $16.50.  While I didn't think the experience was as much of an addition as it was in Frozen 2, I do think that unlike with Frozen 2, you could see Onward for the first time in 4DX without having to worry about being overly distracted from the plot.  Of course, as with any entertainment that involves movement and bright lights, people who are sensitive to such things need to exercise caution.
As for the film itself, Onward is, much like its 4DX effects, more subtle than you'd expect for a film about two elf brothers in search of a magic gem to bring their late father back for a day from the dead.  It's a personal tale born from director Dan Scanlon's lifetime of wondering about a father he never knew.
While the world around the Lightfoot family–a fantastical place where magic has gone the same route as craftsmanship today, abandoned in favor of speed and efficacy–is as well-developed and funny as you'd expect from a Pixar project, it's the characters that make the film.  Awkward, introverted Ian is a perfect foil for the ebullient, overly-confident Barley, and their interactions which tend to be 60% affection and 40% aggravation ring true for many sibling dynamics.
Voice actors Tom Holland and Chris Pratt do a terrific job bringing these flawed but endearing brothers to life with the same charisma they've displayed in their on-camera Marvel work.  Even smaller characters such as Grecklin, the pawn-shop owner voiced by the fabulous Tracey Ullman, are so well-executed as to leave you wishing for more of them.
The art design is a little broader then we're used to seeing from Pixar in some aspects, which lends itself well to the sight gags that pepper the film and serve to lighten up what can be a heavy story at time.  The Manticore's Tavern is a great scene that is sure to evoke memories of birthday parties at Farrell's Ice Cream, and the trash unicorns make raccoons look like janitors.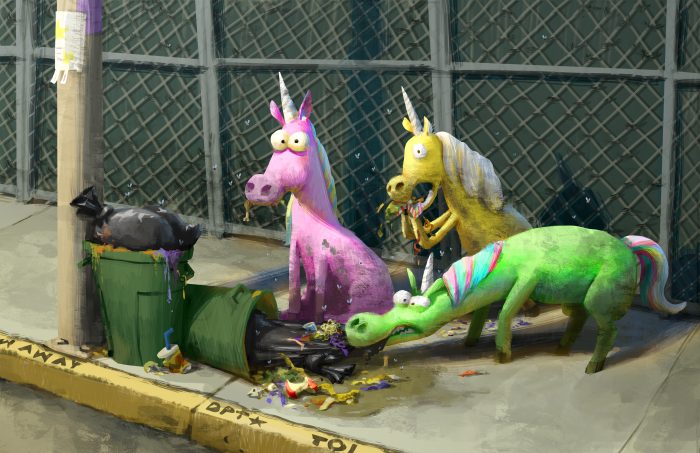 The story is touching and, I think, most effective for people who can relate to some part of the depicted family dynamic. I have heard it referenced as "Frozen for brothers", or anyone who has lost someone they desperately want to see again, even if only for a day.  While it is a fun movie, its deep grounding in real life feelings and issues somewhat limits the scope of where the story can go.
Pixar has always been known for occasionally going for tears, but this one so relentlessly jabs at your lacrimal glands over Ian's fatherless state that at times it feels in danger of evoking sadness fatigue.  The ending of the film is both sweet and unsurprising, and gives a little resolution to all its characters, and maybe when dealing with losses of this magnitude that's the best you can do.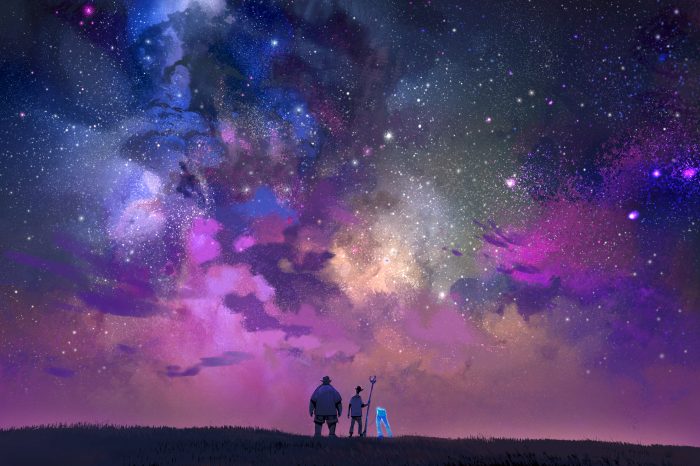 Onward is currently in theaters nationwide. For more information about the 4DX Experience, visit their website here.
Be sure to follow @allearsnet on Instagram and Twitter!
Check out our YouTube Channel for reviews, news, information and more!
Do you think 4DX is worth it? Let us know below!
Click below to subscribe to the AllEars® newsletter so you don't miss any of the latest Disney news!

Author's Note: A ticket to Onward in 4DX was provided to me for the purposes of review with no constraints on thoughts or opinions.