To all who come to this photo trivia game, Welcome! Along the way, the photos can make us relive memories and see details Walt's Imagineers put into everything we love in Walt Disney World!
A number of countries celebrated Thanksgiving this past week. I hope everyone had a great holiday!
Now for Challenge #563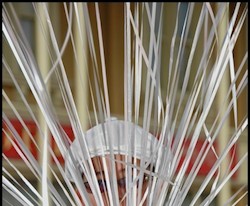 And here's the answer: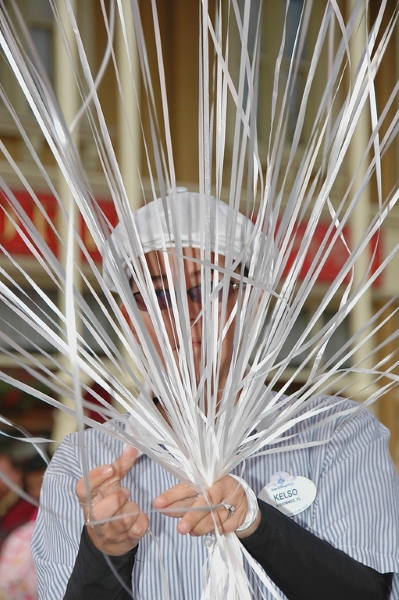 A Magic Kingdom cast member peeks through his balloon strings!
Larissa Huda was the first to send in the correct answer! Congratulations to Larissa and to all our winners this week!  Gloria Martin, theresa rucando, Margaret Convery, The Kertes Family, Adolph and Kimberly Timm, Renee Hardiman, The Gunnels Gang, Cathy Fleming, Dan Donovan, linda hoffman, Ken Savage, Bob Henriksen, Tammy Warmouth, JoAnn Albrecht, Team Hill, Josh Weiss, Bruce Hinterleitner, Sands Family, Mike and Jackie McLucas, K Beasley, Andreas Beer, Beth McMeekin, Les Whitten, Tricia Petty, David brown, Michael Haeberle, Jose Caballero, linda scrivano, Ed Suscreba, Smitty, Shelly, Axel Beer, phyllis, The Boring Family, Grumpys Groupies, Stacy Sanders, Claire Gregory, The Reichl Family, Ken, Maureen and Warren Handy, Belicia, Brian McWithey, Scott C., Kali Allison, Vera and Izzy Williams, Jim & Lorie Sonnen, Richard McKillop, Andrew Carrieri, Laurie Walker, Theresa Maradei, Nan Amor, Luis Rodriguez, sandie albrecht, Andy Hickey, Martha and Justin Collins, Janet T Thorn, Vicki Britt, Michelle Vermeersch, Diane Curfman, Erin Hammer, Jeff Blank, Joseph M. Zafia, Robert Hildebrandt, Curtis Bille, Michelle Palazzo, cameron lange, Sandra Edwards, sarah kreps, Rebecca Keenan, Leigh Mertz, Krista Connolly, Krista Connolly, Karrie Rodriguez, Jeremy Reichelt, Sandy Ceplecha, Bob Hendrix, Michael OBrien, Michaela OBrien, Karen O Brien, Scott Sangston, Jamie Poynton, Mike & Jackie McLucas, Karen Scharer, Hunter Armstrong, Maddie Inman, Pensacola Glenn, Karen Aguiar, cathy mullen, Carri Marotto, Gallagher Family, The Patterson Family, Stacie Huang, Kristi Jack, emily hudson, Tracy Funk, Dee Dee KEnney, Jessica Polizzotto, Eric Enli, Ken LaForest, Jim Bennett, Tony Jack, matt petty, Jim Finley, Sue and Ed Adams, Elizabeth Rudy, Ryan T., Jackie Graebel, Donald Purney, Chris Gretchen and Katie Barnes, Barclay Bakkum, sheila bagg, Maryann daly, Sheila and Kelly Barnes, Jamie Steiner, Christi Ison, Monica, Jennifer Masotti, Jennifer Masotti, George Mundy Jr, Bob Karbach, Susan Masotti, Peggy Saeger, Judy Wuchter, Melissa N, and Jodie S.!
_______________________________________________________
Challenge #564 Where in the world is this?
Time for the last of November 2018! Who is this wearing Santa's coat?
Do you know? Do you have a guess? Please send in your answer before the end of the day on Thursday, November 29th, by clicking on the blue box below.
Please do not post your answers on this blog post.
See you soon, Players!

_____________________________________________________________________
Everyone who sends in a correct answer to a Where in the World Challenge this month will be entered in a drawing at the end of the month for some special AllEars® goodies!