To all who come to this photo trivia game, Welcome! Along the way, the photos can make us relive memories and see details Walt's Imagineers put into everything we love in Walt Disney World!
We still had problems with missing entries, so I caught them up and we'll have an additional drawing.
In the wrestling with technology, I missed Thanksgiving for everyone in Canada. I'm so sorry! I hope you had a wonderful holiday!
Now for Challenge #561
And here's the answer: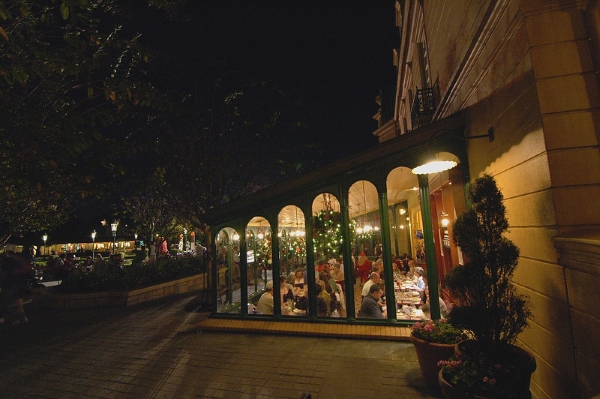 Chefs de France in Epcot!
The Gunnels Family had a coup that apparently worked; you can imagine the gloating that's going to happening there!

Larissa Huda was the first to send in the correct answer! Congratulations to Larissa and to all our winners this week!   Cathy Fleming, Jim & Lorie Sonnen, Laura Sponaugle, Vera and Izzy Williams, Gloria Martin, Adolph and Kimberly Timm, Beth McMeekin, Theresa Maradei, Ken Savage, JoAnn Albrecht, Julia and Carol Wickware, Ken Maikowski, Scott C., Team Hill, Belicia, phyllis, Gunnels Family, Tricia Petty, Sandie Albrecht, Martha & Justin Collins, Ronnie Alvarado, steve Knapp, Bonnie Jean, Josh Weiss, K Beasley, Jeremy A Hardy, Luis Rodriguez, Patricia Morin, Smitty, Deb Ragno, Kara & Jay R., Al & Kerry Ganter, Vicki Britt, Sue and Ed Adams, Bob @ Kathy McKim, Andy Hickey, The Kertes Family, Maureen and Warren Handy, Joseph M. Zafia, Dee Dee Kenney, barb di clementi, linda scrivano, Patty Carty, Axel Beer, Elaine Prosecky, MaryAnn Eckenrode, Chris Gretchen and Katie Barnes, Jenn German, stefan owens, Tammy Warmouth, Wendy T Faler, Kelly Albright, Ken, Debra Kuklinski, Kris Nixon, Theresa Rucando, Joseph M. Zafia, The Boring Family, Team Bonnie Sue, Andrew Carrieri, Ed Suscreba, Russ Morgan, Michelle Williams, Eric Enli, leach family, Melissa Haeberle, Stacie Huang, Emily Eldridge, Jim Finley, Jeff Blank, Erin Hammer, wayne chadourne, Ashley Collins, Carol Baranowsky, Carol Baranowsky, Karrie Rodriguez, Rebecca Keenan, Sarah Kreps, Mark Hardy, Grumpys Groupies, Jeremy Reichelt, The Patterson Family, Herb Miller, Jason K, nicole ansert, Sandy Ceplecha, Kate Buck, Tony T, Kristen Funk, Jamie Steiner, Richard McKillop, Shelly Borella, Emily Hudson, Nan Amor, mis jamie marie, Jamie Poynton, jim Looney, Janet T Thorn, Fred Terluin, vanessa gordon, Jodie S., Melissa N., Kyra, Jessica Polizzotto, Hunter Armstrong, Cheryl Costello, Cindy Harding, deborah weber, Annie Middelberg, George Mundy Jr, Barclay Bakkum, Donald Purney, Shirley Garcowski, Hillary Waldroop, Jane Johnson, Michael, Vincent DeGasperis, and Shelby Watson!
Time for the special monthly winner! And that Player is: Kyra! Congratulations, Kyra! I will be contacting you shortly about getting your prize!
_______________________________________________________
Challenge #562 Where in the world is this?
Leaving the parks! I was going to make this tougher, but you've been through a lot lately, so thank you!  So where's this rather mouse-like figure?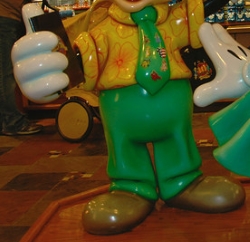 Do you know? Do you have a guess? Please send in your answer before the end of the day on Thursday, November 15th, by clicking on the blue box below.
Please do not post your answers on this blog post.
See you soon, Players!

_____________________________________________________________________
Everyone who sends in a correct answer to a Where in the World Challenge this month will be entered in a drawing at the end of the month for some special AllEars® goodies!