As an early Christmas gift for the holiday season, Walt Disney Studios and Directors Lasse Hallström, and Joe Johnston present audiences with "The Nutcracker and the Four Realms."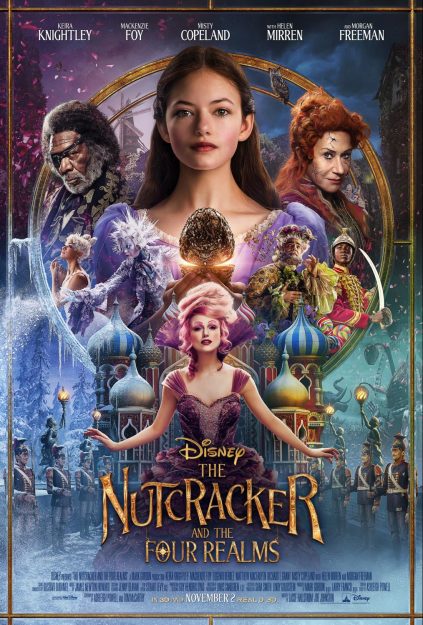 Loosely based on E.T.A. Hoff mann's original story, "The Nutcracker and the Mouse King" and the subsequent Tchaikovsky ballet, this version gives an updated look at a young girl's adventurous Christmas, spent with a Sugar Plum Fairy, a Mouse King, and a trusty Nutcracker.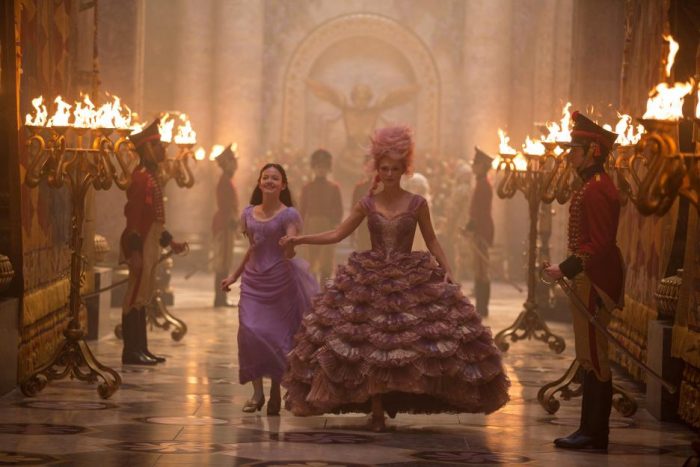 Clara, a 14-year-old girl in Victorian England, is a bright, budding inventor with an instinctive knack for machinery whose world is upended by the loss of her mother.  Although the rest of her family is clearly suffering as well, Clara's unorthodox interests and dissatisfaction with a traditional female role contribute to her feeling alone and lost, except for the time she spends with her kindred inventor spirit, Godfather Drosselmeyer.
Spurred on by an enigmatic gift from her late mother, Clara must undertake a journey to an alternate, parallel world where the political unrest and violence mirror the agitation and distress in her heart.  As she struggles to discover what her mother's last message to her was, she must also endeavor to make whole a kingdom divided by fear and anger and loss all while trying to resolve her own feelings of grief and self-doubt.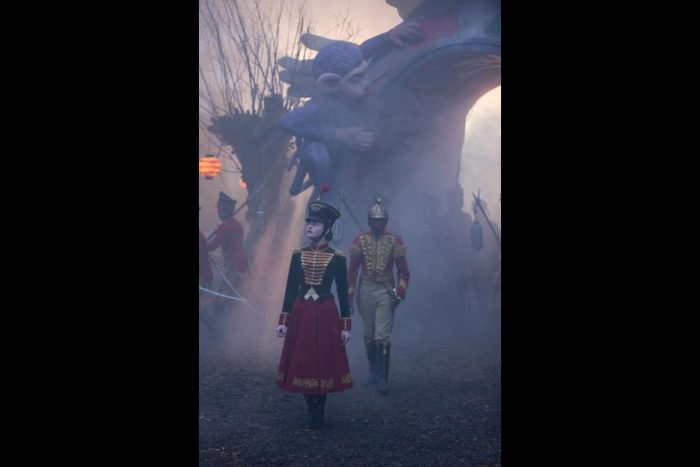 The film is an excessively pretty production with a heavy emphasis on the wildly fantastical and mildly disturbing — sort of a "Tim Burton lite" aesthetic.  Production Designer Guy Hendrix Dyas does a beautiful job creating both the gorgeous and extravagant Christmas ball at Drosselmeyer's house and the imaginative and largely CG environments of the Four Realms.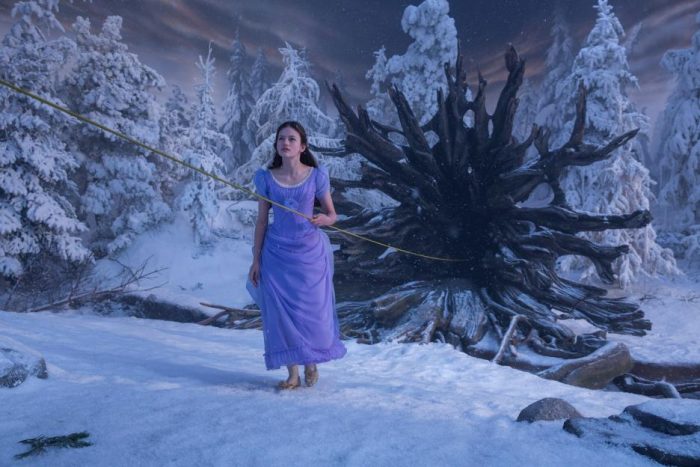 As you might expect, the music is wonderful, with composer James Howard's soundtrack built on the Tchaikovsky ballet score.  From the brilliant orchestral pieces recorded by the London Philharmonia with conductor Gustavo Dudamel (filmed in a couple of "Fantasia" referencing shots) to the lovely end-credit duet of Andrea Bocelli and his son Matteo Bocelli "Fall on Me," the sound mirrors the film's lush, saturated settings.
One of the highlights of the production is the dancing, featuring American Ballet Theatre's Misty Copeland.  Her ballet introducing the Four Realms and over the credit sequence brings a theatrical energy that you wish could continue a little longer and with less interruption.
What comes off a little less compelling is the film's actual story line.  There seem to be so many interesting, disparate plot points that there really isn't time to touch on all of them in more than a cursory fashion.  Morgan Freeman and Helen Mirren as Drosselmeyer and Mother Ginger have a fun time as an eccentric inventor and a piratical realm regent respectively, but they have very little screen time with their hinted-at secrets largely remaining untold.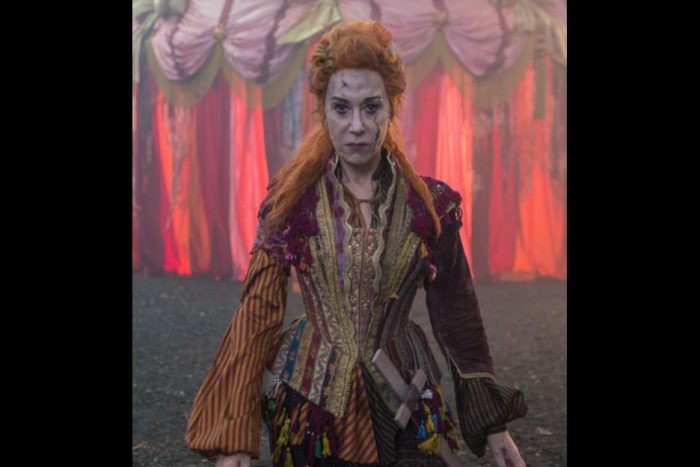 Keira Knightley probably comes off best as the Sugar Plum Fairy, and is almost unrecognizable in her cotton-candy hairdo (which she occasionally eats) and high-pitched voice.  Although she could have used more backstory, Knightley manages to make her diabetic nightmare of a character a believable avatar for Clara's feelings towards her mother.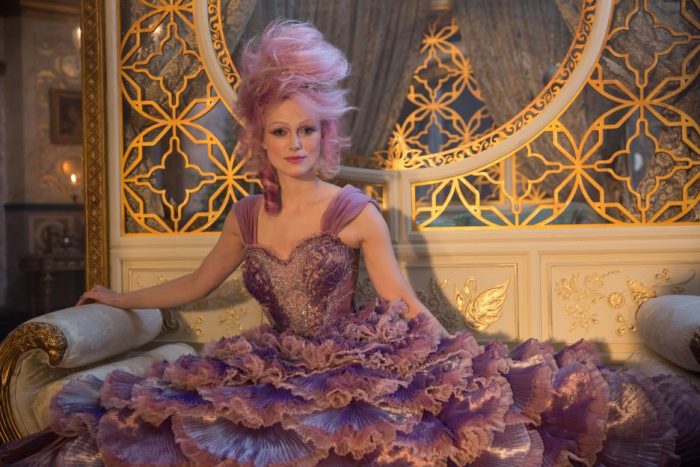 Ultimately, "The Nutcracker and the Four Realms" is a beautiful production that bleeds over-the-top craftsmanship but doesn't give as much heart to its story as you might expect.  Clara undergoes trials and defeats, but overcomes most of them so quickly, it's hard to know how much impact they could have on either her or the viewer.  Children will be entertained by the spectacle of the whole thing, but anyone with fears of rodents or clowns should probably steer clear as there is a healthy amount of both in this film — CG or not, it's a little disturbing to see thousands of rats form an enormous mass and then swarm over Clara several times.  It doesn't seem to bother her much, although I would probably never stop taking a shower again.
A representative moment from the film is toward the end when Clara dons a formal gown:  It is breathtaking, with yards and layers of gossamer and lace and gold and silver.  There are thousands of Swarovski crystals and fairy lights on and in it, and Mackenzie Foy looks amazing wearing it.  The level of detail and work that went into it is clearly obvious.  We are also not entirely sure why Clara is wearing the gown, or what she's doing, and it very quickly switches to her wearing another dress doing something else entirely.  This, in a nutshell, is "Nutcracker."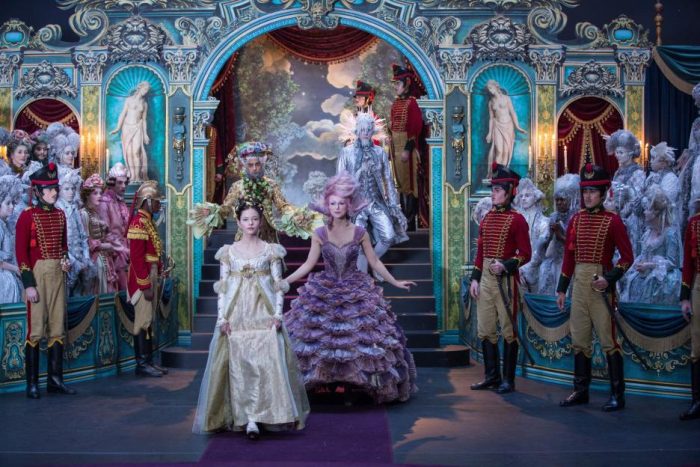 "The Nutcracker and the Four Realms" is presented by Walt Disney Studios Motion Pictures. Rated PG, it stars Keira Knightley, Mackenzie Foy, Eugenio Derbez, Matthew Macfadyen, Richard E. Grant, Miranda Hart, Sergei Polunin, Jayden Fowora-Knight, Omid Djalili, Jack Whitehall, Meera Syal, Ellie Bamber, Misty Copeland, with Helen Mirren and Morgan Freeman.
Directed by Lasse Hallström andJoe Johnston and produced by Mark Gordon and Larry Franco . Screenplay by Ashleigh Powell.
The film enters US release on November 2, 2018.
Will you be seeing "The Nutcracker and the Four Realms" over the holidays? Do you agree with our reviewer's take on the film? Leave a note in the comments below.
And be sure to sign up for the AllEars® newsletter so you don't miss a bit of all the upcoming Disney holiday news!