Contributing photographer Jason of disneygeek.com sends us these photos from his trip to the parks on Friday, March 24, 2017. For a more indepth look be sure to visit his full picture set.
An overview of the Star Wars / Rivers of America from the Mickey and Friends Parking Structure –

Over the past few weeks more and more trees are being planted along the new berm.


The retaining wall and footers are going in for the new train trestle that will cross the entrance walkway leading from Critter Country to the Star Wars area.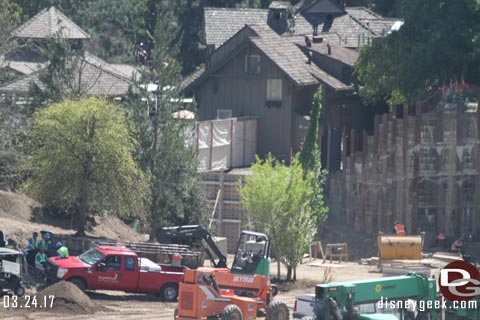 A look at the marina structure which looks like it is being prepared for trees to be planted on the roof.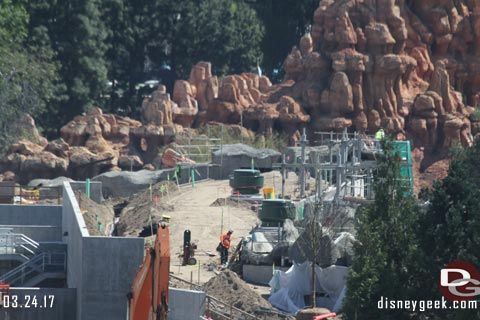 The show building status for this week. It is slowly being extended toward us.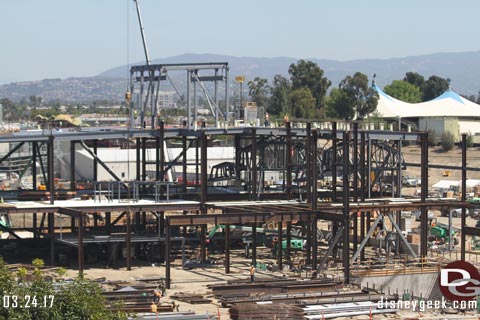 A wider view of the area.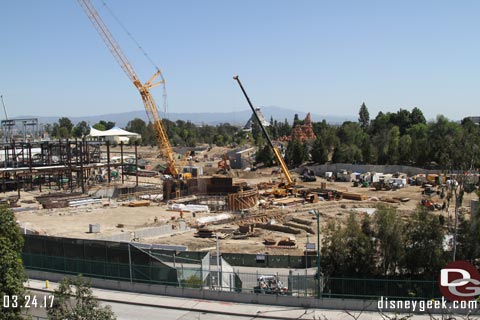 Spring Time at the Disneyland Resort.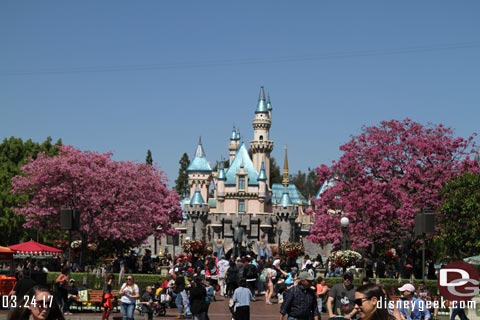 A check of the work from the end of the Big Thunder Trail.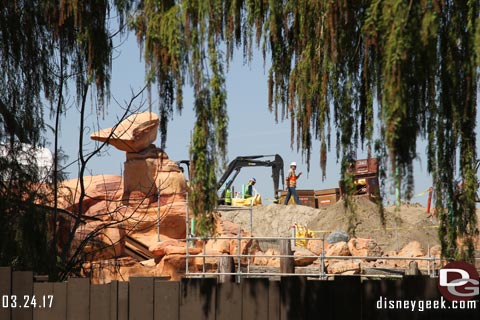 Over on the Critter Country side, the next section of rebar for the riverbed is installed and waiting for concrete.


The Autopia reopened Friday after a quick renovation project. Several scenes featuring Honda's ASIMO Robot and a new Bird character have been added along the roadway. Here is the first one from the queue.



The queue video screen features ASIMO and Bird watching films and then showing vacation photos.

ASIMO & Bird recreating a scene from Tangled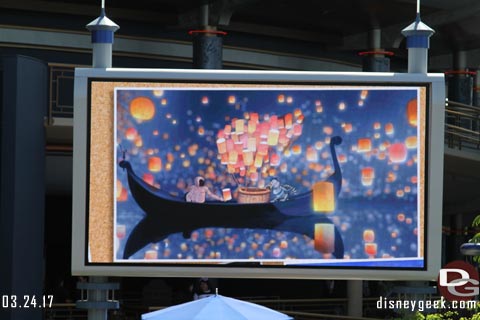 Here is a video clip of my walk through the indoor queue area.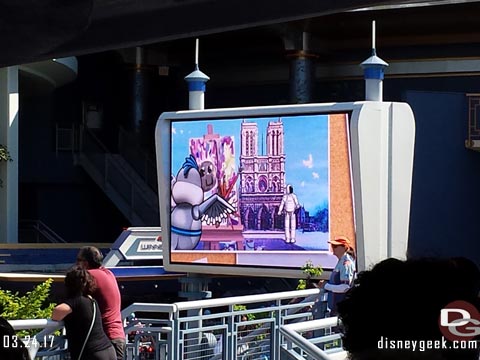 ASIMO and Bird setting off on their adventure.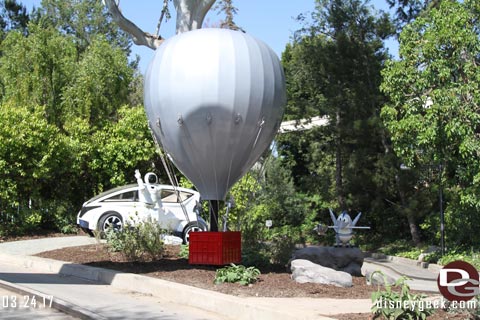 A closer look at bird.


ASIMO by a car.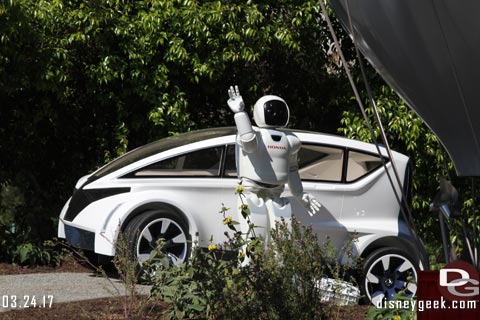 The next scene Bird is caught up in a flying contraption.


Bird is caught on a kite.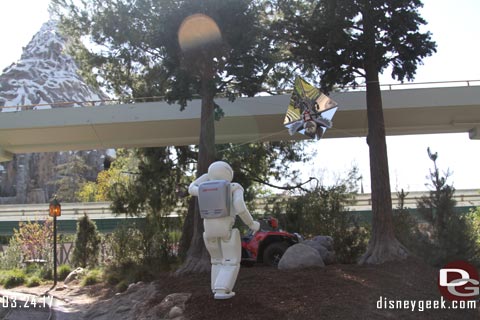 Here is the reverse angle taken from the Matterhorn walkway.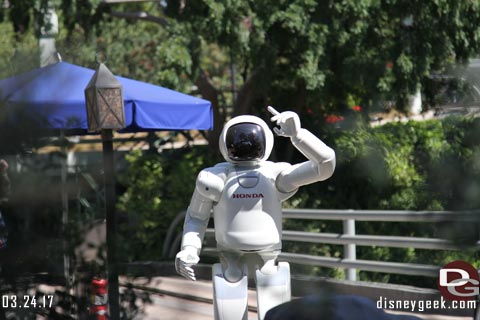 ASIMO and Bird camping.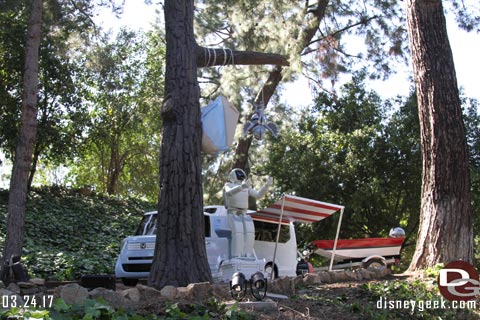 A Honda Jet billboard at the finish line.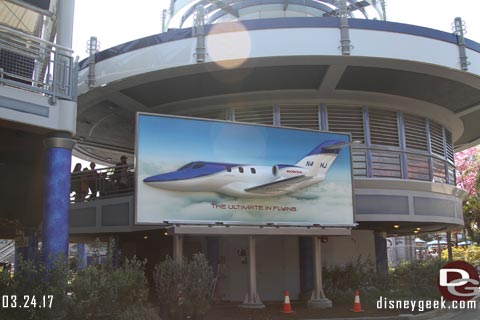 In Fantasyland spotted Belle and Beast enjoying King Arthur Carrousel.

Mickey's Soundsational Parade returned Friday


At the nightly Flag Retreat Ceremony the Tuskegee Airmen were honored this evening.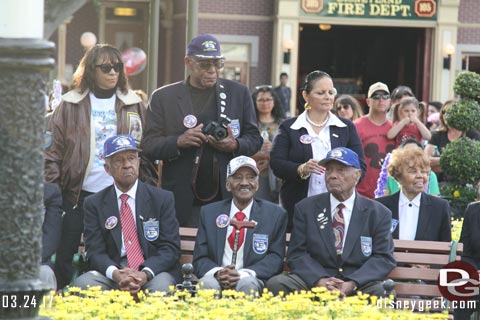 Here are a couple video clips from the Flag Retreat honoring the Tuskegee Airmen at Disneyland.

After the ceremony the flag was presented to the group.
Smiles all around.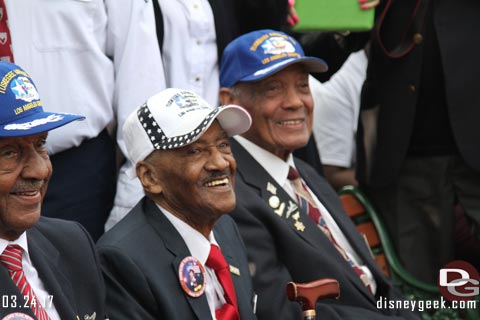 Guardians of the Galaxay – Mission: Breakout! opens in about 2 months.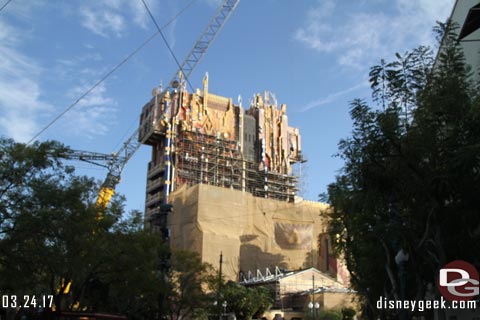 One of the towers is out from behind scaffolding.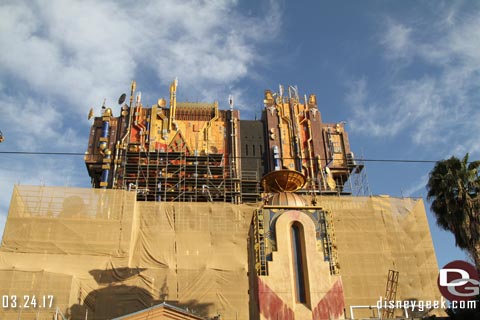 Food & Wine Festival AP Buttons (Week 2 on the left and 3 on the right)




Pirates of the Caribbean turned 50 last Saturday, so I went for a cruise to close out my evening.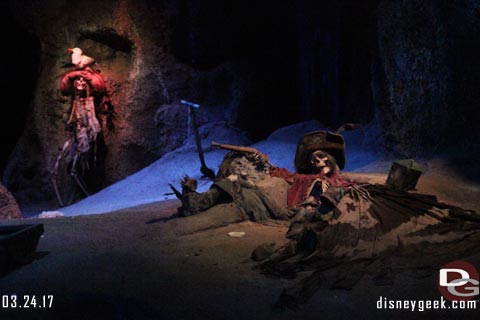 Hope you enjoyed this highlight tour of the Disneyland Resort. For additional photos and details from this trip you can check out the full Disneyland Update I posted on my site, https://disneygeek.com Also be sure to follow me on twitter @disneygeekcom for pictures from the parks.