♪♫ Who's the leader of the club that's made for you and me? ♫♪
♫♪ M I C K E Y M O U S E ♪♫
As I look back on my childhood, it seems to me that I may have been born at a perfect time and in a perfect place!
I'm not suggesting that I was a perfect kid, but it sure was an ideal time to be a child, and I grew up in a terrific location. In retrospect, I'm pretty sure both the time and the place helped to foster my love of all things Disney!
I grew up in a small Canadian village on the north shore of Lake Erie, about 50 miles due north of Erie Pennsylvania and 80 miles west of Buffalo New York. Television was a very new phenomenon in most households in the mid 1950's and families would crowd around small TV sets to watch faint, usually snowy, black and white pictures. Their faces were often filled with expressions of awe and wonder as they enjoyed this incredible new technology. I'm sure I was one of the most awe-struck!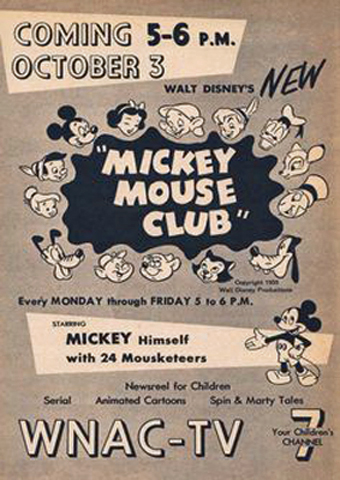 When the Mickey Mouse Club show first aired on the ABC Network, October 3, 1955, the timing was perfect; I was 7 years old.
Because my home in Canada was so close to the American border we could almost always pick up all three of the US television networks. Our strongest signals normally came from the ABC affiliate just across the lake in Erie, but sometimes weather conditions would hamper that signal. When the picture was bad I would quickly run outside, half way around the house, and turn that big tall steel antenna until it pointed east toward Buffalo. Normally we could tune in one station or the other, unless there was a really bad storm!
Every day I rushed home from school to be entertained for a full hour by my new friends, Jimmy Dodd, Roy Williams and all those Mouseketeers!
They sang, they danced, they played games and shared adventures with us. Sometimes they took us to a far-away, new and magical place called Disneyland!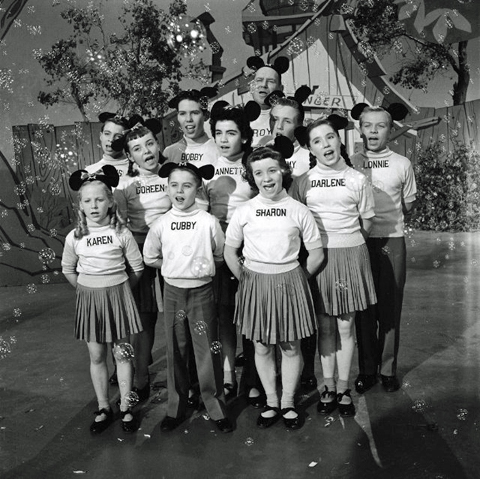 Yes, I admit it, like every other boy of my generation I had a huge crush on Annette!
The Mickey Mouse Club often included a newsreel showing current events from a kid's perspective, but for me the real highlight was the daily episode of the latest serial adventure. Every day there was an exciting 15 minute episode featuring the ongoing exploits of young action heroes like Spin and Marty or the Hardy Boys. It was heady stuff for a 7 year-old boy! I didn't want to miss a single installment!
Spin and Marty starred Tim Considine as Spin and David Stollery as Marty. They galloped through a seemingly never-ending series of adventures on the Triple R Ranch.
Tim Considine also appeared as Frank Hardy in the Mickey Mouse Club's Hardy Boys serial, his brother Joe was portrayed by Tommy Kirk.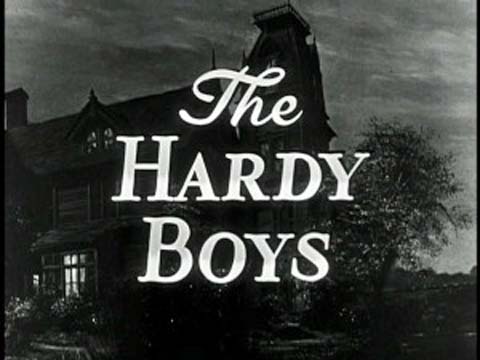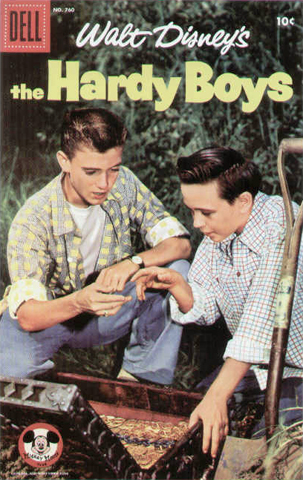 I was so engrossed with the Hardy Boys that I made regular trips to the local library and read the entire series of books. Over 60 years later I am still an avid reader of mystery and suspense novels.
Of course there was more Disney on television in the evenings. The whole family joined me in front of the TV set for the Davy Crockett series which aired as a serial on the weekly "Disneyland" show. Davy Crockett (Fess Parker) and George Russell (Buddy Ebsen) negotiated peace with Indians, went to Congress, fought at The Alamo and raced keel boats. Yes, the whole family watched . . . but I was the only one wearing a coonskin cap!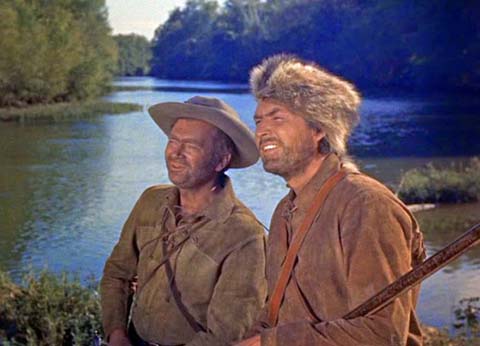 Thursday nights were extra special; I was allowed to stay up a half-hour past my usual bedtime to watch Zorro.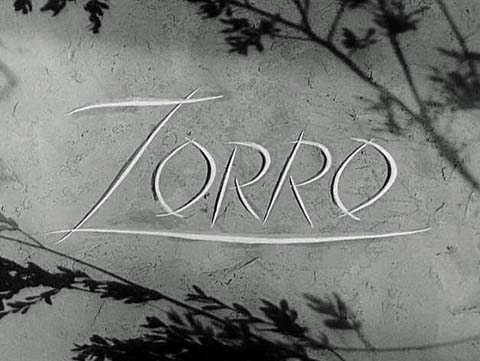 He was a dashing and gallant hero played by Guy Williams. Somehow Zorro was able to carve his initial into Sergeant Garcia's uniform week after week, but he never drew a drop of blood!
My little home town (population 3,200) had one small movie theatre with a single screen. My sister and I never missed a Disney movie. My weekly allowance of 25¢ would cover both my admission to the Saturday afternoon matinee and a 10 ounce bottle of pop. That's what we call soda here in Canada!
Saturday night we always watched "Hockey Night In Canada"; men and boys all across the nation huddled in front to the television to watch our NHL hockey heroes, but Sunday nights were always family nights in front of the TV . . . "Disneyland" at 7:00 p.m.
From its first airing in 1954 the Disneyland show acted as a preview for the new theme park taking shape in Anaheim. The opening sequence referred to the original themed lands of the park, Adventureland, Tomorrowland, Fantasyland and Frontierland.
Each week Walt Disney acted as host. He came into our home and introduced the featured show; Walt seemed like a kindly uncle as he explained how that evening's episode related to one of the themed lands in his new park.
The Davy Crockett adventures I mentioned earlier were set in Frontierland, the movie 20,000 Leagues Under the Sea was serialized and Walt explained how those episodes related to Adventureland. There were True Life Adventures, serialized animated features, and cartoons featuring all the favourite Disney Characters.
The Sunday night show changed titles over the years, becoming "Walt Disney Presents" in 1958. Then in 1961 with the advent of colour broadcasts it became "Walt Disney's Wonderful World of Color".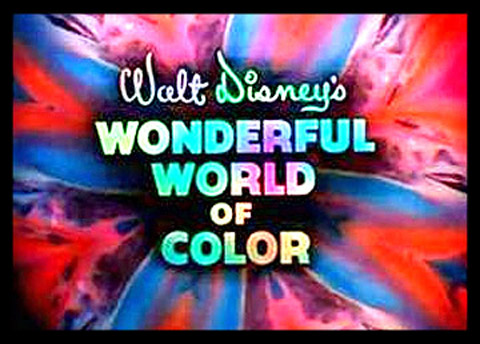 There were several more changes in name during the program's 40 year run, but one thing never changed, the high quality of family entertainment. Walt continued to act as host each week until his death in December 1966.
By the time Walt Disney died I was almost ready to leave the nest, I started my first full-time job in February 1967 and that career lasted almost 40 years!
But throughout my formative years, from 1954 to 1967, Walt Disney was there with me, week after week!
Yes, Canada's south coast was a great place to be a kid, and a Disney fan, in the 1950's and 60's!
°o° °o° °o° °o° °o° °o° °o° °o°
OK folks, this blog was supposed to end right there . . . but here's a very special postscript.
It's "ADDED BONUS" time!
As often happens, I asked my wife Carol to proof-read this blog for me. She had read about half way through the text when she stopped and asked me, "So, where's your coonskin cap?"
In typical male fashion I said, "I dunno, I probably threw it out years ago."

"Men," she muttered, "What's wrong with them!"
She dropped the papers, walked over to her Tickle Trunk and started rummaging through it.
After a few minutes she cried, "Aha, here it is!" and handed me a big envelope.
It's pictured below, front and back. Click on each image to see a larger version of the picture.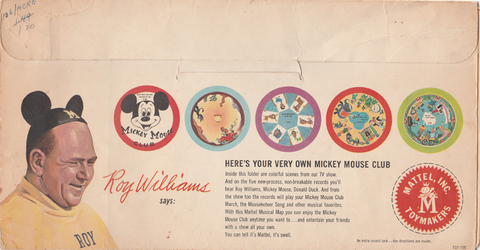 How cool is that?
Her very own Mickey Mouse Club phonograph records from 60 years ago!
Carol grew up about 225 miles east of my home but she was also close to the American border and picked up US television signals just like my family did. She was hundreds of miles away watching the same shows I was. Probably about the same time my mother bought me a coonskin cap, Carol's mother picked up these records for her!
I carefully opened up that old envelope and here's what I pulled out!
(Click on the image to see a larger version)
Wow! It was a folding map – six panels with Disney images.
Carol told me the rest of the story. The folder had originally been twice as tall as what appears in the picture above. Beneath each of the five panels to Roy Williams' right was a phonograph record. The recordings were on panels of clear vinyl, containing the recording tracks, glued to the printed card stock paper on the bottom of the folder. Carol very carefully cut each of those records off the folder and then had hours and hours of fun playing them on the families gigantic old HiFi record player.
Here's what the records look like!
(Click on the image to see a larger version)
Why is it that Carol kept a full trunk full of cool old stuff and I threw out my coonskin cap? It was probably the best Disney keepsake I've ever owned!
I'd like to give Carol's records a spin and see how they sound, but we packed up our turntable years ago. I'm not even sure it will play 78 RPM platters . . . but I may have to pull it out of storage and give it a try!
And that, as it's said, is the rest of the story!
It seems to me that both Carol and I grew up in a very special time and a very special place!