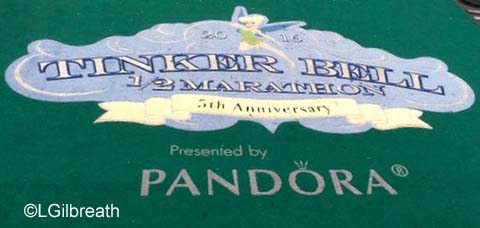 It's Tinker Bell Half Marathon weekend at Disneyland again. This time around we decided to run the 5K and the half marathon rather than doing the 10K/Half Marathon Challenge. Many people have told us that it's the best 5K Disney offers, and we wanted to try it for ourselves. And I was very disappointed in the Pixie Dust Challenge medal – I think it's ugly. No change to it this year, unfortunately.
This year is the 5th anniversary of the Tinker Bell Half Marathon, so we hoped there would be something special (like a new medal) in recognition of that. In addition, this is the first Disney race that we have been "perfect" in for any length of time, and since this was #5 we hoped there would be some recognition of that, as there has been for other Disney races at the 5 year mark.
Thursday, May 5 – Expo
Since we were running the Never Land 5K on Friday morning, we arrived late Thursday afternoon instead of Friday afternoon as we usually do. Our first stop, as always, was the Expo. It was held in the usual place in the Disneyland Hotel's Convention Center garage.
There are about 950 Legacy Runners in the Tinker Bell Half Marathon. There were two large banners in the bib pick-up area with the names of all of the Legacy Runners.
Lee's name was easy to find. 🙂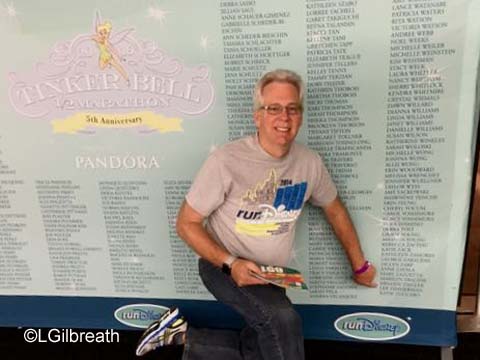 And we found my name, too.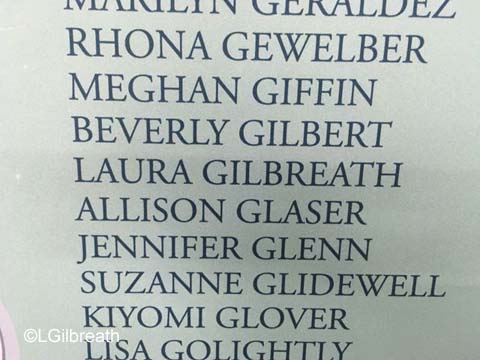 Bib pickup was fast. As Legacy Runners, that is noted on our bib, and we also were told to go to another booth to pickup our "Legacy Gift". I wasn't really expecting much – but I should be grateful that there was anything at all, right? 🙂 So…what we received were these Tinker Bell compacts. Just a couple of mirrors inside – no space to hold anything. And it is very hard to open!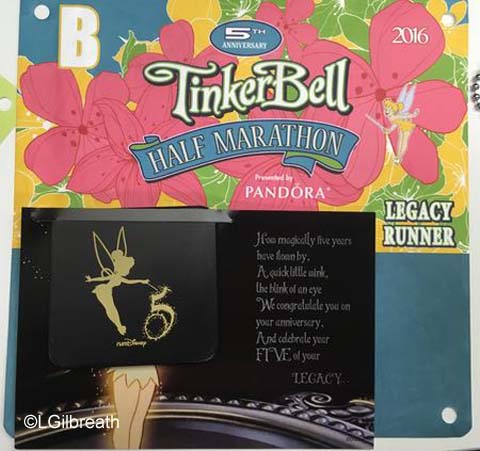 It makes Lee feel pretty, though. 😉
The Dooney and Burke bags and the special Tinker Bell Pandora charms were also on sale in the bib pick-up area.
We went upstairs to the Expo area, where we felt "fairy" special as we walked the green carpet to enter.
It was a little odd not to be doing the Challenge, and to have two different bibs and two different shirt pick ups. I liked the 5K shirt. This one is made of cotton.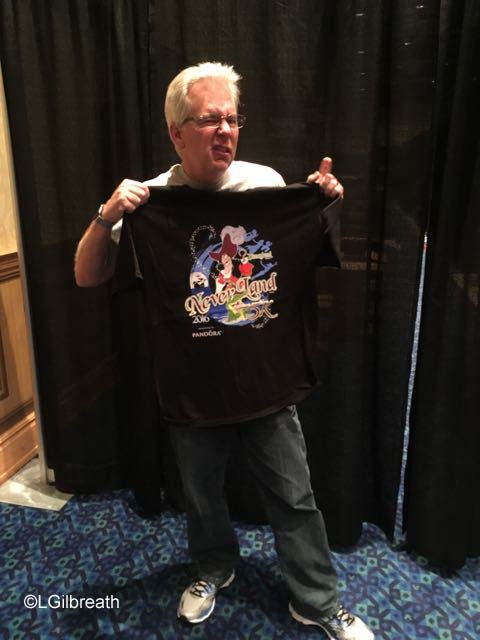 The half marathon shirt is a very nice shade of green – it's the usual tech shirt fabric. I liked the designs of all of the race shirts this year. No pink ones. 🙂
There was still a line (at 5:20 p.m.) to enter the Official Merchandise area, but it moved quickly.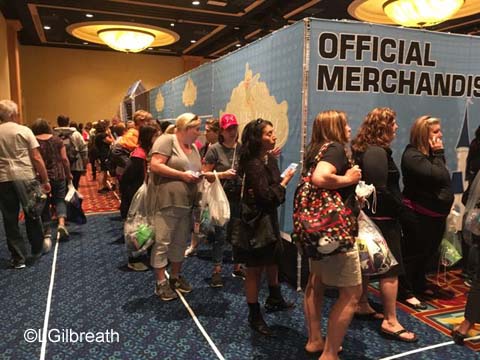 At that point, it seemed like most of the race merchandise was still available. There was one aisle that was almost exclusively generic runDisney items, but I don't know if it had started that way or not. I guess that might be the difference between arriving on the first day of the Expo and the second day, which is when we usually arrive, since we had a similar experience at Star Wars – The Dark Side, where we also went to the Expo in the late afternoon of the first day.
There were lots of different women's shirts, many with designs on the front and the back.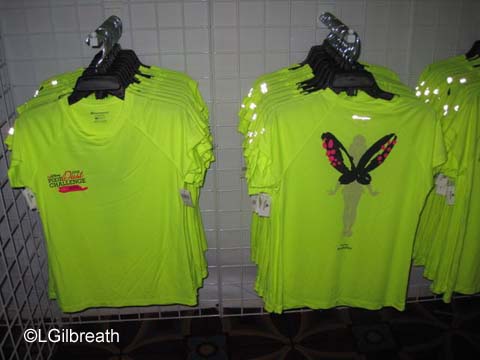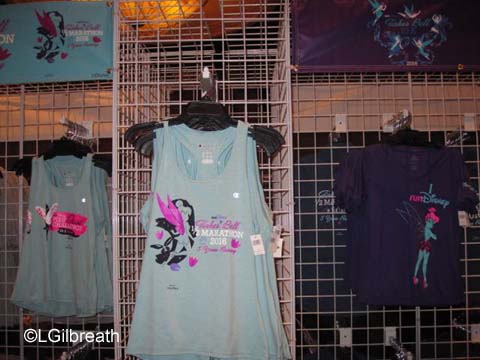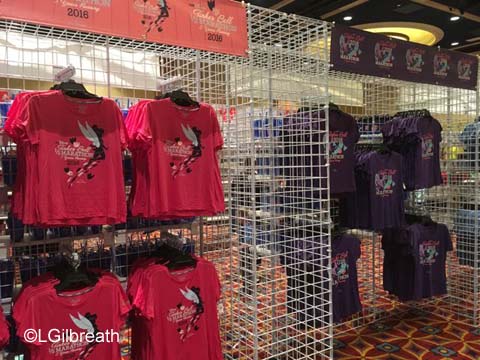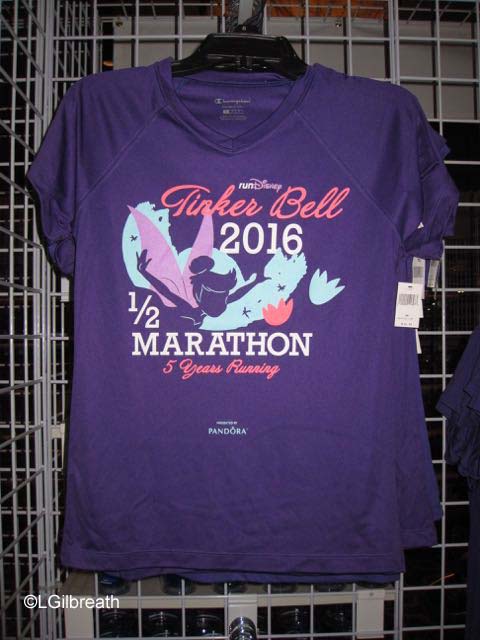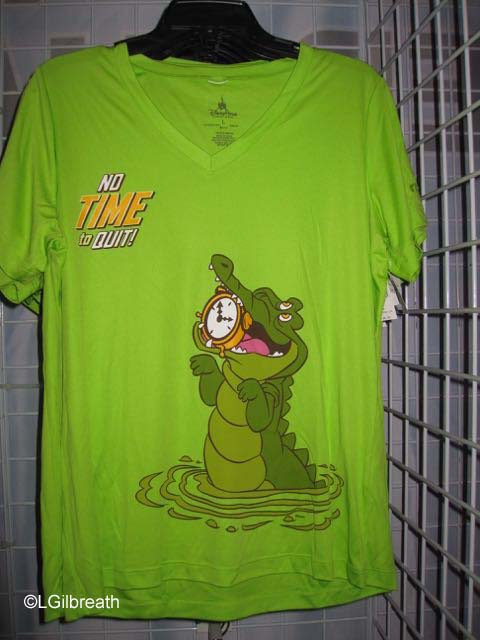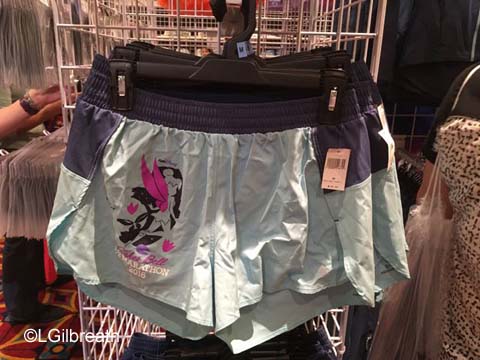 The jacket was still available – I also thought this one was nicely designed.
There was also this jacket, which I thought was an awful shade of pink…but people will certainly see it coming!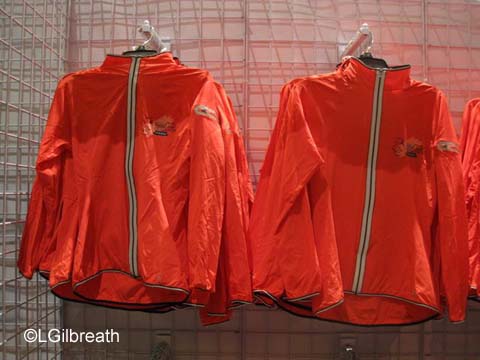 The race weekend shirt was the only unisex shirt we saw.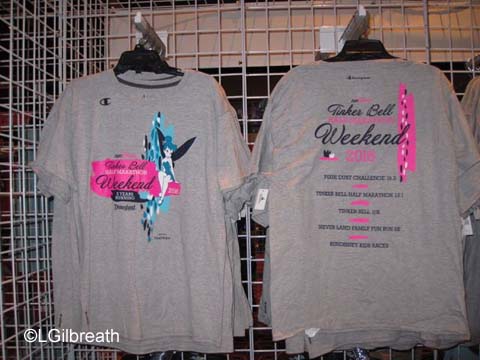 There were "I Did It" shirts for all of the race distances.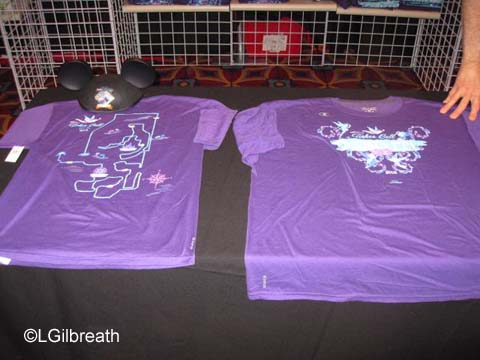 It looked like all of the race pins and mini-medal pins were still available. I picked up the Never Land 5K mini medal, since that was going to be a new race for me.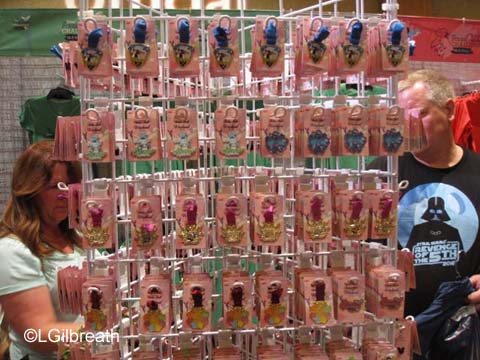 Race weekend magnets were also available in what looked to be all of the styles. I didn't get one this time, though.
There were even some temporary tattoos.
In one corner there were two different styles of shirts that must have been left over from the Star Wars – The Dark Side weekend.
Water bottles have been very popular items, and there were several different styles.
And mugs. I didn't see any Tinker Bell-specific wine glasses – just the generic "Every Mile is Magic" version.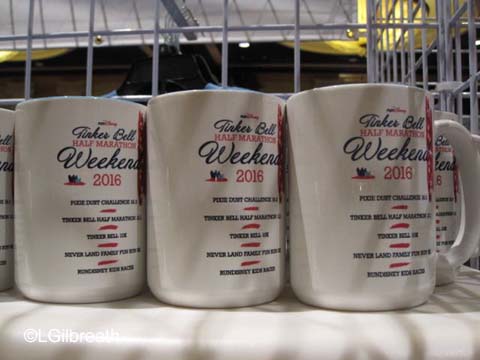 I liked the hat – but I don't wear hats.
So we got out of there very inexpensively – I bought the 5K mini medal and that was all.
We took a tour through the rest of the Expo exhibitors, also. Pandora had a HUGE booth – which I suppose makes sense, as they are the main sponsor.
Otherwise, it seemed as though the usual exhibitors were there. The show floor was not very busy that evening, which was nice for us.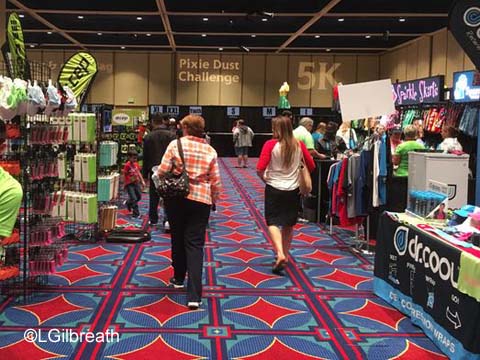 Even the New Balance show booth was not very busy – it looked like they were taking anyone who walked up.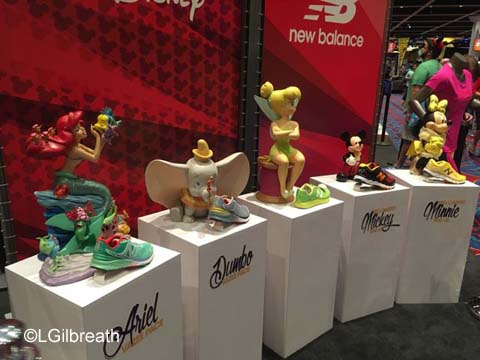 The New Balance booth had some pixie-themed attire as well as shoes.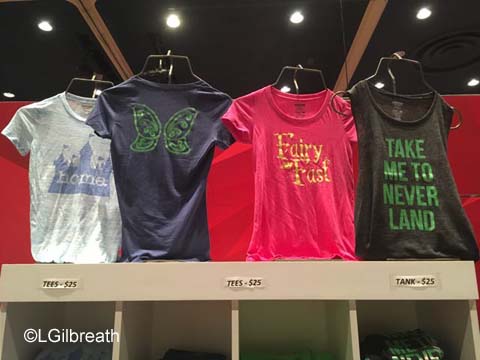 I was hoping that the runDisney booth would have the Disneyland Paris Half Marathon Weekend medals, but I asked, and they haven't been released yet. But that's where we learned that after we finish the race on Sunday we will also receive a special Legacy Runner ribbon for our medal.
There was a nice photo backdrop in the lobby outside the show floor, and only a couple of people in front of us.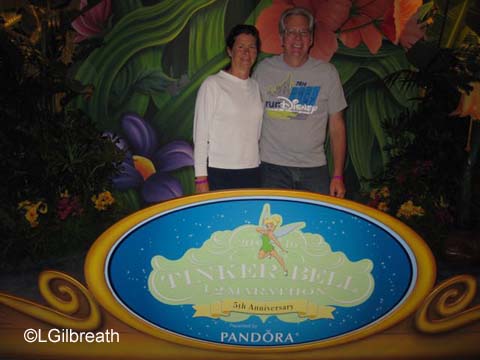 Friday, May 6 – Never Land 5K
As I mentioned earlier, we had never run the 5K before, but everyone who had said that it was Disney's best 5K. The main reason being that it starts inside Disneyland!!!.
But it started at 5:00 a.m. – even earlier than the 10K and half, which started at 5:30. We headed over to Disneyland at about 4:10. We had to go through the regular security check as we entered the Esplanade, but we didn't have any bags, and that was quick.
At the Disneyland gates they were carefully checking to make sure that everyone had a bib. There weren't very many people in the park yet, and Main Street was still pretty empty! We stopped to watch the Peter Pan Enchanted Window at the Emporium – that seemed like an appropriate thing to do. 🙂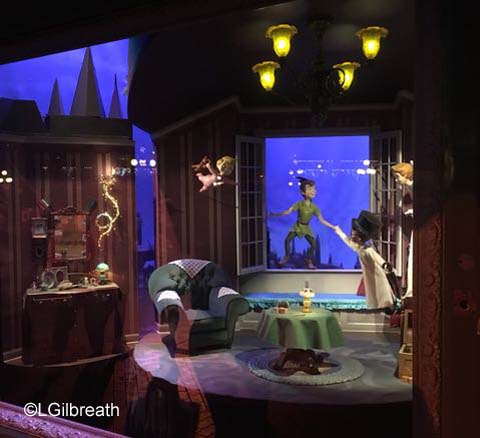 Disney's PhotoPass was the official race photographer for this race weekend, also, just like they were for Star Wars – The Dark Side. There's a code on the back of the bibs and you add your bib number to that, then link it to your PhotoPass account to get your photos. Free downloads for Annual Passholders! I'm really enjoying this – we had pictures taken several places where I didn't bother with getting them to take one with my phone because I knew I would get much better ones from the PhotoPass people.
There weren't formal corrals with this one – they were gathering the runners on either side of the hub in front of the castle. Those who arrived earlier were in Corral A on the right side, and those who arrived later were in Corral B on the left side. We made it into the A Corral with just a couple of minutes to spare.
There was a pre-show on a stage in front of the castle but we couldn't see it. No big screens or any other visual aids.
Just before the race started, Tinker Bell flew around the castle! Very cool.
The start line was actually on Matterhorn Way, near the exit of Pixie Hollow, so after Tink flew Corral A moved in that direction. I was surprised that there really wasn't a starting line – no archway or anything. The race was not officially timed – we didn't have timing chips on our bibs. I wasn't really sure where the start line was, so I just started my watch when I passed Carissa Bealert, one of the race announcers.
(This was the first runDisney race that I'd ever done where long-time announcer Rudy Novotny wasn't there. Many runDisney participants were very disappointed when we heard that his contract had not been renewed, and we would not see him for Tinker Bell weekend. It really was different not hearing his voice at the start line. I missed him.)
The course took us toward "it's a small world" and into Toontown. We couldn't run at all for the first tenth of a mile or so because it was so crowded and there were so many walkers, and I was pretty concerned that it was going to be like that, but fortunately once we went backstage at Toontown it started to clear out.
In previous years this race has started in Disneyland and ended in Disney California Adventure, but this year, because of all of the construction, we had very limited time in Disneyland. Most of the race was in California Adventure until we ran through Downtown Disney and finished at the Disneyland Hotel – at the usual finish line used by all of the other race weekends.
So, once we ran through Toontown, that was it for Disneyland. We ran backstage, under the bus area, then backstage behind DCA. That's where the mile 1 sign was. I should also mention the music…we had music for just about all of the race. A loop featuring "A Pirate's Life is a Wonderful Life" and "Follow the Leader", from Peter Pan. I enjoyed it, though I felt a little sorry for the cast members who were having to listen to it over and over and over and over again.
We ran down Hollywood Blvd, and stopped for a quick photo with Walt and Mickey.
I was very surprised that we hadn't seen any character stops. There were a few pirates in front of Grizzly Peak.
By this time we were among the front runners, and there weren't very many people running around us. It was great to be on a mostly empty race course! And it meant we got lots of photos taken by the race photographers, because they didn't have nearly as many subjects.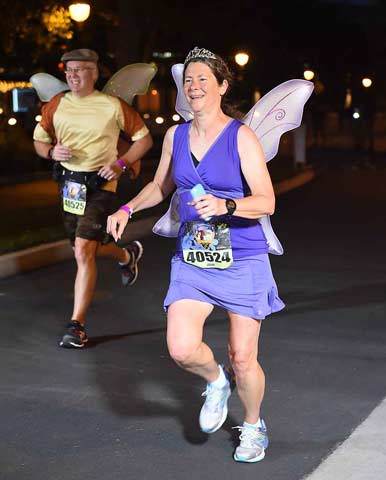 We ran through Flik's Fun Faire and then backstage behind Cars Land, then into Cars Land from the Pacific Wharf side. The two mile mark was in front of Luigi's.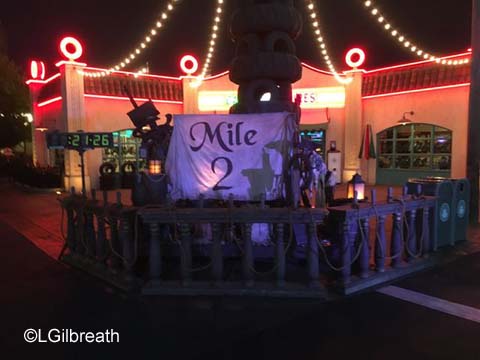 We made a left and ran up Route 66, then left toward Paradise Pier. I expected there might be a character stop there but no – just a couple more generic pirates.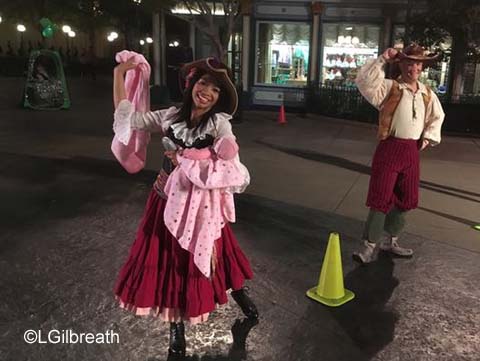 We ran all around Paradise Bay. I was surprised that the World of Color fountains weren't on. The Lost Boys were at King Triton's Carousel, but not really available for a photo. The lighting was terrible, too.
There was a photo stop with the Fun Wheel in the background.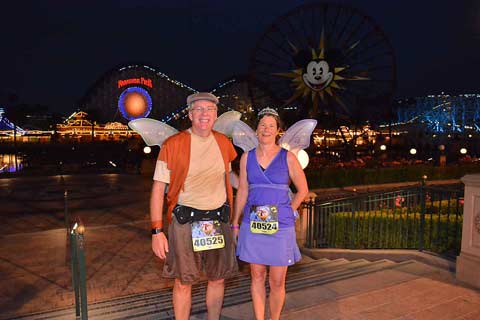 I took a photo looking back just before we turned towards Grizzly Rapids – still not a lot of people back there!
FINALLY, just before we left DCA next to Soarin', there was a character stop!!!
There were a fair number of people in Downtown Disney who had gotten up very early to cheer us on – it was still really dark. We made a brief stop at the Mile 3 sign.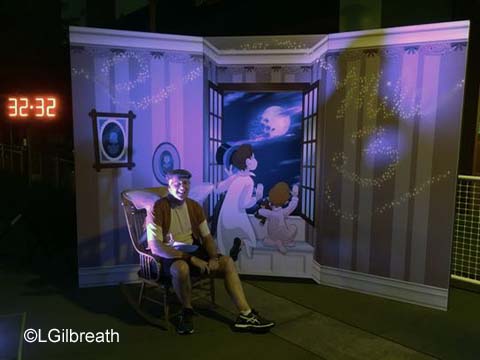 And then it was a dash that last tenth of a mile to the finish line! There were a number of photographers in that area and we had lots of photos of us in our PhotoPass accounts.
We got a shout-out from the race announcers for our wings. 🙂
No official time for this one, but by my running watch my time was 32:40. Not bad considering photo stops, and a first mile that was a bit slow.
We had our finisher photo taken and got our runDisney snack box, etc.
The snack box seemed identical to what we received for Star Wars.
There was hardly anyone even in the finishing area! Really no reason to linger at all. So we went back to our room. Let's see…the race started at 5:00, and we were back in our room at 5:47. I'm really liking this whole 5K thing!
We received the rubber medallion rather than a "real" medal. It's cute, though.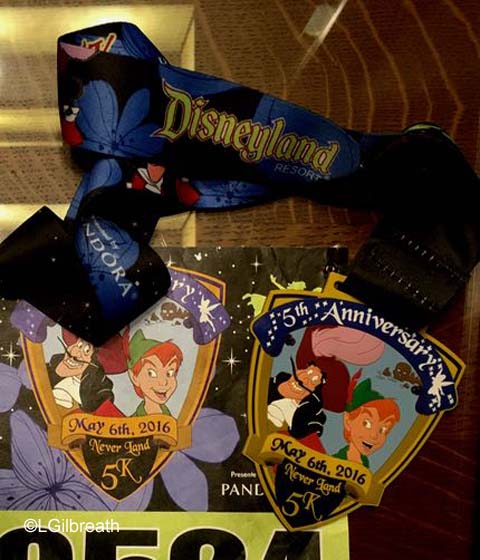 There were somewhere between 4000 and 4500 people in this race – so it was very small compared to the races that we usually run. It was so much fun being so far in front of most of the rest of the pack, and having so much running room! Now we know how our fast friends, like Eddie McCoy, feel. It really is quite a different experience.
All those people who told us that it was a really good 5K – I agree with them. Starting inside Disneyland, with Tinker Bell flying overhead, was special. Even at 5:00 in the morning. 🙂 Though it was disappointing that because of the construction we really didn't get to run through very much of Disneyland.
The thing that most surprised and disappointed me was the character stops – or lack thereof. Peter Pan and Wendy – that was it for us. From other runners' photos I saw that Captain Hook and Mr. Smee were in Toontown, but we didn't see them. Still, I thought only two character photo stops in a 5K was a very poor showing.
Next up – the Tinker Bell Half Marathon