Beginning next month, runDisney is changing how photos at its events will be taken, viewed and purchased at Walt Disney World. Disney's PhotoPass service will be stepping into the role that MarathonFoto has filled until this point.
The change takes effect at the Star Wars Half Marathon Weekend — The Dark Side, which is April 14-17 at the Orlando resort.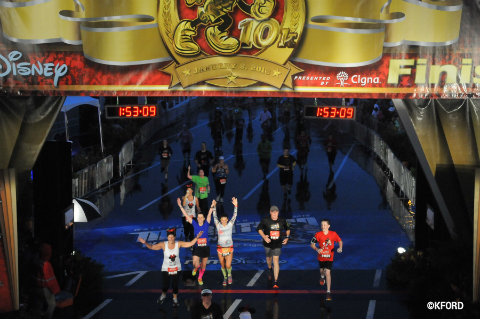 I spoke to cast members at both runDisney and Disney's PhotoPass yesterday when the news of the change surfaced. They said they don't have all details yet, but here are answers to some of the most common questions:
How will be photos be compiled by runDisney?
A cast member said that bibs, not MagicBands, still will be used to gather photos. That has not yet been finalized, however, so stay tuned for more details in the next two weeks, I'm told.
How do I view my runDisney photos under the new system?
You can view your photos for free, just as you do theme-park photos, on the PhotoPass section of MyDisneyExperience.com or on the My Disney Experience app.
How do I purchase my runDisney photos?
You will have three choices. You can purchase Memory Maker, which includes all the photos taken in a 14-day period. That means you could include the race photos with any other photos taken during your Walt Disney World vacation. If you purchase Memory Maker at least three days in advance, the cost is $149. You also can purchase Memory Maker for immediate use for $169. The second option is to purchase 1-Day Memory Maker for $59. This option only will be available on the My Disney Experience app, I was told. Finally, you can select individual photos to purchase for about $15 per download.
How do these prices compare to the current provider, MarathonFoto?
MarathonFoto's packages start at about $75 to download all race images for one person or $80 to download all images for one runner plus a 30-second video of crossing the finish line and premium content, such as race highlights. Purchasing an individual photo costs about $25 for the download. However, each of these purchases comes with a $20 credit on Shutterfly, presumably to print your photos (but you can use it for whatever you want). So, assuming you will use the Shutterfly credit, the prices to compare really are $55, $60 and $5, respectively.
Will Disney's PhotoPass offer the video clip of each runner crossing the finish line like MarathonFoto does?
Cast members did not know the answer to this question at this time. PhotoPass does offer ride videos and moving photos from the theme parks, so it could be possible.
Besides the price and video option, are there other differences in the photo companies?
With MarathonFoto, you are required to purchase each runner's photos separately. With Disney's PhotoPass, you can collect all the race photos for friends and family who are linked to you in My Disney Experience and purchase them with one Memory Maker entitlement.
Will runDisney photos be included with the free PhotoPass downloads that Walt Disney World annual passholders receive?
Yes, if you are a Gold, Platinum, Platinum Plus or Premier Walt Disney World passholder, the photos will be included as a benefit. If only one person in the group is a passholder, he or she can compile the runners' photos as long as they are linked in My Disney Experience as Friends & Family.
How long will my race photos be available in Disney's PhotoPass?
In Disney's PhotoPass system, the images expire after 45 days, unless you purchase an extension. That means you must finalize your Memory Maker before the 45-day mark. The exception is for Walt Disney World passholders with Gold, Platinum, Platinum Plus or Premier passes, whose photos remain in their accounts for 365 days from the dates they were taken. (MarathonFoto retains photos for two years after each race, and you can purchase them any time during that period.)
Will there be PhotoPass photographers at other events during race weekend, such as Pasta in the Park, reunion breakfasts, etc.?
Staffing for events outside the courses has not yet been announced.
Will Disneyland be converting to Disney's PhotoPass for its runDisney events?
Cast members said they expect that to happen, but there has been no announcement of that at this time.