One of the things I most enjoy about Disney fan meets is the new and interesting people I meet there. One of those people is Disney Design Artist Alex Maher who I had a chance to meet and speak with a few months ago at Dayton Disneyana.
Carol had met him several times at events for pin collectors, but this was my first opportunity to make his acquaintance. I'm sure glad I didn't pass up the chance!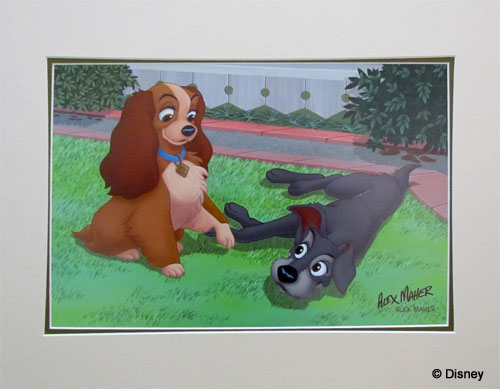 When Alex signed this print, Footloose and Collar Free, for Carol he told her it was one of his favourite pieces!
This certificate was included with the print.
I wrote a bit about the Saturday afternoon seminar Alex participated in at Dayton, and the many drawings he did that week end, in a previous blog about Dayton Disneyana; you can find it HERE.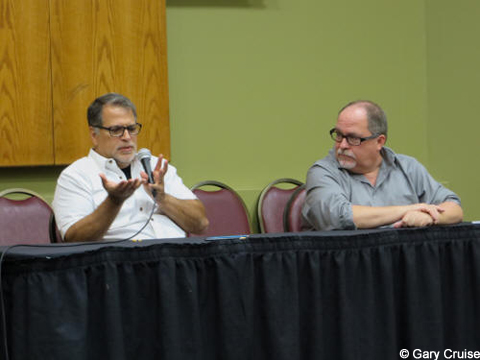 In this blog I'll focus on Alex's Friday afternoon presentation. He began his remarks by telling us he was the world's biggest fan of Walt Disney; then he spent an hour proving beyond a doubt that his claim was true!
Before I describe the seminar, let me tell you a bit about Alex's background and how he landed his dream job with Disney.
Alex is a "Florida Cracker"; that's a term people born and raised in Florida use to describe themselves! As the short Disney biography pictured above says, Alex spent his early years in Miami where his father was a writer and artist. His first memory of Disney dates back to his days in kindergarten; during a visit to the school library he picked up a Disney book . . . he couldn't read, but in his words, "I was mesmerized by the pictures. Since that day I've been a fanatic about Walt Disney."
In those days, before the Internet, writers spent countless hours in libraries doing research. Alex would often accompany his father on those library trips and while Dad researched his latest project, young Alex would read everything he could find on Walt Disney. He began to sketch Disney characters and his father, also an artist, would provide constructive criticism. "That's really good Alex, but do you think it might be better if you . . . ?"
One truly amazing fact he shared with us — Alex has had no formal art training. In addition to being the world's greatest fan of Walt Disney he is also a gifted artist! His talents include drawing, painting, sculpting and the ability to conceive and design original works. And it's all self-taught!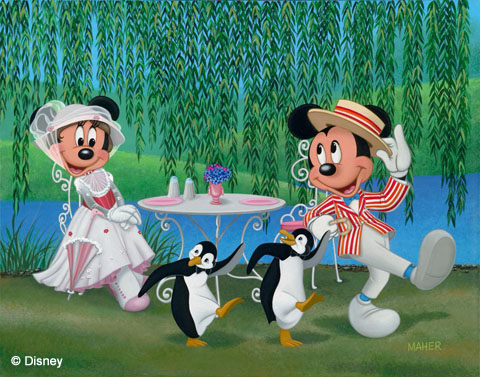 After finishing high school Alex joined the US Navy; as you might expect, sketches of Disney characters adorned many area of his ship! He left the military in 1983 and returned to Miami where he worked in several "Mom and Pop" graphic design shops. He became a member of the National Fantasy Fan Club (also known as The Disneyana Fan Club) in the early 1980's. Naturally he followed the help wanted ads and applied for every Disney job he saw. No job resulted, but he just kept on applying.
By 1987 he was Art Department Head at a small college near Miami. Most days, during his lunch hour, you could find Alex in the college library. He searched every issue of the New York Times from 1901, the year Walt Disney was born, until 1966 when Walt passed away. He photocopied every article that mentioned Walt in any way and painstakingly organized the news clippings in a series of binders. Of course, while Alex was assembling this life history of his idol, he continued to apply for any job he could get at Disney.
In 1991 he made a daring decision. He felt that if he was ever going to land a job at Disney he would have to be closer to the action. So, with no guarantee of a job, Alex decided to press a little harder to follow his dream. He and his wife sold their home and moved, with their two children, to Orlando.
He finally managed to get a job interview; they were looking for bus drivers . . . it wasn't the creative job he was looking for, but it would be a foot in the door. He made it to the second interview and was hopeful, until the department manager asked, "Your background is all related to art. Why do you want to be a bus driver?" Alex replied honestly, "I've heard that Disney promotes from within, so I'm hoping that if I start here it can lead to an art-related job in the future." It turned out that the manager wasn't interested in spending the money to train a driver, only to have him move to the art department . . . Alex didn't get that job!
He did find work at another theme park, just down the road, but in Alex's words, "It was fun, but it just wasn't Disney."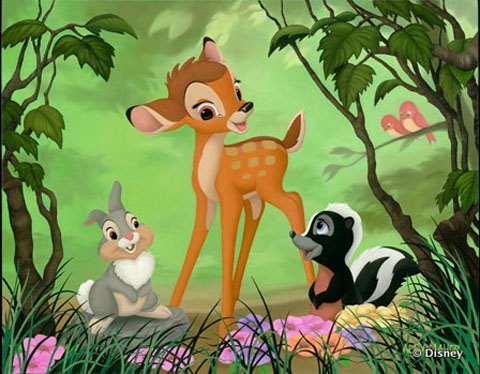 Through his membership in the National Fantasy Fan Club he knew the names of a few accomplished Disney artists. One of them was Don "Ducky" Williams. Alex explained it this way, "I didn't know him personally, but read many articles about him in our club newsletters. When I moved to Orlando, I tried to meet him but he was on vacation at the time. But I did meet his boss who said 'Come back tomorrow and show me some of your work.' I got busy that night and did three drawings, Roger Rabbit, Jessica Rabbit and Mickey Mouse. I met the manager the next day; he liked my work, but said there was nothing available in his department. He suggested I try the merchandising division. The next day I visited the creative department of the merchandise division and luckily they liked my work. I was hired on as a freelance artist."
Finally Alex had a job at Disney and it wasn't long before they saw his potential. On December 6, 1993 he became a full employee rather than a freelance artist. It was a long struggle, but Alex was finally a very proud Disney cast member!
So what does a Disney Design Artist do?
The short answer is, pretty much everything, other than animation. Their work revolves around merchandise, any kind of merchandise, and you can see it on shelves all over the parks. If you buy a coffee mug, a print, a figurine, a t-shirt, a cloisonné pin or a Vinylmation the concept for the piece sprang from the imagination of a design artist. Figurines and other complex pieces require a "four position drawing" showing the piece from four different viewpoints.
Alex was one of the original members of the "Pin Team" established in 1999 to design trading pins and those cloisonné pins still make up a large proportion of the designs he creates.
Here are a few pins from Carol's collection that Alex Maher designed.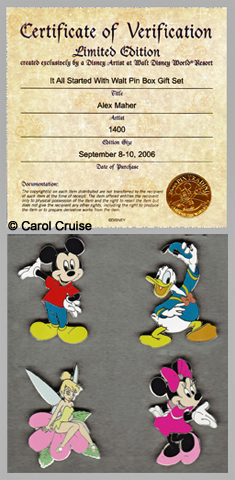 This boxed set is a Limited Edition of 1400 from the 2006 Pin Celebration at EPCOT

These two pins are also from the 2006 Pin Celebration at EPCOT. Alex Maher has signed the back of each pin as well as the backer card it is mounted on.
What are the challenges for a Disney Design Artist?
According to Alex, new characters are a challenge. It's tough to design a t-shirt or a coffee mug if you don't understand the character. Everyone is familiar with Mickey, Minnie, Pluto, Goofy and Donald. How they will react in a situation or what expression you will see on their faces can be easily imagined. But new characters, like Joy or Anger from the recently released Inside Out aren't so easy; the creative people don't yet fully understand the personality of the character. The artists often see a "rough cut" of the movie long before its release, but they sometimes have to submit their concept art to the manufacturers as much as 18 months before the merchandise is available for sale. Sometimes the movie can change appreciably and the personalities of the animated characters can transform in that time.
Characters in costumes are challenging. When designing a figurine featuring a character in an African costume the artist has to be very careful with the choice of colours. Colours have very strong meanings in African culture. Posture, position and gestures are important too. In North America the "thumbs up" gesture means 'All right' or 'A-OK' but in many foreign cultures it's a definite no-no.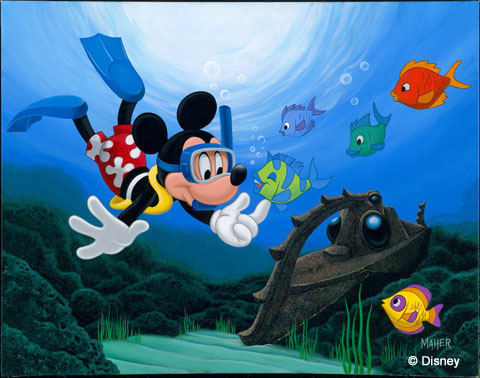 I'm pretty sure that the job of a Disney Design Artist isn't always fun and games, but Alex sure makes it seem that way. The pride he feels for his work and for his association with the Disney Corporation shines through in everything he says and does. He is a great ambassador for Disney!

Now, let's get back to that Friday afternoon seminar I mentioned at the beginning of this blog. If you're not convinced yet that Alex Maher is the worlds biggest fan of Walt Disney these next few paragraphs should drive the point home!
Alex presented a slide show he prepared quite a few years ago, titled The History of Walt Disney. All the information he gathered from all those New York Times articles was combined with knowledge he gathered from other reading and from conversations with Disney family members, Disney executives and Disney Legends. He sifted and organized the data into an hour-long presentation.
As Alex spoke he used the computer slides to illustrate key points and places in Walt's life. Alex began his story with Elias and Flora, Walt's parents, and their 1888 marriage in Kismet Florida, about 50 miles north of Walt Disney World. He followed the family to Chicago where Walt was born in 1901 and showed us pictures of that house as it looked then and contrasted that with a picture of the house as it looks today.
You see, Alex Maher has made a pilgrimage . . . actually a series of pilgrimages. He has visited every significant location in the life of his hero and he took photographs everywhere he traveled. His research took him to Chicago IL, Marceline MO, Kansas City MO, Los Angeles CA and many other places. Most of those places he has visited several times, always eager to find out more and more about Walt.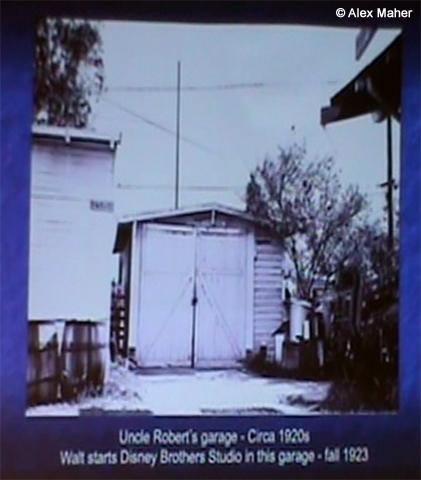 This is the garage behind Walt's Uncle Robert's house where Walt and Roy first operated their animation studio.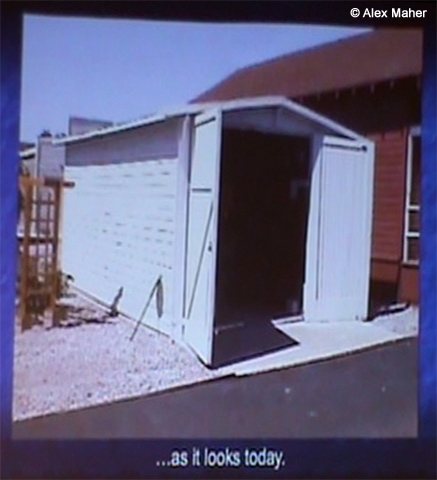 That garage is now located at Griffith Park
The stirring story Alex wove for everyone followed Walt's life from cradle to grave; we heard of his school years, his years on the farm near Marceline, delivering newspapers in Kansas City, driving an ambulance in World War I, through to his early days of animation, partnering with brother Roy Disney and long time friend Ub Iwerks. The Alice Stories, Oswald, Mickey Mouse, animated movies, live action movies, Disneyland and Walt Disney World were mingled with stories of Walt's family life, his triumphs and his tragedies.
It was all illustrated with pictures from the Disney Archives and pictures Alex has taken during his frequent research trips. There were pictures of Walt's many homes, the schools he attended, churches, animation studios, the garage where the first animation cels of Mickey Mouse were created, Main Street in Marceline, the Marceline train station which is now a museum dedicated to Walt Disney, and even the carousel at Griffith Park where Walt conceived the idea of Disneyland while sitting on a park bench watching his daughters.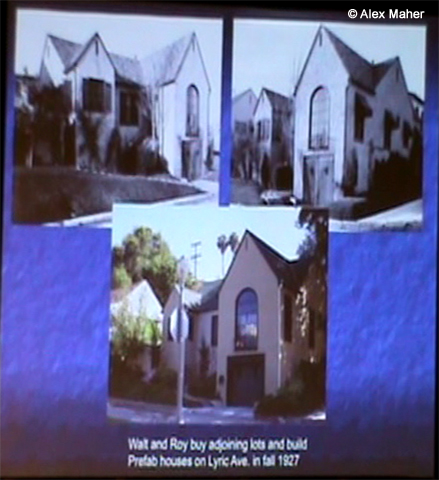 Walt and Roy built identical pre-fab homes in 1927. Walt's house is shown in the upper right and the bottom picture is Walt's house as it looks today. The first animation cels featuring Mickey Mouse were created in Walt's garage in 1928, a year after the house was built.
Alex's eyes got a bit misty a few times during the hour and his voice almost failed him a time or two; I was feeling the same way and I suspect that almost everyone else in the room was too! The depth of Alex's reverence for Walt Disney came through loud and clear!
Alex has delivered the presentation we saw at Dayton Disneyana to people from all levels in the Disney organization; senior executives, the legal department and the Imagineers have seen the presentation in their boardrooms. Cast members from many other departments have enjoyed the show in their lunchrooms and members of the National Fantasy Fan Club have seen it at their local meetings. I'm sure glad I had the chance to experience it at Dayton Disneyana!
Let me wrap up by showing you a few more of Alex's creations and then giving you a glimpse of what will be hitting the store shelves soon.
Prints of Alex Maher's painting of Elsa are flying off the shelves!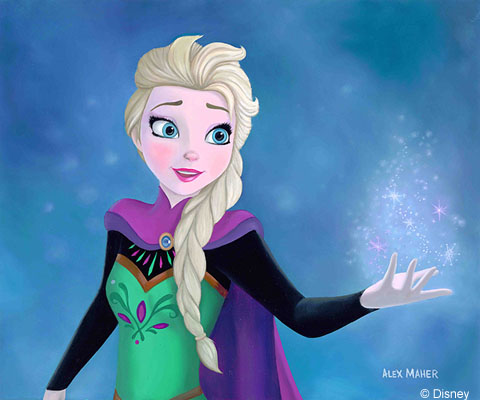 This one is selling well too!
After the Friday seminar someone asked Alex what his favourite creations were; he mentioned two. The first was a jumbo pin, a limited edition of 750. It shows Mickey riding on Walt's backyard steam engine, the Lilly Belle, with Walt's red barn in the background. The train slides back and forth on the track. Alex is proud of this one because every member of the Disney family was given one when it was released in 2007.
The second was his painting for the 60th Anniversary of Disneyland. Artists were asked to create a series of six paintings, one to commemorate each decade in the park's history. Alex designed and painted the 1955 — 1964 canvas. Below is a print of that painting that he signed for Carol in Dayton.
He described what we can look for in the future. Most of these items will début at the D23 Expo in August and some may make it to store shelves by the time this blog is published!
Look for a large figurine of Goofy, dressed as Bert from the Mary Poppins movie in his one-man band outfit. Based on the gestures Alex made, it will be about 18" tall.
Alex designed the logo pin for the 2015 D23 Expo
He created these 8 pins which are part of a 16 pin Mystery Box Puzzle Series. Pin collectors buy boxes containing 2 wrapped pins and then trade pins in an attempt to get one of each of the sixteen pins.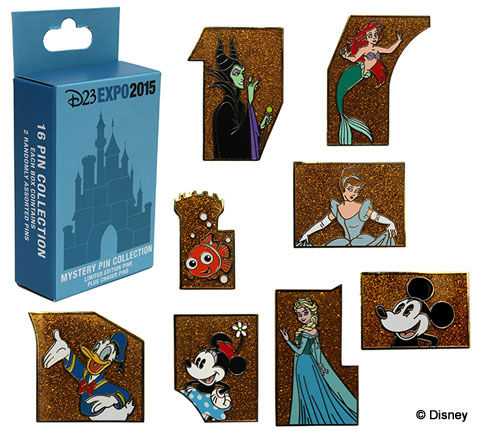 Once traders have all 16, the pins combine like a jig saw puzzle to form Sleeping Beauty Castle.
Look for this 14" tall figure of Jingles, the carousel horse from Mary Poppins. This version will be sold at Disneyland. In Florida Jingles will have a rider, Mickey Mouse dressed as a Dapper Dan.
This Three Caballeros figurine is 14" tall.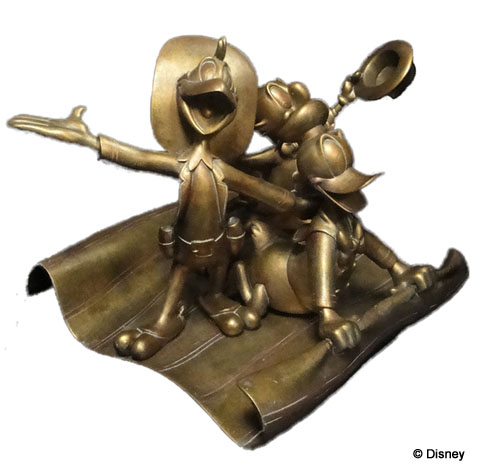 Alex and his family took a huge risk in 1991; they packed up and left everything behind to follow his Disney dream. Today both Alex and his wife are happily employed by Disney, their 30 year-old son is a film producer in Hollywood and their 25 year-old daughter is a sketch artist at Disneyland.
Just like Walt said, "All our dreams can come true if we have the courage to pursue them."