By the time this blog is published on AllEars.net Carol and I will be enjoying our 10th visit to Disneyland and attending the D23 Expo in Anaheim.
Although it seems like yesterday, it was a decade ago when we made our first trek west to visit Disneyland for the park's Golden Anniversary. We had a ball as we joined in the fun at "The Happiest Homecoming On Earth", the official name of the 50th Birthday celebration! Just before flying west we received the Summer 2005 issue of Disney Magazine and had a chance to read a very timely article by Jennifer Eastwood titled "The Disneyland Chronicles".
The wonderful five-page article gives a short history of the park, a timeline of significant and unusual events in the history of the resort. It certainly whet our appetites as we read that article just before our big adventure began!
In addition to the timeline, there were recollections from some famous names you are sure to remember, Hayley Mills, Michael Reagan and Bobby Benson.
The article is included below, click on each page to see a larger copy you can read at your leisure.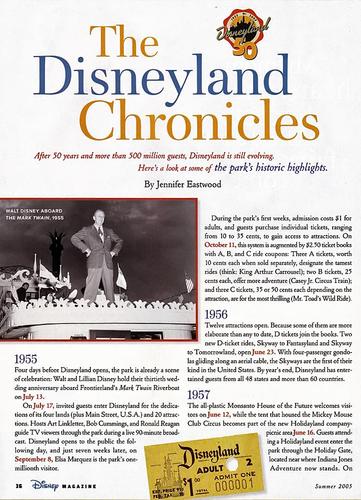 Here are a few of my favourite points from the article:
– The park officially opened on July 17, 1955 and only seven weeks later they welcomed their One Millionth guest — Elsa Marquez.
– In 1961 the first Disneyland Grad Nite Party was held. Teens in formal garb spent ALL NIGHT in the park.
– In 1963 the first Audio-Animatronics appeared, ♫♪ in the Tiki Tiki Tiki Tiki Tiki Room ♪♫
– In 1967 The Pirates Of The Caribbean opened.
– In 1969 hundreds of VW Beetles paraded down main Street on Love Bug Day and later in the year The Haunted Mansion opened.
– In 1979 the first baby was born at Disneyland — Teresa Salsedo was delivered on a bench behind the Plaza Inn — she later received the first birth certificate issued by Disney!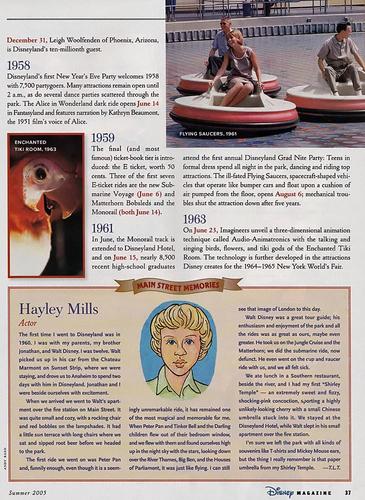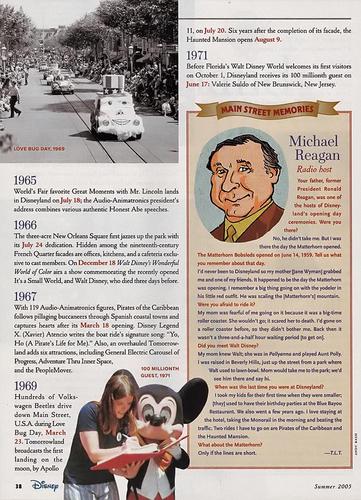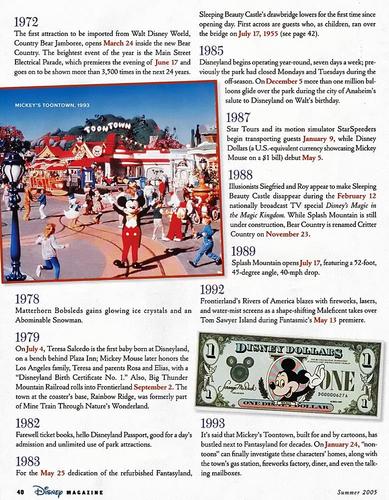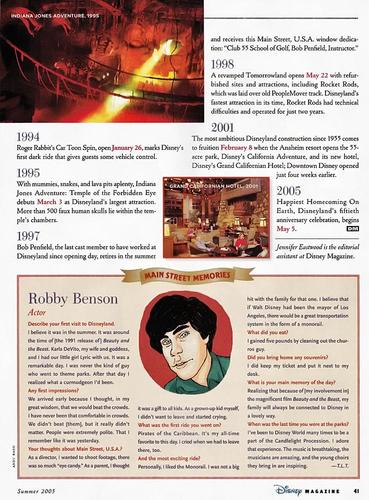 There's plenty more good reading there; take some time to read all of Jennifer Eastwood's article!
Now Disneyland is celebrating 60 years, it's the Diamond Anniversary. Let's look at what's happened in the decade since Carol and I made that first Disneyland trip in 2005! Let's update the timeline!
Walt Disney said, "Disneyland will never be completed. It will continue to grow as long as there is imagination left in the world."
That has proven to be very true! Let's look at the big changes in the past ten years!
In 2008 – Toy Story Midway Mania opened – A huge resort expansion began with the 2008 opening of Toy Story Midway Mania! at Disney California Adventure park. This ride-through, interactive adventure, located on Paradise Pier, takes riders into a high-energy 4-D carnival midway hosted by "Toy Story" characters. Riders don 3-D glasses and rapid-fire their cannons as they whirl and twirl through the midway firing balls, darts, paintballs and rings at everything in sight! Toy Story has become one of our "must-do" rides, Carol and I become very competitive as we spin through the targets!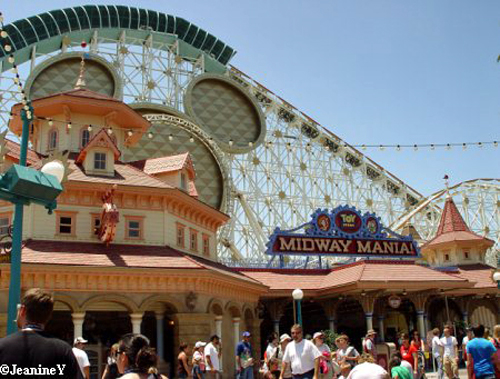 2009 – Mickey's Fun Wheel – The next big attraction on Paradise Pier at Disney California Adventure park, Mickey's Fun Wheel, was actually a "re-Imagineering" of the old Sun Wheel. The 160-foot-diameter eccentric wheel lost its old marquee of sun rays and added a new Mickey Mouse marquee. The gondolas, some fixed and some sliding, all bear images of Minnie, Donald, Pluto or Goofy. The attraction is surrounded by the Games of the Boardwalk, carnival-style games in a Victorian boardwalk setting.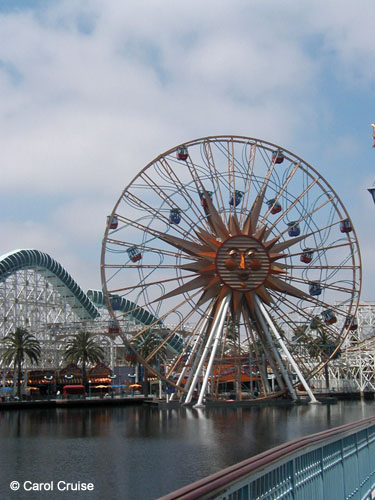 2010 — "World of Color" – a night-time spectacular featuring nearly 1,200 colourful dancing fountains and animated projections on a water screen the size of a football field, began nightly performances at Disney California Adventure park.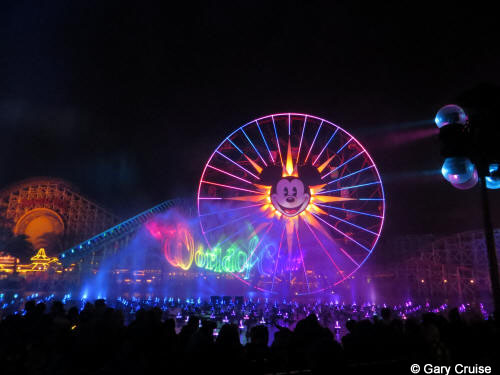 2011 – Star Tours — The Adventures Continue / The Little Mermaid ~ Ariel's Undersea Adventure – At Disneyland park, the original Star Tours attraction that opened in 1987 was "re-Imagineered" as Star Tours — The Adventures Continue, featuring more than 50 3-D adventures that send voyagers for the first time to Coruscant, Tatooine and other destinations in the Stars Wars galaxy. Across the esplanade at Disney California Adventure park, The Little Mermaid – Ariel's Undersea Adventure debuted, taking guests "under the sea" to experience a classic dark ride featuring scenes and songs from The Little Mermaid film.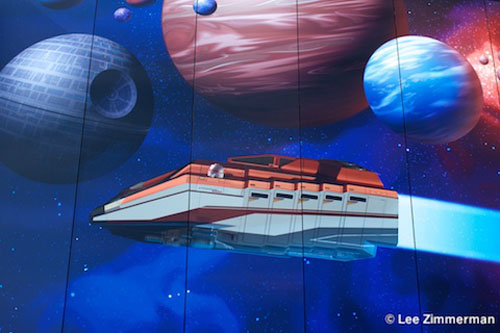 2012 – Cars Land / Buena Vista Street – One of the biggest projects in Disneyland history saw the former Timon parking lot transform into Cars Land. This 12 acre themed land at Disney California Adventure park invited guests to enter a breathtaking new world inspired by the hit Disney-Pixar film "Cars" and featured three new attractions — Radiator Springs Racers, Luigi's Flying Tires and Mater's Junkyard Jamboree. The addition of Buena Vista Street transformed the gateway of Disney California Adventure park into the 1920s and 1930s Los Angeles that greeted a young Walt Disney.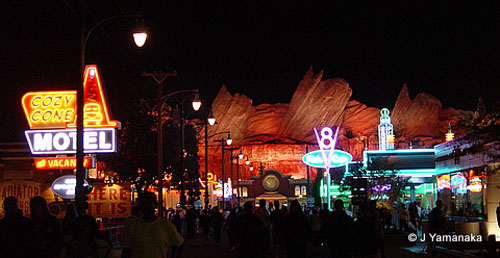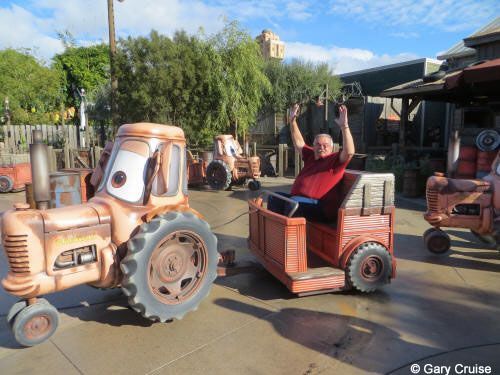 2013 – Fantasy Faire / "Mickey and the Magical Map" – At Disneyland park, the royal red carpet rolled out at Fantasy Faire, a picturesque village square that welcomed guests to meet Disney's fairy tale heroes and heroines. "Mickey and the Magical Map" a new, live stage show in the Fantasyland Theatre featuring Mickey Mouse in his timeless role as the sorcerer's apprentice made it's debut.
2014 — Billy Hill & the Hillbillies / Anna & Elsa's Royal Welcome – I'm a "glass half full" sort of guy, but I must admit that a couple of recent changes at Disneyland have left me disappointed, feeling like my glass is suddenly half empty. After 21 years entertaining Disneyland guests Billy Hill & the Hillbillies were informed in 2014 that their contract would not be renewed. Ouch! My absolute favourite Disneyland performers are now thrilling their many fans in a new location, Knott's Berry Farm. Then the amazing Zoetrope disappeared from the Animation Academy at Disney California Adventure park. A friend who visited Disneyland earlier this year told us that the area where Carol and I would stand in absolute wonder as we watched the Toy Story Zoetrope spin has been transformed to Arendelle. Anna and Elsa, who continue to take over the entire Disney world, now meet and greet their little friends in the Animation Academy.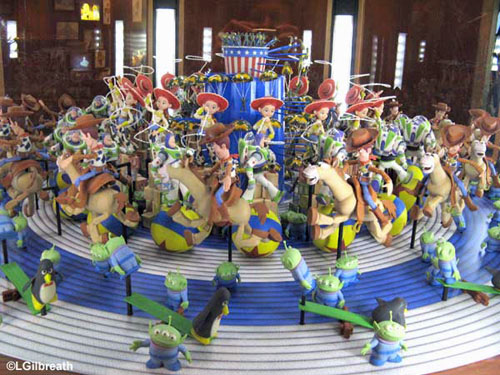 While the last two changes have taken some of the magic out of Disneyland from my perspective, most of the developments of the past decade have been very positive. It seems that Walt was right; Disneyland just hasn't stopped changing. In fact, change has been so prolific that some of the most recent changes have already undergone another change! Luigi's Flying Tires has closed to make way for Luigi's Rollickin' Roadsters which is scheduled to open in 2016.
I wonder what's coming next?
There are rumoured to be some big announcements scheduled during the D23 Expo, so by the time you read this we may have all heard about some new Disney magic coming in the future!