The recent announcement that The Disney Store, the mostly mall-based retail wing of the Walt Disney Company, will be pared down to just 25 stores around the United States came as no surprise: Just a few months ago, the company shuttered a large percentage of its stores around the country … with the promise that more closings would follow.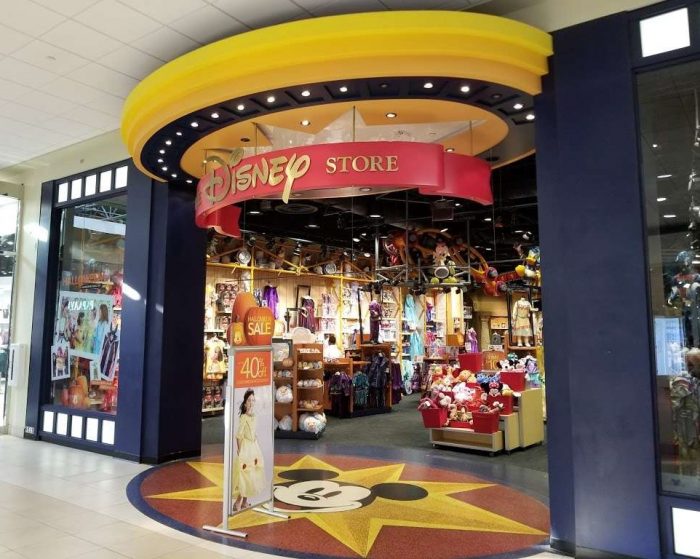 Coupled with this March's initial round of closings, the latest closures will leave thousands of cast members, many of whom were full-time, unemployed.
As a direct result of the Covid-19 pandemic, folks who want to shop Disney can do so on-line.
There was a time during the 1990s when it seemed as if there was a Disney Store in every shopping mall in America. Anywhere there was a large population demographic and an indoor mall in close proximity, a Disney Store was sure to follow.
At its peak in 1997, there were 749 Disney Stores worldwide.
FIRST DISNEY STORE OPENED IN 1987
The first Disney Store debuted on March 28, 1987, in the Glendale Galleria in Glendale, California.
The early Disney Stores featured front windows where the tops and bottoms consisted of black-and-white panels, giving the appearance that the storefront was encased in a large strip of movie film.
Bisecting the windows was an entranceway, with the words The Disney Store displayed prominently from above. A few years later, the entrances were changed at most stores: A giant semi-circular marque, reminiscent of movie theaters of old, protruded from the top of each storefront.
The marque hovered over an elaborate entranceway, where a distinctive Mickey Mouse head was embedded into the tilework as you walked into the store.
Once inside, you stepped onto a dark blue carpet dotted with colorful accents. In the rafters above, giant Disney characters, entwined in red and yellow faux film strips, hung from the ceiling, adding a sense of whimsy to your shopping experience.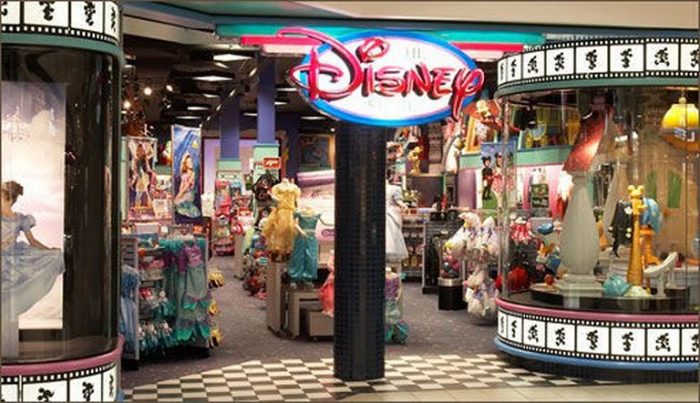 Most Disney Stores featured a giant pile of plush stuffed toys in the rear of the store, along with a screen on the wall where a continuous loop of Disney promotional materials was shown.
On sale in most of the stores were Disney-themed collectibles, toys, knick-knacks, jewelry, snow globes, infant clothing, T-shirts, sweatshirts and pajamas.
The Disney Stores were extremely popular, giving notoriously rabid Disney fans a quick "Disney fix" whenever they so desired … without having to travel to Florida or California.
DISNEY STORE CAST MEMBERS WORE DISTINCTIVE COSTUMES
In the early years, Disney Store cast members wore distinctive costumes, with tan pants and powder blue sweaters. Guests were always greeted with a smile and an enthusiastic "Welcome to the Disney Store."
Those costumes changed many times over the years, but the friendliness of the cast members remained constant.
The closures this year have struck a nerve with me, in large part because I was a Disney Store cast member from the fall of 1999 until the spring of 2012.
During those 12-plus years, I worked at five locations, all in New Jersey.
I started out as a part-time seasonal cast member at the Freehold Raceway Mall site leading up to the holiday season of 1999. After the holidays, I was kept on.
In the beginning, I was "on stage," working the floor, assisting guests with any questions or problems they had. I also worked "the box office," which in Disney parlance meant I rang up guests' purchases on the cash registers.
My Disney Store role evolved over the years as I became more of a handyman/jack-of-all-trades/stock and shipment cast member.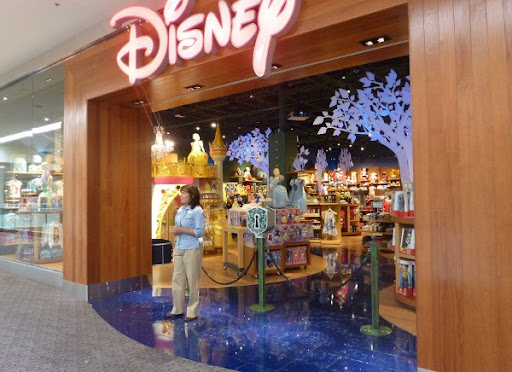 On any given shift, I could be found on a 10-foot ladder changing lightbulbs; in the store windows, setting up cardboard displays; fixing a balky vacuum cleaner; unclogging a toilet; processing shipment; replenishing items on the shelves; or taking out the trash to not-so-nearby Dumpsters.
After the Freehold Raceway Store closed, I bounced around quite a bit, working at Disney Stores in the Jackson Premium Outlets, then at the Woodbridge Mall, the Monmouth Mall and finally, a new Freehold Raceway Mall store, which opened in 2010 as a new-concept Imagination Park location.
Unlike many of my fellow cast members, I stuck it out after The Children's Place took ownership of the country's Disney Stores in 2004. That phase of the Disney Store story lasted until 2008, when the Disney Store was reacquired by the Walt Disney Company.
AN ECLECTIC MIX OF CAST MEMBERS
I worked with some genuinely nice people during my tenure. And it was an eclectic mix, to be sure.
The store managers and assistant managers were full-time employees. For the rest of the staff, which numbered around 30 when I started, The Disney Store was a part-time gig.
The cast included teachers, college students, stay-at-home moms and a senior member of the New Jersey Alcohol, Tobacco and Firearms. Another worked for the U.S. Navy in nearby Fort Monmouth, still another had a prominent position on Wall Street.
Female cast members outnumbered men by a margin of 5 to 1.
But all of us had one thing in common: An unquestioned love for Disney.
Unlike The Disney Store itself, which is fast becoming a distant memory, that affection for all things Disney is still going strong.
Chuck Schmidt is an award-winning journalist who has covered all things Disney since 1984 in both print and on-line. He has authored or co-authored seven books on Disney, including his most recent, The Beat Goes On, for Theme Park Press. He also has written a twice-monthly blog for AllEars.Net, called Still Goofy About Disney, since 2015.