It's a long drive from our home in south-eastern Ontario to Dayton Ohio, 615 miles to be exact! That's about 10 hours of driving but it was a trip we had been looking forward to for quite some time!
This was our third trek to Dayton for the annual Disneyana Show & Sale hosted by the Dayton "Plane Crazy" Chapter of the Disneyana Fan Club.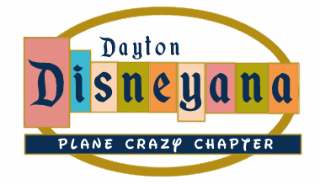 This year's event was held in a new venue, The Holiday Inn Dayton/Fairborn, and the organizers had lined up a great list of speakers. For Carol and our son Rob, it's all about the collectibles and the trading; for me it's the speakers and seminars!
There's something for everyone in Dayton!
Friday June 12, 2015
We pulled away from home at precisely 6:00 a.m. and made great time for the first couple of hours; then we hit Toronto at rush hour and slowed down! Once we were through the city, traffic moved steadily again. We crossed the Detroit River on the Ambassador Bridge and pulled up to the U.S. Border in Detroit at noon.
By 12:45 we had crossed the Ohio State Line; Rob and Carol needed some retail therapy so we made a brief stop at the Disney Store in Toledo. I thought they would be able to waste an hour, but they were back in only 45 minutes, hardly time for me to have a decent nap!
We arrived at the Holiday Inn just after 6:00 p.m. and by 6:30 we were unpacking in our rooms. We had agreed to meet Rob in the lobby at 6:45 to head out find a grocery store and have some fast food for dinner.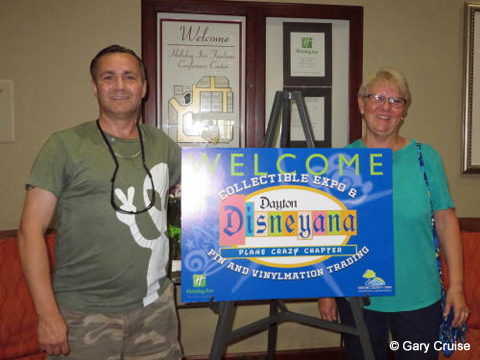 Before leaving, Rob urged us to go take a look at the big shark on display outside the ballroom! It was Bruce from Finding Nemo.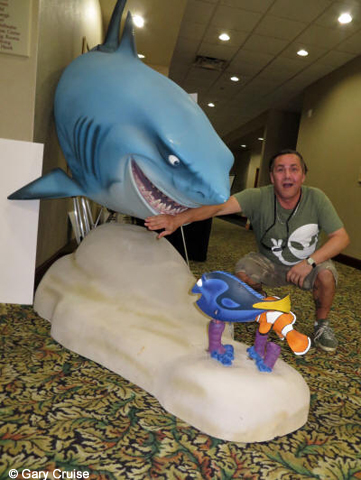 While we were taking pictures one of the event co-chairs, Anita Schaengold, tapped me on the shoulder and invited the three of us to join them for dinner. It was a special dinner for people who had attended the seminars that afternoon. All the seminar attendees and the speakers were there! The speakers were author Bob Welbaum, Tom Tumbusch, of Tomart Publications, noted Disney historian and journalist Jim Hill and Disney Design Artist Alex Maher. We were quick to accept Anita's kind invitation, filled our plates at the buffet and took our places at a table with families from Maine and Ohio.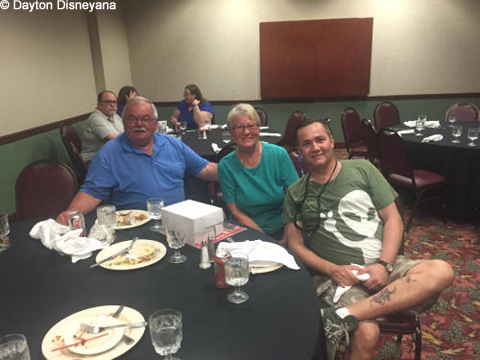 We chatted over dinner, then listened as each of the speakers described a magical Disney moment from their past. At the end of the evening there were draws for door prizes.
Rob won a calendar from Disneyland Paris and Carol won a Pirates of the Caribbean themed Post-It Note holder. There was a prize for almost everyone there . . . I was one of three attendees who struck out. Anita didn't want anyone to leave empty-handed so she asked Alex if he would do three quick sketches and he immediately agreed.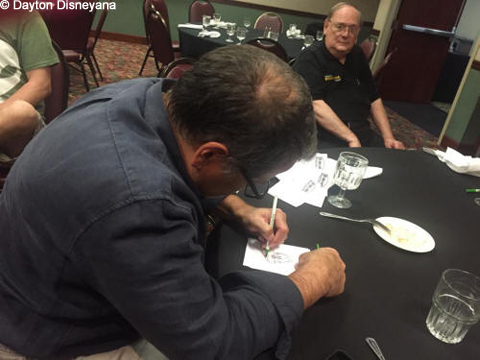 It was the best prize I could ask for, a sketch of my favourite character, Goofy, drawn just for me by a very popular Disney artist!
After dinner a lady came over and said, "Hi Gary, I'm Terri and this is my husband Dan. We're here because I read your blog after last year's event." Not only were Terri and Dan "first-timers" at Dayton Disneyana, they were volunteers as well. They manned the silent auction table most of the weekend. It was great to meet them; I'm glad they took the time to say hello.
We made our way to the car and tracked down a grocery store. It was the only opportunity we'll have for Carol to pick up a few products we really enjoy and cannot find in our Canadian stores.
We were back to the hotel by 9:30. I settled in for the night, tired after a long day behind the wheel. Carol went down looking for pin traders but there weren't many there yet. She made one trade and was back to the room before 11:00. We weren't long heading to bed – Carol had to be refreshed and recharged when shopping started at 8:00 a.m. the next morning!
Saturday June 13, 2015
Morning came early! Carol and Rob had paid a very small fee to be among the 50 "Early Bird" shoppers. This gave them entry to the sales floor 90 minutes before the doors opened to the general public.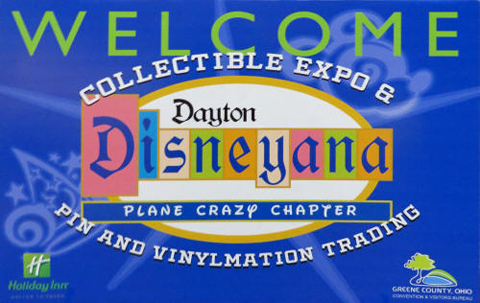 Carol thought that it started at 8:00 so they were both in line at 7:45. Unfortunately, the scheduled start was 8:30! Since the two of them were at the very front of the line, they stayed put and held their lead position.
I went into the room where the vendors were setting up and got some "pre-sale" pictures. Once again there was an amazing variety of merchandise. Naturally there were pins and Vinylmations.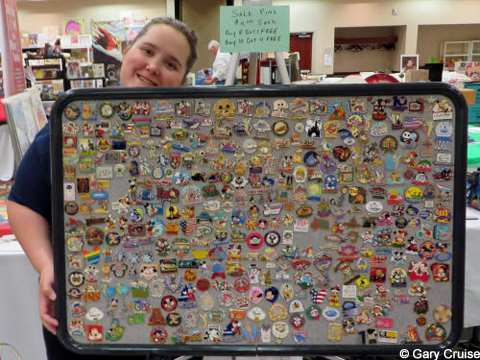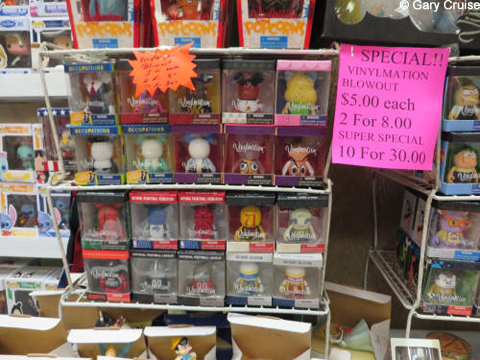 There were collector plates, mugs and ornaments.
There were figurines and dolls.
There were books and movie posters.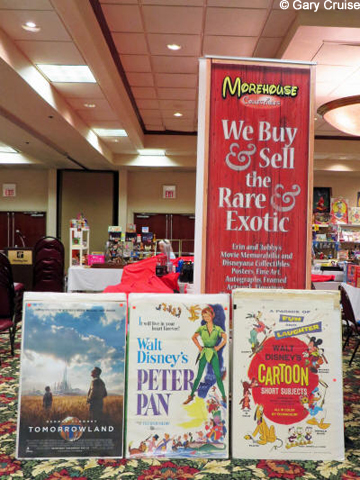 Erin and Robby from Morehouse Collectibles, pictured above, came all the way from Anaheim California! That's about 2,200 miles; I guess that makes our 615 mile drive seem like a walk in the park!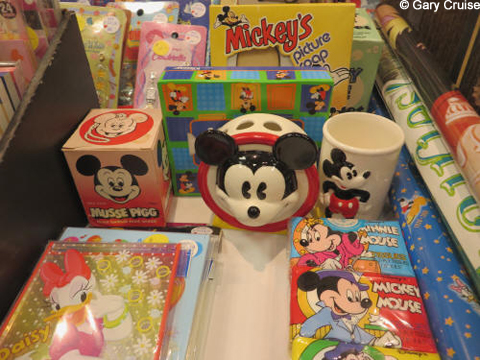 Wow, look at those vintage Disney games! I knew that Carol would enjoy browsing through all the great old collectibles!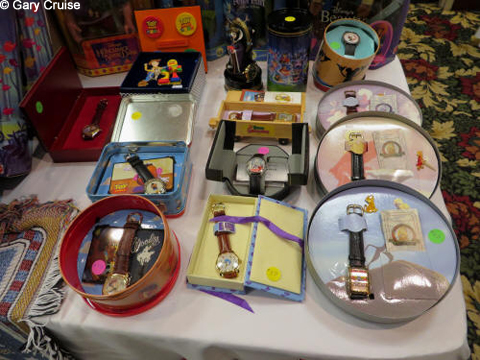 When the doors opened at 8:30 she and Rob were waiting anxiously.

Don't they look like hitchhiking ghosts?
They were the first through the door!
A shopping frenzy began!
Carol is an avid collector of Disneyana and son Rob has a smaller collection, but he understands his mother's taste very well so he acts as her eyes and ears!
He has a knack for spotting things that Carol has missed! He bought a few things for his own collection and spotted several "treasures" for Carol.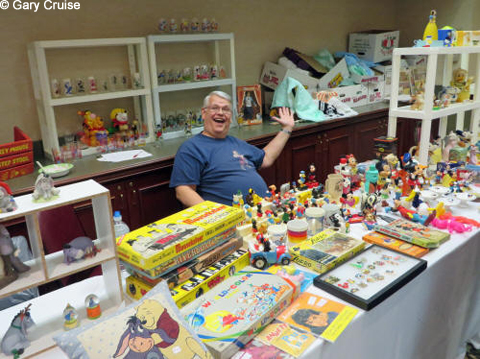 The Tuppers are retired teachers and now operate Toyland Treasures, pictured above. They drove in from Maine with a truckload of vintage Disneyana.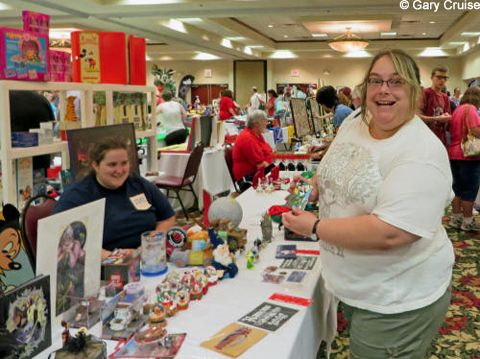 I took a few more pictures of the crowd of early-birds and then headed to the hotel restaurant for breakfast.
After breakfast I returned to the banquet hall and picked up Carol's first load of treasures which I hauled up to our room.
By the time I joined Carol again at 11:00 she was all finished her Disneyana shopping and proudly showed me the rest of her purchases. Her most prized acquisition was the complete Walt Disney World Christmas Village by Department 56.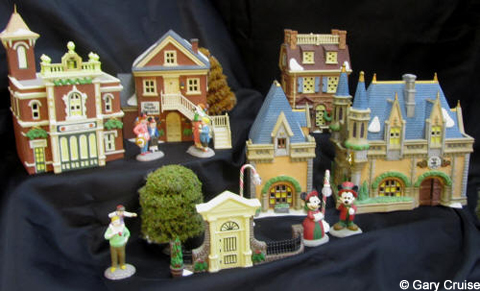 The set includes five buildings and a group of accessories and figurines. She has admired it at a gift shop in Salisbury Beach Massachusetts but they were asking waaay too much money for it. Today she got a bargain!
She spent the rest of the day in the Pin Trading Room.
The hotel had a table set up just outside the ballroom where they sold fresh sandwiches. They were tasty and reasonably priced! When lunch time rolled around Carol enjoyed one of those sandwiches at the trading table while she carried on making pin deals.
I spent the afternoon listening to the seminar speakers; they kept me occupied from 1:00 until 4:30. The first speaker was Jim Hill, a well known journalist and Disney Historian who gave us a healthy dose of background on the New Fantasyland. Jim is a very entertaining speaker and always shares some little-known insider information.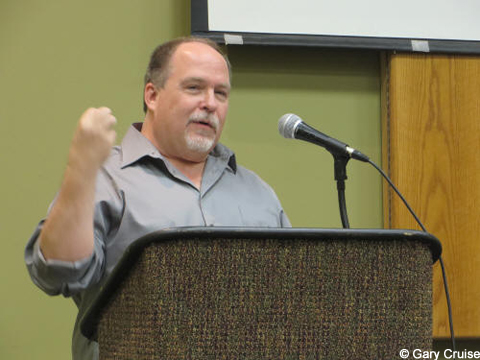 Jim concluded his presentation at about 2:15 and Disney Design Artist Alex Maher joined him on stage. Alex had spent the first part of the afternoon at an easel in the back of the seminar room where he worked on several sketches.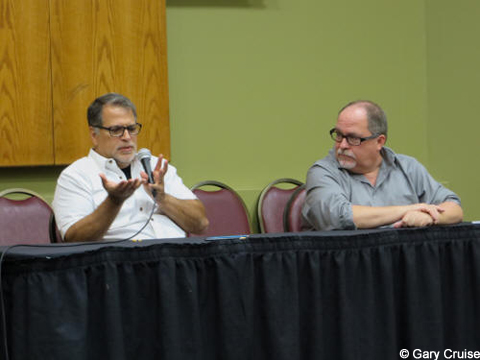 As soon as Alex joined Jim onstage they began a very interesting interview. Jim asked Alex about his background and the nature of his work with Disney. The dialogue was captivating; we heard that Alex was a Disney fan from the age of five. Long before he began to work for Disney he was a member of the Disneyana Fan Club. In fact, there was so much interesting information during that fascinating hour that I may have to write a blog about Alex Maher and his career with Disney.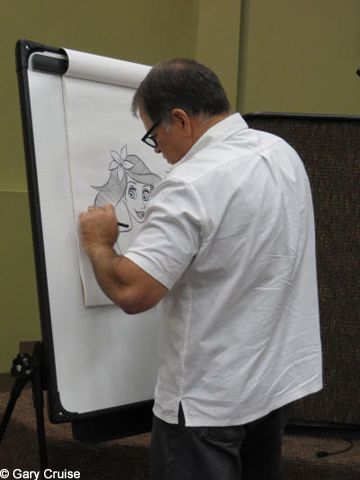 At the end of their interview Alex returned to his easel and we watched him sketch for another few minutes while he and Jim fielded questions from the audience.
Rob took some time off from pin trading and joined me for the final speaker of the day, Disney Legend Bill Farmer, the voice of Goofy for the past 28 years.
Being a Disney Legend is a big deal, a really big deal! There aren't very many Disney employees who have been honoured with this title, and even fewer non-employees. Bill is not a Disney employee; he and all the other voice artists are independent contractors, members of the Screen Actors Guild, who are hired on a job-by-job basis.
Have you ever heard of The Annies? The Annie Awards are the "Oscar equivalent" for the animation industry and Bill has been nominated as Best Actor three times.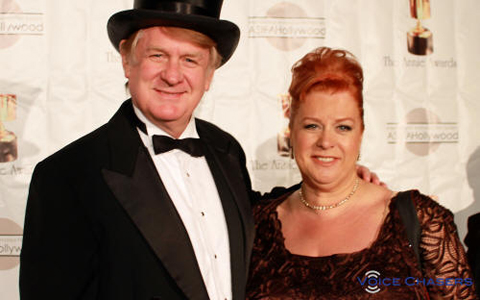 This year he won the prestigious Best Actor Award for his work on Goofy's Grandma. He performs the voices for both Goofy and Grandma! Watch the cartoon by clicking the red arrow in the image below!
Bill told us a bit about his background, how he began his long relationship with Disney, some of his fondest memories and some of his biggest blunders! As his tale unfolded he kept us all in stitches by playing short video clips and relating his life story using a variety of characters and voices. He was Goofy, Yosemite Sam, Pluto, Doc, Bullwinkle, James Cagney, Walter Brennan, Walter Cronkite, Richard Nixon . . . and many more characters. It was a wonderful session and everyone was delighted that it ran a bit overtime!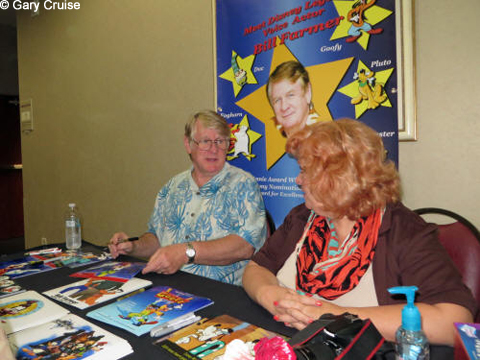 When the seminars were over Rob joined me in the hall adjacent to the auditorium and before long Bill was there to sign autographs and pose for pictures. What a treat to shake hands with a real Disney Legend! We even met his wife Jennifer!
By 5:00 Carol and I were back in the room and relaxed for a short while before heading out for dinner. We had signed up for the group dinner, featuring a terrific guest speaker; it was Bill Farmer one more time! After cocktails and appetizers we enjoyed a very nice buffet dinner, then the voice of Goofy took the stage again for his sequel.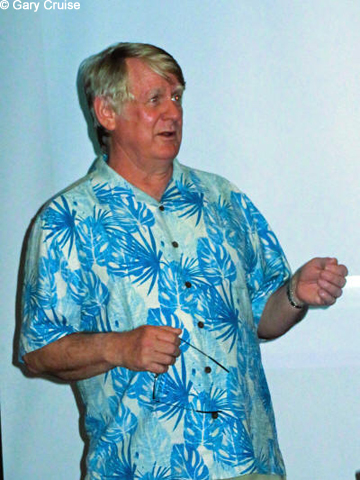 Although there was a bit of overlap with his afternoon presentation there was also a great deal of new information and insight. The new material was fascinating and even the few gags which were duplicated were hilariously funny; I laughed just as hard the second time around! It was a wonderfully entertaining evening!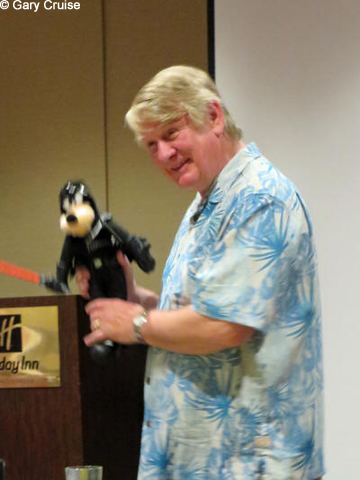 The conference organizers presented Bill with a token gift, a Darth Goofy developed for the most recent Star Wars Weekend event. Bill had not yet seen one and was delighted with the gift!
After Bill's presentation there were some draws for door prizes; no wins for the Cruise family this time! I would have loved the grand prize, a large sketch of my favourite character, Goofy, drawn that afternoon by Alex Maher and signed by both Alex and Bill Farmer . . . but it went to a very good home!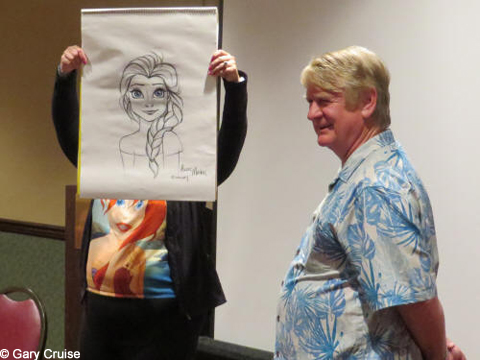 Alex did quite a few sketches during the day, including Elsa pictured above. They were all included in the following day's silent auction with the proceeds going to Ronald McDonald House.
That part of the night wrapped up at 9:00 and I headed to the room to watch the Stanley Cup Playoff hockey game. Chicago defeated Tampa Bay 2 – 1 to take a 3 – 2 series lead! Hooray!
Carol picked up her pins and Vinylmations and struck out for some more trading.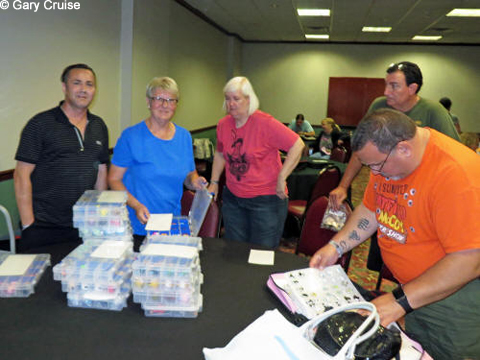 She was back just before the game ended and we were soon off to bed. Tomorrow would be another long day; Carol would trade all day. Rob planned to spend the morning browsing the merchandise and then join me at noon for another seminar.
We planned to pull out to head home by approximately 1:30 . . . which would get us home sometime between midnight and 1:00 a.m. Ouch!
Sunday June 14, 2015
The Vendor displays in the ballroom opened at 10:00 a.m.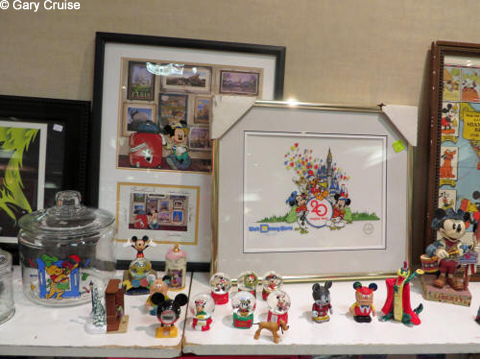 New arrivals were still checking in; many people come for just one day, or even for a few hours. Attendance is very reasonably priced!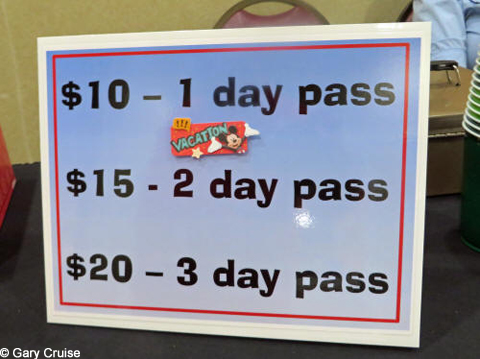 The shopping traffic was slower Sunday morning, compared to the big rush when those 50 "early-birds" stormed in on Saturday! While Carol and Rob browsed I took time to chat with a few vendors.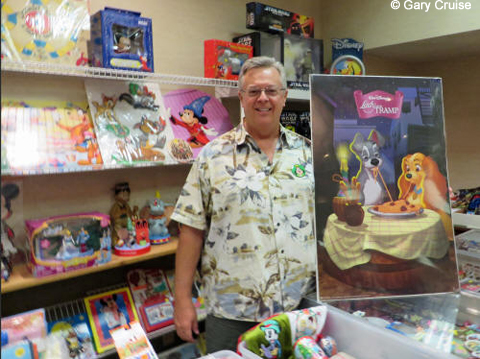 Gary & Gary Collectibles come to Dayton every year. When I heard that they were from Missouri I said, "I know a couple in Blue Hills Missouri who would like that Lady & The Tramp poster." Gary took it down and held it so I could get a good picture!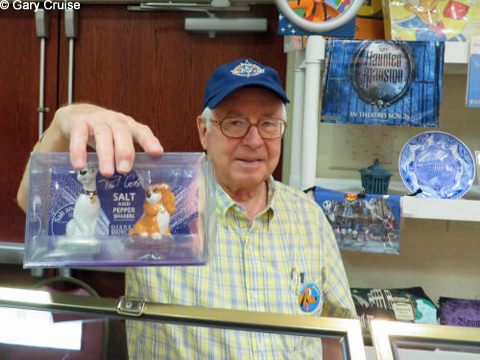 His business partner Gary said, "I bet they'd like these Lady & the Tramp salt and pepper shakers too!"
"Yes. They would!" the Gary behind the camera replied!
Like many of the vendors, they have a wide variety of quality merchandise. Everything is reasonably priced, and it seems that on Sunday the vendors are more flexible in their pricing. They prefer to sell it rather than pack it up and take it home.
Gary & Gary Collectibles will have a big sales booth at the D23 Expo in Anaheim this August! Be sure to look them up!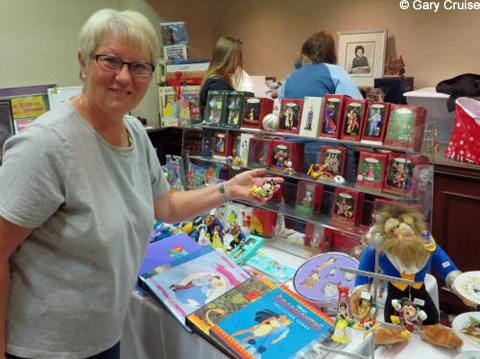 At noon Rob and I headed off to the auditorium to listen in on one final seminar before beginning the long drive.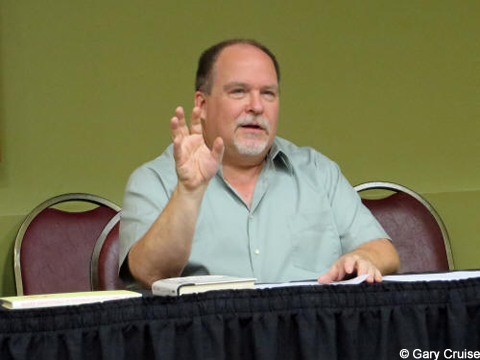 Jim Hill gave us some fascinating background information about Disney's animated feature Alice In Wonderland which was released in 1951.
Jim took us back to 1934 when Walt first considered the idea of an Alice production, and the various concepts that the project went through over the years. At age 41, Mary Pickford, a co-owner of Disney's distribution company, United Artists, really wanted to portray Alice in a live-action feature to kick-start her fading career. A screen test was completed in 1934 but middle-aged Pickford didn't come off too well as a young girl; the project was shelved!
Along came Ginger Rogers in 1944. Another screen test and again, young Alice wasn't portrayed particularly well by a 33 year-old dancer, but an audio recording of the Alice stories, with Ginger as the voice of Alice, did hit the market and sold well!
Jim described how Disney artists tried very hard to remain true to the original illustrations done by Sir John Tenniel for the first publication of the Alice stories in 1865.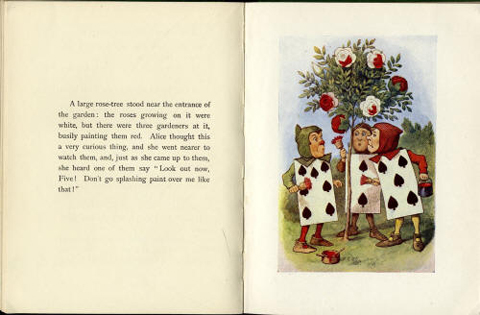 He described how what we now consider to be a Disney classic was panned by critics in 1951 when it was first released; it did very poorly at the box office. Jim told us how Disney worked to hard to reinvigorate the feature and make it the success we know today.
Any true Disney fan will be fascinated by the kind of background Jim Hill and his peers can provide.
I strongly urge you to attend fan gatherings like Dayton Disneyana to hear some of these fascinating stories!
There was one more seminar scheduled for 2:00 p.m. but alas, it was time for us to go!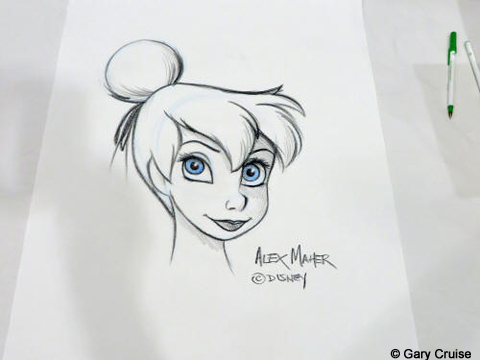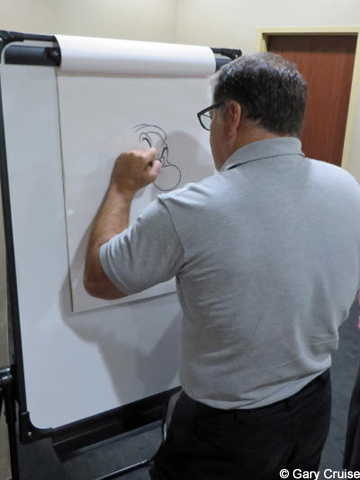 We said our goodbyes as we watched preparations for the silent auction. We heard later that Alex Maher completed 11 large sketches and ten of them were raffled; the sketch of Goofy had been awarded as a prize Saturday night. Proceeds from the sketches were added to the other silent auction items and a little over $2,100 is now on it's way to Ronald McDonald House. Outstanding!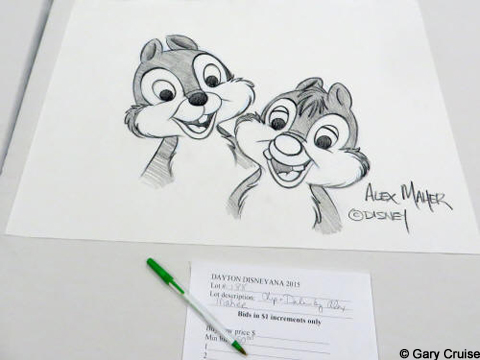 Our friend and fellow Canadian "Disney nut" Gabe is a huge Chip & Dale fan. He was leaving the same time that we did, but he left instructions with a friend who was bidding on his behalf. Gabe is now the proud owner of the Chip and Dale sketch pictured above!
We were northbound on I-75 just after 1:30 and spent the entire afternoon dodging construction and thunderstorms. Temperatures bounced between 80º and 65° again and again as the storm cells passed.
We left the Interstate in Detroit and crossed the border into Canada at 5:45. There were still occasional showers, but traffic moved well on the Canadian freeway, Highway 401. We made a couple of stops for fuel, coffee and a bite to eat and pulled into our driveway at 11:45, tired after a long, but fun-filled weekend.
The 2015 event in Dayton was bigger and better than ever. Rob, Carol and I accounted for 2 of the more than 50 rooms that attendees occupied at the Holiday Inn that weekend. Over 500 dedicated Disney fans and collectors browsed through the merchandise which 21 vendors had displayed on 78 tables. There was an amazing variety of product to choose from; there were vintage Disney figures from the early 1930's and there were brand new popcorn buckets introduced just a week prior at Disneyland! New and old, large and small; it was a collectors paradise!
The vendors came from coast to coast and everywhere in between. I spoke with vendors who had driven to Ohio with fully loaded trucks and vans from California, Maine, Florida, Colorado, Missouri and Illinois.
Dayton Disneyana is a "must-do" event for Disney fans and collectors!
Why weren't you there?
Carol was thrilled with her 25 pin trades. The treasures she bought are pictured below, Rob's are there too!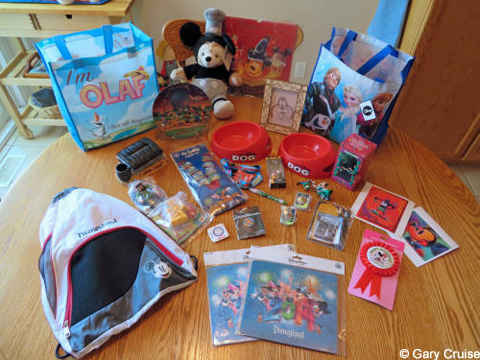 These are all free gifts and draw prizes!

Rob's purchases.

Carol's new Disney Village. It'll look great when she gets it accessorized for Christmas!

The rest of Carol's purchases.
If you are a Disneyana collector you would really enjoy this event. Even if you're not a collector, just a Disney fan like me, you would get a lot out of the seminars and the speakers. I just love hearing the "insider information", the historical background and of course the hints as to what might be coming to Disney next!
Event Co-chairs Pam Phillipe and Anita Schaengold together with their committee have once again done a terrific job! Dayton Disneyana just keeps getting better year after year!
As I said at the beginning of this blog, there's something in Dayton for everyone!
Next year's event is scheduled for the weekend of June 10 — 12, 2016 at the Holiday Inn Dayton/Fairborn.
Go to your calendar, right now, and mark your trip to Dayton on it!
The event web site will give complete details as they become available! Check the web site HERE.
Their Facebook page is HERE.