"Cinderella," a new live-action retelling of the classic fairy tale from Walt Disney Studios and Director Kenneth Branagh, regally depicts the well-known story of a girl, a fairy godmother, and a glass slipper.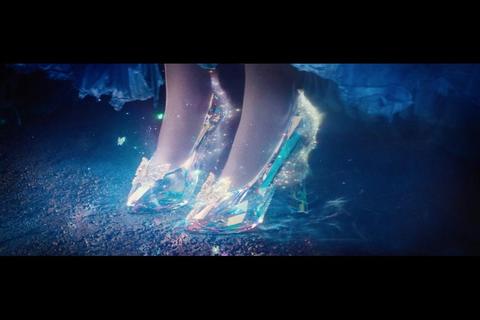 Loosely based on the 1950 animated film, this version is gently updated for the modern times, with more backstory given to Ella's happy early days with her parents, and a longer look at the Prince who inevitably wins her heart.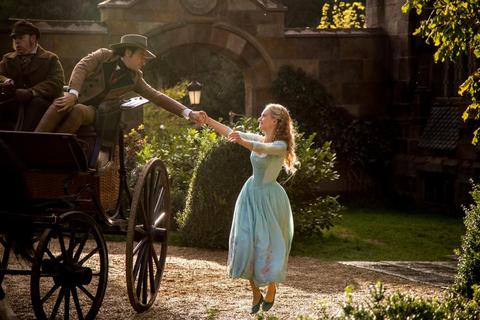 It is her mother (Hayley Atwell) who encourages Ella's imagination and perception of good in everyone, and who leaves her with the strong commendation to "have courage and be kind!" Unfortunately, her father's second choice for a wife, Lady (Cate Blanchett) Tremaine, only holds truck with the first part.
Ultimately, as in the 1950's edition, Cinderella does make it to the ball, with a little help from her friends, and loses a shoe but gains a Prince in the end.
As the unwaveringly gracious Cinderella, Lily James gives a charming performance of a young woman determined to adhere to her dying Mother's advice (who wouldn't listen to Agent Peggy Carter?) and see the best in everyone. Helena Bonham Carter does her usual quirky best as the Fairy Godmother, and if her sequence alone seems to have dropped out of a Tim Burton film, that may just be by power of association.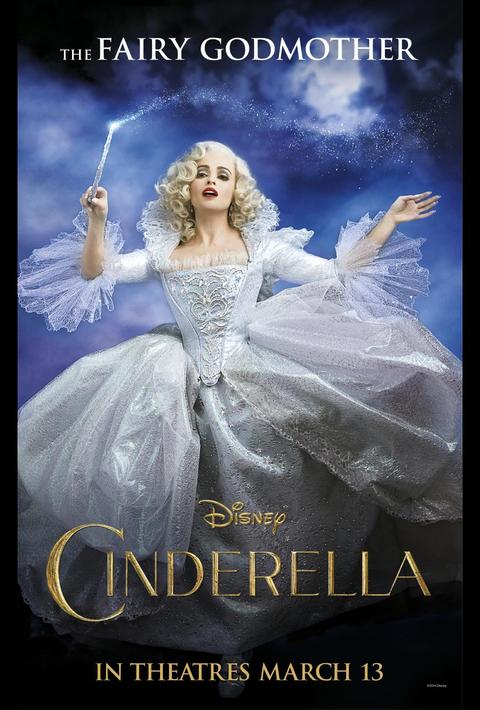 The star of the film however, is Cate Blanchett. As the mostly-fearsome Lady Tremaine, she strikes a powerful image clad in sharply angled outfits reminiscent of Joan Crawford at her most hard-boiled. Treading a thin line, she manages to make the archetypal Evil Stepmother understandable, if not sympathetic: A product of love lost, thwarted ambition, and seething resentment. Her portrayal is so vivid that although you might wish she was given more screen time, to do so would likely overshadow the film's less-defined protagonists.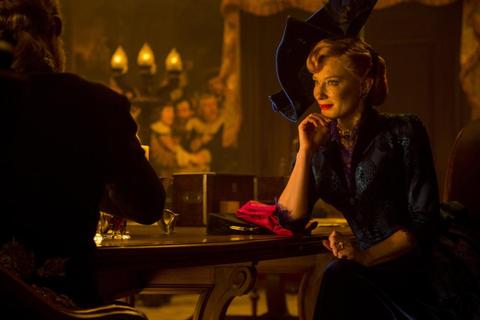 As a work of art, the movie looks gorgeous: Branagh is no stranger to sumptuously designed productions, and it shows here. Between the elaborate, striking costumes by Sandy Powell and the colossal baroque sets by Dante Ferretti, the world of "Cinderella" is as magical as any Fairy Godmother could wish.
While most of the film is a direct callback from the 1950 film, the new scenes meant to make the story a little more accessible to contemporary audiences work very well, with the most successful being the initial meeting of Ella and Prince/Apprentice Kit. The brief hint of "mansplaining" that goes on as Kit tries to help Ella control her horse, and her subsequent indignation at his tradition-based conservative viewpoints helps to establish them as equals and makes their exhaustive efforts to be together more believable.
Probably both the best and the worst thing about "Cinderella" is that it is an unabashedly unironic retelling of a very familiar story. There are no dramatic reversals at the end–the Stepmother is not revealed to be the heroine and Cinderella does not learn kung fu and slay any dragons. It is an elegant, straightforward tale that dares to recommend kindness and courage over anger and vindictiveness in a world that, like ours, seldom distinguishes between them…and perhaps, sometimes, that's all that's required.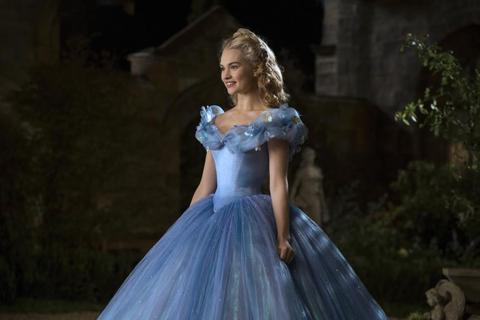 Also playing with "Cinderella" is "Frozen Fever," the animated short sequel to "Frozen." It has Elsa planning a grand celebration for Anna's birthday, when she abruptly finds that a cold maybe bothers her anyway. With the same cute characters everyone loved from the original movie, and another catchy tune from Kristen Anderson-Lopez and Robert Lopez, there's little chance that this one's not going to go over like gangbusters. All they have to worry about at this point, is whether the Disney Stores will subsequently be able to keep the Snowgies on the shelves.
"Cinderella" is presented by Walt Disney Studios Motion Pictures. Rated PG, it stars Cate Blanchett, Lily James, Richard Madden, Stellan Skarsgård, Holliday Grainger, Sophie McShera, Derek Jacobi, and Helena Bonham Carter.
Directed by Kenneth Branagh and produced by Simon Kinberg, Allison Shearmur, and David Barron. Screenplay by Chris Weitz.
The film enters general release on March 13, 2015.