Santa Claus began meeting with guests at his chalet at the Downtown Disney Marketplace earlier this month, and my children were among those getting in a pre-Thanksgiving visit. We have been going to this location outside the World of Disney store for years and look forward to our annual tradition. But this year, we decided to go earlier than usual — before we and Santa are busy closer to Christmas.
In the past, we could count on a typical wait of 45 to 60 minutes to see Santa, especially on weekends in December, but it seems as if that is a ghost of Christmas past. Walt Disney World officials are employing their world-famous line-management techniques to help whittle away the amount of time guests actually have to stand in a queue.
When the line begins to get unwieldy, cast members will begin placing visitors in a virtual queue with the use of pagers or text alerts to guests' cell phones. So, even if Santa may not be available to hear what's on your children's must-have lists for another two hours, you won't have to spend that time in line. You can shop, grab a bite to eat, or even just rest your tired feet. I'm told the pagers work from throughout the Marketplace — from the Lego Imagination Center to Rainforest Cafe.
Santa Claus will be at his chalet from noon to 9:30 p.m. daily through Dec. 24. He takes short breaks at 2:15, 4:45 and 7:30 p.m. Here are a few things to know before you go:
** You can take photos with your own camera, but the lighting in the chalet leaves a lot to be desired for folks using point-and-shoot cameras or cell phones. It certainly can be overcome with a more advanced camera, though. Ideally, you might want to try setting your light metering before it's your turn to talk to Santa.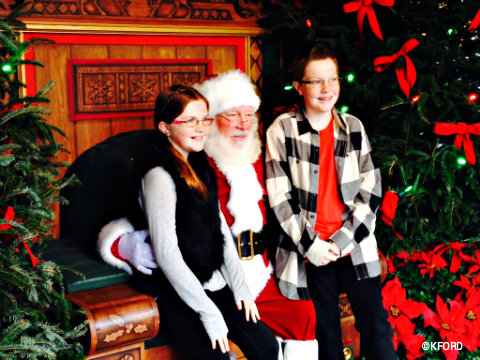 ** Don't despair if you don't have fancy photo equipment! Professional photo prices are reasonable, compared with visiting Santa at many malls and events. I speak from a decade's worth of experience of meeting Mr. Claus when I say this. You can order a download of your favorite photo on My Disney Experience for the regular price of $15. Once you download the photo, you can make as many prints as you wish.
Despite his busy schedule before Christmas, Santa Claus will be making varied appearances at Walt Disney World. It would seem impossible, but the Jolly Old Elf can be found in these additional locations:
** Epcot: Santa and Mrs. Claus meet guests and pose for pictures at 1:30, 3:30, 5:30 and 7:30 p.m. daily through Dec. 24 at The American Adventure. Plus, each country in the World Showcase also features storytellers who describe local holiday traditions. In many countries, the storyteller is a representation of Santa, such as Pere Noel in France and Father Christmas in England.
** Magic Kingdom: Santa makes an appearance at the end of Mickey's Once Upon A Christmastime Parade at Mickey's Very Merry Christmas Party. Admission to the party requires a separate ticket.
If he's not called back to the North Pole, Santa likely will be in the Magic Kingdom on Dec. 20 to 24 and in most hotel lobbies between 5 and 9 p.m. on Christmas Eve. (At Fort Wilderness, he can be found on the porch at Crockett's Tavern.)