If you've never been to SeaWorld Orlando's water park, Aquatica, fall is the perfect time for checking it out. Many families with school-age children have fall breaks this month, and Aquatica could be a great way to spend some of that vacation time. My family and I have visited the water park at different times of the year, and we especially like the fall. Here are our Top 5 reasons why:
1. Unlike some of the other Central Florida water parks, SeaWorld's Aquatica offers several price breaks on admission right now. If you book your ticket online in advance and commit to a specific day, you will save at least half off regular admission. Weekday Splash and Save tickets are $19 and weekend tickets are $24. Want to enjoy the water park for the remainder of the calendar year? Pay just $37 for unlimited admission per person in 2014. (Regular admission is about $50 per day for adults.) In addition, Florida residents visiting SeaWorld's Discovery Cove receive unlimited admission to Aquatica through Jan. 31.
2. The weather in Orlando is still warm enough for a day of hanging out in swimsuits. Temperatures this week will be in the 80s, and that doesn't leave room for shivering. In fact, when my children and I visited Aquatica on Sunday, the pavement still was hot enough for us to want to wear our flip-flops. It's also warm enough to crave an Icee from one of the most expansive selections we've ever seen near one of the kids' sections. Choose from Blue Raspberry, White Cherry, Coca-Cola, Orange, Watermelon, Lemonade, Banana, Strawberry, Kiwi Strawberry and Pina Colada. The kiosk even suggests ways to mix the flavors to create unique flavors for the Outback of Aquatica: Hooroo Runner, Outback Cherry Cooler, Tassie Lemon Twist and Walhalla Blast.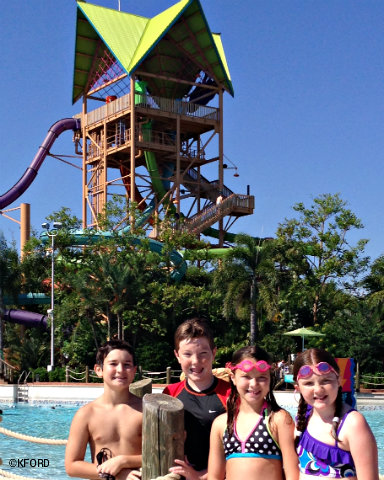 3. As with other Orlando theme parks, crowds tend to be less severe at Aquatica in the Fall when most children are in school. The queue for Aquatica's newest thrill ride, Ihu's Breakaway Falls, does not extend from the eight-story platform to the ground. You get more for your money when you're able to experience more of the water park's signature attractions, and that should appeal to everyone, right?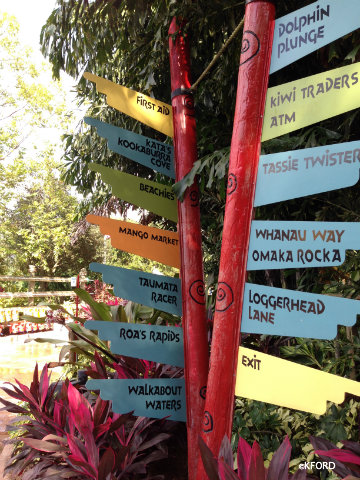 4. From tame to thrilling, there is enough variety in the water attractions at Aquatica that everyone can find something to enjoy. Roa's Rapids, Loggerhead Lane and the side-by-side wave pools appeal to all ages. Kata's Kookaburra Cove is designed for young children 48 inches and younger, while older children can hit up the fantastic Walkabout Waters. In addition, there are slides for families to experience together and individually.
5. Of course, what sets this water park apart from others in the area is its focus on real animals and marine life. Perhaps the most stunning are the Commerson's dolphins that swim in the tank that Dolphin Plunge goes through. Many guests do not realize there are dolphins that look like much smaller versions of orcas. You'll also find other species, such as parrots and tortoises, in locations where visitors can learn about them.
Sure, water parks are a great summertime break from the heat, but living in Florida means our cool-down for fall still can't diminish the cool features at Aquatica. Now is as fun a time as any to make a splash and still soak up the fun in the sun that often lingers well into December.

DISCLAIMER: Recently, I was a guest of SeaWorld Orlando at Aquatica. This did not affect my review; my opinions are my own.