To all who come to this photo trivia game, Welcome! Along the way, the photos can make us relive memories and see details Walt's Imagineers put into everything we love in Walt Disney World!
So here it is. My last night in Walt Disney World. No, it's okay… I'm fine.

Last week's challenge: number #336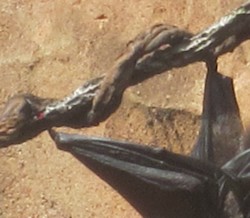 And here's the answer: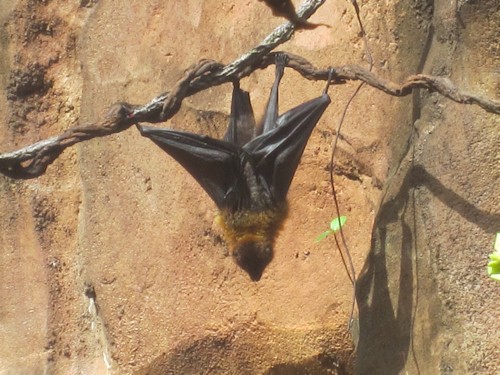 Copyright © Erin Blackwell
The bat area along the Maharaja Jungle Trek of Disney's Animal Kingdom!
Good Batman jokes, Chris Kelly and Team Hill!


Kristi Strembicki was the first to send in the correct answer! Congratulations to Kristi and to all our winners this week! Tom Hermes, Donna Frank, Candice Grimes, Timmy Saunders, Bethany Boucher, Matt Wildey, Lyn Johnson, Ann Dunnington, Ed Adams, Chris Shirk, Jen, Mike Haven, Christina Trigiani, Mark Niebojeski, Brett Borowski, Teala Van De Ven, Chuck Strom, Larry Bratsch, Terry Blair, Rosemarie Novelo, Karrie Duffey, Karla Meyer , Double Family, Kevin Marriott , Davida, Lyn Smith, Noelle Myers, Maureen Handy, Laura Donmoyer, Alan Mize, Teresa Miller, Melanie Dalton, Matt Holley, Mandy R., Sarah Orman, Lynda Abiuso, Rob Blundin, Chris Lankford, Eric Johnson, Amanda Clayton, Jim &Lorie Sonnen, Amy P, Cathy Fleming, Lucille Angermaier, Jenny, Christi Ison, Melissa Such, Shelly Borella, Penny, Vicki Britt, Kathy Morris, Tony Lliteras, Jim Riley, Kim H., Nicole Lassiter, Jim Finley, Anne Heffentreyer, Beth Powell, Melodie Jurgens, Suzanne Renfroe, Phyllis, Renee Hardiman, Lisa Zitek, Allison Forson, Tim Johansen, Doug Olson Family, Mickey Eckert, Maggie Klotz, Vera And Izzy Williams, Annie Niece, Kevin Morgan, Mary Dieuliis, Hobbes And Snorky, Craig, Judy Simonsen, Chris, Gretchen, And Katie Barnes, Sheryl Bryan, Tina Newton, The Kahle Family, Roxanne Kliebert, Ruben O'meara, Art Hutchinson, Jennifer Rowell, Ed Suscreba, Gabriella, Terry And Matthieu, Maryann Eckenrode , The Emich Family, Lynette Michalos, Cindy Pink, Clay Anthony, Heidi Goodhue, Shelly, Michele Mongeon , Carol Ney, Linda Ranatza, Tyler Otts , Tjg, The Kertes Family, Team Hill, Mary Beth Tarbet, Lori Rienhardt, Gail States, The Parker Family, Elaine Kleinhenz, Donna Begley, Emily Hudson, Jackie Lamendola, Luis Rodriguez, Kirsten Miller, Dawn Bach, Les Stewart, Tricia Petty, Carla C, Kathryn Perkins, Heather Pedulla, Michelle Darabaris, Cheryl Costello, Theresa Rucando, Tom Wert, Claire Gregory , Bob, Brent Lindblad, Jeff Blank, Rebecca Smith, Christina , Jeremy Hardy, Pierre Bernard, Robert Hildebrandt, Deb Gallo, Duskin Henard, Deb Kettering , Chad Adams, Elizabeth Scarborough, Patti Mccaffrey, Ron Harper, Erin Hammer, Kim Paulakos, Sara Alaimo, Sharon Powell, Barbara Baker, Peg Jones, Kirk Hardy, Maryann Romagnano, Carrie R, Team Meeker, The Gunnels Family, Pj Popsuj, Cynthia Gaubert, P Kyle, Lizanne Fisk, Michelle Cassisa, Jen Tremley, Patty Carty, Mike Haeberle, Russ Morgan, Bob Henriksen, Jen Cerce, Deb Ragno, Patti Deluca, Daniel Record, Kathryn Record, Joseph M. Zafia, Shelby Watson, Julia Wickware, Jose Serrano, Paul Ignudo, Jr., Barclay Bakkum, Lee Anastasi, Dave Carriere, Josh Carney, Hillary Waldroop, Eileen Miller, Kyle Burdo, Sheila, Michael And Kelly Barnes, Nicole Shuler, Jane Johnson, Janet T Thorn, Grumpy's Groupies, Team Bonnie Sue, Kerri Coggins, Stephanie Dollar, Smitty, Chris Kelly, Nan Amor, Ronald Delorey, Les Whitten, and Robert Wescovich. Each of you are entered in this month's winners' drawing.
__________________________________ _____________________
Challenge #337 Where in the world is this?
We're in a park, Players, and I don't want this to be to tough, so it's in the FIRST park that they built in Walt Disney World.
Do you know? Do you have a guess? Please send in your answer, before the end of the day on Thursday, June 26th, by clicking on the blue box below. Please do not post answers using the Feedback Form link at the bottom of this post.
See you next week, Players!


_______________________________________________________________________
Everyone who sends in a correct answer to a Where in the World Challenge this month will be entered in a drawing at the end of the month for some special AllEars® goodies!