A Disney Fan's Adventure of a Lifetime
Several members of the AllEars team spent most of March visiting Disney destinations far from home. We visited Hong Kong Disneyland, Tokyo Disneyland, Tokyo Disney Sea, and Aulani in Hawaii. Along for all or part or this journey were AllEars' Deb Wills, Laura Gilbreath, Lee Zimmerman, Jeanine Yamanaka, Linda Eckwerth, and Deb Koma, and friends Jack and Pete.
In Part 3 I'll talk about the parade and fireworks, and cover a few other miscellaneous topics.
The parade in Hong Kong is called Flights of Fantasy. Hong Kong Disneyland had set us up with a reserved spot at the start of the parade route, which began in Fantasyland at 3:30.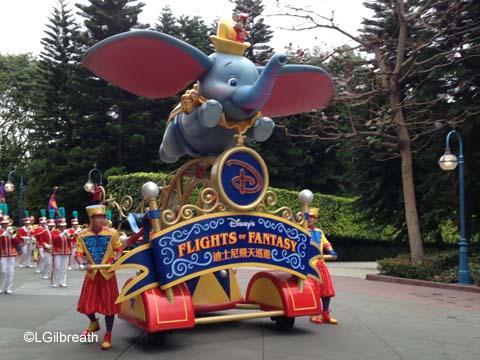 The parade was absolutely gorgeous, and I think it grabbed us all from the opening moment. The Dumbo float (his eyes blinked, and his ears flapped!) was followed by the Disneyland Band, playing Zip-a-dee-doo-dah and the Mickey Mouse Club March.
Keeping with the flight theme, the Fab 5 plus Chip & Dale followed in Mickey's Magical Airship. With that float we first heard the parade's theme music, which sounded very familiar to those of us who have seen Mickey's Soundsational Parade at Disneyland. This had lyrics in Chinese. though. Flights of Fantasy was the first to use the music, as it premiered a few months before the California parade. And I have to say that parts of Soundsational look like a cheap knock-off in comparison to Flights of Fantasy. And I LIKE Soundsational. But I could really see where Disneyland California cut corners…
Deb has posted an excellent video of the parade, so rather than trying to describe it I recommend you watch the video.
I thought the most beautiful float was the Royal Swan carrying the princesses – it was just exquisite.
One of the other parade elements I really enjoyed was the pixies who were riding ladybug scooters. They were adorable.
The floats were very detailed and so fun and imaginatively designed. And there were so many characters! I liked the Jungle Fun float – a mashup of The Jungle Book and The Lion King with recognizable scenes and characters from both. (And am I allowed to say how refreshing it was to see a Disney parade that didn't have anything from The Little Mermaid?)
We'd thought we were in an excellent spot, but once the last float passed by us it went another 100′ down the parade route and then all the floats stopped…and then several of the floats rose even higher in the air as aerialists dressed like Green Army paratroopers, 100 Acre Wood honeybees, and Jungle Book orangutans performed. We could see the performers on the Toy Story float, but didn't have a view of the others. Now we understood why there weren't that many people at the beginning of the parade route.
I think the parade was another "Wow!" experience for all of us. Hong Kong Disneyland blows our minds yet another time. I was so impressed with this park!
One last show to tell you about…the fireworks show. Although Hong Kong Disneyland closes relatively early at this time of year (8:00), the fireworks show, Disney in the Stars, is still performed every night at park closing (weather permitting). Lee and I saw it both nights.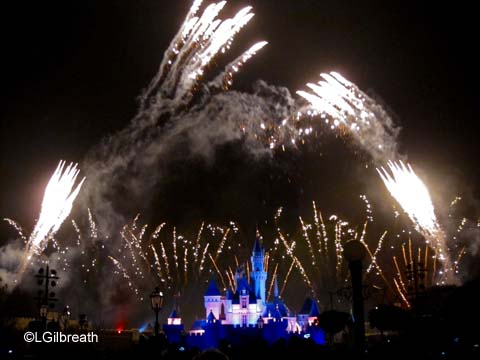 Since the park wasn't very busy there were no crowds at all for the fireworks, and we could've watched from just about anywhere. Since we weren't sure what the show was and what a good spot might be, we opted for what is a good spot at Disneyland and Magic Kingdom: at the end of Main Street in middle of the street halfway between the last shops and the hub. That ended up being pretty good.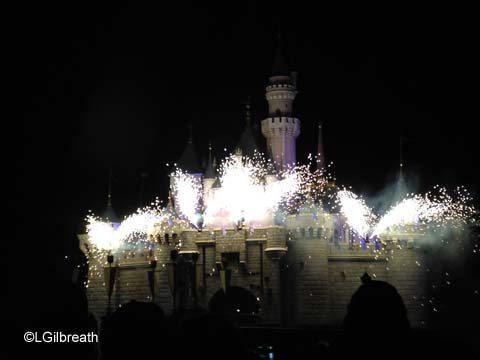 It was a really nice fireworks show – maybe not the "ooh…ahh" factor of the shows at Magic Kingdom or Disneyland, but nicely done. The fireworks were low-altitude compared to what we're used to – there were a number of pinwheel effects on the castle, or low sprays arcing behind it. Not too many that exploded up high – I'm sure there's a reason for that, but I don't know what it is. No Tinker Bell in flight. There were some projections on the castle walls, but from our position the castle was too small for us to see them. The projectors create a lot of different colors on the castle, also, and those we could see.
The second night we were much closer to the castle where we could see the projections. It was interesting, but certainly not necessary in order to enjoy the show.
There was no special theme music for the show, instead it used a number of familiar Disney melodies, like "A Whole New World", "Cinderella", "So This is Love", several pieces from "Mulan", "Alice in Wonderland" (that was very different!), "Tale as Old as Time", "Be Our Guest", and concluded with a reprise of "A Whole New World". All the lyrics were in English, and some of the songs were performed by a children's choir, which I enjoyed very much. The "Mulan" section featured fire effects, and some dialog in Chinese, but the rest of the dialog, including the introduction, was in English.
It was really quite lovely – just very well-crafted and choreographed. We enjoyed it. It added just the right finishing note to our day.
Now I'm going to go back and touch on some other parts of the park that I haven't talked about very much. Starting with…
The Park Entrance
Actually the area just outside the park entrance and the ticket booths. Where there is this absolutely wonderful fountain! You can see Mickey surfing on the whale's water spout – well, Mickey moves up and down, too! There are bronze statues of other Disney characters along the edge – Donald and Goofy are visible in this photo; there are also statues of Minnie and Pluto.
At night the fountain is beautifully lit. At park closing we even saw a fountain show with some dancing fountains.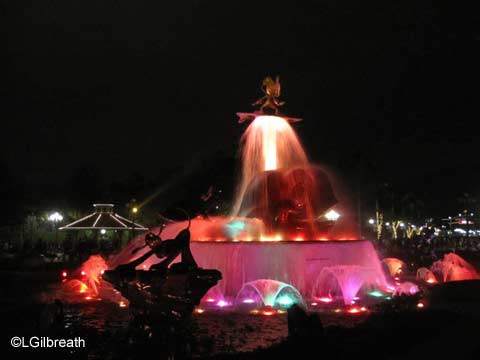 Main Street
This area was so much like Disneyland – just so much bigger! Unfortunately I didn't spend much time here – I didn't even realize until after we left that The Animation Academy is in what would be the Opera House in California.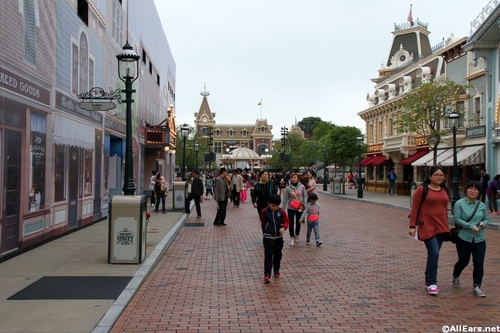 I was surprised that there was no Partners statue in the hub. It looked odd without it.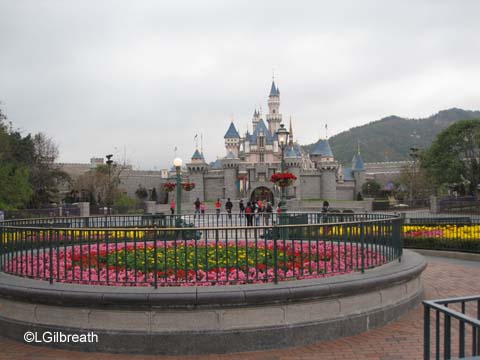 Adventureland
Of all the "lands" in the park, this was the one that seemed the largest to me in comparison to California. There were so many pathways – some of them that didn't really go anywhere, but still took you to see something interesting, like this waterfall grotto.
And there were other play areas like the "Liki Tikis" – tiki statues that spit water, like they have in Florida – and an area with a variety of drums to play.
The major attraction in Adventureland is The Lion King show, which was not running during our visit. The other attractions are the Jungle River Cruise and Tarzan's Treehouse, which I already described in Part 2.
Tomorrowland
We visited this area at night – the lighting was really nice. The attractions there are Space Mountain, Orbitron, Buzz Lightyear Astro Blasters, Autopia, and the Stitch Encounter show. In addition to the attractions there is a big water play area with various UFO-type vehicles that splashed water – does that make them sprays-craft? I'm sure all the water play areas are very welcome in the spring and summer when it is very hot and humid in Hong Kong.
Fantasyland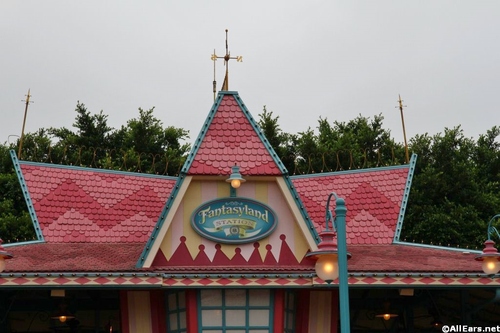 Another very pretty area, and very similar to Magic Kingdom in terms of the rides and attractions: Cinderella Carrousel, Philharmagic, The Many Adventures of Winnie-the-Pooh, Mad Hatter Tea Cups, Dumbo, and "it's a small world". But no Peter Pan, which surprised me. Like Disneyland in California, "small world" and the theater lie outside of the main area of Fantasyland.
The architectural style of Fantasyland is quite different than in the U.S. parks. I had asked our guide Helen about it, and she said it's Victorian, a reference to Hong Kong's many years as a British colony. There are still Victorian mansions in Hong Kong as well as other cultural and architectural features (e.g. afternoon tea) that trace back to the colonial period.
Miscelleneous
You've probably inferred this from things I've written…but we had timed our visit extremely well, during a period of low park attendance. We were in the quiet time between Chinese New Year and spring break. Our first park day was a Thursday and we had very short lines – or no lines at all – even for the new attractions. I think the longest we waited in was fifteen minutes! There were more people in the park on Friday, but even that day most of the waits were well under 20 minutes. It was just wonderful.
And speaking of lines…something that surprised me: there are only two Fastpass attractions! Space Mountain and The Many Adventures of Winnie the Pooh are the only attractions that offer Fastpass. I was actually rather shocked that they aren't available for Mystic Manor and Big Grizzly Mountain Runaway Mine Train, especially when seeing how long the queue is for both or those.
I know I said it before, but I think it bears repeating: If you're a Disney fan, this is not a one day park! We had two days, no lines to speak of, and still didn't see everything.
Coming next – Dining and the hotels.