Time for the third annual Tinker Bell Half Marathon weekend at Disneyland! Lee and I had run the first two, and we are trying to remain "perfect" for this race. Coming only a week after our Dopey Challenge at Walt Disney World made this one a little more challenging this year – and if that weren't enough, we were also running the Inaugural Tinker Bell 10K on Saturday! That makes a total of 67.9 miles of racing in 11 days. OK, so maybe "racing" is a relative term…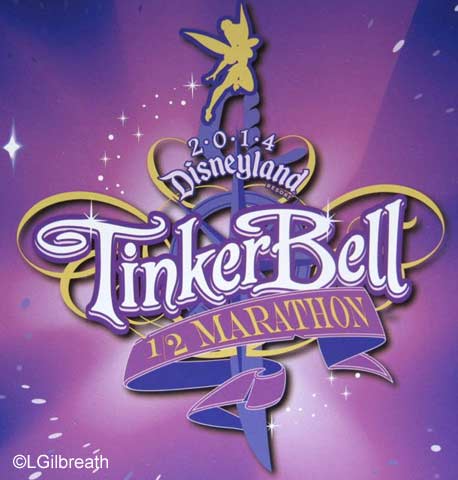 We earn three more medals – the new 10K medal, the half marathon medal, and our Coast-to-Coast medal. No "challenge" medal for doing the 10K and the half with this one, though.
The Never Land 5K was Friday morning – unlike last year's Disneyland 5K and 10K they didn't attempt to hold them both on the same day. We had to work and missed this one…I'm sorry we did because it looked like lots of fun!
We went to the Half Marathon Expo late afternoon on Friday to pick up our bibs for the 10K and the half marathon. And we also got our Coast-to-Coast wristbands. Because hey, it's not a Disney race if I'm not wearing a wristband!
The Expo was not too crowded – a much better experience than the Disneyland Half Marathon Expo last year. They had queues set up for the Official Merchandise area but they weren't in use when we were there.
I didn't take very many Expo photos, but Jason did when he was there earlier in the day, so most of these are his. Bib pickup was in the parking garage of the Disneyland Hotel, while the Expo show floor was in the Convention Center upstairs.
That's where we picked up our goodie bags with our shirts. This year we also received a couple of drawstring bags/backpacks.
The shirts, well, I like the fabric and the logo, and the women's cut is flattering, but I'm really not wild about the colors. The lavender is ok, but the raspberry pink…ick. (It looks more red in the photo, but believe me, it's pink.) And they are long sleeve. Which has very limited usefulness in California. There's not too many mornings I'd want to wear it while running. I know the men were less than enthused with the colors, also. Of course I'm sure some out there will say: "What do they expect, running a women's race?" But I don't think the colors had to be quite so feminine. Last year's mint green was a lot better.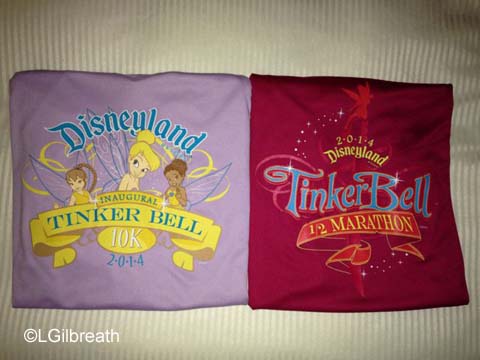 This Expo is not as large as the ones at Walt Disney World, but there were still a lot of vendors selling running gear and clothes and other accessories. As usual, those selling sparkle skirts and wings were doing great business – we did our share of shopping.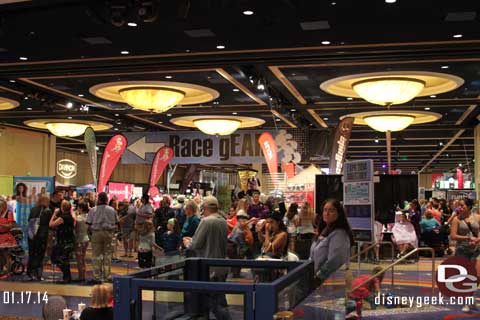 RunDisney had a fairly large booth, where you could see samples of the medals that will be given out at other Disney races this year.
A couple of our West Coast Roadrunner coaches were working at The Stick booth, and helped work out some knots in our calves.
Lee participated in this fun photo-op at the Lady Foot Locker booth.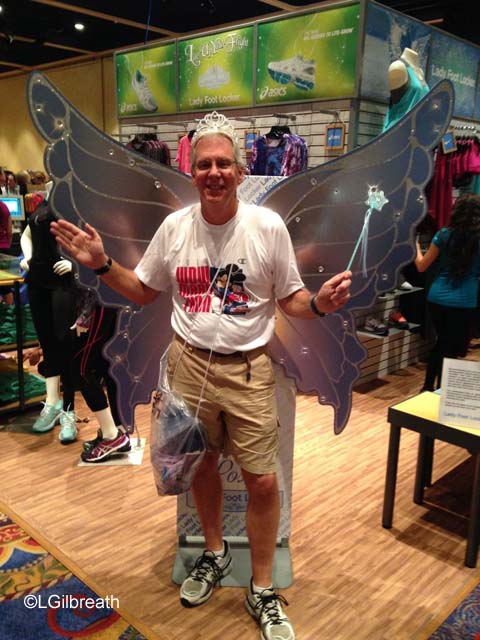 The Official Merchandise area was not crowded and still seemed to have all of the merchandise we expected. We were able to get our Tinker Bell magnets, and we both got this shirt – it has images of the three medals on the back side.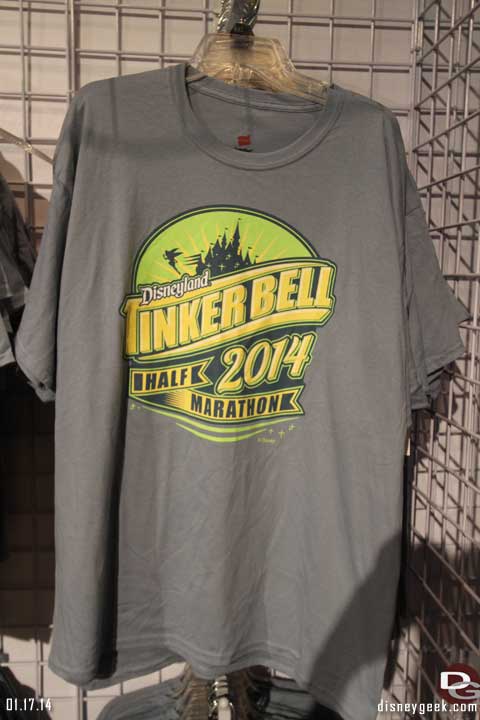 Even though it was an Inaugural race there was very little 10K merchandise – I saw this shirt and a pin. (Though I suppose that's better than the 5K, which only had a pin.)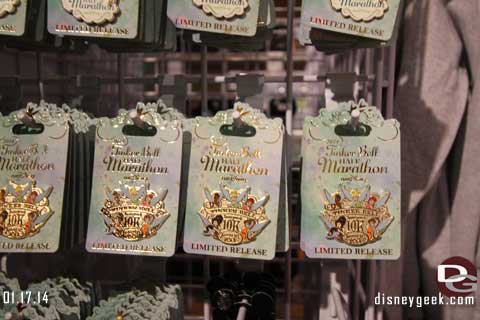 I'm very disappointed in the design of the Coast-to-Coast shirts this year. It's very plain and un-Disneyish. (The women's version has bright pink lettering. Yuck. Yes, I know lots of women love pink. But I don't.)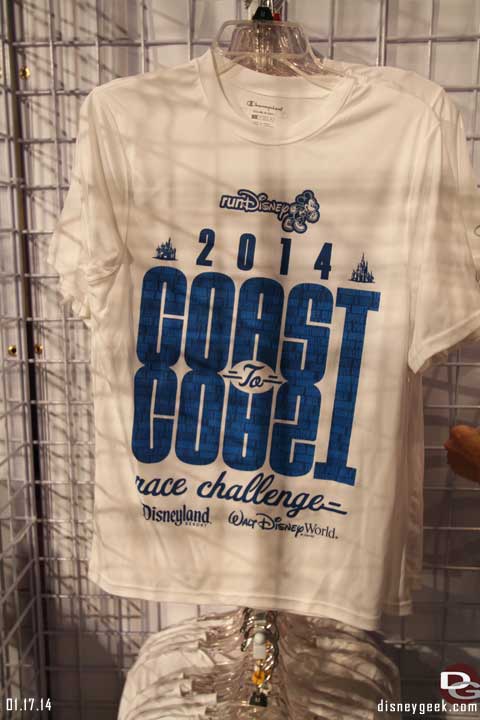 The Inaugural Tinker Bell 10K started at 6:00 on Saturday morning. One of the VERY best things about Disneyland races is that YOU CAN WALK TO THE START LINE FROM YOUR HOTEL! There's no need to get up insanely early to catch a bus. We got up at 4:00, which, after our Dopey experience in Florida, seemed like sleeping in. Helped by the fact that we are in our own timezone – another thing I love about Disneyland races.
We stayed at the Anabella Hotel on Friday night. Since there had been no announcement of a 10K at the time I booked our DVC villa at the Grand Californian, I only had Saturday and Sunday nights reserved there. The Anabella was very close to the start and finish areas next to the Paradise Pier Hotel, so it was a good choice. The hotel was fine, though parking was a problem. We were able to find a space, but we saw lots of cars that arrived later and were illegally parked.
We met our friend Eddie in the pre-race area at 5:15 – by then they were already telling people to go to the corrals. Though there weren't that many runners – I don't think there were more than 7,000 and I think it was closer to 6,000. It was a nice size!
It was an absolutely perfect morning for running – in the high 40s with fairly low humidity and very little wind. I wore a throwaway t-shirt while we were waiting to start, but otherwise I was comfortable in my pull-on sleeves for most of the race – I only pulled them down towards the end. The guys were fine in their short sleeves.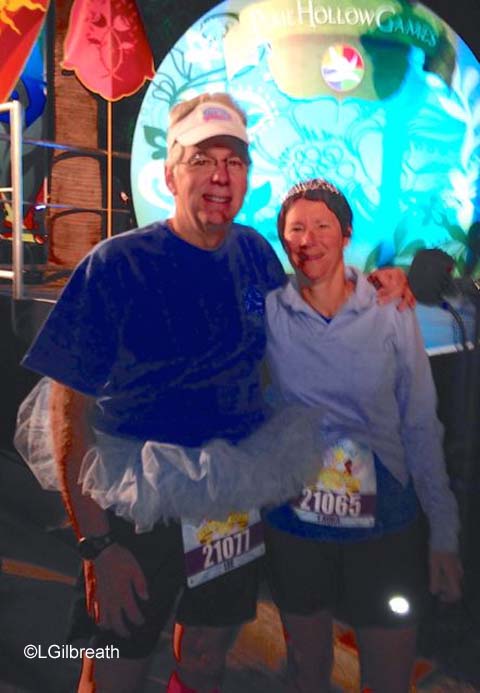 We were in Corral A, and were able to be near the front by the stage where we could see all of the pre-race activity. There were four corrals, and each had a fairy coach – Vidia for us, as well as Iridessa, Fawn, and Rosetta.
The national anthem was played by a trumpeter – that was different, and was very well done.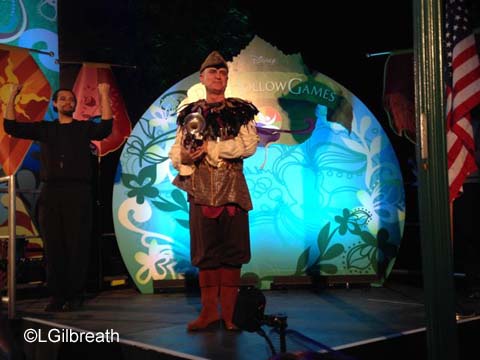 Tinker Bell showed up on the big screen to see us off…ready, set, fly!
This is a slightly different 10K course than the Disneyland 10K they held as part of Disneyland Half Marathon weekend last year. For this one most of the first four miles of the 6.2 mile course was either backstage or inside the parks, so there were a lot of interesting sights to keep us entertained. After we'd run backstage for a while we came into Disneyland right next to "it's a small world" which is still decorated for the holidays. (As you can see the guys didn't go all out with the costumes for this one, but they did wear pink calf sleeves and tutus – or man-tus, and some of the other runners called them.)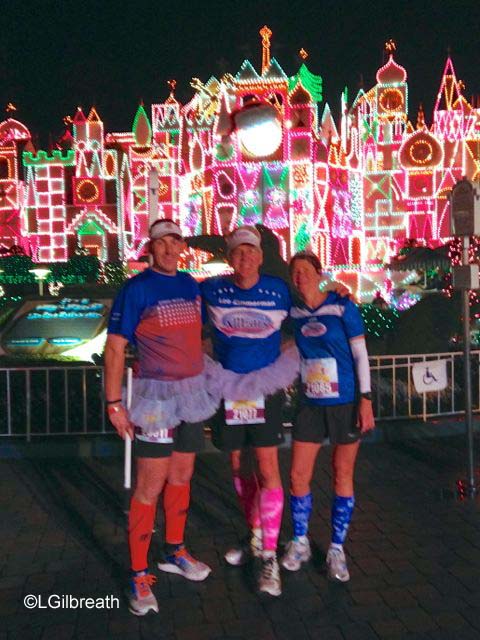 There were a lot of character photo opportunities, and we stopped for most of them. In the beginning we were far enough ahead of most of the pack that the lines weren't too long, but they grew longer the more we stopped.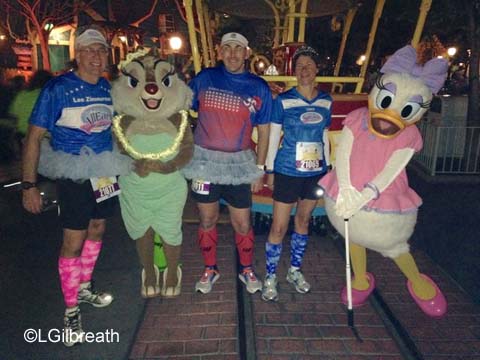 From small world we went back into Toontown, then backstage again before entering the park by Splash Mountain. Next to Haunted Mansion was what I think is my favorite character photo ever in a Disney race – the bride and the tightrope girl from the Haunted Mansion. So cool!!! The line was about 15 deep when we got into it, and a lot longer than that when we left. After we had our photos taken Lee looked back at the bride, and she gave a slight smile and said softly: "Hurry baaack…" It was great!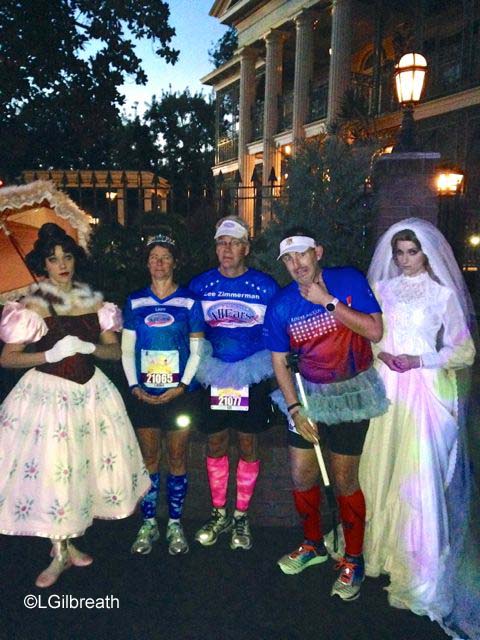 All of the mile markers had different fairies on them. There were lines to take photos with the mile markers!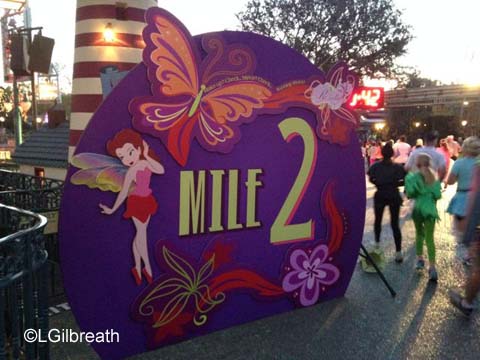 Then we went into Frontierland and along the Big Thunder Trail to Fantasyland, then past the Matterhorn into Tomorrowland. We were having a great time, stopping for lots of photos, some with characters and some just for fun.
From Tomorrowland we went around the hub and down Main Street to Town Square, where Eddie paused for a nap.
Then we were across the Esplanade into DCA and onto Buena Vista Street.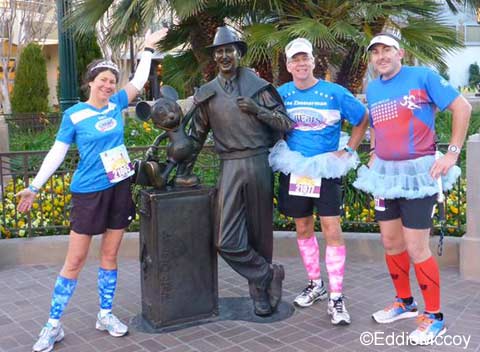 Through Condor Flats and by Grizzly River run, then counter-clockwise around Paradise Bay, where the World of Color fountains were running.
Then we ran down Route 66 into Cars Land, taking photos with both DJ and Lightning and Mater.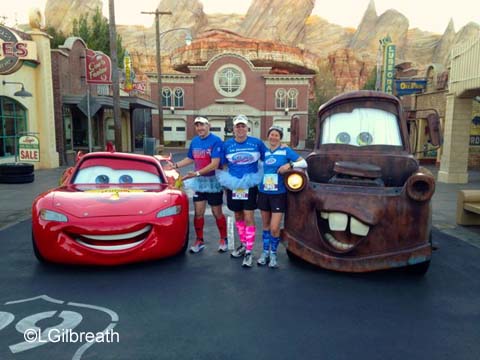 We took a left on Center St. and went into "a bug's land" – that was a little bit crowded. But we saw the best costume of the day – a pair of ladies running as Slinky Dog! One was the front end, and one the back, with some loops of wire connecting them. That took some coordination – they had to stay no more than about 4 feet apart.
We really went ALL around DCA, since we went out of "a bug's land" back to the main pathway next to Grizzly Peak, then back to Buena Vista Street and up Hollywood Blvd. The Monsters University characters were there but the line was long…and one of the sweeper bikes came up to tell everyone that we were only 4 minutes ahead of the pace.
We left DCA next to Tower of Terror, and that was just about the 4 mile mark. Since we only had 2.2 miles left we knew we'd have no problems completing the race ahead of the sweepers – but all of our goofing off had cost us a lot of time.
The portion of the race that was outside the park went north on Harbor to Manchester, then back south to Disney Way. Just after mile 5 we went backstage at DCA and ran around the back side of the park to the finish line.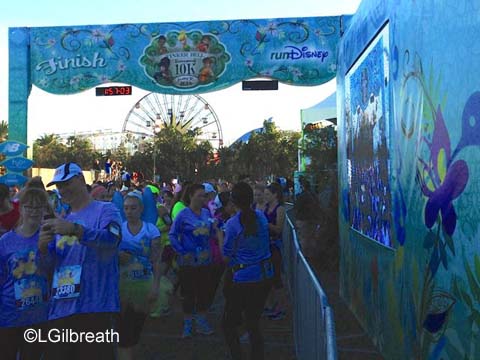 We got our new 10K medals – they are very nice, and have that lovely word on them: "Inaugural." 🙂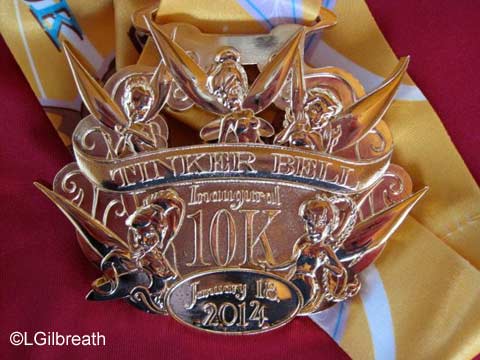 The race was SO much fun – even though it was our worst 10K time, we had absolutely the BEST time running a race! We all really enjoyed the course – about 2/3 of it was in the parks, which was so much better than the WDW 10K the week before. The part on the streets of Anaheim was fine, and there were a fair number of people out there cheering for us, as well as a band or two. Anaheim does a great job with community support for the Disney races.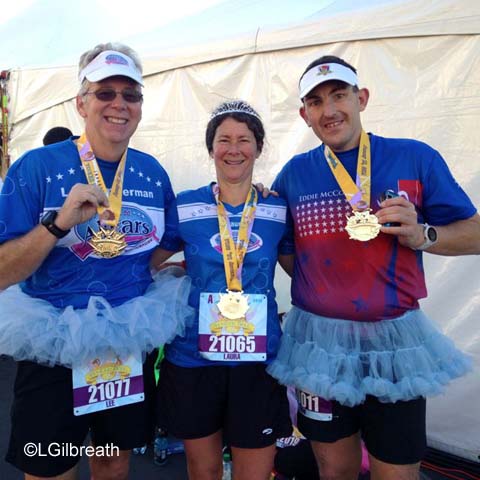 The water stops were better placed than they were with last August's 10K (when it was SO hot). There were three: about mile 1.5, just before mile 3, and about 5.25. But with the cool weather we didn't need them as much.
Race refreshments were bananas and the silly runDisney boxes, though these had a better assortment, and included hummus and almond roca. Most of it was labeled as gluten-free.
As I think you can tell, we had fun, and I'd definitely recommend this race. I really enjoy the 10K distance – it is a lot easier to train for than a half marathon. And it's a good stepping stone for those thinking of trying to get into longer distances. I'm happy to see Disney adding more 10K races – next up will be the Inaugural Enchanted Princess 10K during Princess Half Marathon weekend at Walt Disney World next month.
Next up – the Tinker Bell Half Marathon!