This is it – the day of the Tinker Bell Half Marathon, and most importantly, our last morning of getting up insanely early for a while! Yay!!!
We had moved to the Disney Vacation Club's Villas at the Grand Californian on Saturday after the 10K, so we were even closer to the start line than we were for the 10K. We were pretty tired and had gone to bed early on Saturday night – I was asleep before 9:00, and never even heard the second World of Color show (heard the first one). The race started at 5:00, so we were up at 3:00. We didn't really have to get up that early, but it gave us plenty of time to have something to eat, check Facebook and weather, and put on our costumes without feeling rushed.
We met our friends Anna and Eddie in the lobby at 4:15 and walked right over to our start corrals – we never even went to the pre-race area. We were all in Corral B. This year they allowed men to start in B rather than all the way back in C. There were more men in the race this year – around 15% rather than 10% as in past years. And this year a lot of them were NOT in costume – that was disappointing. But our guys were – they were wearing their new sparkle skirts and wings, and they looked terrific. (And they got lots of compliments – I heard one woman say jokingly that it wasn't fair that a guy looked better in a skirt than she did. 🙂 )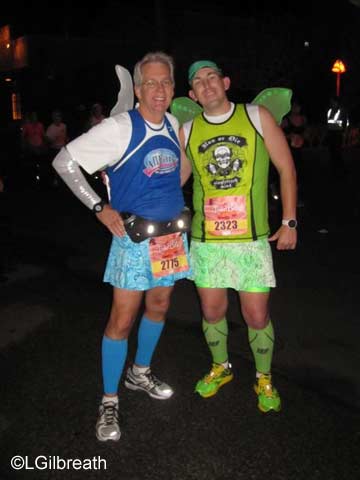 It was race announcer Rudy Novotny's 60th birthday, so we all sang Happy Birthday to Rudy before the start of the race – that was a lot of fun! (Such a nice man, and he works SO hard – he and Carissa Bealert, too. They work the Expo and the races – the ENTIRE race, from the pre-race until the last person crosses the finish line. I don't know when they get a chance to sleep.)
Another great morning for running – about 48, not too humid, almost no wind. A few clouds, unlike the day before when it was clear. Lee, Eddie and I were all wearing our wings, which were tied around an outer sleeveless shirt, then pinned to it to keep them from bouncing around. By tying the straps around the outer shirt instead of wearing them we avoid chafing – makes for a MUCH more comfortable run. (The ladies at Team Sparkle gave us those tips when we first wore wings two years ago.)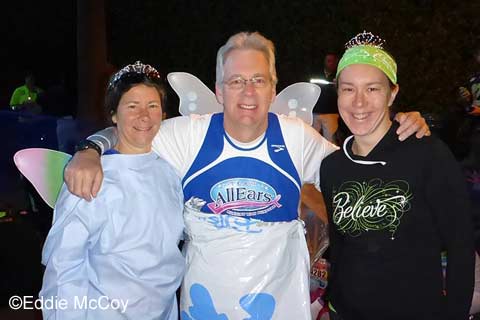 As you might expect in a Tinker Bell-themed race we saw LOTS of wings, and lots of tutus, and quite a variety of each. Also a lot of people in other costumes – Disney princesses, pirates, Marvel and Star Wars characters…I am always amazed at how creative people are with their costumes. It's just one of the many fun things about a Disney race.
Where was I…oh yes, the start. 🙂 Corral B started just about 5 minutes after Corral A. We went north and around the perimeter of Disneyland for the first mile, then went backstage at DCA and into the park by the Tower of Terror, and ran down Hollywood Boulevard. That's where Mile 2 was. Aren't the guys just adorable in their skirts and wings?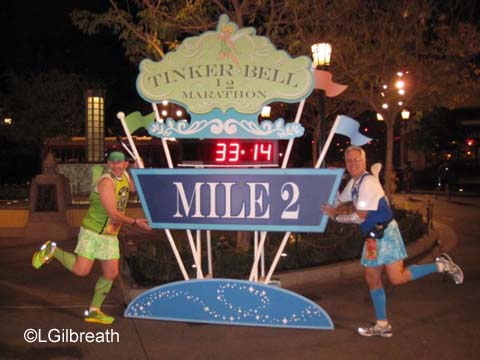 From there we ran into Cars Land and past Ornament Valley – this view was so pretty in the dark!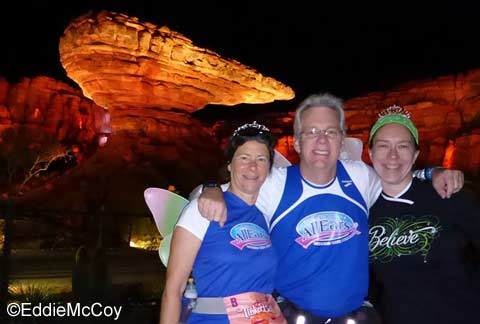 We went backstage and ran around the back side of Paradise Pier, re-entering the park next to Boardwalk Pizza and Pasta. They had characters from Viva Navidad to greet us.
And the World of Color fountains, with the Fun Wheel backdrop. Such a GREAT photo op! Disney had photographers and cast members in most of the photo locations, but where they didn't, other runners were always happy to take our photo, and we returned the favor.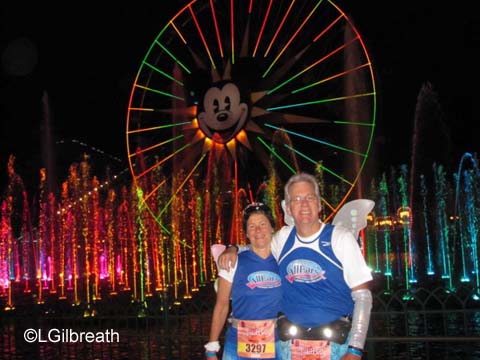 We ran past Grizzly Rapids and Soarin', down Buena Vista Street, then across the Esplanade to Disneyland. That was just past Mile 3 – and we'd just arrived in Disneyland! Love all of the park time that we get on this course!
We ran up Main Street, where Tinker Bell was on top of one of the drums from Soundsational, with Captain Hook and Mr. Smee posing for photos at the bottom. The line was VERY long, and we didn't wait for that.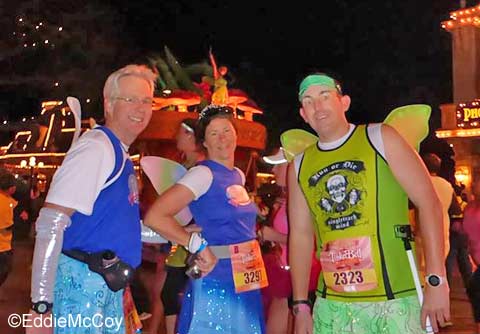 We stopped in front of the Castle, though! And then we ran through the Castle and into Fantasyland and Tomorrowland.
The princesses were along "small world way" as usual, but again, the lines were long except for Merida. She was quite taken with the guys in their skirts.
In Toontown, I made us stop because Marie was out with Clarice (Marie's personality is SO like our cat Princessa). And the cast member that we'd seen in Frontierland during the 10K, who was so wonderful and enthusiastic (without coffee!) was working that line, so we wanted her in our photo, too.
And then there was the car incident…poor Anna!
We took the Big Thunder Trail through Frontierland and then into New Orleans Square and the Mile 5 sign.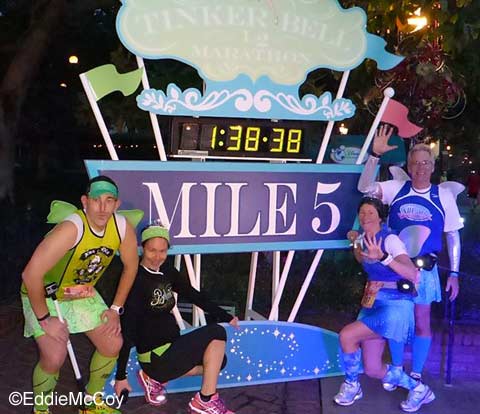 Backstage again by Splash Mountain and around the perimeter of the park and into Downtown Disney…lots of people there to cheer us on. As we arrived at the Disneyland Hotel, there they were – my favorite Red Hat Society ladies! I love seeing them, and they really come out and support the runners.
We ran down a side road and suddenly were off Disney property onto Walnut Street, in the residential area. And there was the mile 6 sign. Almost halfway through the race before we exit Disney property – that's one reason we love this course so much.
By Mile 8 we were into downtown Anaheim, where we went down the Promenade and past City Hall and the Muzeo.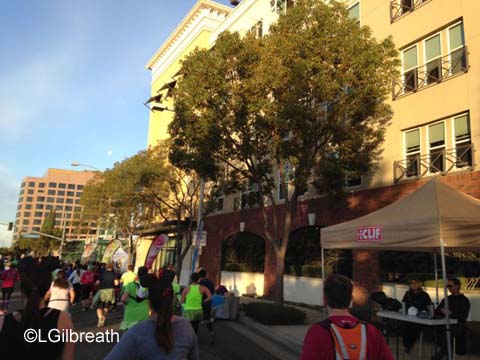 As much as I enjoy it, the course is a little cruel – we're on Harbor headed south towards Disneyland at mile 9.5 and we can see the Matterhorn and the Team Disney Anaheim building and it looks like we're so close to the end…but then we take a left onto Ball and head east again to add some more miles. That's the least enjoyable part of the course, through commercial areas with lots of strip malls and fast food places.
The sun had kind of come out and it had warmed up a little as we went past the Garden Walk and some of the hotels on Manchester.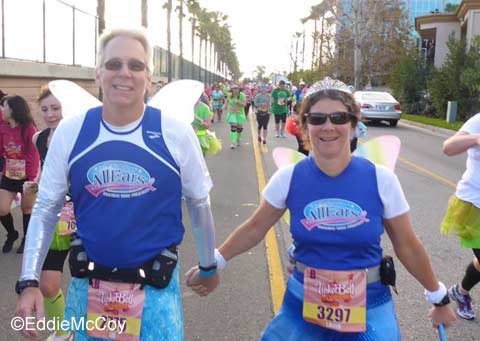 The Mile 12 sign was near the back side of Cars Land – we'd seen it three hours earlier, too!
Oh no! What happened to the band? Someone stole the band!
That last mile always seems short to me (that's a good thing!) as we went around the back side of Cars Land and Paradise Pier before crossing Disneyland Drive and heading to the finish line south of the Paradise Pier Hotel.
We stopped at the announcer's stand just before the finish line to sing Happy Birthday to Rudy and he shared some birthday cupcakes with us. Yum! (Way better than anything that was in the silly runDisney box.)
Lee and I got our Tinker Bell medals and our Coast-to-Coast medals. Eddie also had run Dopey and qualified for Coast-to-Coast, but he is running the Princess Half next month, and getting the special pink Coast-to-Coast medal for those who run Tink and Princess, so he didn't get his C2C at this time.
We had such a great time running the race with Eddie and Anna! Though we didn't stop for many character photos we still made a lot of other photo stops (I didn't include nearly all of the photos in this blog), and while we again had a "personal worst" half marathon time, we had a whole lot of fun.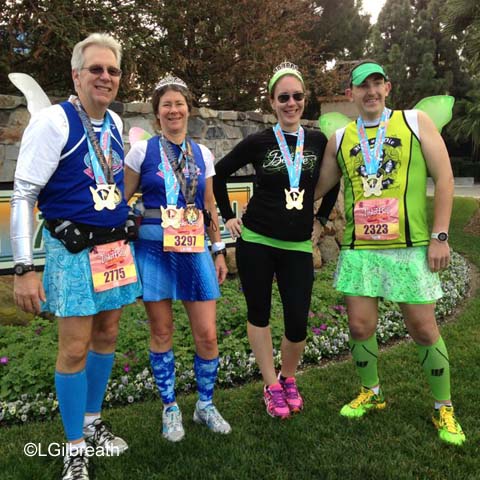 The Tinker Bell Half Marathon remains my favorite of the Disney half marathons – I really enjoy the course because it has so much "Disney time" to it. Over 6 miles on Disney property, and it really takes you all over both of the theme parks. I think the only areas we didn't run through were Adventureland and "a bug's land", though we did the latter during the 10K. It's always interesting to get a glimpse into some of the backstage areas, too. There's very few places where the course gets unpleasantly narrow and crowded, and they don't last long. It's also a nice size – this year there were a little over 13,000 finishers. The atmosphere of this race is great, too – everyone just seems to have a lot of fun with it and costumed runners are more the rule than the exception. And January in southern California has practically perfect running weather.
I'm very thankful that we survived running 67.9 miles over the course of six races in eleven days, and especially that we remained healthy and injury-free. I'm sure our slow pace in all of the races helped a lot.
On Monday morning we went to Pixie Hollow at Disneyland to visit Tinker Bell and tell her how much we had enjoyed running her races and show off our three medals.
Next year we won't have the same opportunity to earn our Coast-to-Coast medals so quickly because the Tinker Bell half marathon weekend moves to Mother's Day weekend in May. I'm disappointed in that – the weather is SO much nicer (cooler) in January than it is in May. I also don't think it's very fair to all the moms who want to race AND spend time with their kids…I think a lot of women have run it as a "girl's weekend" kind of thing, which doesn't work very well with Mother's Day. But I understand it – since it's been back-to-back with Marathon Weekend these last two years that's a lot for runDisney to try to do so quickly. It would have been nice if they'd left it during one of the winter months, though.