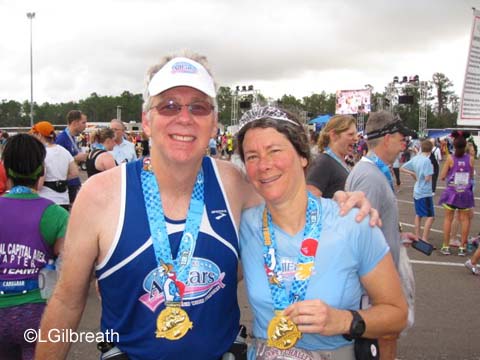 Three down, one to go! But we haven't even done half of the mileage yet…we have completed 22.4, and still have 26.2 left!
It was VERY hard to get up at 2:00 this morning…we both really, really, really wanted to go back to sleep. But today was the first real test of this whole Dopey Challenge thing – at 13.1 miles a half marathon is much more of an endurance test for most of us.
We again drove to Epcot, leaving our resort at a little after 3:00, and again we had minimal traffic. Even including parking it only took about 12 minutes. But that's because we left EARLY.
Before I go any further I want to say a HUGE thank you to all of the volunteers and cast members who get up even earlier than we do to man the aid stations, direct traffic, answer questions, and probably a thousand other jobs that we might not see, but that are absolutely necessary. I don't know how they manage to keep doing it with smiles on their faces, and words of encouragement, but they do, and we are SO appreciative and grateful. This is Andrew, who we also saw the morning of the 10K. Notice his duck hat, and his gloves, which had glowing fingers – he told us to touch them for a burst of power. 🙂 (I did – every little bit helps!)
It had rained during the night and it was quite humid. The temperature was about 67, so it was our warmest race so far. Showers were expected about 9:00, and thunderstorms later, so we were hoping the rain would hold off for the race. At least the overcast kept the temperature down while we were running. (The showers never materialized, though we did have thunderstorms and heavy rain that night.)
We again gathered for a pre-race meet and photo. (Thank you to Phil DeLuccia for the photo!)
And then it was off to the start corrals, which are about 1/2-3/4 mile from the pre-race area, mostly on a fairly narrow road. This often entails shuffling along, shoulder-to-shoulder, for what seems like hours. This year we headed out about as soon as they opened the corrals and it wasn't TOO bad, but still a bit congested. That's one thing that was so nice about the 5K and 10K – we didn't have that long crowded walk to the start.
One thing that runDisney did this year to try to help with the course crowding was to add more corrals, but put fewer people in them, and start the corrals at different intervals, depending on the number of people. There were 16 this year – I think there's been 8 in the past.
We started in Corral K with a group of Team AllEars runners. We couldn't even SEE the start line, and once our corral started moving it was still a pretty long walk to the start! Most of the corrals got a nice fireworks display when they counted down to the start but ours didn't. 🙁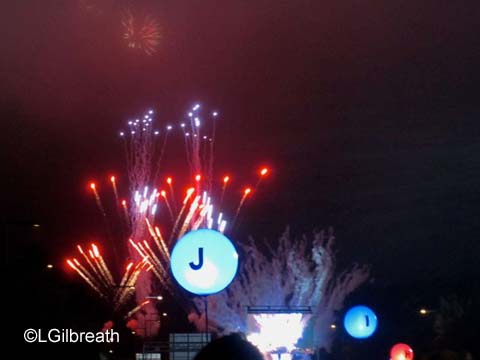 Our corral started about 6:05, which was 35 minutes after the race started. The elite runners were halfway done by then, and we saw the first ones heading back when we were less than 2 miles into the race.
Mile 1 – only 38.3 to go!
We ran with a different group than we did yesterday – they were doing 30:30 intervals. That was very different for me – I train with a longer run interval. But I have to say that I never had time to get out of breath, and since this was all about getting through the half and surviving to run the marathon on Sunday, it worked out pretty well.
Near the Contemporary we have to run under an overpass. There's always a DJ up there talking to us – and he has these huge Mickey hands (which unfortunately you can't see in the photo). This overpass is actually the waterway that connects Bay Lake and Seven Seas Lagoon, so he told us that we were running under water. 🙂 Running under means that it's downhill at first, but then uphill on the otherside…this is always a slow part of the race because it's narrow and then uphill.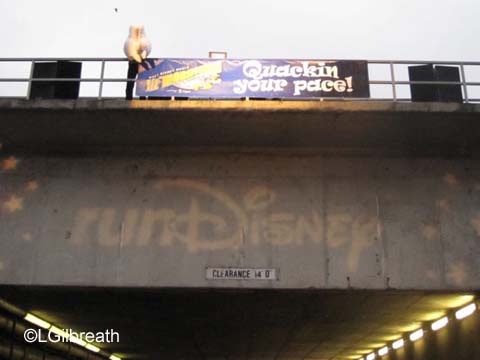 At about mile 5.3 we entered Magic Kingdom! It's always a lot of fun to run on Main Street. We stopped for a photo with the castle.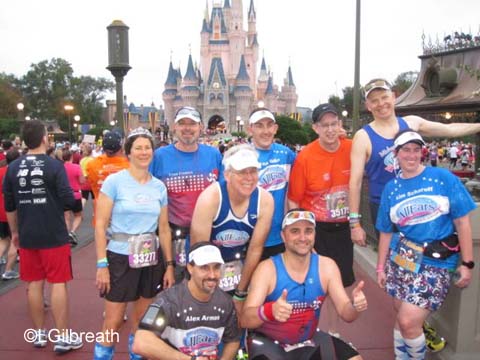 And we had to stop to greet our AllEars Cheer section at the hub. They are the best!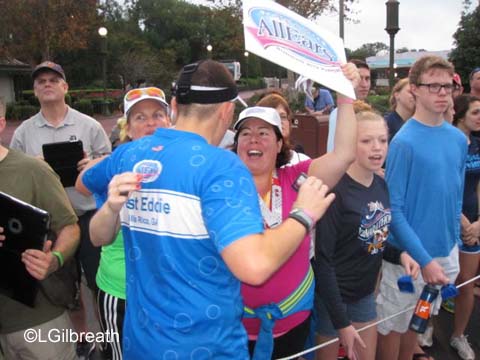 The lines for the first few sets of characters along the race course (the pirates and the Nightmare Before Christmas characters) had been really long, but the lines in Magic Kingdom weren't quite as bad. Lee and I wanted to get character photos so the rest of the group went ahead. I was very excited to see Tigger in Liberty Square – in all of the Disney races I've done I've never gotten a photo with Tigger! The line wasn't very long, either.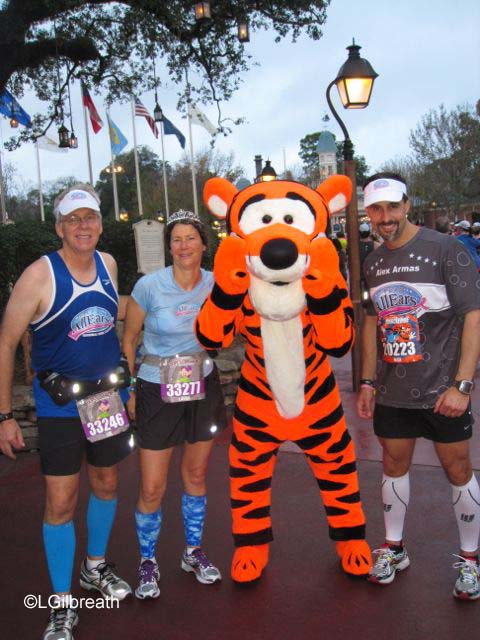 After leaving Magic Kingdom we get to my least favorite section of the course – we call it "Cone Alley". It's from Magic Kingdom to past the Polynesian. The road is only two lanes, and since they need to allow outbound traffic from that area they restrict runners to one lane with a seemingly endless line of orange cones side-by-side. Even though we are 6+ miles into the race by then everyone gets really bunched together and it's slow going. Sometimes it's completely blocked by walkers and it's very frustrating.
There were a few characters in this stretch, and we stopped for a couple of photos. I was surprised NOT to see Mary Poppins at the Grand Floridian – no characters at all there, which was unusual.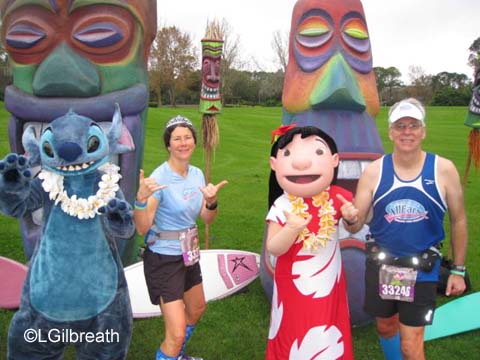 We saw this character, though – Laura is our craziest Team AllEars cheerer. She loves sweaty hugs, and thinks toenails are for sissies. 🙂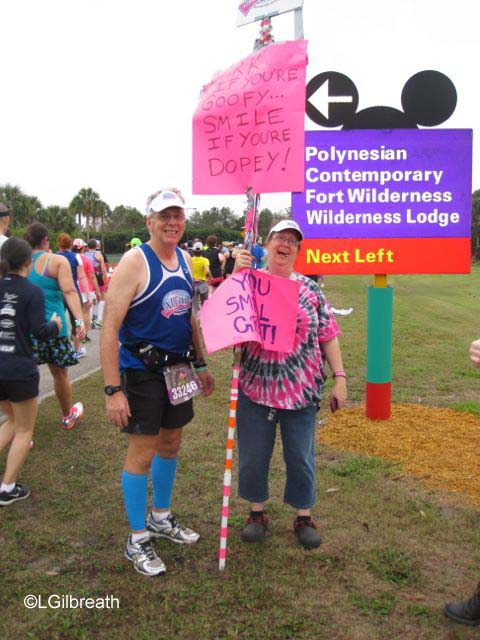 At one point we ran past Dr. Dribble – he was dribbling two basketballs for the entire course! (He did it Sunday during the marathon, also.)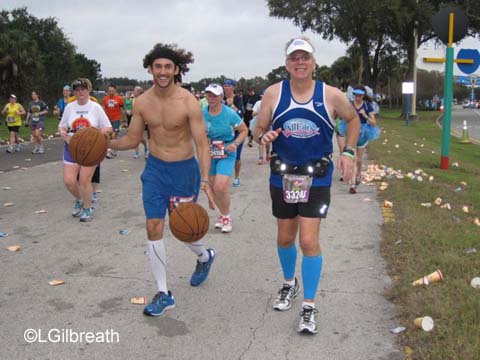 We caught up with our teammates around mile 9.
Our friends Gail and Julian were out cheering at mile 9.7, and it's always wonderful to see them out there!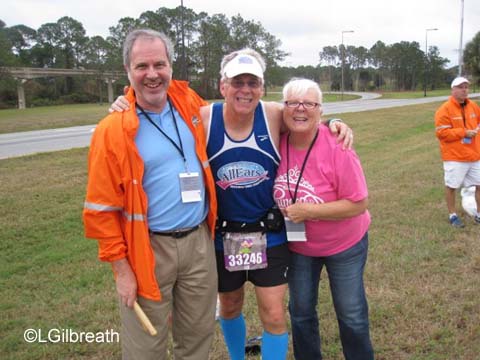 This is the first time I've seen Disney Cruise Line cheering – they had a cruise line bus and some banners and an officer or two. Someone was announcing runners like they do when you board the ship: "Disney Cruise Line welcomes …!" It was fun.
At mile 11.1 was the main Team AllEars section – it's always wonderful to see them, and not just because it means we are almost done. 🙂 I don't know how any of them have voices left after the weekend. (Actually I saw a number of them on Sunday night and many of them were pretty hoarse.)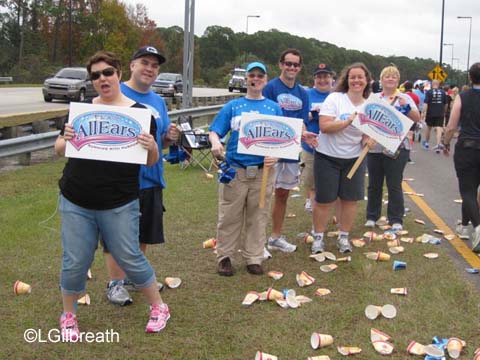 Yippee! Backstage at Epcot is my favorite sight – the gospel choir. It means only .2 miles to the finish! We were still feeling pretty good but I told Lee there would be NO sprinting to the finish. "There's no sprinting in Dopey!"
We crossed the finish line – Lee even got a shout-out from race announcer Rudy Novotny.
After we got our Donald medals we got our third (and last) wristband. Though you see all three in this photo, I was only wearing one of them – the others I had cut off but then wrapped around my wrist. I only had the one 1/2 marathon band on the final day.
I've complained about the contents of the silly runDisney box but I hadn't taken a photo – here's what we got every single day. (They did have bananas every day, too.)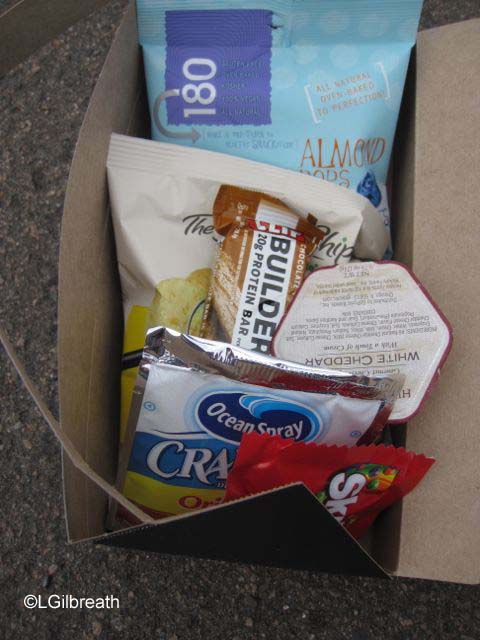 But one thing that was available in the finish area was champagne!!! That seemed to me like a fine way to celebrate completing the half marathon.
On the big monitor at the finish area we had watched a number of our teammates cross the finish line and we caught up with them after they exited the race area. Everyone did just great! Several of them were having not-so-good days (Lee and I call them "rock days", because our coach tells us: "Some days you're a diamond, some days you're a rock."), but they toughed it out and finished strong anyway.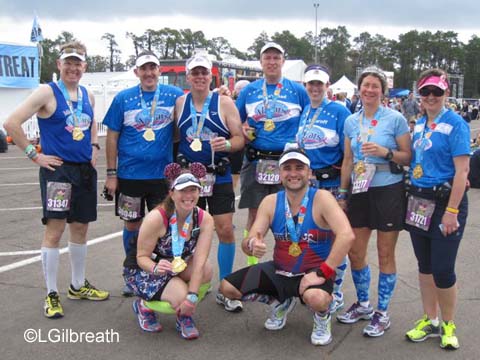 We are happy that the half is done, and are feeling pretty confident about getting through the marathon tomorrow. That's a lot of miles, though. I saw a runner with a t-shirt that said: "Why couldn't Phidippides have died at mile 20?" 🙂