Disney's Vero Beach Resort will help kick off Tour de Turtles 2013 at 7:30 a.m. Saturday, and the public is invited to watch the beginning of this truly amazing race.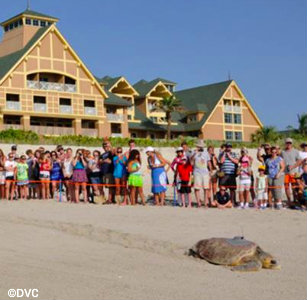 Started in 2008 by the Sea Turtle Conservancy, Tour de Turtles is a fun way to learn about the long migration of sea turtles from their nesting beaches to their foraging grounds. Tracking is done through satellite telemetry, with transmitters sending signals each time a turtle surfaces to breathe. Those who follow along at tourdeturtles.org will be exposed to the science and geography of sea-turtle migration. At the same time, researchers hope to gain more knowledge about the migratory practices of the endangered species because so much still is unknown.
This is the sixth year for Tour de Turtles, and 11 sea turtles, representing five different species, will be participating. They leave from various nesting beaches around the world, including Archie Carr National Wildlife Refuge in Vero Beach, and will be tracked for three months. The turtle that swims the farthest during that time will be declared the winner.
In addition to the education and research components, Tour de Turtles also raises money for additional research and conservancy efforts through sponsorships of each turtle. Several branches of The Walt Disney Company have been annual sponsors of Tour de Turtles: Disney's Animal Program, Disney Worldwide Conservation Fund and Disney's Vero Beach Resort.
Individuals can contribute, too, by adopting a turtle and its cause. A secondary competition among the turtles on the migration marathon focuses on how much money they can raise for separate causes. A donation of $30 ($40 outside the United States) to the Sea Turtle Conservancy (STC) comes with a personalized adoption certificate, a logo decal, a colorful magnet, STC's Sea Turtle Conservation Guide and a one-year subscription to the Velador, STC's newsletter.
The website, tourdeturtles.org, offers extensive lesson plans and resources for teachers, as well as online games, quizzes and puzzles for kids.
If you can't make it to the start of Tour de Turtles and your family is interested in sea turtles, consider signing up for one of the Guided Sea Turtle Walks that take place in June and July each summer on the same stretch of beach. The Sea Turtle Conservancy offers these walks through the Archie Carr National Wildlife Refuge to give participants the chance of seeing a nesting loggerhead sea turtle.
The walks fill up quickly because of the limited space (22 people per night) on Tuesday, Wednesday and Friday nights. Reservations typically open up online at http://www.fws.gov/archiecarr/turtlewalks.html on May 1. Cost is $15 per person for the walk that takes place between 9 p.m. and midnight. Participants must be 7 and older and able to walk a mile on the beach.
Can't wait to plan a vacation to include a sea turtle-related event? Disney's Vero Beach Resort is a Disney Vacation Club property. For a primer on how DVC works, see the AllEars resource page here.