Yesterday, I discussed the history of the land Saratoga Springs now occupies. Today, I will examine the resort itself and all that it offers.
To begin with, Saratoga Springs is a Disney Vacation Club (DVC) resort. In other words, it is a "timeshare" property. However, Disney hates the word "timeshare" and you will never hear it used in any official promotion or advertisement. For more information about DVC membership, click here.
If you're interested in staying at Disney's Saratoga Springs after reading my article, and you're not a DVC member, don't despair. Florida law requires that all timeshare properties set aside some rooms for non-members. And besides that, Disney is more than happy to rent you a DVC room when they can. Note, 3-bedroom units are not available to non-members.
Saratoga Springs has two distinct sections. First, there is the primary resort which was inspired by an 1890's community found in upstate New York. The other section is located adjacent to the "main" property and features the unique Treehouse Villas. This article will discuss the primary section of the resort. To learn more about the Treehouse Villas, check out an article I wrote in 2009 by clicking here.
Saratoga Springs has two roadway entrances available to the public. The main access is located off of Disney Vacation Club Way and is well marked with signage. The secondary entry is found off of Buena Vista Drive and has no signs and is easily missed. Depending on where I'm coming from and where I'm going, I will use either. The first picture is of the main entry. The following picture is of the secondary entrance.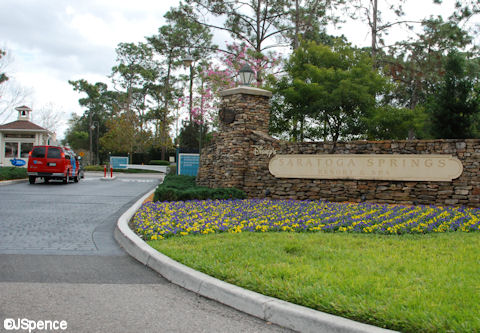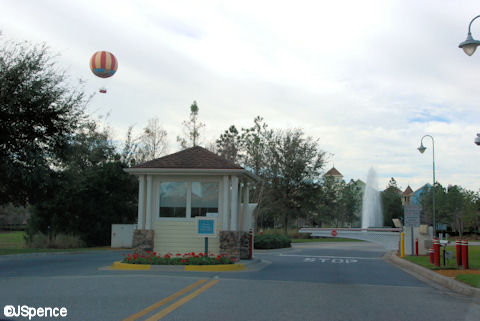 After checking in with the security guard at the main entrance, guests drive along Broadway, a lovely tree-studded, two-lane road. Willow Lake can be seen on the left side of the street and the Lake Buena Vista Golf Course can be seen on the right. Many of the guest accommodations are visible in the distance.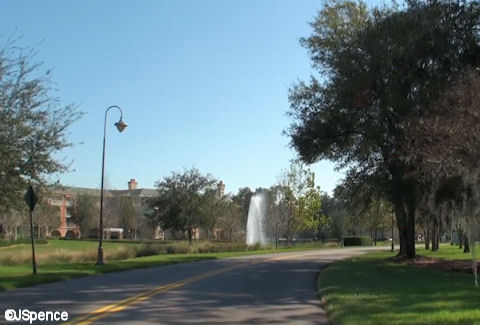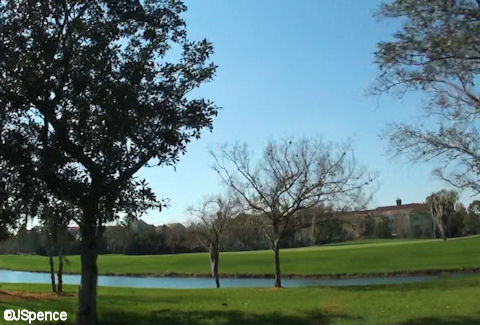 Soon, guests reach the "town" section of the property where they will find most of the resort's services and check-in area.
Like all Disney resorts, guests arriving at Saratoga Springs pull up beneath an attractive portico. A 30 minute "check-in" parking lot is located nearby.
The horserace theme of Saratoga Springs becomes obvious shortly after arrival. Just past the portico is Winner's Circle. Here we find a bronze statue of a thoroughbred and his mount. A victory blanket of roses is draped across the steed's back. A keen eye will notice that the old DVC logo has been cleverly embedded into the floral design.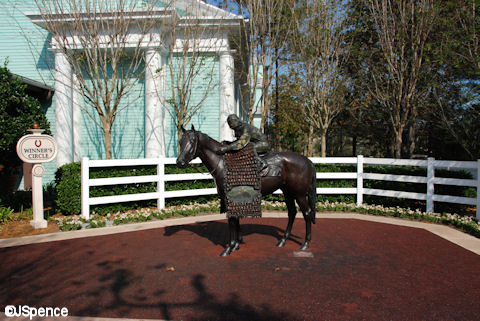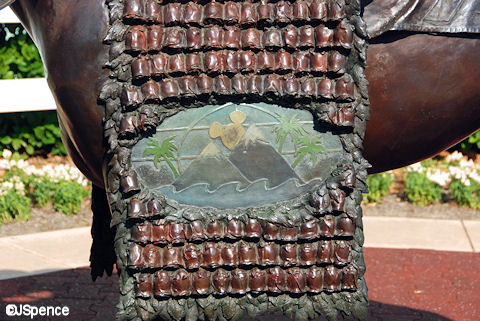 Next to the Winner's Circle is Performance Hall. During the heyday of the Disney Institute, this building played host to a multitude of cultural acts. Today, it is used as an Epcot rehearsal site and not open to the public.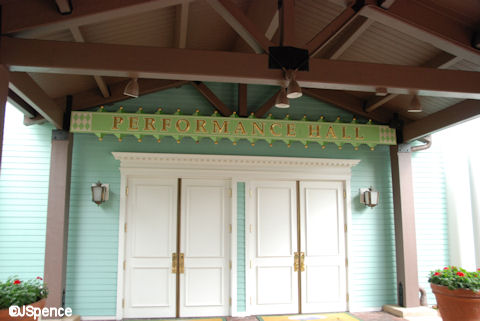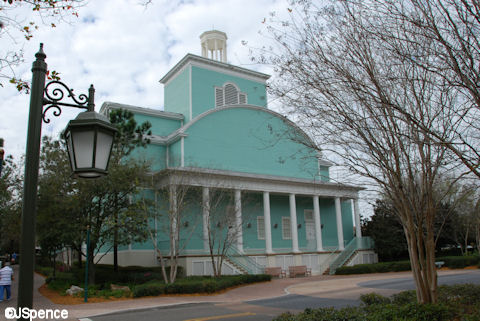 In this same vicinity is Carriage House. This is the spot where guests check-in and take advantage of concierge services. This beautiful room is octagonal in shape and features a massive loft area. Paintings of Saratoga Springs landmarks adorn the walls. An appropriately clad greeter is on hand to offer assistance when needed.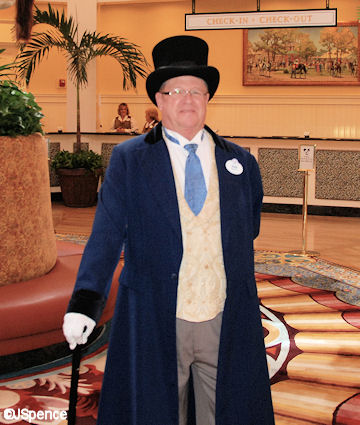 Off of the main lobby is an alcove intended for children. This spot offers the little ones something to do while mom and dad check in. Miniature chairs sit before a TV playing Disney cartoons.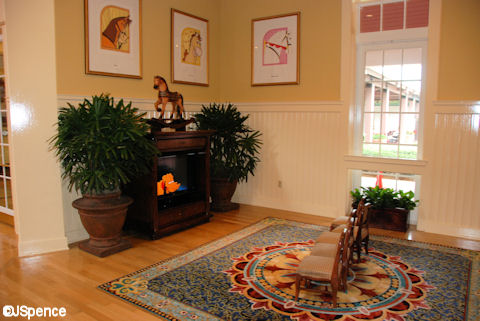 In this same room are pictures of seven famous Disney horses. These include Buck from "Home on the Range," Bullseye from "Toy Story 2," the Prince's horse from "Snow White and the Seven Dwarfs," Prince Charming's horse from "Cinderella," Khan from "Mulan," Sampson from "Sleeping Beauty, and Philippe from "Beauty and the Beast."
Beyond the lobby is a lovely lounge. This spot serves no purpose other than to offer a pleasant place to relax and enjoy a comfortable atmosphere. A DVC sales associate can also be found in this room and is available to answer all of your questions regarding membership and properties. If you are curious about what membership offers, be sure to ask. And don't worry. You will not be given the "hard sell."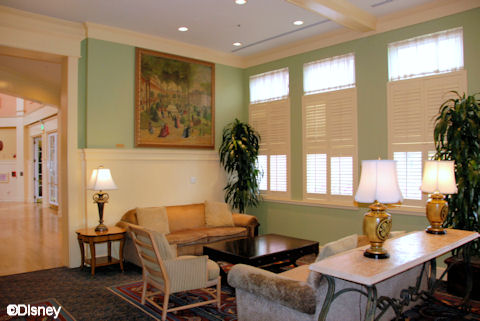 During the years of the Disney Institute, a shop called Dabbler was located off of this lounge. But when this area was remodeled for Saratoga Springs, the shop was closed to make room for other necessities. But instead of creating another standalone store someplace else, the Imagineers came up with a new idea – create a combination shop and counter-service restaurant. The end result is Artist's Palette (not to be confused with Artist's Point located at Wilderness Lodge).
Artist's Palette is a large, brightly lit venue that I divide into four sections. The north area offers your typical Disney souvenirs. The south area sells food and drinks that can be taken back to your room for preparation and consumption. The west wall features the counter-service restaurant ordering and pick-up station. And finally, the east wall houses a bank of registers where guests can pay for everything.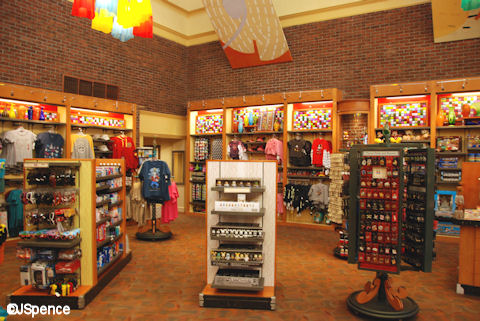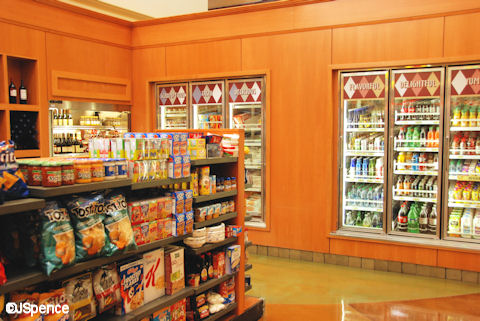 This section of Artist's Palette occupies the space of the former Season's restaurant.
A dining area is located across a hallway and offers ample seating. The chandeliers are especially fun. And for the budding artist in your group, easels are available for them to create a masterpiece.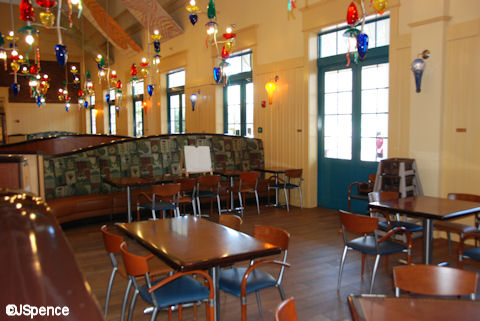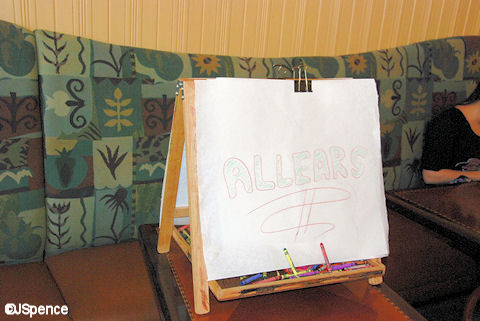 I like the food served at Artist's Palette. Although the breakfast offerings are mostly standard fare, the lunch/dinner menu is upscale for a counter-service restaurant. It's obvious that the chefs are trying to use their culinary training when creating the selections. Many of the dishes offered here are cooked to order to ensure quality and freshness.
Guests ordering their food "to go" will be given a pager and food receipt so they may return to the pick-up counter when everything is ready. Guests eating in the nearby dining room will be given a number (and food receipt) to place on their table. When the food has finished cooking, a cast member will deliver the meal. While waiting, you can browse the shop and then take your receipt to the register and pay for everything in advance. This ensures that once the food is ready, you can start eating immediately. I much prefer this method to the restaurants at the budget and moderate resorts where you must wait in line to pay while your food gets cold.
To see the current breakfast menu, click here.
To see the current lunch/dinner menu, click here.
Exiting Artist's Palette through the south doorway brings guests into a long hallway. This corridor is lined with framed jockey jerseys. One is of special interest.
At the other end of this hallway is a lovely lounge. Tables, couches, and overstuffed chairs are available for conversation and relaxation. A pool table is on hand and the TV is usually tuned to ESPN. A walk-up bar serves soft and hard drinks starting at 4pm.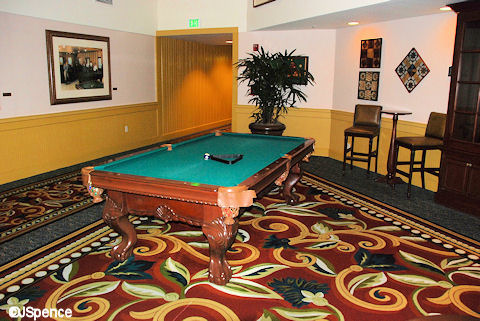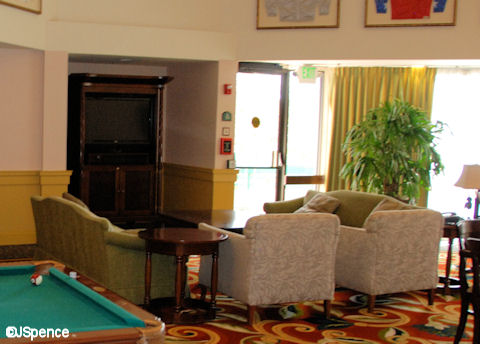 The Turf Club Bar & Grill is located just off of this lounge and offers understated sophistication. Although I've never been to a private racetrack club/restaurant, I somehow imagine this is what it would be like.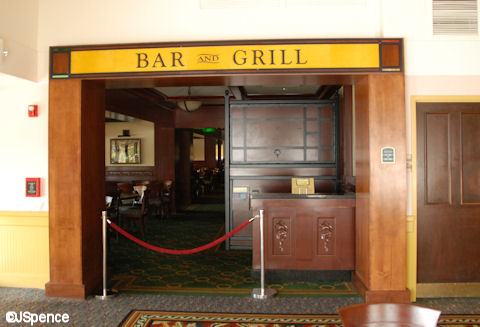 The walls of this establishment are made up of dark woods with tan accents. The carpet is a rich green with gold designs. The tables and chairs have a clean look and also feature dark woods. The lighting is simple and keeps the mood dark – which is perfect. A wall of windows runs along one side of the restaurant and allows filtered sunlight to bathe the dining room. Several shadow boxes hang on the wall displaying racing gear.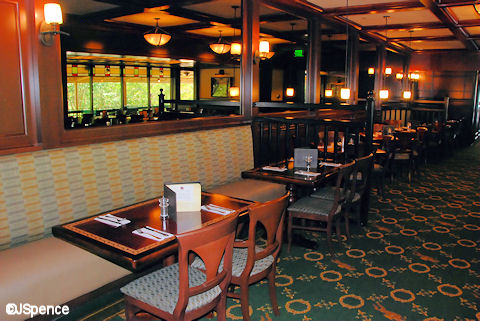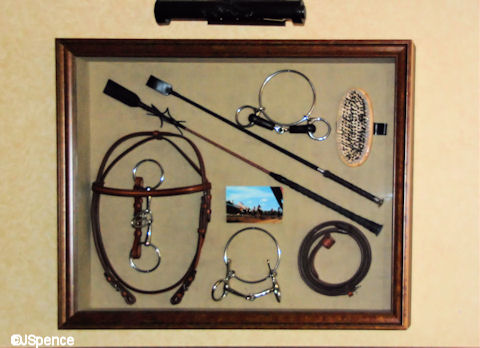 Adjacent to the indoor dining room is a covered porch with additional tables for outside dining. While eating here you can see the Sassagoula River in the distance and the water taxis ferrying guests to Downtown Disney, Old Key West, and Port Orleans. When the weather is pleasant, this is a wonderful spot to enjoy a meal.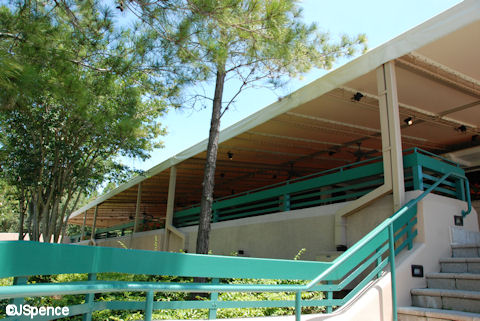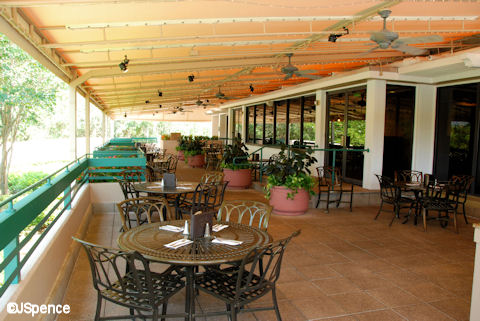 I like the Turf Club. I have eaten here on many occasions and have always been pleased with my food and service. I also have a regular waiter, Max. If you choose to dine here, you might want to request him. He'll take good care of you.
For many years, the Turf Club was open for lunch as well as dinner. However, due to a sparse afternoon attendance, the midday meal was discontinued here late last year. Sigh. Dinner is served from 5pm to 10pm and reservations are recommended.
Down the steps from the Turf Club is the Lake Buena Vista Golf Club. This is the check-in spot for this challenging Disney course. Plenty of parking is located nearby.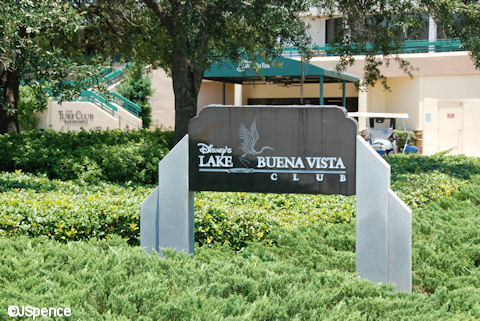 The 18-hole Lake Buena Vista course is rated 4 stars by Golf Digest. It is also certified by Audubon International as a Cooperative Wildlife Sanctuary. As I mentioned yesterday, the course was conceived by Joe Lee. In his design, he created elevated bunkered greens that put a premium on accurate approach shots.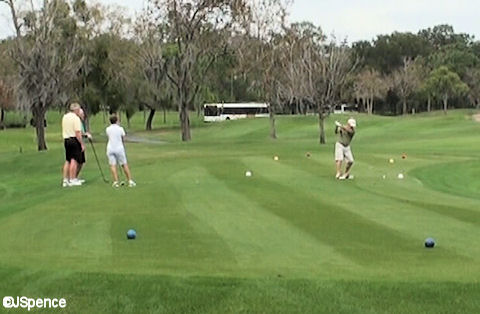 Just a few steps beyond the golf club you'll find the boat dock for transportation to Downtown Disney and the Treehouse Villas. Water taxis run every 20 minutes from 10am to 11pm. Space is limited on these boats to 34 guests, so if you're thinking of only using them as a sightseeing experience, you might be forced to disembark and wait for the next launch if lines are long at Downtown Disney.
The largest of the four Saratoga Springs swimming pools is located across and down a flight of stairs from The Carriage House. High Rock Spring pool offers a water slide, a splash and play area with Donald Duck, two hot tubs, lockers & change area, and plenty of tables, chairs, and lounges. Life guards are on duty during "slide operating hours." These hours vary depending on the season.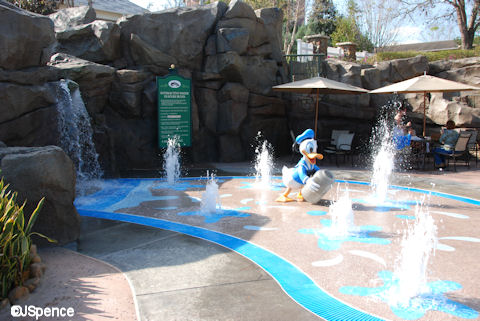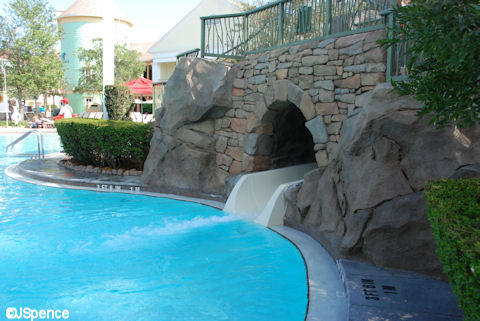 I will discuss the other three pools in tomorrow's article.
Also near the High Rock Spring pool is On the Rocks. This is the local watering hole where cool and refreshing drinks can be ordered. Food is not served here as the Artist's Palette is located conveniently nearby.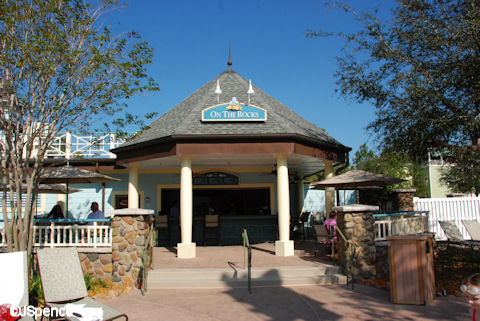 Just to the south of the pool is Win, Place, or Show Arcade. As at every Disney resort, this is the place to send your kids when you need some down time and they're still bursting with energy.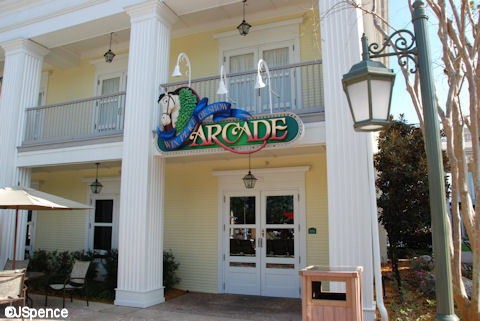 Also near the pool is The Spa. Inspired by the Adirondack's celebrated mineral springs, this spa offers a full array of services. Some of these include facials, body massages, body wraps, and aromatherapy. Also available in the Health Club is state-of-the-art exercise equipment for those of you wishing to stay in shape while on vacation.
The Spa was closed for refurbishment during my most recent stay at Saratoga Springs. Because of this, I have no interior pictures to share with you. For more information about The Spa, click here.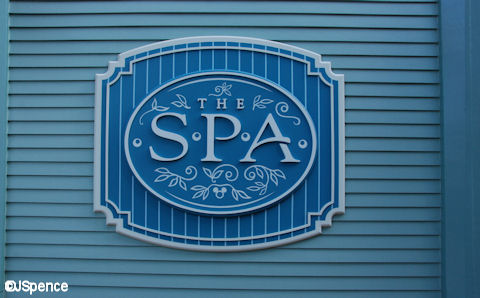 As I mentioned earlier, Broadway runs through the middle of the "town" of the Saratoga Springs Resort. In town you'll find several places of interest. One of these is The Springs Bus Stop for transportation to other spots at WDW.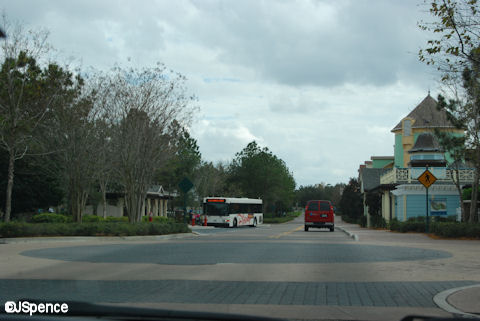 Across the street from the bus stop is a laundry facility and Community Hall.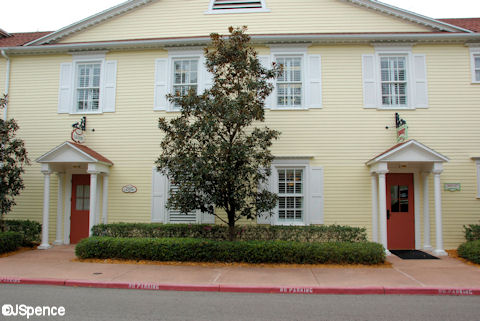 One, two, and three bedroom units at Saratoga Springs have washers and dryers within the room. However, studio units do not. Laundry facilities for these folks are located at all of the pools.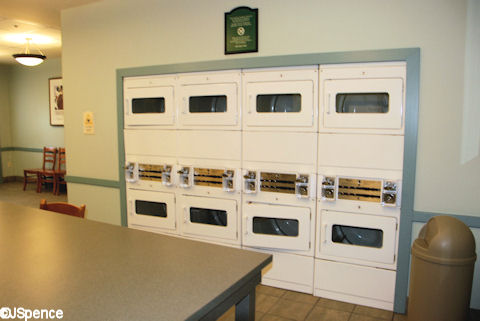 All DVC resorts have a "Community Hall." This is the spot for fun and games. Although primarily intended for children, the entire family can enjoy activities here. Be sure to stop by and check the Activity Schedule to see what's happening during your stay.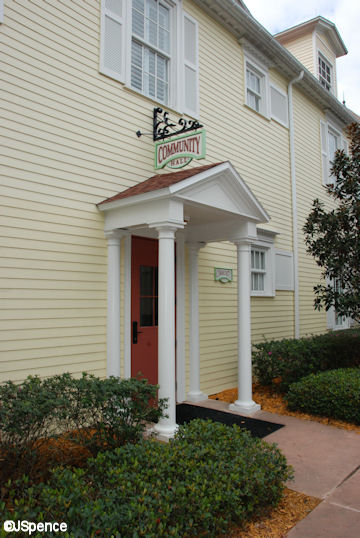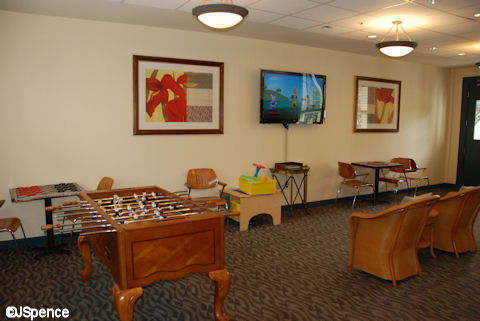 Next to Community Hall is Horsing Around Rentals. This is the location to rent sports equipment and surreys. DVDs are also available here and are loaned free of charge to DVC members.
The basketball, tennis, and shuffleboard courts are all located at the far south end of the Carriage House complex.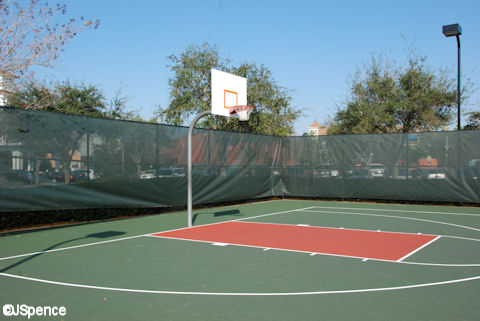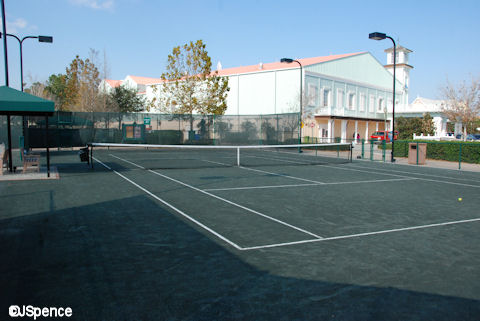 A movie theater was part of the Disney Institute's offerings. I believe this building continued to operate in this capacity when Saratoga Springs first opened. But today, this structure is used to house mockups of DVC rooms to show prospective members.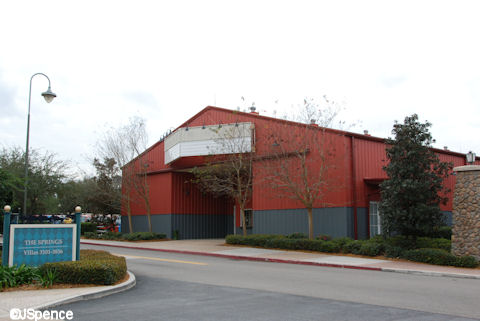 Speaking of prospective DVC members"¦
I'm sure you've notice, wherever you go at WDW, a DVC kiosk can be found. For most folks, talking to one of the cast members stationed at one of these locations is their first step toward membership. This next picture was taken of a Membership Information Center at Disney's Hollywood Studios.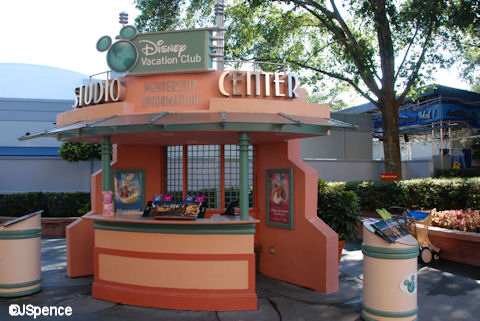 The cast members at these remote sales centers provide guests with the basics of DVC membership. If this initial information piques their interest, arrangements are made to transport them to Saratoga Springs where a more formal and in-depth presentation can be made. Part of this presentation includes mockups of typical DVC rooms.
Here are a few pictures of the Saratoga Springs DVC reception area.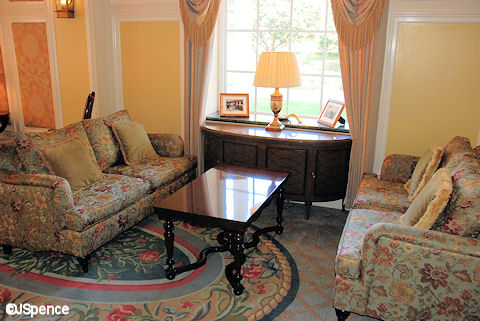 That's it for today. Check back tomorrow when I'll be discussing the various sections of Saratoga Springs, the other pools, and the rooms.