Since Laura was in a week-long training class at work, I (Lee) had the opportunity to take her place at a press event Disney put on for Southern California media to get a look behind the scenes at all the changes coming to the Disneyland Resort this Summer – especially the opening of Buena Vista Street and Cars Land at California Adventure.
This is Part Two!
The next room of the Cast Showcase is all about Cars Land.
Static displays in this room included one of the Radiator Springs Racers, merchandise, and a snack area serving snack size Pop Cones from Sally's Cozy Cone. The flavor when we were there was a surprisingly tasty Dill Pickle popcorn. Like the other rooms this one featured a stage and video displays and a host – this one a shy overall-clad female car nut. The video showed here is the same video on the making of Cars Land that is currently showing in the Blue Sky Celler. It is a very good feature that includes John Lasseter talking about how the Cars movie came about and what his requirements were for a Cars Land, as well as many of the imagineers and executives responsible for bringing Cars Land to life. I highly recommend you see that featurette if you get a chance – it is an excellent look at how Disney theme park design works. The basic features of Cars Land have been well documented by Laura and Jason in other Disneyland Blog entries.
We did learn about the entertainment that will be in Cars Land. This includes continuous "meet and greets" with Mater and Lightning McQueen, Red the bashful firetruck who will serve as a mobile water play area for the kids and DJ's Dance & Drive – a rolling boom box that will try and get the guests to break out their dance moves. We also learned that Disney is planning for how popular Cars Land is expected to be – they will have early entry to Cars Land for selected guests, cast members with iPads with up-to-the-minute wait times to provide direction and the Fast Pass machines for Radiator Springs Racers will be next door at the entrance to Bug's Land (keeping folks just getting Fast Passes from clogging up Route 66). The other "entertainment" in Radiator Springs will be the nightly lighting of all the neon lights.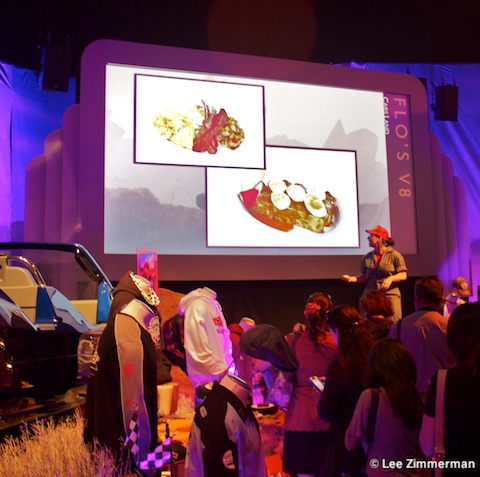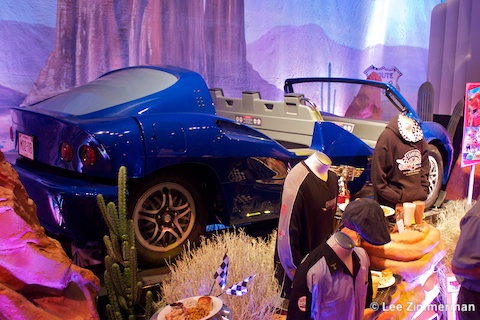 A Radiator Springs Racer

Artist concept for Red the Fire Engine who will provide entertainment….and a cool down. Image copyright ©Disney.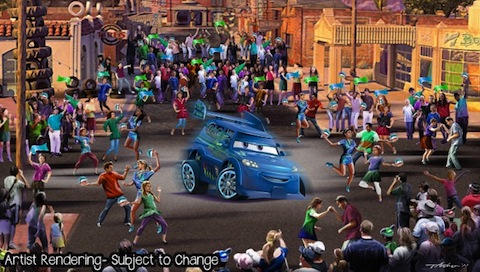 Artist concept for DJ's Dance & Drive. Image copyright ©Disney.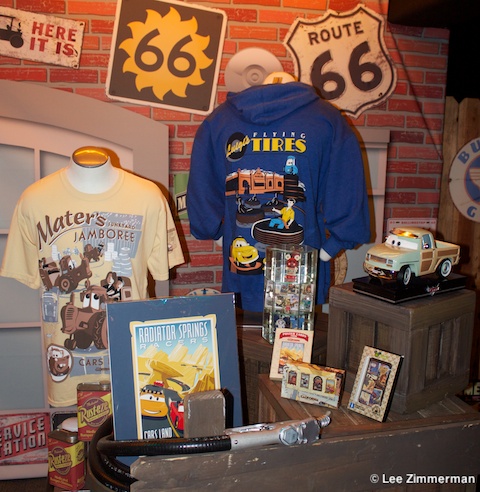 Several photos of merchandise (and food) available in Cars Land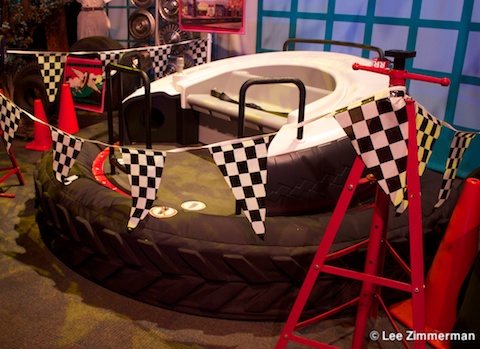 A flying tire sighting
The final room in the Cast Showcase was basically a movie theater with multiple displays. We were served cupcakes as we entered – supposedly pieces of the cake we baked in the first room – with "We Create Happiness" written on the top. This video presentation in this room was focused on the cast members themselves. It included a thank you from the Disney executives for the great work the cast members do, recognition that it is ultimately the cast members who have the most impact on the guests' experience, that they are the "final layer in the storytelling." There is an inspiring true story about "Johnny the Bagger" who, as a bagger in a grocery store, single-handedly changed the whole culture and customer experience of that store (Google it and you will find links to Youtube videos). The cast members are reminded about the importance of what Disney calls the "Four Keys" – safety, courtesy, show and efficiency. We learned that Disney even has an employee-to-employee recognition program for when a cast member observes another cast member who excels in one or more of the Four Keys. This movie ends with a series of heartfelt thank yous from guests to the cast members. I will admit that as a former cast member, that segment brought a tear to my eye.
That concluded our brief stint as cast members getting our training on all of the great coming attractions at Disneyland Resort. Now it was time to actually visit one of those attractions – the new Cars Land! We entered Cars Land from what I consider the "back" entrance which, once the fence is down, opens off the Pacific Wharf food service area. This entrance takes you in under a large rock arch and onto the road that skirts Ornament Valley. My first reaction was "wow!". Ornament Valley is huge and incredibly beautiful. Disney isn't kidding when they say Cars Land is an immersive experience. I got a kick out of watching all of the jaded members of the press corps stop in their tracks with their jaws open. Of course, we all then started to reach for our cameras before remembering that pictures were forbidden during this part of the event – so I'm sorry I can't share what I saw. In spite of peeking over the construction fence all during the construction process, this was the first time I was able to see back into the recess of the Cadillac Range to see the waterfall and the bridge in front of it – spectacular! I could see part of the track for the Radiator Springs Racers including a nifty looking hill/dip combo and the beginning of a very banked turn. Our Disney escorts eventually got us moving again and into Flo's V-8 Cafe for the rest of our program.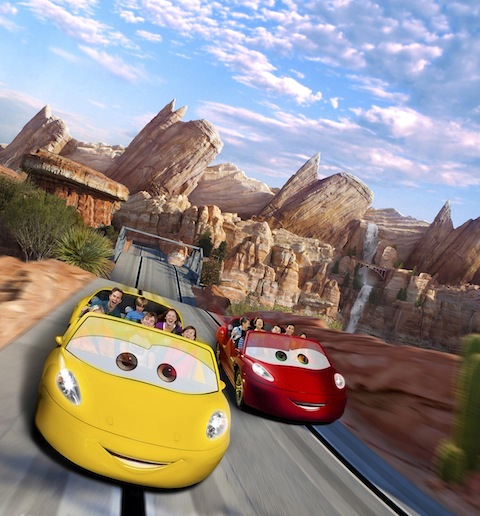 Here is an image Disney provided to give you some idea what I saw. Artwork ©Disney

After a brief introduction by Mary Niven, Vice President of Disney California Adventure Park and Guest Services at the Disneyland Resort, Michele Gendreau, Director of Food and Beverage for Walt Disney Parks and Resorts led us through a too short, but very enjoyable tasting session. While we were drinking our healthy and very good Red's Apple Freeze frozen drinks she explained that the Food and Beverage folks also took a trip down Route 66 to experience it first hand and to get ideas for the food that should be served in Cars Land. Many of the restaurants on Route 66 seem like they are right out of the 50's and 60's, so Cars Land food will reflect that. One of the popular food trends of that time was spitfire rotisserie and much of Flo's food is cooked in that style – on several huge rotisseries in the kitchen. Cast members in costumes that would have made any diner owner proud quickly served us sample sizes of many dishes including:
– Citrus Roasted Turkey over mashed potatoes
– Sliced Port Loin with Coke BBQ Sauce
– Veggie Tater Bake (a vegetarian take on Shepherd's Pie)
– vegetarian baked beans
– chocolate, vanilla and strawberry shakes
– Frito Pie Cone in an edible cone shaped bread bowl
– Ugly Crust pies – inspired by the Mid Point Cafe in Adrian, Texas – including Apple and Cheddar, Chocolate Mud Pie, Blueberry-Peach and Strawberry-Rhubarb.

Some of the food items available at Flo's V8 Diner

The "Ugly Crust" Pies served at Flo's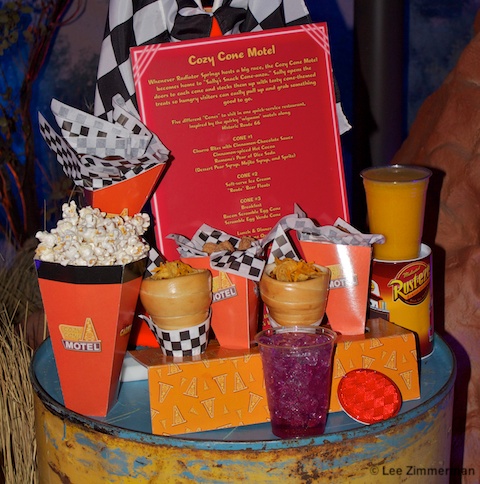 A sampling of the "cone food" served at Sally's Cozy Cone
It was all very good, even if we didn't really have time to savor it. Anyone who is a fan of diner food is going to love Flo's which will be counter service and seats 330 in a combination of inside seating (either looking at Radiator Springs or Ornament Valley) and outside seating. The chili and Frito cone was actually from Sally's Cozy Cone – which will serve all food in cones. The cone "bowls" are a very tasty bread that is sort of mid way between normal bread and pretzel bread. Spoons are optional and it is fun to just eat right out of the cone. There will be breakfast cones filled with eggs and sausage or bacon, and different cones the rest of the day including the chili and Chicken Verde. Sally's cone foods will also include several different flavors of Pop Cone, snack cones like pretzel and churro bites with dipping sauces and, of course, ice cream cones. We asked about alcohol in Cars Land and were told that Flo's will serve beer (including Bear Republic micro brews!) and wine. The frozen pomegranate or limeade drinks at the Cozy Cone are available with optional vodka.
The last part of our afternoon was a series of small group interviews with Disney executives. Our first interview session was with Alan Bruun, Creative Director of Entertainment for the Disneyland Resort. Alan told us that there are 18 new shows debuting this summer. He explained that the goal of California Adventure is to get everyone to see the world through the young Walt Disney's eyes – a place of wonder, inspiration, and excitement where we can all become dreamers ourselves. He expressed that one of the challenges is making 1920's era music, as will be heard on Buena Vista Street, attractive for a six-year-old, but he thinks they have done it. When asked how cast in stone the entertainment plans are, Alan explained that they plan to watch how the guests interact with the environment and the entertainment – things like where they stop, how close they get – and make changes accordingly. He also said they are already thinking about how they will do holiday decorations that fit into the story of Buena Vista Street and Cars Land.
Next we asked questions of Scott Giersch, Director of Merchandise Theme Parks and Resorts. He was excited because his team has been developing land and attraction-specific merchandise that will be exclusive to California Adventure. He says they have over 300 new items that can only be bought while in the Park. We asked him about his favorite items and he said there were too many, but then he did mention the John "Lassetire" statue and said that there will be several versions of the California Adventure Partners statue available at varying price ranges. He is also looking forward to seeing how the line of Ramone's Low and Slow merchandise is received. That seems to have potential to catch on with either or both SoCal car nuts and SoCal Latinos. The Ramone's line is also an area that can grow in a way that is consistent with, but not limited to, the Cars stories presented so far.

Some of the available Ramone's Low and Slow merchandise
Mary Niven was our next interview subject. She was first asked for some more background on the Staff Showcase idea, which she said Disney has been using for about three years and was an outgrowth of seeing the impact immersive environments have on guests, so it made sense to do the same thing with cast members. She said that one of the key messages they are delivering to cast members is that they are empowered to do whatever they can to make the guest's day and they don't need a "suit" to make guest experience decisions. She also observed that many of the new young cast members may not even realize that Walt Disney was a real person, so it is important to fully train all the cast members in the overall story and theme for California Adventure. Mary also reinforced that Disney views this as a Park opening, as opposed to a land opening, where they have been opening the new California Adventure in phases. She expressed that the challenge when doing something of this scale is keeping all the different elements of Disney synchronized – imagineering, park operations, food and beverage, merchandise, human relations, etc. The Cars Land effort has been so successful that it is being held up as a best practice for the rest of Disney Parks and Resorts to emulate. Mary explained that the Disneyland Resort is in the process of adding 2300 new cast members in anticipation of increased demand once the new California Adventure is fully open. She also noted that all but 175 of those new cast members are already on-board. She said that opening a new land or attraction is an exciting opportunity for the cast members and that they gave existing cast members an option to move to Cars Land. Mary also noted that Cars Land was special because Disney was willing to make the investment to allow the imagineers to create a truly amazing set.
Our final Disney executive was Michele Gendreau so we talked about all the food we had just sampled. She gave a few more details on Carthay Circle including that Andrew Sutton will be the Executive Chef, the cuisine will be "farm to table" with great seafood but it will also have a great burger at lunch. It will have an extensive wine list (250 wines) and will feature several micro brewery beers including some from the local Anaheim Brewery. Mary also noted that reservations for Carthay Circle opened on 5/10/12. We ended up in a brief discussion of various styles of BBQ and we learned that the Big Thunder Ranch, which is inspired by an actual ranch in Colorado, serves authentic Colorado-style BBQ. We also learned that fruit carts in the Parks have become very popular and they are increasing the number of places you can buy fruit in the Parks to six in response to that. Finally she said that they keep looking for healthy options to add to the menus and that each location has at least one vegetarian option.
With that, our time was over and we were escorted back out of Cars Land and California Adventure. I learned lots of interesting things, enjoyed getting a first look at the nearly complete Cars Land and even enjoyed reliving some of my too few days as a Disneyland cast member. California Adventure has always been one of my favorite Disney parks. It provided a ready escape when Disneyland was too crowded. It was fresh and new and more roomy and celebrated the culture of my native state. It had a few really good attractions (California Screamin' is still the best Disney roller coaster) and many good places to eat. Unfortunately, it never really took off in its original form and Disney has addressed that by adding more Disney character-driven attractions and, now, by shifting the story the park represents to one that should be embraced by more guests. After today's behind the scenes look, I am even more excited about the June 15th opening of Buena Vista Street and Cars Land.