The first time I set eyes on a Vinylmation was December 2008; I was in the Art of Disney Store at Downtown Disney. There was a little white vinyl figure of Mickey standing on the shelf; there were actually quite a few of them. A young couple was admiring them and she announced that she just had to have one. Without trying to sound too "out of it" I asked the cast member what they were. The cast member shrugged, rolled her eyes and explained that it was a "Vinylmation". The 3 inch white Mickey was released November 7th at the Festival of the Masters and the objective was to paint or decorate your own Mickey. Hmmm – I didn't think I wanted to do that.
During December 2008 Disney released the first series of Vinylmations; it was called Park Series 1 and consisted of 12 different designs. The 3 inch figures were each in a blind box, you didn't know what you were getting, and they were sold from a case that contained 24 blind boxes. Each case had 2 times 10 of the designs, 3 times one of the designs and 1 of one design that was called a chaser. Of course the chaser was not only the rare item to find but also a mystery as the picture of the chaser was not on the outside of the box or case. The first series was a limited release and when they were gone of course another series would be available.
I didn't have any interest in these little guys at that time; I just didn't get it. Then in April of 2009 I was at the World of Disney store in NYC and they had cases of the Urban Series 1 Vinylmations. This series was also a blind box series and you know what they say about curiosity, well my curiosity got the better of me and I bought two boxes. That was the start of a new collecting obsession for me, I had taken a bite of the apple and I was hooked.
The first box I opened was a solid gold Mickey – how boring! The second box I opened was some weird design. Well I would just trade them for something I liked, not a problem. I almost traded that gold Mickey but for some reason decided to hang on to it. I later found out it was the chaser and was a grand prize to have.
With each series of 3 inch Vinylmations released there are also a couple of 9 inch characters released. The 9 inch Vinylmations are in window boxes so you can see what you are getting. Sometimes the 9 inch Vinylmation will also have a 3 inch companion Vinylmation in the box. I try not to look at these guys; I only own one 9 inch and I want to keep it that way.
I like the 3 inch Vinylmations for a few reasons. One, they are small and easy to display; second, they are not expensive. They started out at $9.95 and are now selling for $12.95. The third reason is that you can get designs that mean something to you. For example one of my favourite Vinylmations is the Annual Passholder Orange Bird; it brings memories of the earlier days at the Magic Kingdom when the Orange Bird used to hang out at the Sunshine Terrace. Fourth, I like that there are Vinylmations to commemorate different events at Disney, like the Totem from the Alaska cruise on Disney Cruise Line and the Toy Soldier from Mickey's Very Merry Christmas Party. Last but not least they are tradable and I love meeting and trading with people; it's a fun way to get to know people who share the Disney spirit.
By the time Park Series 2 was released in 2009 Vinylmations were catching on big! It didn't take long for Disney to realize they had a good thing going and they started releasing more and more series. The Park and Urban series are up to number 8 now and there have been several other fun series such as Alice In Wonderland, Cutesters, Toy Story, The Muppets, Star Wars, Villains, Animations, Holiday, and Have a Laugh to name a few. These have all been blind box series and each with a coveted chaser.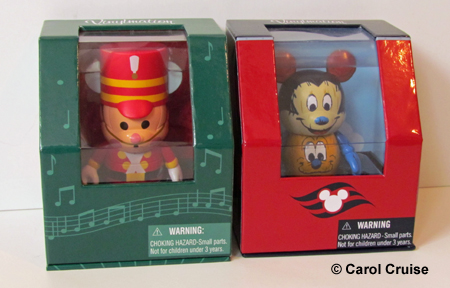 There have also been several window or open box series, which means you know what you are getting when you buy it. These include Animal Kingdom, Nightmare Before Christmas, Flags, Occupations, Big Eyes, Nerds Rock and more. The open box is also used for special event Vinylmations such as the 40th WDW Anniversary series and Marathon Vinylmations and Flower and Garden, Mickey's Not So Scary Halloween Party and so on.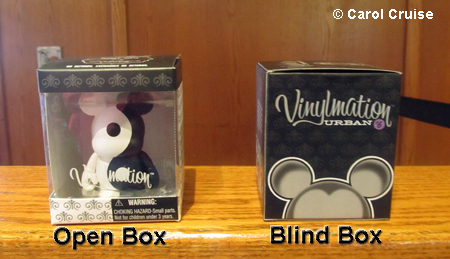 Vinylmations can be purchased in just about any shop at Disney but the place that has the widest variety and the newest releases is DStreet at Downtown Disney West Side. Here you can also buy other merchandise with Vinylmations designs such as shirts, purses, bags and hats.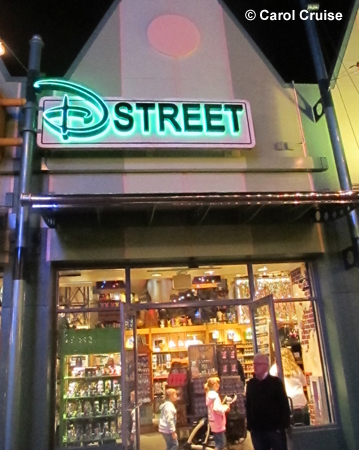 You can also trade in the store. In most of the stores that sell Vinylmations you will find a mystery trade box and a clear trade box. The mystery trade box is black and has either 15 or 24 compartments, each holding a Vinylmation. You don't know what is behind the number so you blind trade by picking a number and exchanging your Vinylmation for the one that is in the box behind your number. The clear boxes hold 3 Vinylmations and you can see them. If there is something in the box you want you can simply swap it with one of your own.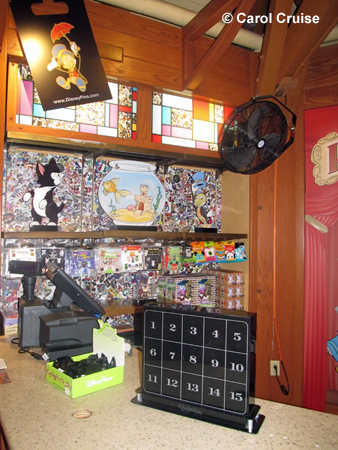 I like to display my collection. I found that the Shot Glass Collection Case sold at Michaels Stores is the perfect size for Vinylmations. Some of the event Vinylmations come is special boxes that I don't open and some come in tins. I have shelves that I can display those on. But because Vinylmations are small you can tuck them away in lots of interesting spots.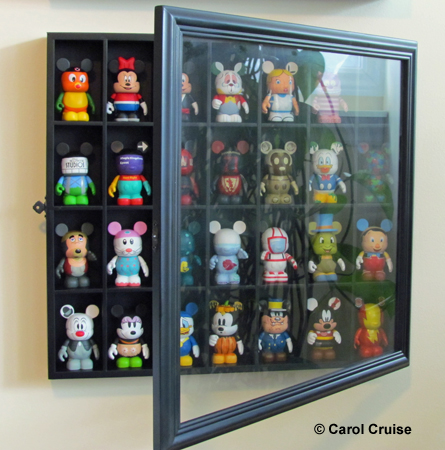 I try to keep up with the different releases by following the Disney Blog http://eventservices.disney.go.com/static/vinylmation/vault.html
There is always something fun and new happening in the world of Vinylmations.