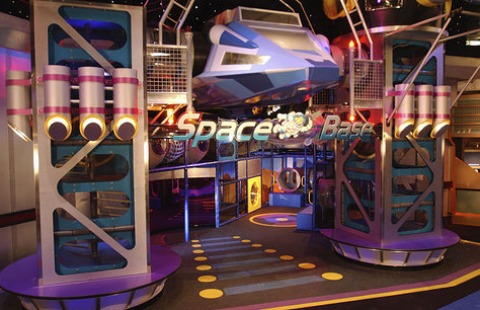 Before I knew better, I wondered why parents would spend time at the various playgrounds within Walt Disney World when there are so many other unique things to do only on Disney property. Now, after taking my own kids to Disney World for almost a decade, I understand — everyone needs a break!
You might have to look a little harder to find the playgrounds at Magic Kingdom these days. The two biggest play areas for young kids — Pooh's Thoughful Play Spot and one in Mickey's Toontown Fair — have been dismantled to make way for the new Fantasyland expansion, which begins rolling out this year.
But there are two great places where kids can climb, tucked out of the way at Magic Kingdom, and one at Epcot. (By the way, I'm not talking about the new interactive queues, like the one at The Many Adventures of Winnie The Pooh, which really help pass the time in line, or the gigantic playground at Disney's Hollywood Studios. I'm looking for "hidden" spots where kids can get moving vertically — and burn off some of that pent-up energy.)

Under the Frontierland train station and adjacent to Splash Mountain is The Laughing Place, a cute playground designed for guests no taller than 40 inches. The main area looks like a room in the base of the tree, where characters from Song of the South live. Next door is a small house with a toddler slide. Every time I've walked past the play area, kids are climbing on the roofs, though I doubt that was what was originally intended by the Imagineers. The only thing I dislike about this play area is the lack of seating for waiting adults. (Jack Spence tells us more about the story of Br'er Rabbit at Disney World here.)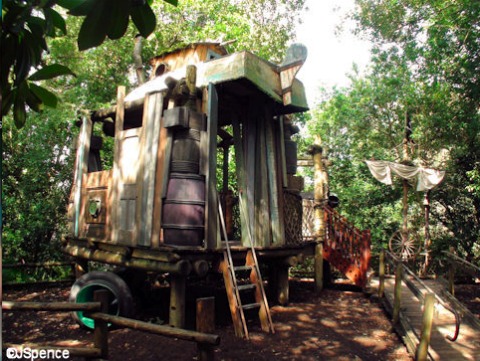 The next time your kids are exploring Tom Sawyer Island at the Magic Kingdom, be sure to climb to the top of the hill, where a small play structure awaits. It's looks like a place where Tom Sawyer and Huck Finn's imagination ran wild. A nearby area mimics one of the rafts guests ride across the Rivers of America; kids can stand at the helm to steer or ring a bell.
Over at Epcot, there is a fantastic interactive area inside the base of the Mission: SPACE ride. Enter through the gift shop and you'll find the Advanced Training Lab, which includes several different types of video games, plus play tunnels and a kiosk to email space postcards.
Space Base features two levels of connecting tunnels and lots of interactive features like buttons, sounds and nets. A big plus: I have yet to see young kids become afraid and stop in the tunnels. I think most parents are happy to not relive their climbs to the top of fast-food play structures to rescue sobbing youngsters.
Expedition: Mars is a joystick-controlled video game, and Space Race is a team competition in which as many as 60 people work together to send their rocket back to Earth. (You can read more about Mission: SPACE on this AllEars page.)
Looking ahead, when Storybook Circus is completed at the Magic Kingdom, it will feature a different sort of play area, and it certainly won't be "hidden." The Casey Jr. Roundhouse is all about water and will feature mist and fountains. Plus, little ones can check out the monkeys, elephants and camels. It's good to see that area of the park retain a water feature.
So, do you have some lesser-known play spots at Walt Disney World you'd like to share?