I have been waiting a whole year to share more of my photos from my October trip last year. By the time I got back, Halloween was over though I did show you the HalloWishes fireworks show and how to photograph it. Next Friday, I will again be going to Mickey's Not-So-Scary Halloween Party. Along with HalloWishes, I will be watching the "Boo-To-You" parade.
Before the parade last year, I enjoyed the dead-pan funny jokes and songs of the Cadaver Dans. You might recognize them.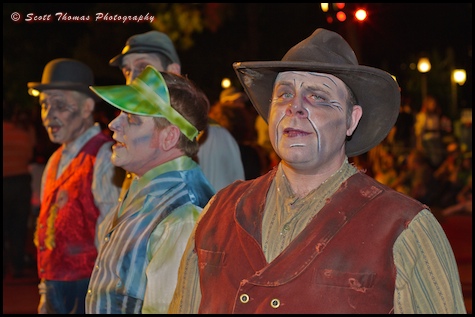 The Cadaver Dans entertaining guests at Mickey's Not-So-Scary Halloween Party.
Nikon D700/50mm, 1/60s, f/4, ISO 1600, EV +0.7, rear-sync flash.
During the party, the Haunted Mansion gets additional and spookier lighting, sound and atmospheric effects. Haunted Mansion cast members are even more in character on these special nights with additional makeup. There are entertaining ghosts outside in the mansion's courtyard who are curious about the living souls walking past the graveyard. I think I will stop and see if a ghost can be photographed.
The extra spooky Haunted Mansion during a Mickey's Not-So-Scary Halloween Party.
Nikon D700/28-300VR, 1/60s, f/4.8, ISO 2200, EV 0, 65mm focal length.
For those who wish, you can follow my adventures from Walt Disney World next week on my Twitter account, @Scottwdw.