By Guest Bloggers Carol and Gary Cruise
Ghosts and goblins are everywhere! Spooky golf carts and costumed dogs are the order of the day. It's a trick-or-treaters delight!
If you are at Walt Disney World during the month before Halloween be sure to set aside an evening to visit Disney's Fort Wilderness Resort & Campground. You'll be very glad you did!
The campers at Fort Wilderness take great delight in decorating their campsites for every season and the Halloween season is absolutely packed full of fun at "the Fort". Halloween decorating began about seven years ago when one camper decided to re-do his site in a spooky way! The next year more joined in, and the next year still more, all trying to out-do their neighbors. After a few years it had developed into a major event and Disney decided to join in the fun with a site decorating contest, golf cart parade and plenty of other activities. There's fun for the whole family!
Here's the 2010 Schedule:
The campsites are just amazing. You will see a vast array of Disney themed inflatables, often mingled with some downright scary animated mannequins. There are ghosts flying between trees in eerie foggy cemeteries, zombies crawling up from under the ground; there's even a skeleton eating a Mickey Bar. Unless you've seen it you cannot imagine how creative the campers can be. Some people have spent thousands to create a magnificent show. One site this year had a few dozen inflatables, countless strings of Halloween lights, animated Halloween characters and illuminated jack-o-lanterns, all flashing in perfectly multiplexed time to Michael Jackson's "Thriller". It was awesome! He won third prize in Disney's site decorating competition.
It's hard to describe how well it is done, so I'll let some pictures do the talking! Here are a few samples of what you will see: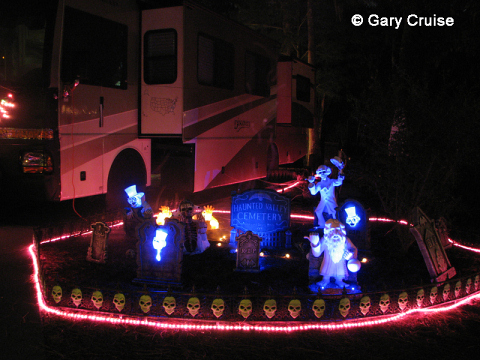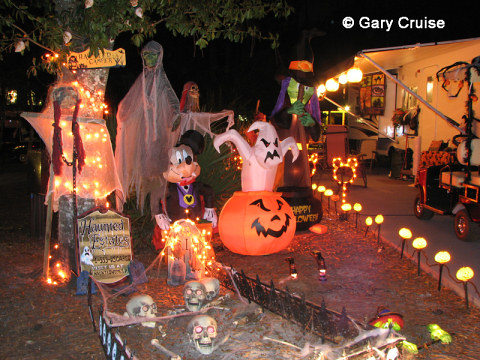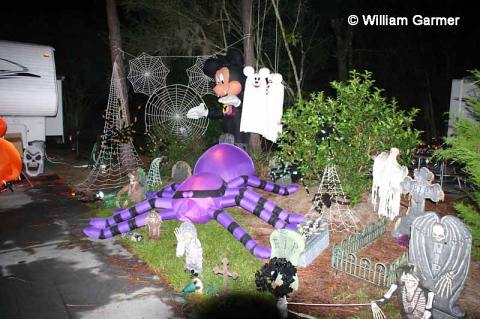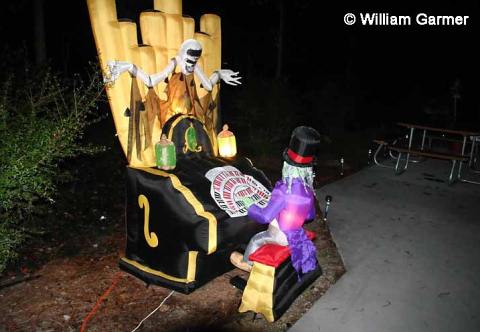 Some sites are decorated as early as September but the activity really accelerates in October. The last two weeks before Halloween are exciting times as campers race to get ready for the big day!
The first official Disney activity is the Mummy Wrap-Up which takes place in the morning the day before Halloween. It's held in the playing field beside the Meadows Swimmin' Hole. The campground Activities Cast Members wheel in hundreds of rolls of toilet tissue and families have a few minutes to wrap their children. It's a race against the clock! Once the cast members have called "Time" the children line up. At the count of three they all race to the far side of the field, turn around and race back. The wrapping (or what's left of it) is judged once they return. What a comical event; when it's over the field looks like a toilet paper cyclone went through!
There are Halloween themed games in the Meadows Swimmin' Hole and creepy-crawly crafts at the pool-side pavilion.
The highlight of the day before Halloween is always the golf cart parade. You just cannot imagine what folks can do with a golf cart if you have not been there. All sorts of lights and Halloween inflatables festoon the carts. I can't imagine how they manage to power all the accessories they creatively to attach to the carts! Giant spiders and cats lurked on top of them. Several carts were transformed into pirate ships, two were Flintstones cars, one was a Disney Monorail car, one was a Kilimanjaro Safari truck and another was the hearse with the invisible horse from the Haunted Mansion. There were over two hundred carts in the parade. All were unique and some were simply amazing. My personal favorite was the two carts which were transformed into the Slinky Dog from the Toy Story movies. How do you rent two carts from Disney in the morning and transform them into the Slinky Dog in time for a 5:45 parade? That takes work and lots of ingenuity!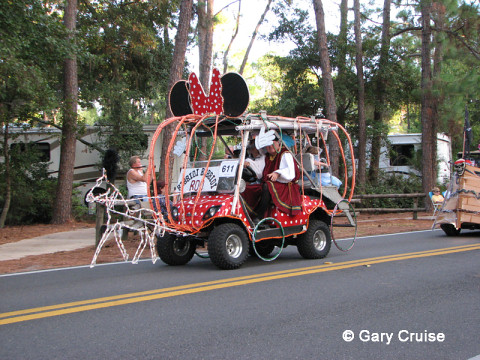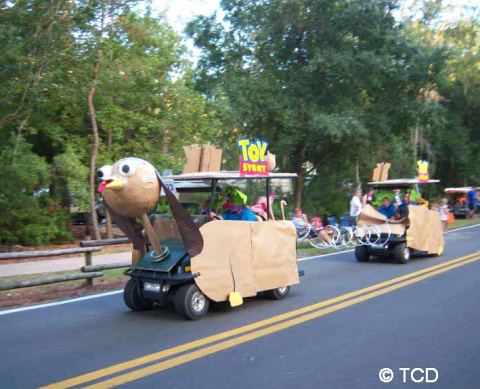 Hundreds of people line the parade route to enjoy the fun while costumed drivers and riders on these outlandish carts toss candies to waiting children.
Halloween morning starts with the Pet Costume Parade. It begins at the Dog Park beside the 300 loop. There were about seventy five dogs and two very wary cats! Pets parade past the judges then promenade all the way around the 300 loop before returning to the Dog Park where the prizes are presented. Many of the owners also dress up for this event and many are themed to match their pets. One dog was dressed as Zero from the Nightmare Before Christmas movie. Of course his Dad and Mom were Jack Skellington and Sally. Another dog was in a Dumbo costume and Mom was also dressed as Dumbo while Dad was Timothy Mouse. There were many dogs dressed as Disney characters and even a tooth fairy.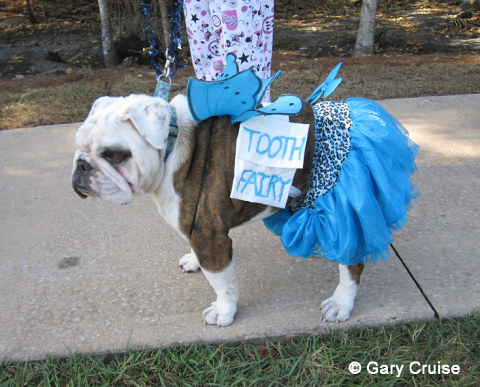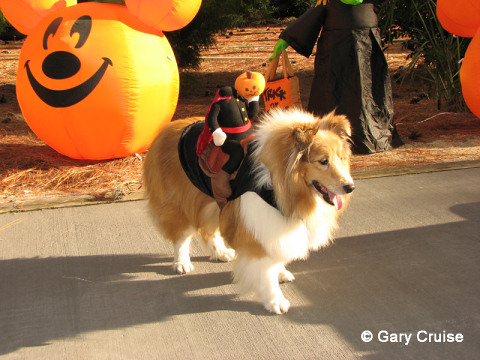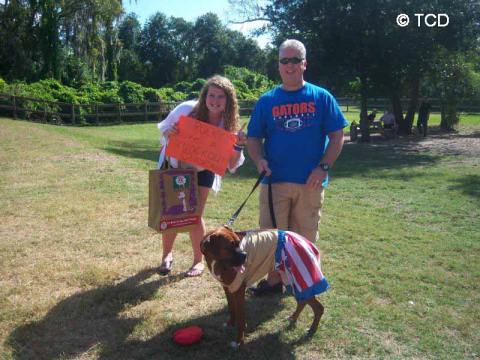 There are more activities throughout the day; you can create a tie-dyed t-shirt at the Bike Barn and get a temporary tattoo at the afternoon pool party before trick-or-treating begins at 5:00 p.m.
The trick-or-treating is one of our favorite parts of Halloween. Carol and I just love to see the kids in their costumes and the costumes at Fort Wilderness are often very creative. Many of the parents don costumes to accompany the kids, and some of those decorated golf carts chauffeur them around. It's a very busy night, we had over 600 trick-or-treaters, but it was oh-so-much fun! Our friends Lisa from Massachusetts and Terri from Louisiana came to join in the fun this year. We were visited by princesses, pirates, robots, all varieties of Disney characters, monsters, ghouls and even one youngster disguised as a Walt Disney World Monorail Car! We are so thankful that Lisa and Terri brought some extra candy . . . or we would have run out much earlier!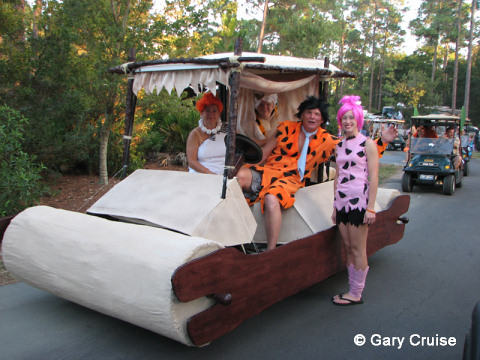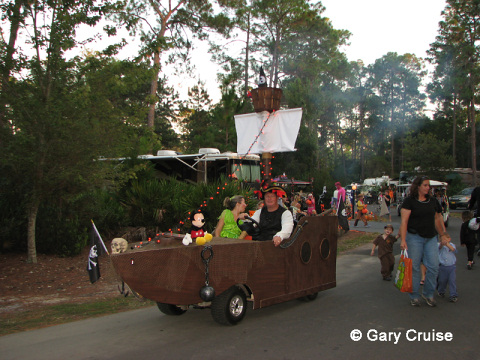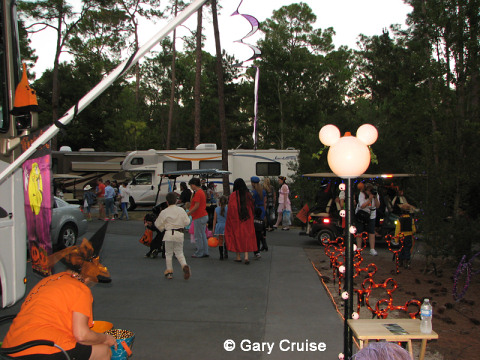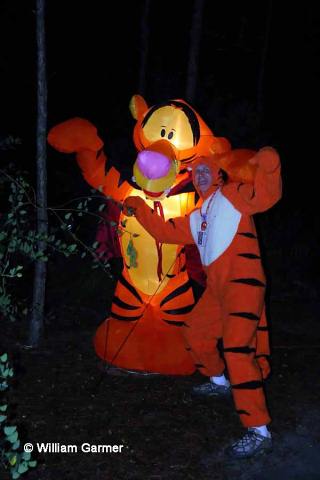 There are all sorts of special Halloween activities such as the "Haunted Halloween Carriage Ride" which takes place every night during October. This half hour carriage ride passes through woods and trails along the shores of Bay Lake. Your driver tells the spooky story of the "Legend of Sleepy Hollow" and your trip ends with a frightening face-to-face encounter with the headless horseman. This ride sells out quickly, so be sure to book early. There is also a nightly 45 minute horse drawn wagon ride which tours the campground and gives riders some wonderful views of the Halloween decor.
During the Halloween season Chip & Dale's nightly campfire, sing-along and outdoor movie takes on ghostly air with eerie songs and spooky movies.
So be sure to plan a trip to Fort Wilderness during the Halloween season. Disney campers would be happy to see you and we always like to talk about our decor ideas. Come in the evening to see the campground illuminated with all things spooky!
If you come by car you will be asked to park at The Outpost (campground entrance) and catch an internal campground bus to The Settlement, where Pioneer Hall and the Trail's End Restaurant are located. If you come by boat it is a very short walk to The Settlement. From The Settlement you can easily walk around the 100, 200, 300, 400, 500 and 700 loops to enjoy the spectacle. It's about two miles in total and you will see some amazing sights! If walking two miles is a problem, don't worry; you can see the many of the displays very well without getting of the bus!
Once you're finished your tour you might want to sit in a rocking chair on the Trail's End veranda and watch the world go by. Or perhaps you would like to pick up your favorite adult beverage from Crockett's Tavern and take it to the beach. There you can sit in a comfy chair on the patio or a lounge chair on the beach and enjoy a terrific view of the Wishes fireworks show at the Magic Kingdom. It's spectacular to see it reflected off the waters of Bay Lake! They even pipe in the sound track to add to your enjoyment. After Wishes is over wait just a few minutes and the Electrical Water Pageant will sail by as it does every night at 9:45. It's a terrific way to end your day at Disney!
So come on over to Fort Wilderness and enjoy Halloween!
Thanks to John Ames, Will Garmer and TCD who agreed to share their photos with us.