I had a more positive D23 experience than Laura, probably because I was only there for two days and because I attended the 'headliner' events in the Arena both days I was there. Those were the only events that had designated Press seating, so I didn't have to wait in line for hours and hours to get in. All of the events in the Arena Stage are very well-produced with a nice stage, excellent lighting and sound system and three very large projection screens. Those events also tend to be longer – the Disney Studios event was the longest at almost three hours.
Building Worlds: Inside the Walt Disney Studios
The Studios event started almost on time at 10:30, in spite of the required camera check. This was the only event at D23 this year that required this and it is understandable why Disney doesn't want images of all of the pre-release and work-in-progress footage they show put out on the Internet.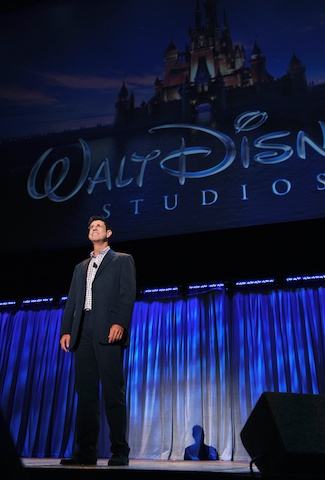 This event was similar in format to the one they did at the first D23 Expo in 2009. The event started with a super trailer reel that highlighted the films released in the last year (or so). Then the master of ceremonies, Rich Ross, Chairman Walt Disney Studios, welcomed everyone. He then introduced, in turn, the representative for each of the studios that make up the combined Walt Disney Studios (Disney Studios, Walt Disney Animation Studios, Pixar, and Marvel) to highlight their upcoming movies.
Typically each of the individual studio presentations started with a teaser/trailer reel. Then the studio spokesman like John Lasseter, Chief Creative Officer Walt Disney and Pixar or Kevin Feige, Producer and President, Production, Marvel Studios introduced a couple key people from each of their movies (typically the Director and the Producer). These folks talked about their movie, showed never-before-seen clips from the movie and brought out a couple of stars to talk about working on the movie. If a movie is far enough in the future that they haven't started filming it yet, you may see concept art, animated storyboards or computer graphics tests.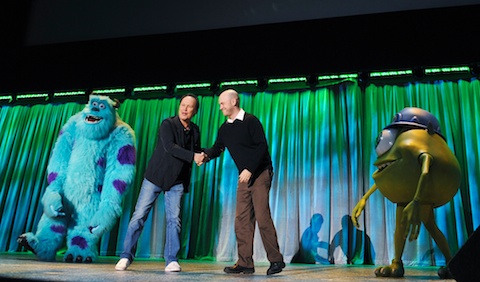 With that overview of the event, here are a few highlights and observations:
– John Lasseter continues to be one of the most interesting celebrities ever – he's personable, unassuming, funny, and passionate about what he does. He is also legendary for always wearing Hawaiian shirts, so early in his talk he said "I know you all want to know what shirt I have on today, it's the official Cars 2 shirt."
– It is Pixar's 25th anniversary, so Buzz and Woody rolled out a big cake. John Lasseter said that he learned in grade school to share, so he announced "cupcakes for all" and 50 staff members walked in carrying cupcakes that were passed out to everyone in attendance.
– I am not very "star struck", so the guest stars are entertaining but not the thrill for me that they are for some people (based on the amount of screaming). I do like to hear the actors talk to get some idea of what they might be like in real life. Marvel definitely won the star power competition when they brought nearly the entire cast for The Avengers out on stage.
– The Marvel films received a surprisingly strong reaction from a Disney fanatic audience – especially Iron Man, Captain America and the Avengers.
Movies that I thought looked good:
– Brave – an original fairytale by Pixar, this is also their first "period piece" (they said this is hard to do in computer graphics), and the first with a female hero.
– Planes – think Cars, but with airplanes.
– The Avengers – major superhero action.
– Wreck-It Ralph – an animated story of a video game villain who escapes his game and goes on a quest through other video games in an attempt to become a hero, done in "8-bit" animation like an old computer game.
– Monsters University – a Monsters Inc. prequel.
– Chimpanzee – this year's Earth Day Disneynature release – the story of a baby chimp that gets left behind and is adopted by an older chimpanzee.
– John Carter – based on the Edgar Rice Burroughs science fiction series. They spent quite a bit of time on this film that could be the foundation for many sequels.
– The Muppets – the Muppets reunite to save the Muppet Theater.
The Marvel Presentation
Living in San Diego and being a frequent attendee at the San Diego ComicCon, I was momentarily confused when Marvel started their presentation with a highlight reel showing this year's Marvel panel discussions and the Marvel booth at ComicCon. However, it was a good way to get the crowd amped up and that was followed by a video taped welcome from the one-and-only Stan Lee, greeting us from the secret command post where he was busy defending us from the bad guys.
The remainder of the session was hosted by Marvel's Creative Lead, Joe Quesada. Joe explained that he has been doing talks called "A Cup of Joe" at comic conventions since 2000. Typically those are focused on upcoming products and long Q&A sessions. Joe said that Disney recognized that many of the people in attendance at D23 aren't familiar with the history of Marvel, so he changed the format for this event. I remember when it was announced that Disney was buying Marvel that there was serious concern from comic fans that Disney would ruin Marvel. I got the impression that part of Joe's mission was to explain how Disney and Marvel fit together, as well as to try and bring some of the Disney faithful into the Marvel comics fold.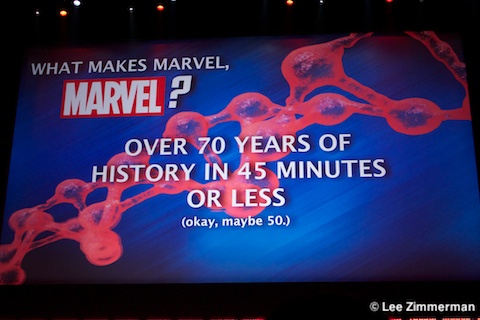 Joe explained that, like Disney, Marvel is about storytelling. Marvel now has over 8000 characters to tell stories with and that is Disney's interest – expanding the base of characters and stories they have to work with. Joe also said that Disney gives Marvel freedom for independent operations but adds financial resources and marketing muscle. Marvel is almost 75 years old. It was founded in 1939, but really took off with Captain America in 1941. Stan Lee started as production assistant at Marvel, but he wanted to be a "serious" writer and expected to do that somewhere else. Instead, Stan created the Fantastic Four in 1961 and Spiderman in 1962 which were the first of a new breed of superheroes who were normal people with the same problems we all have to face. Prior to this, superhero comics focused on the superhero identity rather than the real person behind the mask.
Marvel comics went on to be a huge pop culture phenomenon in the 70's and 80's with sophisticated stories. Marvel experienced unprecedented growth in the 1990's, but along with the rest of the comic industry became too focused on artwork and collectible values instead of stories. When the bottom fell out of the comic speculator market Marvel went into bankruptcy. Marvel had to rediscover their DNA – the character-driven stories. Joe drew a parallel to what happened with Disney animation in the years prior to the release of Beauty and the Beast. Joe also made a point that, as a casual comic fan I hadn't recognized, all of the Marvel stories take place in the same time period and in the same universe so the characters can interact with each other allowing Marvel to do really big stories. The Avengers comics and upcoming movie are an example of this, as all those characters started out in their own comic books.
Marvel has been successful licensing content to other movie studios – Sony does Spiderman, Paramount does Iron Man – but they started Marvel Studios because they lose too much control when they license out content. For example, a Spiderman/Iron Man cross-over is unlikely because the rights belong to two different studios. Marvel also has a TV studio that produces "Saturday morning" cartoons. The TV studio is experimenting with using computer animation to take original 2D comic books and turn them into animated comics with depth and motion. If that approach is commercially successful, they have literally tons of content to build on.
Towards the end of the presentation, Joe showed all of the teasers from the previous Marvel universe superhero movies (both Iron Man movies, Hulk, Thor, Captain America) that set up next year's Avengers movie. He then took questions for about 15 minutes. Of interest to AllEars fans, during the Q&A he did say the Marvel attractions will remain at Universal Studios but that "there have been talks" about bringing Marvel characters to the Disney theme parks.