What can I say about Mickey Ears that you don't already know? Nothing. Even if you've never been to a Disney park, or seen a Disney movie, or played a Disney game, or sang a Disney song, in fact, even if you've never heard of Walt Disney – you already know what Mickey Ears are. I'd be willing to bet, if you're reading this blog, you have at least one pair yourself. Our Disney Pics of the Week this week are showcasing Mickey Ears. Here are a few to get us started. Later in the week Scott and Lisa will show you some more.
I met Caitlin at an AllEars® meet in Epcot last spring. She agreed to model her very special Princess Mickey Ears for this blog. I'm sure she must have thought I'd forgotten all about her by now, but I knew we had this topic coming up and I've been saving her picture all this time. Hi Caitlin!

Copyright © 2010 Barrie Brewer, Nikon D300, 18-200 VR, 1/200s shutter, f8, ISO 400
These are my friends Cathy and John. Don't they look adorable in their scratch and sniff Mickey Ears? It just goes to show that Mickey Ears are not just for kids. Of course, maybe they should be"¦ I'm just sayin'. Love you two!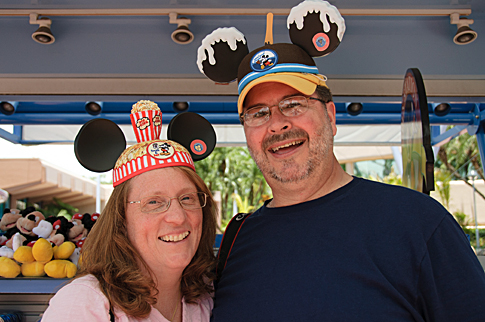 Copyright © 2010 Barrie Brewer, Nikon D300, 18-200 VR, 1/640s shutter, f3.8, ISO 200