I want to first thank everyone who followed my trip down to Walt Disney World last weekend. I tweeted over 35 photos from my iPhone and many other tweets. I hope you all enjoyed it as much as I did.
What I did not tell you last week was I was bringing my new camera and lens to the parks for the first time. I purchased a new-to-me Nikon D700 digital SLR camera and new Nikon 28-300VR lens. This is a tremendous upgrade from the Nikon D70 dSLR camera and 18-200VR lens I have been using for the past three years. The D700 is a full-frame camera with a larger sensor (12 Megapixels) and high ISO capabilities. The 28-300VR lens was designed for the full-frame Nikon digital cameras and is the same range in 35mm terms as the 18-200VR for cropped camera bodies.
For this week, I want to share with you some of the photos I took with the new equipment. If you have any questions, leave me a comment!
The larger sensor allowed me to crop this photo of the explosive finale in the Lights, Motors, Action Extreme Stunt Show in Disney's Hollywood Studios and not lose the the detail of the fire and water in the air.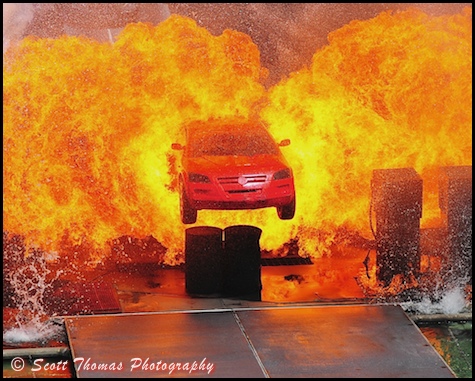 Lights, Motors, Action Extreme Stunt Show explosive finale.
Nikon D700/28-300VR, 1/1600s, f/5.2, ISO 200, EV -0.3, 92mm focal length
The Nikon D700 technology is five years newer than the D70 and its photos take a lot less time in post production. In fact, this photo of Lotso from Toy Story 3 in the The Magic of Disney Animation tour is straight out of the camera except for a little sharpening.
Lotso from Toy Story 3 in the Animation building.
Nikon D700/28-300VR, 1/100s, f/4, ISO 200, EV -0.3, 28mm Focal Length
Indiana Jones Stunt Spectacular begins with a low light scene where Indy locates a golden idol. In the past, I was limited to a maximum ISO of 1600 which was also very noisy. The D700 has little noise up to 3200 ISO and even as high as 6400 is very clean.
Indiana Jones sizing up the golden idol.
Nikon D700/28-300VR, 1/125s, f/5.6, ISO 3200, EV 0, 300mm Focal Length
While it is not the camera that creates the photos, new tools can help a photographer improve even more through technological improvements in their gear.