At the World of Color event the other night they spent a lot of time telling us about the options guests have for viewing World of Color from the Viewing area – this of course is one question that I think almost all of us have had!
Disney put out a fairly comprehensive press release, but here's a few additional details.
World of Color will be visible from all around Paradise Bay (except where there are buildings or attractions in the way, of course) but the prime viewing area will be Paradise Park, the new terraced area they recently finished. Access to this area for World of Color will be limited to those who have a ticket for it. There are two different areas: General Viewing and Preferred Reserved Viewing. And there are multiple ways to get a ticket.
The "no cost" version for the General Viewing area is something we're all familiar with – a FASTPASS. FASTPASSES will be distributed beginning at park opening at the Grizzly River Run FASTPASS machines until they are all gone. You may not choose which show you want to attend. The FASTPASS ticket will also indicate which entrance you should use to enter the viewing area.
Preferred Reserved Viewing is available to those who have booked the World of Color dining package at either Ariel's Grotto or Wine Country Trattoria. Reservations can be made up to 60 days in advance by calling (714) 781-DINE. Both locations offer a prix fixe menu. Prices for the Trattoria are $39.99 for adults and $18.99 for children ages 3-9. The price at Ariel's Grotto varies depending on whether it is indoor or outdoor seating, at this point, indoor seating is $36.99 for adults and $20.99 for children.
Here are the World of Color Prix Fixe menus for the Trattoria:
Adult Menu
Kid's Menu
The World of Color menu for Ariel's Grotto is the same as their usual menu, with the exception that the conch shell dessert has been replaced by a World of Color "filmstrip" dessert.
Ariel's Grotto Adult Menu
Ariel's Grotto Kid's Menu
The third option is the World of Color Picnic. Guests with this option receive a General Viewing FASTPASS ticket. For $14.99 (same price for adults and kids) guests receive a boxed meal and a non-alcoholic beverage. Kid's meals also come with a light-up bracelet. All meals are served cold. Adults have four meal choices and kids have three choices (I will describe them in more detail below). The picnics can only be reserved on-line or as a walk-up on the day of the show: they can NOT be reserved by calling Disneyland Dining. All are subject to availability. (As of this writing, even though the press materials say meals can be reserved 60 days in advance, if you go to the web site they are only available for 30 days – if you are looking for a reservation more than 30 days out I suggest you keep trying the web site periodically in case this policy changes.) Meals that are reserved on-line will have tickets to the first show, walk-ups will have tickets to the second show.
Meals must be picked up at the Sonoma Terrace of the Golden Vine Winery, which is on the far left side of the building, anytime from 2:00 p.m. until 8:00 p.m. Each order comes in a World of Color tote bag. We are hoping to try out the picnic meal option on opening weekend, and will definitely report on that!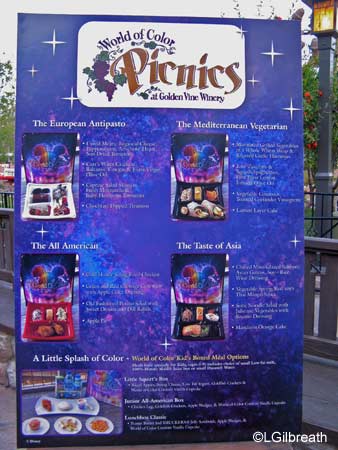 Here are the available menus: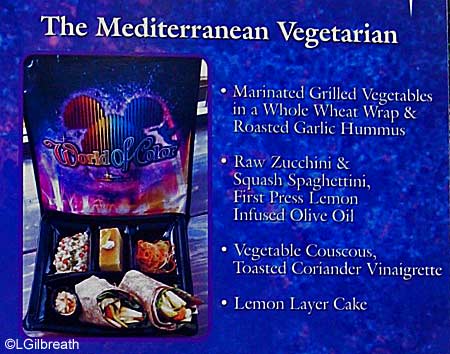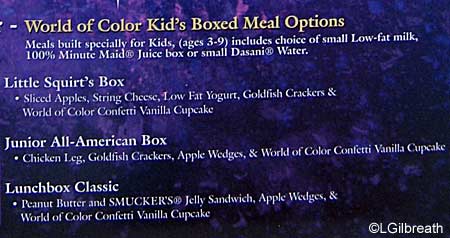 Disney provided two of the adult meals for us to sample, The European Antipasto:
And The Taste of Asia:
I had the Taste of Asia, and I have to say that I was pleasantly surprised. The salmon, though cold, still had a very good flavor (and I usually dislike cold fish), and the spring roll had lots of crunchy vegetables. The udon noodle salad was also very tasty. The mandarin orange cake was ok – but that has more to do with it not being chocolate than with any shortcoming in the cake, which was moist and flavorful, and not overwhelmingly orange.
I sampled a couple of things from the European Antipasto meal, also. The Caprese Salad skewer, with mozzarella bites and cherry tomatoes, was good. I did not try any of the cheese or meats (though those I was sharing the meal with enjoyed them). The chocolate covered tiramisu cake was very nice – I only had a bite of it, but I liked it much better than the mandarin orange cake.
Now, bear in mind that none of these "meals" are very big – for most people they would not be enough food to count as a dinner. But I think it's a great value – $14.99 includes the meal, drink AND a ticket to World of Color!!! I'd pay that much just for the ticket alone, so having food and beverage thrown in is a bonus as far as I'm concerned. Now, we'll see where the "Reserved Viewing" area is actually located, but it's hard to imagine that anything in the Viewing area is going to have a view that's totally obstructed.
Another item we got to sample is some colored and multi-flavored popcorn, which comes in a souvenir translucent World of Color popcorn bucket. I think it's like Kool-Aid popcorn – the different flavors are cherry, grape, blueberry and kettle corn, and it's very sweet. Though I found it a little bit addicting – it's a good thing I only had a small serving and not a whole bucket.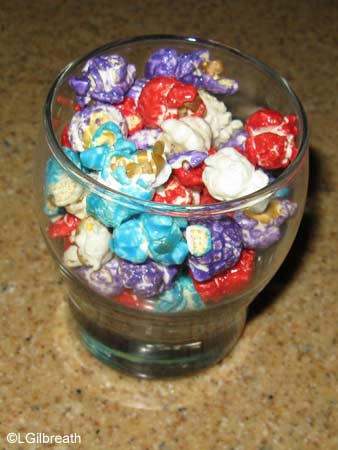 Another food offering that sounds like fun is the Light Up Cotton Candy. We didn't get to see or sample this, but it's described as white cotton candy with a colored swirl, with a light stick inside that makes it glow. Sounds like something that will be a huge hit with kids.
There will also be a selection of "glowing" drinks for sale, either in light-up souvenir glasses, or with a light-up swizzle stick.
New merchandise will add its own glow – new balloons with light-up World of Color art inside, and light-up bracelets. There will also be World of Color popcorn buckets, travel mugs and sipper cups. And we can also expect the usual World of Color-themed merchandise like t-shirts, fleece and hats. You can see some samples of it HERE. (I like the fountains with the Fun Wheel in the background.)