I enjoy not only taking photographs but sharing them through the various mediums which are now available to us via the Internet. From blogs, online galleries, photo essays, slideshows and, in the home, with hanging prints and even on my HDTV. I also like to create images from the original photo. The Castle at Dusk Redo I recently did got me thinking of other things when I came upon the idea of doing travel posters.
Remember going to a Travel Agency and seeing all those large posters on the wall of exotic places like Hawaii, Switzerland, Alaska, New York City, Africa, Paris, England, Austrailia and Canada. Wait, Canada? Yes, even Canada deserves a big travel poster and I found just the perfect one using Epcot's World Showcase's Canadian pavilion. Here's the original image.
Canada pavilion's landmark Hotel du Canada just past sunset.
Nikon D70/18-200VR, 2s, f/22, ISO 200, EV -0.3, 170mm focal length, tripod
Using Picnik.com, an online photo editor, I added the large capitalized CANADA and made it an orange-red to go with the sky. Then placed the maple leaf, Canada's national symbol, graphic underneath. Ah, a poster fit for a travel agency wall, eh? Which, in today's world, is more likely our own homes. I think I will do one for each country.
So, here's a shout out to my neighbors to the North and the return of the National Hockey League (NHL) next week. GO HABS GO!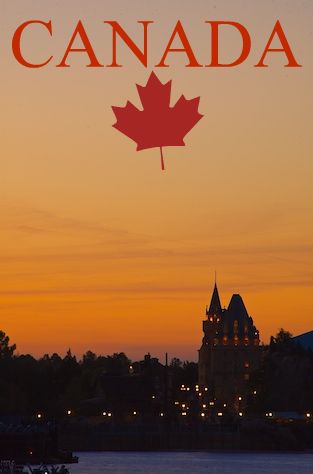 A Travel Poster for Canada.

Scott's "Photographic Innoventions" blog focuses on intermediate to advanced photography concepts and techniques relevant for Point and Shoot and Digital SLR cameras.