Deb Koma and I attended the Celebrate Today press event at the Disneyland Resort today.
The press event featured the many new and upcoming events at Disneyland this spring and summer. It was a very busy day, so we'll just hit the highlights for now, with more details later.
We started our morning with three video interviews. First up was a segment on Disney's California Food and Wine Festival, which started today. Deb Koma got to stomp grapes in this one – she said they were very cold! (Sorry that there is no video of this one – I was using an unfamiliar camera and somehow put it in a weird format that we haven't figured out.)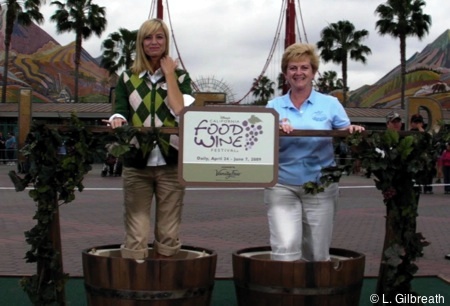 Next up was an interview with Alex Villa plus Jessie and Woody, on the new Celebration Roundup & BBQ. Here's the scoop on that – and when you see the desserts, you'll know that I do mean "scoop!"
(Deb and I want to say a HUGE thank you to my husband Lee, who did all of the video processing on these videos, which took most of his day.)
Last but not least, Deb received a makeover from the Fairy-Godmothers-in-Training at the new Bibbidi Bobbidi Boutique, which opened last week in Fantasyland.
The style Deb received is called Pop Princess. Doesn't she look great? She received a lot of (positive) comments on it the rest of the day – but once we came back to the room she took it off – we wanted her to wear it to dinner tonight. 🙂
Next up were lunch at the aforementioned Celebration BBQ and then we saw the new Celebrate! A Street Party We'll have more on those later.
I must say that the What's Next presentation was the one that I was most looking forward to. This was where they told us about all of the cool things that are coming up this summer in the Summer Nightastic. Everything starts on June 12.
The TLT Dance Stage at the Tomorrowland Terrace will feature DJs Monday-Thursday nights, and live entertainment Friday-Sundays.
Disney's Electrical Parade is returning to Disney's California Adventure with a new Tinker Bell float to lead it off. The Pinocchio and Snow White Diamond Mine floats are returning after an absence of several years. There are new and updated elements on the rest of the floats, also.
Pixie Hollow Enchantment – by day it's the queue for the Pixie Hollow Meet and Greet, but at night it's a pixie festival, where all the pixies have added their own special magic.
Fantasmic! returns with a lot of enhancements, including hi-def digital projections on the water screens. There's a new crocodile who will be following the pirate ship, and their are two new "cast members" – Flotsam and Jetsam, who will be gliding on the surface of the water. Their mouths open and their eyes move, and they are quite manueverable. There is also a new 40′ tall dragon who is fully automated.
Magical sounds like an amazing new fireworks show. In addition to Tinker Bell's flight, Dumbo the Elephant will also fly! The show will feature the voice of Eden Espinoza (Elphaba on Broadway). Steven Davison, Vice President of Parades and Spectaculars, actually acted out portions of the show, as you will see in this clip where he acts out the finale.
It was a great day – we'll have more details on some of the upcoming events soon.