All alone in my one bedroom suite at Paradise Pier Hotel, I contemplated having breakfast delivered by room service. Then I looked at the prices and that was the end of that thought. Once I had everything packed up, I got ready for the day and exchanged phone calls and text messages with Yoli, Jen, and Virginia.
The change in time threw Jen and Yoli's Cousin Jenny off course so both of them were running late. This gave me extra time to run around and take photos of the resort and menus for the website. I even had time to pick up some shots at the Disneyland Hotel and grab a Mickey cookie for breakfast. Yes, while on vacation some of my rules go out the window.
Being the true Disney fanatic that I am, I know when characters rotate at Goofy's Kitchen and where they exit/enter. I caught a few quick photos of Goofy heading inside the restaurant. My time was running out and so back to my room I went. Jen arrived soon after, grabbed a set of toiletries and helped me schlep everything down to bell services. I couldn't believe how much stuff I had for 2 nights. Check this out, a carry-on bag, a duffle bag with food, plates, napkins, etc…, balloons, gift bags with birthday presents, plastic bags with miscellaneous items and my tripod and camera bag, which I kept.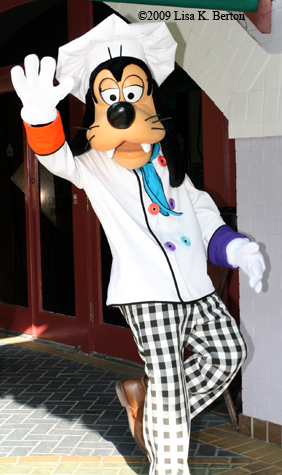 When not cooking up a storm, Goofy takes 5 minute breaks. It must be a restaurant owners' union rule.
We still had time to kill because Cousin Jenny pushed her and Yoli back well over an hour. Jen and I got more menu pics at the Grand Californian before the search for a locker big enough for my tripod ensued. If you ever need to store a lot of stuff like luggage, your collection of Stitch pins or a small army, rent a locker in the picnic area. They are enormous! I could have stored at least 9 tripods in there and still would have had enough room to set up a studio.

Disneyland trumps every other park in locker locations and sizes.
Yoli and Cousin Jenny arrived, picked up our Hopper tickets that came with being Club 33 guests and I found Virginia (former co-worker) over by the bag check. Woo hoo! The only one missing was Lisa and she'd meet up with us just before our lunch reservation.
First we headed into California Adventure so the girls could check out Blue Sky Cellar. While they went in, I grabbed some photos of menus of the Wine Tasting for the site. I know I've already said that I'm looking forward to Cars Land but I'll repeat myself, I'm really looking forward to Cars Land, especially Luigi's attraction of flying tires.
As we headed to the exit, the High School Musical 3 performers were coming towards us so I was able to snap some quick shots. No clue which song they were singing as I wasn't really paying attention, just taking photos. Saw the movie, it was cute but I'll put money down that there's going to be a spin-off on television with those three new characters introduced during the movie and Ashley Tisdale as a recurring guest.

What's black and white and red all over? The above photo. Boy, that joke stunk.
Once inside Disneyland, we thought about going on a ride but we didn't have enough time before our reservation at 2:15pm. Lisa (the other one, not me) met up with us in front of the entrance to Club 33. Yoli went to check us in but our table wasn't ready yet. While we were hanging around, Jen chatted up a CM who would be tossing beads out later on with the band. He told us to stand on the balcony at such and such a time and he'd toss them up to us. New Orleans Square, beads, and a balcony…in Disneyland. Nothing happened other than a few jokes.
Eventually the band played and as they were heading down the streets and backstage, Jen went after her new pal and got us all beads. We were still waiting to be let inside Club 33. maybe 30 or minutes later we were buzzed in by Nadine who we'd met just two days prior. Today the lift was working and could accomodate 3 adults at a time. Virginia, Lisa, and Cousin Jenny went up first followed by Yoli, Jen, and I.

Here we are, a 6-pack of sillyness: Virginia, Lisa, Jen, Me, Yoli, and Cousin Jenny.
This time around the girls and I were seated more towards the center of the room. Oh yeah, we were about to become the center of attention. Our server was Brenda, she was nice. Robert, our server from lunch two days prior was working tables beside us. Before we got too settled in and a chance to take a good look at the menu, Mickey and Pluto made their last round greeting diners. They took to the girls right away. See, we talk to the characters and tell them how good they look, inform them of how badly our friends behave, you know the regular stuff.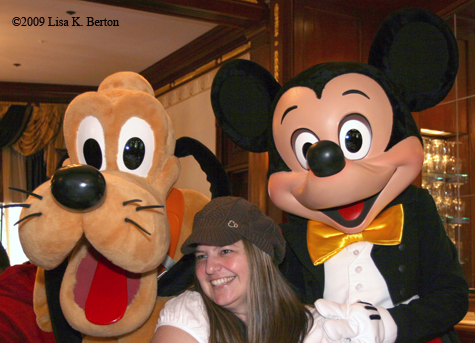 Jen's feelin' the love from Pluto and Mickey.
On Sundays, you are offered a choice of apple cider or champagne. We made a toast to friendship and I chugged down my water. Just kidding. I drank like a lady. That Smart Water will sneak up on ya!
Our selected entrees were: Lisa & Virginia – Pasta three by three, Cousin Jenny – Seared Muscovy duck breast, Jen – Maine lobster melt, Yoli & I – Pan seared Chateaubriand. Before those were served we helped ourselvs to the appetizer buffet of shrimp, crab, lobster, salads, pasta salads, deli meats, teeny pickles, cheese and crackers, breads, and vegetables.

Cousin Jenny would later come to regret ordering duck.
We didn't recognize anyone else there as being famous but that was fine because we had such a good time together that it would have been hard to top. For instance, Lisa had her very first mommy-free afternoon (a few hours anyway) since her adorable son was born 16 months ago. She was footloose and fancy-free and I'm so happy she got to hang out with just the girls. It reminded me of the crazy good times we use to have at work. Another example is Jen trying to photograph something small with the Club 33 logo on it and her photos were coming out blurry. I asked if she was using the macro setting and she didn't know what that was so I turned towards Virginia who was sitting beside Jen, and in my "managerial work voice" I asked her if she would please show Jen how to use her camera. Lisa got into it and kept reminding Virginia of all the extras we were taught to add onto sales. Trust me when I say it was downright hilarious.
The couscous I'd had before was substituted by request for pasta. I wish I knew the brand because that was THE best pasta I've ever had. It's the same kind they use for the Pasta Three by Three dish that Lisa & Virginia had. However, poor little Cousin Jenny wasn't so lucky. One of two duck breasts was raw, bleeding raw and she'd already eaten the cooked piece that touched the raw one by the time she realized it She called Brenda over to show her and I made a half-joking remark that we needed to speak with Mickey Mouse. Brenda brought her some mahi mahi but the girl was so grossed out that she didn't want to eat anything else. Cousin Jenny thought Brenda said her meal was coming off the bill but when the check came, it was still there. No one said anything because we didn't want to cause a commotion being guests and not members and all.
The other girls got their hands on all of the desserts. There was so much chocolate on the table that a chocoholic would have been in heaven. As we were still celebrating my birthday, I was given Mickey Mouse mousse and a dish of vanilla ice cream. Mickey made his way around the table and the gals said he was delicious. No chocolate for me for health reasons.

M-I-C K-E-Y M-O-U-S-S-E See the plate in the background? That's my dessert of marshmallows and flakey…stuff.
I used my $50 gift card towards the cost of my meal. Remember, it came with buying the Deluxe Annual Pass at Costco in California.
After stuffing ourselves, we took photos everywhere and picked out what souvenirs we wanted from the china cabinet. The one thing I wanted more than anything else was the pin. Guess what?! It was sold-out and so was the keychain and a few other little items. Everyone all together now, awww maaannnn that stinks. Tell me about it, stud.
While waiting for souvenir orders to be taken and delivered, our old buddy Chase appeared. Yoli introduced him to everyone and we took turns taking photos with him. I guess Chase was our celebrity sighting. There's another guy who we met on my birthday at Club 33 whose name, I am completely embarrased to say, I forgot. He was tall, handsome, super sweet, always smiling, and full of hugs. He worked in the kitchen and was the one who got me vanilla ice cream that day. If anyone knows his name, please tell me, I'd love to include him in my letter to the manager.

Yoli is extremely shy and had to be forced into this pose with Chase. :cough:
Hours later after we sat down, we finally left the restaurant and went back to touring the parks. Lisa found her husband and son and went back to being a mommy. Her hubby went home as he didn't feel so good. Regrouped, we headed towards the Hub when I remembered that Sleeping Beauty's Castle had re-opened the Walk-Thru. Yippy skippy! It had been closed for years and some of us had never seen it. Apparently it's a bit different than before but everyone liked it.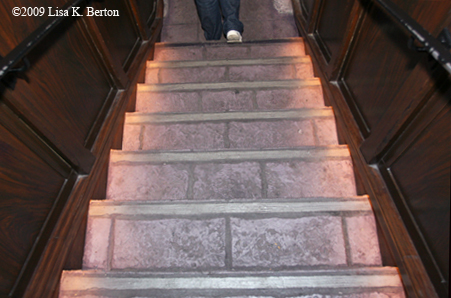 It's darker than this looks inside my, uhh, Sleeping Beauty's Castle.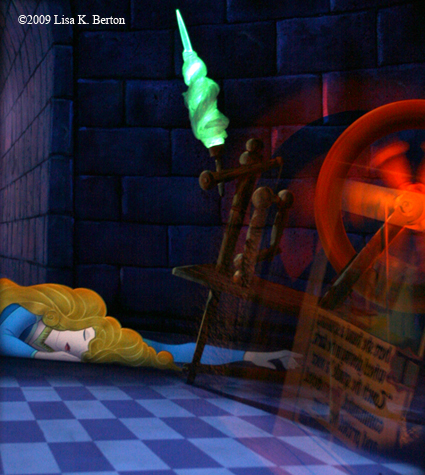 Shhh, she's dreaming about ticket prices going down in price.
Throughout the passage ways there are pages from the fairy tale open for you to read. There are also dioramas of various scenes from the movie and some cool light and shadow effects. If you're afraid of the dark or claustophoric, you might want to look for a video of it online first.
The next attraction was Snow White's Scary Adventure. Just getting into the mining cart was scary cuz I didn't realize Lisa was climbing in beside me with Logan while Virginia got into the back and the CM was trying to lower the security bar so we didn't fall out and become victims of the Old Hag and her poisonous apples. After hunderds of rides, I noticed for the very first time that the gates in the queue have apple shapes in them. You'll have to go see for yourself. It's wicked neat-o!

Nice little old lady, my tuchas!
Pirates of the Caribbean was calling our names. They had two lines going and we tried to figure out which one was actually the shorter one and we guessed right. The line moves pretty quickly anyhow. It was funny and cute to watch little Logan turn around left and right in his carrier to see everything. He didn't get fussy or frightened one bit. I think he even barked at the dog.
From pirates to ghosts, Haunted Mansion was the follow-up attraction. Ya know those people in the Stretching Room who know all the words and recite them out loud? That was the entire room. Strangely enough, I was the only who let out the evil maniacal laugh after, "Of course, there's always my way." Yoli and I shared a doom buggy, the one beside us held the trouble-making Jennifers who screamed repeatedly. Kids!
What could possibly brighten things up after such a gloomy scene? Why, The Many Adventures of Winnie the Pooh, of course! Six, uhh, seven to a honey pot and we fit just right. Did you know that a few friends from Country Bear Jamboree are still hanging around? Write this down, as you come out of the psychadelic Heffalumps and Woozles room, look up and back quickly.
Some shopping took place and snacks were bought in Pooh Corner. Virginia got a block of ice cream squares that Logan loved. For the life of me I can't recall what anyone else bought. I didn't get anything. My body was too tired and my small tootsies hurt, so carrying anything else was pretty much not going to happen.
My posse make a group decision to head back over to CA Adventure and check out the wait at Toy Story Midway Mania. Again, we opted for the single rider line. Lisa was told to use the baby swap deal so she waited off to the side for the rest of us to ride and come back. I rode with another guy who hadn't played before which allowed me my first victory. Yeehaw!
When I got back, Lisa was waiting for me. I thought she had to have someone watch Logan but they said she could take him on but he had to sit on her or next to her. She couldn't wear him in the carrier. He looked all around as we spun and faced the screens to shoot at. It dawned on me that what Logan saw was just blurs because he wasn't wearing any 3D glasses so I put mine on him. It quickly became apparent that he noticed a huge difference in things. He even kept them on most of the time only moving them to double-check what he saw with and without them. We (both Lisas) couldn't help but laugh.
As the evening events were drawing near, we split up. Jen went home to her teenage son Corey as he'd been home with a pile of homework all day. Lisa and Virginia slowly made their way out and to the parking structure. Yoli and Cousin Jenny got a few more attractions under their belts and I went and retrieved my jacket and tripod from the gargantuan locker. I was moving painstakingly slow (yes, even slower than my regular turtle pace) and got into the park pretty late for the greatest nighttime show ever, Remember…Dreams Come True. Somehow I found enough space for myself towards the front of the crowd but too far to the right for a clean shot. Also, I couldn't set up my tripod as there wasn't enough space so my fireworks photos are terrible. At least I got to half-watch the show.
I don't know if it's the music, the pretty colors, or the lasers that distract me from the kabooms but I never completely acknowledge the noise from the fireworks. I bring this up because at every other park I wear earplugs because I dislike loud explosions so much. Maybe the Disneyland fireworks are quieter? I have no idea.
When the show ended and people began to may their way down Main St., I found a bench to melt into. Knowing Yoli knowing me (you can thank me later for getting Abba's song stuck in your head), she knew I was sitting down, waiting for the crowd to disperse, giving her and Cousin Jenny more time to play. When I met up with them in the Grand Californian lobby, she confirmed what I knew I knew. Then once again, I found a place to sit and poured into the chair. We were so tired but I was the tiredest after 3 consecutive fun-filled, laugh riot, memorable days in the parks.
As we walked into the lobby at Paradise Pier Hotel we saw Brian, the CM who had given us the double upgrade and my balloons and birthday pin. He introduced us to his co-worker and asked where we were headed. I told him we were going back to Yoli's and quietly thinking to myself, give us the room for another night- for free. Yes, I'm silly. It took so long to find someone to get all of my bags from bell sevices that Yoli and Cousin Jenny had gone out to the parking garage, got the car, and drove it around to the loading area. Yoli was so full of energy that she was prancing and hopping about. She was Tigger and I was Eeyore, less the "woe is me" attitude. Anyhow, we loaded up the car, drove her cousin Jenny home and then back to Yoli's.
The plan was to visit Los Angeles and Hollywood the next day, San Diego Zoo's Wild Animal Park on Tuesday, and revisit Disneyland on Wednesday before my red-eye flight home. Well, I decided that I had to get good photos of the fireworks and make certain I knocked off a bunch of stuff on my To Do List for the Disneyland section of AllEars.Net so the plans were changed and we were going back to Disneyland tomorow.
Tune in next week to find out how I made my Birthday Fun Card go further, why you should check your camera gear before you leave home, and if I got the fireworks photos I wanted.
Oh and one last thing before you close this page. THANK YOU for reading my trip report blog.