If you read my December 25, 2007 blog, you know that my holiday gift to you is that each month I will post a photo calendar page that you can print out and use at home or work during 2008.
Peace on Earth. I can't think of a better sentiment to bring a close to 2008. This beautiful scene is from the Osborne Family Spectacle of Dancing Lights at Disney's Hollywood Studios.
I can hardly believe it's been nearly a year since I began posting these calendars! I've had such fun putting them together and sharing them with you that I've decided to go ahead and keep posting them into 2009. Hope that's ok with you!
You will need to have Adobe Reader on your computer to download the calendar(s). Just click on the photo to download the calendar you want.
This one prints out at 8.5″ x 11″. It's handy if you need a calendar that you can write on.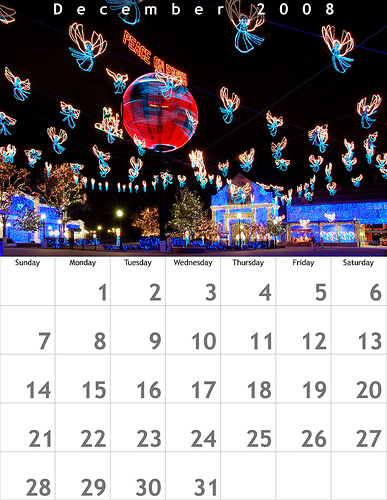 This one prints out at 4.75″ x 4.75″, the perfect size for a CD Jewel Case frame.