Over the next few weeks I'd like to share with all of you some of my photos and recap my experience at the 17th annual Disneyland CHOC Walk.
CHOC is an acronym for Children's Hospital of Orange County. Since opening its doors in 1964, Children's Hospital of Orange County (CHOC) has provided the highest quality medical care to children.
My friend Yoli, her stepson Marshall, and I were up, out of the house and at the Mickey & Friends parking garage by 6 AM on Sunday, Oct. 21st. After a quick call we found our friend Jen and her son Corey. At the bottom of the escalator stood a few Green Army Men pointing people in the right direction. We walked the tram route and with wristbands securely placed, walked into Disneyland amongst a mass of thousands. I made my way up as far as I could on Main St while my friends hung back at the Emporium. Another call came in and my friend Drina and her friend Kathy met up with Yoli & the gang.
Music was playing, tons of CMs were out and about, and a MC kept talking and getting us pumped up. Soon the opening ceremony began and the first group was set free down Main St. A few minutes later my group was released and I pulled off to the right for photos and to wait for my friends.

Among the walkers waiting for the event to begin.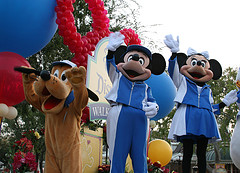 Pluto, Mickey, Minnie, and Donald (out of range) were there showing their support.
Soon my friends caught up to me and we were on our way. I won't take you moment by moment because really, you don't wanna know all the silly things we said and did and which restroom we thought had the best tiled floor. Anyhoo, we strolled by the castle and look who was there…

Moseying along by Frontierland and into Adventureland we came upon…


and then who should be out but a swaggering and rather quiet

We rounded the corner into Frontierland taking the path that leads you behind Big Thunder Mountain and towards Pinocchio's Haus.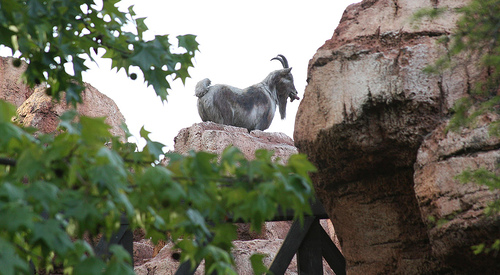 For those of you familiar with the goat trick, it's not as effective when you're just walking by.