Thought I'd write a little bit about the conditions here this
week.
Crowds: Because of the Food and Wine Festival, World Showcase at Epcot
was quite crowded Friday night and Saturday, though lines for the
attractions were short. Sunday afternoon and evening were less
crowded, though – five minutes before IllumiNations started we walked
right up to the railing near Morocco and had a really good view – not
blocked by trees or islands. And during the week there's been almost
no wait at the Food and Wine booths. This week we've found the waits in the
rest of the parks to be quite short as well – less than 10 minutes for
Expedition Everest, Thunder Mountain, Splash Mountain, Haunted
Mansion,
and Tower of Terror. There's a big group from someplace called
Hollister, wherever that is – we've seen groups of them in
several parks.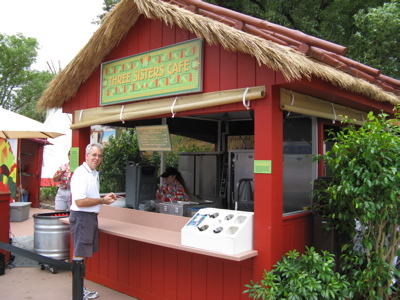 Clouds: The weather has really been a mix of "nice" and
"showery". The temperatures have been VERY pleasant – nothing
higher than 81 (if that), but most days we've had showers off and
on. The only really serious extended rain we had was (unfortunately)
during our Halloween party on Tuesday night. According to the
Weather Channel there's been some front pushing through Florida
that's been bringing all of this wet weather, though it's supposed
to improve over the weekend.
Christmas: Christmas has begun here in Central Florida. I knew that
the Osborne Lights in the Studios started going up a few weeks ago, but
on Tuesday we saw that Hollywood Blvd now has Christmas garland strung
across the street and those tinsel Christmas trees on the light poles.
There's also Christmas trees back around MuppetVision, and a big Santa
climbing the side of a building. Today (Thursday) when we came in the
International Gateway at Epcot we noticed Christmas decorations outside the
gift shop there, as well as garland around the doorways in the UK
pavilion. Once we reached World Showcase Plaza we saw that the Epcot
Christmas tree had magically gone up sometime in the last 48 hours.
There's also decorations in Guest Relations and over the turnstiles at
the front of the park. Come on…Halloween is barely over!!! (And it's
not over at the Magic Kingdom, where there is still a Halloween party
tonight!)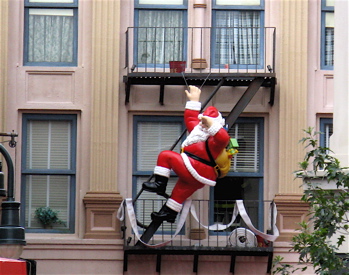 Speaking of Halloween – they did some fun things here at Animal Kingdom
Lodge. When we arrived on Tuesday there was a display of pumpkins set up
in the Lobby. They had been carved by Cast Members, and there was a
contest for guests to select the best in a number of categories, such as
Best Animal Kingdom Lodge Theme, Funniest, Most Frightful, Most
Original, etc. We voted, and I should've taken a picture of them, but I
didn't get around to it, and they were gone by Thursday morning. There
was a trick-or-treat scavenger hunt for the kids on Halloween evening –
we saw quite a few kids in costume running around with papers in their
hands and getting treats at locations throughout the Lodge. They seemed
to be having a fine time. We opted for a "treat" and had dinner at Jiko
– and I've never seen it so empty! Our waiter told us it was because of
Halloween – people were out someplace with their kids instead of going
out to dinner. Worked for us, since Jiko was nice and quiet. 🙂
Events: The Food and Wine Festival at Epcot runs through November 11.
Festival of the Masters is November 9-11 and Super Soap
Weekend is
November 10-12. On November 12 there's the first Mickey's Very
Merry Christmas Party of the season and The Osborne Lights
at the Studios light up the night. Epcot's Holidays Around the
World begin on November 23.