This blog entry is a bit late, since up until now I've been concentrating
on writing about the Tower of Terror 13K – but I think I've said all
that I have to say about that now. 🙂
This is only the second time we've been to Epcot's Food and Wine
Festival – the first time was two years ago, and we had a great time.
But we love early December and all of the Christmas festivities, too,
and we can't really justify two trips to Florida within 4-6 weeks, so
we've decided to alternate the two.
We arrived at Walt Disney World on Friday evening and checked into the
Boardwalk – always a great choice when you're planning to spend a lot of
time at the Festival! Hard to get during F&W,
though – I made our reservations almost 11 months in advance.
We'd planned to meet Deb Wills at the Festival, but she wasn't feeling
well and had to cancel. 🙁 It was an Extra Magic Hours (EMH) night at
Epcot, and it turns out the F&W booths were open during
Extra Magic Hours, too!
Since it was Friday night the park was quite crowded, between the locals
that had come in for the evening and the resort guests who had come for
EMH. We stood in some fairly long lines (10 minutes or so) for food at
a few places.
Our first stop was the Canada booth, where we tried the Maple Glazed
Salmon with Roasted Corn and Arugula and the Cheddar Cheese
Soup. Both very tasty, but not
really new to us. That had a long wait because there had been a salmon
run (pun intended) and they were grilling more. While we were waiting,
one of the Cast Members asked us questions about Canada, and gave a
glass of wine to the adult who answered first. I knew the Canadian
dollar was called the "Loonie", so I won a glass of the Mission Hill SLC
Chardonnay. This must have been aged in steel barrels instead of
oak because it didn't have that dry buttery flavor so many chardonnays
have which I dislike so much and I thought it was pretty good –
especially for the price! 🙂 I made the mistake of giving it to Lee so he could take a couple of sips, and he finished it!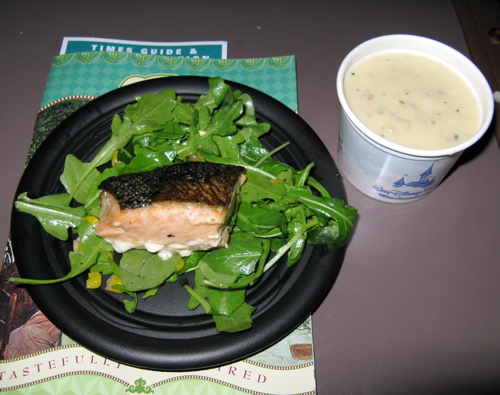 The Dominican Republic booth was new this year, and we'd heard good
reviews on the Pastelon de Platanos Amarillos, and we also tried the
Mofungo. I couldn't really detect any banana flavor in the Pastelon –
it was a veggie-type casserole topped with cheese and guacamole – and
was quite tasty, though I couldn't really tell you what flavors were in
it! The Mofungo was mashed yucca with pork cracklings, served with two
shrimp. It had a very interesting flavor and I liked it – it was also
quite filling. The shrimp
were only so-so – a bit overcooked, I think.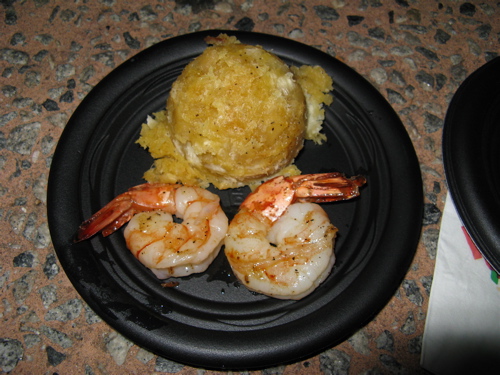 Lee tried the Beef Empanada at Argentina – this is another item that hadgotten really good reviews. He said it was quite good. (Quite a few of
the highly rated F&W selections this year are some kind of beef,
which unfortunately I can't eat, so Lee sacrifices himself and tries them for me. 🙂 )
Mexico again has Chilaquiles this year – something we both really
enjoyed two years ago, and it's just as good this year. It's basically
a chicken enchilada casserole with green (tomatillo) sauce. Really
yummy, and still ranks as one of my favorites, and it's also a fairly
generous serving. We also had the Conga Juice, and Lee had a Dos Equis.
At Ireland we pretty much said "give us one of everything!". And it was
all good. The Boxty is a potato pancake topped with bacon bits,
caramelized onions and garlic butter. Very tasty. The Potato Leek
Soup
was served with a cheese breadstick – it had a nice flavor but we both
thought it would have been better warm than chilled. The Irish Cheese
Plate came with three slices of Irish cheese, some apple chutney and
brown bread. The cheese was good, but we didn't think it worked with
the chutney. The brown bread was more like pound cake than bread – LOTS
of butter. We tried the Meade Honey Wine – and that was
delicious – sweet but not syrupy.
We tried the "one of everything" tactic again at India – but they were
out of Samosas, so we had to content ourselves with the Curried
Butternut Squash soup and the Coconut Indian Rice Pudding.
The soup had a little bit of a kick to it but was quite tasty, and Lee
really liked the rice pudding. I'm not much of a rice pudding fan but I
enjoyed it also – it had some little bits of pineapple in it, too.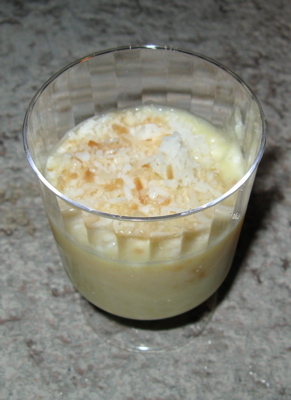 It was getting close to time for Illuminations, but we wanted some
dessert, so we tried the Apple Strudel with Vanilla Sauce at (where
else?) Germany. I also had a glass of the wine recommended as a pairing
with the strudel – the S.A. Prum Riesling Spatlese It was a bit
sweet (but I like sweet!) and I enjoyed it.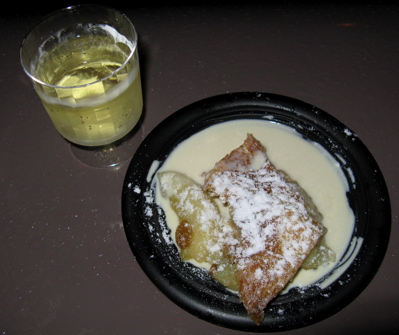 Stay tuned – there's lots more Food & Wine Festival eating to come! Though we have been doing some other things, too…