I'm here in Orlando for a few days, spending a little time with some family I haven't seen for a while, so I thought I'd share with you all a quick snapshot of the sights and sounds around the parks. Of course, these impressions of mine are very subjective and limited to just what I've experienced first-hand, but as a Disney-obsessed person, I know that I always like to see a little bit of what's going on in the World when I'm not there — I hope you do, too!
I left rainy, chilly Washington DC early Wednesday morning. A short two hours later after an uneventful flight, I was in sunny Orlando, where the temperature was already 73, on its way to the sultry 80s! That's what I call WINNING!
I made my way to my hotel and checked in, but unfortunately, my room wasn't ready yet. So I made a quick change in the restroom, shedding my jeans and sweater for shorts and a t-shirt, then checked my bags and headed to Disney's Hollywood Studios to meet up with my aunt and assorted cousins.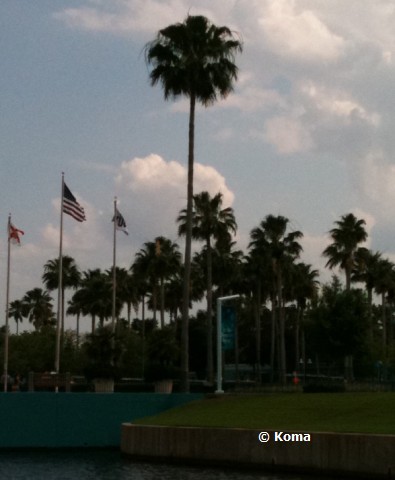 As I passed through the turnstiles, I found that they were waiting for the start of the Beauty and the Beast show, so I ran down Sunset Boulevard to meet up with them. Along the way, I couldn't help but notice all the Citizens of Hollywood that were out and about, delighting the relatively light crowds.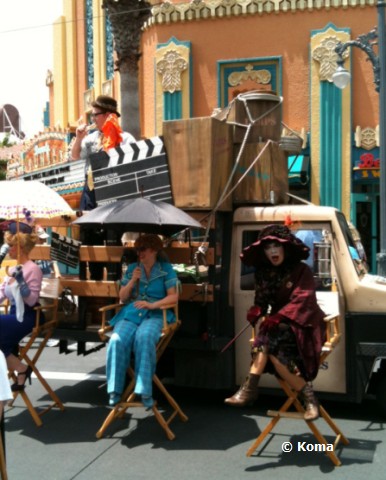 I reached the theater and reunited with my family — so good to see them — and we watched a lovely performance of the Beauty and the Beast Show. I've seen this show countless times and it just never gets old. The vividness of the costumes, the uplifting music, the fun choreography, and of course the beautiful voices of the cast — I always feel like I've made a quick trip to Broadway after seeing this special show.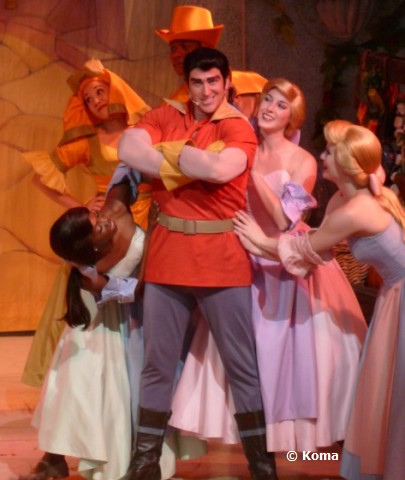 After the show, everyone was ready for a quick bite, so we strolled over to the Backlot Express. The Jedi Training Academy was in process, so I stopped to watch for a bit, and walked around the still-closed Star Tours attraction. Because it was so-called "Star Wars Day" (May the Fourth — as in, "May the Force be with you…"), there had been rumors that there might be a soft-opening for the much-anticipated renovated Star Tours, but I didn't see any signs of that. That's not to say there wasn't any activity in the area, however — I spotted a group of cast members who I believe are Imagineers, making a visual inspection of the attraction's exterior, taking notes on a clipboard. I can't wait until this attraction reopens — and I'll be down there when it does on May 20!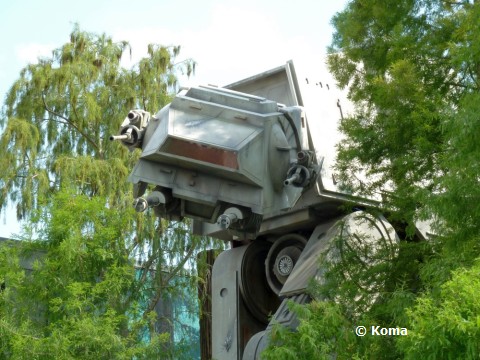 In general most of the other attractions we saw that afternoon were walk-ons — crowds were very manageable. We walked right into Muppet Vision, and waited only about 5 minutes at the Backlot Tour, where things were as Catastrophic as usual.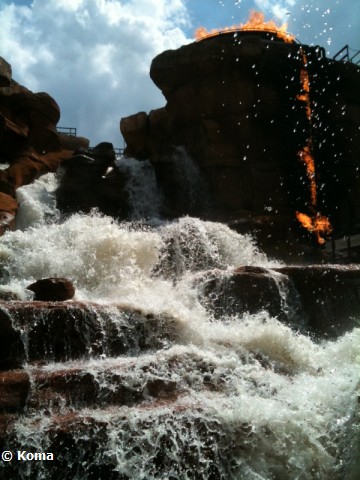 My cousins were even able to get a Fastpass at Toy Story Mania around 11 a.m. — granted their return time was until 6 p.m., but normally Fastpasses are long gone for TSM by 11 a.m. The standby wait time for Toy Story Mania was about 50 minutes when we walked past after lunch — of course, that's too long, but still, I'm used to seeing it at 70
minutes or more.
Since I still had to check in properly at my hotel, I said goodbye to my cousins around 4 p.m., with plans to meet up with them again Thursday.
But my day was far from over, as I also was meeting my aunt and her fiancee for dinner in Epcot!
I had a little time before meeting up with them, so I wandered around to see the topiaries that hadn't been in place when I was in Epcot back in March at the begining of the Flower and Garden Festival.
We had dinner at La Hacienda, in the Mexico pavilion, my first time there. The restaurant is beautiful inside, with a lovely view of World Showcase lagoon. We tried a couple of the specialty margaritas — my aunt really enjoyed her rose-infused "Rosita" — and thoroughly
enjoyed our meals. I had the roast pork with mole, which I thought was very good.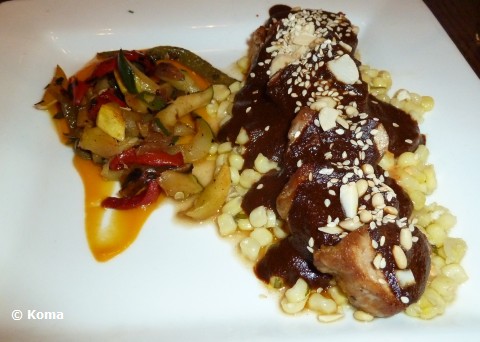 After indulging in dessert, we waddled out of there, and my aunt and her fiancee left. I originally planned to stay in the park for IllumiNations, but the long day was catching up with me, so I started the walk back to my hotel. I stopped on the bridge at the Boardwalk and saw most of the aerial fireworks from there, so I didn't learn whether the inferno barge was back in service (I'd heard it had been out earlier in the week).
I returned to the room exhausted, then glanced at my pedometer. Ah, that would explain it. 18,815 steps. For me that's about 8.9 miles. I think I earned my early night.