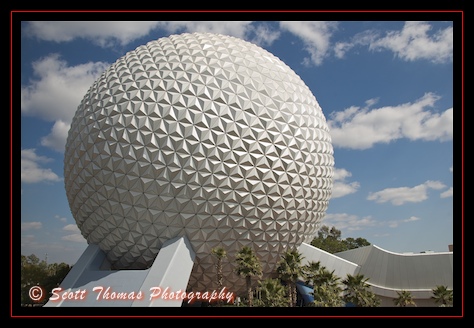 Spaceship Earth as seen from a Monorail.
Nikon D70/18-200VR, 1/320s, f/9, 200 ISO, +0.3 EV, 18mm Focal Length
Epcot's Spaceship Earth is as iconic as Magic Kingdom's Cinderella Castle. Riding the monorail around Epcot's Futureworld, I concentrated on Spaceship Earth's geodesic shape. This image has good light, good sun angle, height of the monorail track lifting me above all the guests in the park, great clouds for a background and a bit of help from the monorail's darkened windows which acted like a huge polarizer filter and is my choice for our Disney Pic of the Week on Spaceship Earth.