RADP MEET – Epcot -12/15/96
Epcot's Fountainview
December 15, 1996

RADP Meet fever had begun to take hold! After 2 earlier meets this month;
folks began to realize their net friends were actually pretty neat to meet
in person!
Alicia Calsyn
began the whole radp meet fever during the summer, when she organized
this December 15th meet.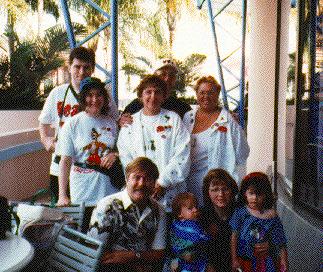 Kneeling:
Kenny Cottrell, Patrick Warner, Michele Warner and Katharine Warner
Standing Row 1: Alicia Calsyn, Julie Bachand, Barb aka gardenia
Back Row: Keith Calsyn and Mike Bachand.