September 2015 Walt Disney World Bits and Bites
Feature Article
This article appeared in the August 25, 2015 Issue #831 of ALL EARS® (ISSN: 1533-0753)
Editor's Note: This story/information was accurate when it was published. Please be sure to confirm all current rates, information and other details before planning your trip.
= = = = = = = = = = = = = = = = =


STEP BACK IN TIME
= = = = = = = = = = = = = = = = =
by Debra Martin Koma
AllEars® Editor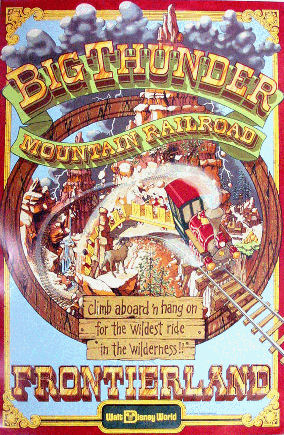 Ever wonder what Walt Disney World and The Walt Disney Company were like way back when? We rummage around in our archives for this monthly feature, which takes you back in history for a glimpse of Walt Disney World through the ages.
This month we celebrate the birthday of the Wildest Ride in the Wilderness: Happy Birthday, Big Thunder Mountain Railroad!
Big Thunder Mountain Railroad did not become part of the mountain range at Walt Disney World's Magic Kingdom until September 23, 1980. Can you imagine Walt Disney World's Frontierland without it? I sure can't, but then again my first trip to the World didn't happen until 1994, after the attraction was well-established.
Before the mountain was built, that area of Frontierland was just a grassy, open space. In fact, when the Magic Kingdom opened in 1971, Frontierland had only three attractions: the Frontierland Train Station, Davy Crockett's Explorer Canoes (closed in 1994), and the Country Bear Jamboree. Tom Sawyer Island opened in 1973. There were plans to build an attraction called Western River Expedition, but this never came to pass, and the idea was shelved with the creation of Big Thunder Mountain. Believe it or not, Splash Mountain didn't even open in Walt Disney World until 1992!
According to former Disney Archivist Dave Smith: "For the original attraction at Disneyland (which opened in September 1979), Disney designer Tony Baxter was intrigued by the scenery at Bryce Canyon National Park in Utah, so he designed the first Big Thunder Mountain to resemble it; the three later ones resemble scenery in Monument Valley (in Arizona)." (Tokyo Disneyland saw the arrival of its own runaway train on July 4, 1987, while Disneyland Paris didn't get BTMRR until April 12, 1992.)
During construction of the attraction, which covers more than two acres and rises almost 200 feet above sea level, workers used 6,500 tons of steel beams, rods and mesh; 4,675 tons of concrete; 90,000 gallons of water; and 4,000 gallons of desert paint. The attraction cost $17 million to construct.
Six trains make up the mine's runaway railroad: U.B. Bold, U.R. Daring, U.R. Courageous, I.M. Brave, I.B. Hearty and I.M. Fearless. There are 20 animatronics throughout the attraction, including a goat, pigs, a possum hanging overhead, and bats. The ride lasts about 3.5 minutes.
Dallas McKennon recorded the "Hang onto Your Hats and Glasses" announcement that is played just before you leave the station. (McKennon also provided the voice for Benjamin Franklin in Epcot's American Adventure.)
The original story of the attraction was set in the late 1800s, when gold was discovered deep within Big Thunder Mountain. The Big Thunder Mining Company was formed and the town of Tumbleweed thrived. But a flash flood ruined any future mining operations and the town was abandoned.
The attraction had a lengthy refurbishment in 2012, which included the addition of a new interactive queue, and built upon the back story.
The new queue takes you into the headquarters of the Big Thunder Mining Co., and introduces Barnabas T. Bullion, its founder and president. As you walk the queue, you find the Mining Office and the Explosives Magazine Room. There are cranks to turn and plungers that detonate blasting caps — you can even see the explosions when you look out at the mountain.
Recently, Big Thunder Mountain Railroad was featured in the Marvel Comics series, Disney Kingdoms, proving that although the 35-year-old attraction may have been late to the Walt Disney World party, its appeal endures.
= = = = = = = = = = =
RELATED LINKS
= = = = = = = = = = =
VIDEO: Big Thunder Mountain Railroad at Walt Disney World
Big Thunder Mountain Attraction Page
Big Thunder Mountain in Detail
Big Thunder Mountain Opening Day Photos
Disneyland California's Frontierland
Tokyo Disneyland's Westernland
Disneyland Paris' Frontierland
Western River Expansion Attraction
= = = = = = = = = = = = = = = = = = =


PHOTO OF THE WEEK
= = = = = = = = = = = = = = = = = = = =
Do YOU have a wonderful photograph that captures the Magic of the Disney Parks or Disney Cruise Line? Send it to us and it could be chosen as our Photo of the Week! Each week we'll select one photograph that we think best conveys that extra sprinkling of pixie dust, and display it for all our readers to see. Send us your favorite memories and let's see what "develops!"
Be sure to check our guidelines before sending in your entry!
-=-=-=-=-=-=-=-=-=-=-=-=-=-=-
HERE'S THIS WEEK'S PHOTO:
"Kick Your Knees Up, Step in Time!"
Taken March 4, 2015, on Main Street USA in Disneyland
Photo of Jack and Sophie by dad Matt Meldrum of Mountain House, California
= = = = = = = = = = = = = = = = =

HIDDEN MICKEYS ALERT
= = = = = = = = = = = = = = = = =
Steve Barrett, author of the Hidden Mickeys books and webmaster of HiddenMickeyGuy.com, highlights a few Hidden Mickeys at Disney California Adventure and Disney's Hollywood Studios for you to check out.
1. Disney California Adventure, Paradise Pier: The Little Mermaid – Ariel's Undersea Adventure. Along the ride, as you approach the singing Ariel, stare at the standing tubular coral stalks below her. In the middle of the group of corals, the round tops of three stalks form a classic Mickey tilted to the right. (Thanks to Kimberly Lamb.)
2. Disney California Adventure, Cars Land: Before exploring Cars Land, step into the Radiator Springs Racers FASTPASS queue line, which is to the left of the main walkway from Buena Vista Street and before you get to the entrance to "a bug's land." On the right side fence railing of the queue, a classic Hidden Mickey marking is on top of the fourth post from the entrance to the queue from the main walkway.
3. Disney's Hollywood Studios, Streets of America: Find a yellow paint splotch classic Mickey between a cast member door and a big bull's-eye on the walkway between the MuppetVision 3D building and the Stage 1 Company Store. (Thanks to Jason Gall and James Girard.)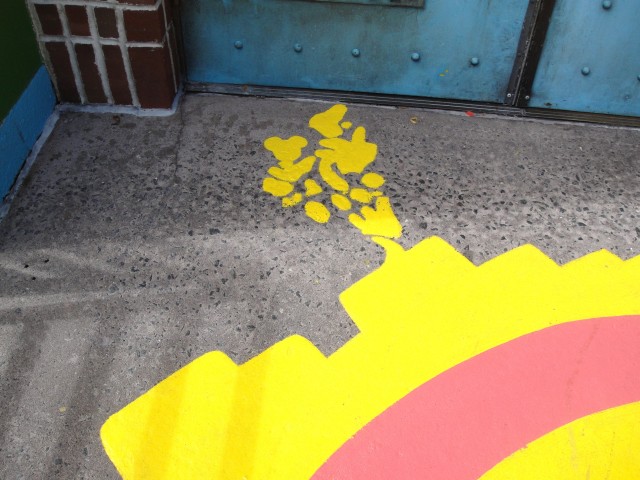 =-=-=-=-=-=-=-=-=-=-=-=-=-=-=-=
You can find a selection of past Hidden Mickey Alerts HERE.

And check out our latest Searching Disney with Steve blog.
= = = = = = = = = = = = = = = = =

MONTHLY REMIND-EARS
= = = = = = = = = = = = = = = = =
EVENTS
Frozen Summer Fun LIVE runs through September 7. See details in our "NEWS BITES" section below.
20th Epcot International Food and Wine Festival will run September 25 – November 16, 2015.

The Eat to the Beat Concert Series will run every Friday – Sunday during the Food and Wine Festival.

Disney Trade Celebration 2015 – GenEARation D will be held at Epcot's World ShowPlace September 11 – 12, 2015.
Disney's Night of Joy 2015 — The 33rd annual event, which brings contemporary Christian music performing artists to the Magic Kingdom, will be held over two nights, September 11-12.

Mickey's Not So Scary Halloween Party starts on September 15 this year. The party will also be held September 18, 20, 22, 25, 27; October 1, 2, 4, 6, 8, 9, 12, 13, 15, 16, 18, 20, 22, 23, 25, 27, 29, 31; November 1

NOTE: Halloween Night (October 31) is already sold out! In addition, many evenings of the Happy Hallowishes Dessert Party are also sold out.
ESPN Wide World of Sportsf
The historic Disney Turn Back the Clock Weekend baseball tournament will give players and audiences a taste of old-time baseball at Disney's ESPN Wide World of Sports Complex. More than 30 teams from the U.S., Panama, Puerto Rico and the Virgin Islands will compete in the tournament on September 4 – 7.
Downtown Disney
Raglan Road Irish Pub & Restaurant at Downtown Disney will hold its 4th annual "Great Irish Hooley" this coming September 4-7 with seven Irish bands, authentic step dancing, and contemporary Irish cuisine by celebrity chef Kevin Dundon. The long weekend, which celebrates the half-way mark to St. Patrick's Day, coincides with the pub's 10th anniversary. Musical performances begin at noon Friday through Monday, and continue throughout each day and night. This year's Hooley band lineup includes: Screaming Orphans; The Raglan Roots Coalition; JigJam; The West Coast Trio; The Blarney Stones; The Blaggards; and Cooney & Ryan. The Raglan Road Irish Dancers also perform throughout the long Hooley weekend. The Hooley also will feature Celtic face-painting Saturday through Monday. Throughout the Hooley, guests can step up to one of Raglan Road's 130-year-old imported-from-Ireland bars or grab a table for authentic fare by Irish celebrity chef Kevin Dundon. The complete entertainment schedule will be posted at www.raglanroad.comand www.greatirishhooley.com.

-=-=-=-=-=-=-=-=-=-
Check our Events page for a full schedule of upcoming events.
-=-=-=-=-=-=-=-=-=-=-=-=-=-=-=-=-=-=-
Animal Kingdom
Disney Outfitters on Discovery Island is being expanded to include the addition of a clock tower. The construction is expected to be completed sometime in November.

Primeval Whirl in Dinoland USA closed August 17 for refurbishment. It is set to reopen November 12.

Pizzafari closed for refurbishment on August 24. It will reopen October 19.
Disney's Hollywood Studios
Toy Story Midway Mania – More midway track is being added; attraction is open during construction. Work is expected to be completed in 2016.

Voyage of the Little Mermaid in the Animation Courtyard will be closed for refurbishment September 7 – 10, 2015.
Epcot
Living with the Land will be closed for refurbishment September 8 – 17, 2015.

Innoventions in Future World West is closed except for the Visa Character Photo Location.

The Vision House exhibit in Innoventions East has closed permanently.

The Maelstrom attraction and Spirit of Norway movie have closed to make way for "Frozen Ever After," based on the animated film, "Frozen." The new attraction will take guests to the film's land of Arendelle and is expected to open in early 2016. The Norway pavilion will also again host a royal greeting location where the characters Anna and Elsa can meet guests.

Soarin' – Another theater is being added, as well as new screens and a projection system, bringing a visually enhanced experience. In addition, a new film called "Soarin' Around the World", which will feature new locations, will be added by the end of 2016. The attraction is open during construction.
Magic Kingdom
The Briar Patch in front of Splash Mountain will be closed for refurbishment September 21 – 24, 2015.

The Diamond Horseshoe in Frontierland is closed through November 19.

Liberty Tree Tavern in Liberty Square will be closed for renovations through November 19, 2015.

Pirates of the Caribbean in Adventureland is closed through September 25, 2015.

Several enhancements to the Central Plaza area between the end of Main Street and Cinderella Castle in Walt Disney World's Magic Kingdom are coming over the next few months. Parts of the project have already been unveiled; the project is scheduled to be completed this year.
Monorail
The Walt Disney World Resort Monorail System is undergoing refurbishment that affects the Express monorail beam, which runs between the Transportation and Ticket Center (TTC) and the Magic Kingdom. Now and throughout the summer, Express beam shutdowns will occur between the hours of 11:30 a.m. and 6 p.m. on Tuesdays and Wednesdays. The Resort beam will continue to run during downtimes. Guests arriving at the TTC during downtimes will be directed to the ferryboats.
BoardWalk
BoardWalk Inn rooms are currently undergoing renovations, now through May 5, 2016.

ESPN Club – The restaurant's kitchen is being renovated, so fried foods are unavailable until the project completion in early September. When the kitchen reopens, a new menu will debut.
Contemporary Resort's feature pool will close September 8 – 10 for a brief refurbishment.
Coronado Springs Fitness Center, Salon and Casitas Leisure Pool are closed for maintenance now through October 12, 2015. A temporary fitness center is set up for guests.
Grand Floridian Resort and Spa
Gasparilla Island Grill is closed for refurbishment. It is scheduled to reopen on Saturday, September 5, 2015.

Mizner's Lounge is closed for refurbishment for several weeks.
Polynesian Resort
Polynesian East Pool is closed for enhancement through early 2016. Expect noise and construction; some pathways may be blocked.
The Walt Disney World Swan and Dolphin is currently undergoing the largest renovation in its 25-year history. The Swan rooms will be completed in 2015. The first phase of the Dolphin Hotel room renovations will not begin until 2016, with the entire room project currently scheduled to be completed by the end of 2017.
Downtown Disney/Disney Springs
The multi-year transformation of Downtown Disney into Disney Springs will treat guests to more shopping, dining and entertainment amid open-air promenades, springs and waterfront charm. Disney Springs will feature an eclectic and contemporary mix from Disney and other noteworthy brands, from boutique shops to unique flagship anchor stores. The Landing section of Disney Springs will open and be rededicated in 2015.

Roadwork on Buena Vista Drive – Through March 2016. Due to heavy roadwork, expect delays on Buena Vista Drive. It is recommended that guests use complimentary Walt Disney World Resort transportation from Parks and Resorts to Downtown Disney and plan to arrive early for reserved dining and entertainment experiences.

Parking Lots – Entrance 2 – Lots A-G – closed through August 2016, in preparation for the construction of Town Center and the East Garage.

Paradiso 37 on Pleasure Island is set to nearly double its seating. It will add more terrace dining and a new outdoor performance stage. The menu will continue to offer a culinary tour of North, Central and South America. Paradiso 37 will remain open while undergoing renovations, which are expected to be finished soon.

Read HERE for more on Disney Springs.
-=-=-=-=-=-=-=-=-=-
A complete list of known rehabs can be found HERE.
= = = = = = = = = = = = = = = = =

MAGICAL MOMENTS
= = = = = = = = = = = = = = = = =
Jean Rogodzinski: In February my husband and I took two of our grandsons to Disney World. On the night we went to Epcot we took a rest in the afternoon so we could stay out late to watch IllumiNations. My older grandson (13) is very quiet and reserved, but the 6-year-old is very friendly and outgoing. We had a late reservation at Rose and Crown Dining Room where we requested a table outside so we could view the show. Our wish was granted and we sat right on the water's edge. As we finished dinner and were waiting for dessert a cast member came over to my younger grandson and asked if he could help her. He had no idea what he would be doing, but said he would be glad to help. She explained that Mickey and Minnie were out on a date and got stuck on the monorail. They weren't sure if Mickey would make it back in time to light the fireworks. She told my grandson that Mickey instructed her to choose someone who could think magical thoughts. She said she would be back if Mickey didn't make it and he was to practice thinking magical thoughts until the time came. You had to see the priceless expressions on his face as he practiced his magical thoughts. She returned with a magic wand and said that Stitch had chewed the monorail wires and Mickey wouldn't be able to make it. It now was up to my grandson to think magical thoughts to light the fireworks. The cast member and my grandson held the wand and when it was time she told him to squeeze the wand and think his most magical thought. Right on cue he squeezed and the first crack of fireworks appeared. The look on the face of my older grandson was almost as amazing as the look on the little one's face. I was pretty amazed myself. She then brought him a certificate saying he lit the fireworks at Epcot. It was the most magical experience for all of us and still brings tears to my eyes when I remember the moment.
Cindi Nowatnick: We go to Disney World every October to celebrate our anniversary and attend all the great events at Epcot's Food & Wine Festival. It's our favorite time of year to be at Disney! We always wear our anniversary buttons and just love the special way cast members go out of their way to wish us a Happy Anniversary or bring us a special dessert. Last year we stopped in the Festival Center to cool off and relax for a little while. As we were sitting on a bench watching the beginning of a beverage demonstration of Jack Daniels whiskey, a cast member approached us and asked us if they could make a "Magical Moment" for us. We were thrilled when they allowed us to participate in the whiskey tasting as their guests! As a result my husband is now a fan of Gentleman Jack whiskey! It's one of the memories that stands out in the tapestry of highlights and special moments that Disney provides on all of our visits!
Diann: My husband and I were celebrating our 50th Anniversary and didn't want to miss Star Wars weekend. We invited our 29-year-old granddaughter to join us and booked a room at Boardwalk. We checked in really early so we could be at Hollywood Studios when they opened. We asked for anniversary buttons and enjoyed every cast member as well as lots of guests telling us Happy Anniversary all day. Well, the big surprise came when we returned late back to the room. A plate of chocolate-covered strawberries, a solid white chocolate Mickey Mouse, an anniversary card and a note telling us to call in-room dining for a surprise. A cold bottle of champagne was delivered in a few minutes. What a magical night!
-=-=-=-=-=–=-=-=-=-=-=-=-=-=-=
We just bet you have a story to tell about an unforgettable moment during your Disney vacation! Please send your favorite memory for inclusion in a future AllEars® to: [email protected] Thank you all for sharing!
-o-o-o-o-o-o-o-o-o-o-o-
Editor's Note: This story/information was accurate when it was published. Please be sure to confirm all current rates, information and other details before planning your trip.