Planning with My Disney Experience: An Update
by Alice McNutt Miller
AllEars® Feature Writer
Feature Article
This article appeared in the September 15, 2015 Issue #834 of ALL EARS® (ISSN: 1533-0753)
Editor's Note: This story/information was accurate when it was published. Please be sure to confirm all current rates, information and other details before planning your trip.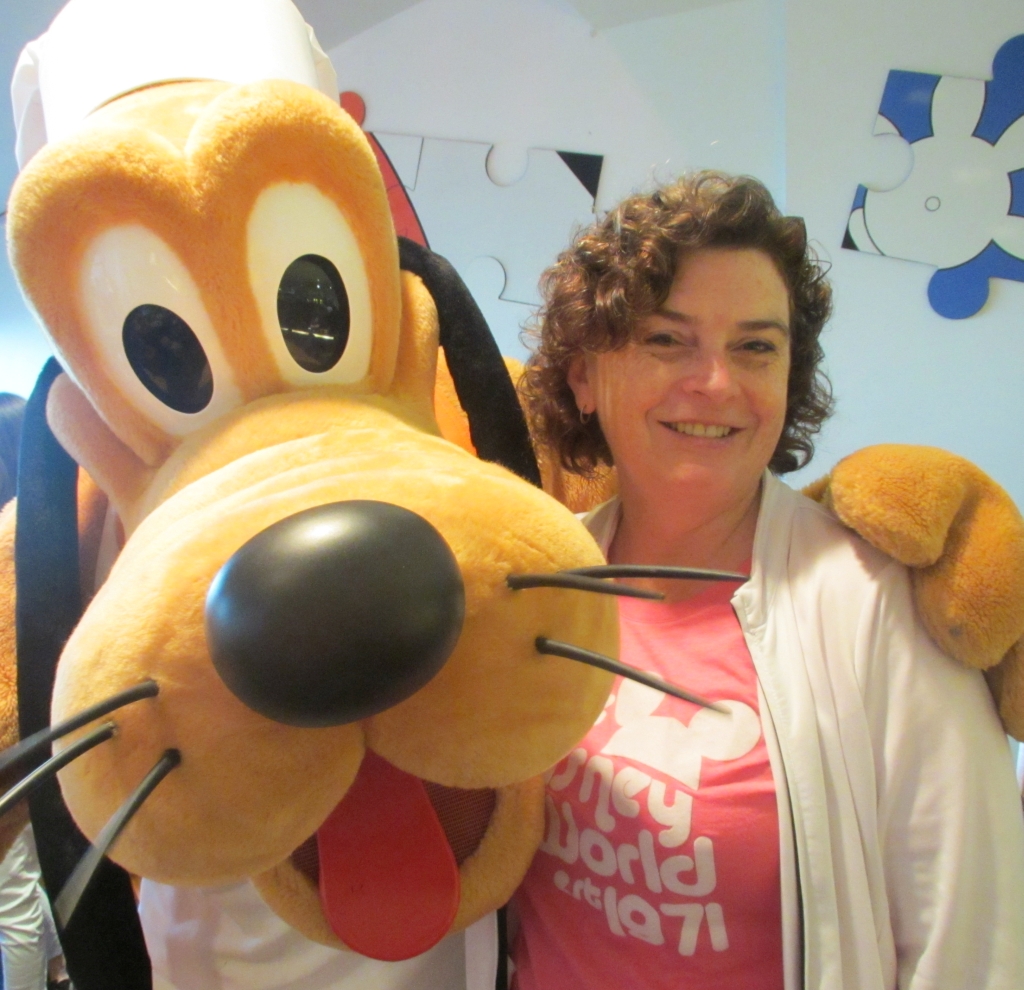 Almost two years ago, I wrote a feature article for the AllEars® newsletter on my first experience using MagicBands on a trip to Disney World. The article was written at a time when the use of the bands was relatively new, and much of their functionality and the planning tools being rolled out under the My Disney Experience banner on the Disney World website were still being tested.
Many AllEars® readers are probably now familiar with how to start their planning on the website, and how to use their bands to enter their hotel rooms, breeze past the park entrance "turnstiles" (which don't, in fact, turn any longer), enter FastPass queues and pay for purchases in the parks and resorts.
However, some of you still may have some questions about how the whole process works and might still be a bit intimidated by it. So, two years later (and with enough MagicBands collected to make a garland long enough to decorate a fair-sized Christmas tree), here is a bit of an update, with some tips for making your planning experience for your Walt Disney World vacation go as smoothly as possible.
First and foremost, you will need to have an online Disney account in order to take advantage of all of the offerings. If you don't have an account, go to www.disneyworld.com or www.mydisneyexperience.com and set one up.
For Resort Guests
WHEN: As soon as you have made your resort reservation.
Step 1: Make sure your resort reservation is showing up in My Disney Experience. After you make your resort reservation through either Disney World Guest services or Disney Vacation Club Member Services, view and/or link your resort reservation in My Disney Experience.
After logging into your account, click on My Disney Experience, and choose "My Reservations and Tickets" under the "Plan and Manage" heading. If you made your reservation on the website, or directly with Guest Services, your reservation should show on the landing page. If you have a DVC reservation, or made your reservation through a travel agent, you will need to manually link the reservation. Click on the "Link Resort Reservation" button and enter your confirmation number and last name. Once the reservation is linked, the screen will show which guests are included in the reservation. If the names are incorrect, you will need to go back to DVC Member Services or to your travel agent to get that fixed in the original reservation. Do make sure that you complete this step, otherwise there might be some unhappy folks who get left out of the magic! [Note: you can also link any dining reservations that aren't showing up on this page.]
An aside for DVC members: Don't worry about linking a reservation if you are waiting for a waitlist request to come through to replace an existing reservation. I recently had a waitlist come through for an already linked reservation in My Disney Experience, and when I checked the "My Reservations" tab there after the waitlist came through, I was pleasantly surprised to find that it had automatically been updated with the new resort information. Woohoo!
WHEN: 180 days in advance
Step 2. Put together a general plan for your visit. Most park hours will be listed on the Disney World website at least this far in advance. Knowing (approximately) where you will be on what day will be important for the next step. This is the time when I start putting together "The Spreadsheet," although you can use the My Disney Experience website to start an online itinerary. Under the "Plan and Manage" heading, click on the "My Itinerary" link. Choose a day, and click on the "Add Plans" button in the top left corner. Here you can check park hours, add a park (or parks) to your itinerary, check for parade and fireworks times, etc. This is also where you can make the very critical Advance Dining Reservations (see Step 3, below).
Step 3. Make your Advance Dining Reservations (ADRs). Once you know approximately where you will be on each day of your vacation, and it is at least 180 days out from the first day of your resort stay, it is time to make your ADRs. Don't worry, you can always change these later, but who wants to disappoint the kiddos because you've waited too long, and the coveted reservation at Chef Mickey's is not available for any breakfast or any dinner during the entire duration of your trip? Do it now! Don't be sorry! Note that all ADRs now require a credit card to hold the reservation. You can cancel up to 24 hours in advance with no penalty, but if you are a no-show, there will be a $10 per person charge made to your card. Some reservations may require full advance payment (check the fine print).
Step 4. Link your tickets. As soon as you have your park tickets, either in hand or a will-call voucher or number, it is time to link them to your itinerary in My Disney Experience. Without completing this step, you will not be able to make FastPass+ reservations. There are very clear instructions on the website on how to do this.
WHEN: 60 days in advance
Step 5. Make your FastPass+ reservations. Disney resort guests (with a linked reservation and linked valid tickets, see above) can make FastPass+ reservations 60 days in advance of their resort check in date. Check the schedule you put together a few months ago, including your ADRs, and choose the park for which you want to make your FP selections. Check updated park hours and make changes to your schedule, as appropriate.
To make your FastPass+ reservations, log into your My Disney Experience account on the Disney World website. Click on the link to your itinerary, then choose the date for which you want to make reservations. Click on the "Request Now" link in the FastPass+ Service box, and click on the "New FastPass+" button. You will then be prompted to choose the members of your party for whom you will be making the reservations. Next, choose the park for which you want to make reservations. Select up to three attractions for which you would like to make reservations. (In Epcot and Hollywood Studios, attractions are listed in "groups," and you will only be able to make a limited selection from each group.) Once you have selected the three attractions, you will be presented with three different options for times for the FastPasses. I have found that it is easiest to choose the option that best meets your needs (for example all in the morning, or all in the afternoon), then modify each FastPass+ reservation individually to better meet your touring needs.
Note: You can only make three FastPass+ selections per day, and in only one park per day. Once you have used all of your selections, you can go to a FastPass+ kiosk in the park to make an additional selection, even if you have hopped to a different park. Once you have used that FastPass+, you can make an additional reservation at a kiosk. Wash, rinse, repeat. If you plan to hop from one park to another in a single day, plan to make your FastPass+ reservations either at the park you think will be busiest, or at the one where you have "must-do" rides. The Miller Family generally uses FastPass+ reservations for our first park of the day, then we do more of a go-with-the-flow visit at the second park. We have not have good luck in getting many "extra" reservations, once we have run through the first three.
Step 6. Customize your MagicBands. It is at about this time that you will be sent an email from Disney World asking you to log into your My Disney Experience Account to customize your MagicBand order. Really, in order to make the whole planning and actual visit process work the way it is intended, you need to get a MagicBand. If you are an Annual Pass holder, you may have already been sent a band. For resort guests, if you choose not to customize and order your bands in advance you can pick them up at check in (they will be gray).
There is now a new option on the website to decline receipt of a new MagicBand if you already have loads. (But what will we decorate our Christmas trees with?) "Too many Magic Bands? You may decline getting a new MagicBand if you'd prefer to use one you already have. Select 'Decline' or close this window to proceed with your order." This option will appeal to many guests who make multiple trips in a year or who have already received bands because of their passholder status. Do note, however, that the batteries that give the bands their juice will eventually wear out. (I am not really sure how long the batteries last, but I would replace any band that is over a year old, just to be sure. Batteries cannot be replaced in the bands, either, so you should keep that fact in mind if you purchase decorated bands in the merchandise locations or online from the Disney Store.)
WHEN: 30 days in advance
Step 7. Complete on-line check-in for your resort. Making sure that you complete this step will save tons of time at check-in. When you arrive at the resort check-in desk, the cast member should have your room assignment package all ready for you to pick up, and you can head directly to your room. To make things even easier, provide a cell phone number and/or email address, and ask to be notified once your room is ready. When you receive the text with your room assignment, you may be able to bypass the check-in desk altogether, and head directly to your room when you arrive. Your MagicBand will be your room key, and you will be able to sashay right on in! (I have been able to do this on one trip, in a testing situation, but this option may or may not be available for you.)

WHEN: Any time before you leave for your trip
Step 8. If you have a smart phone, make sure you have downloaded the free My Disney Experience app in advance. The app will allow you to view your itinerary, including ADRs and FastPass+ reservations and will even let you change FastPass+ experiences or times on the fly. Having the app has allowed me to leave the paper copy of my planning spreadsheet at home, and to change FastPass+ reservations if we find we are running late or have simply changed our minds about what we want to do. There is also a feature where you can preview, purchase and share your PhotoPass photos and videos right from the app. You can also now buy tickets on the app. The app will also show current attraction wait times, and help you find character meet and greets in the parks. We have found using the app to be simple and really useful!
For non-Resort Guests
Do everything in Steps 2, 3, 4, and 8 above, about 180 days before your visit.
WHEN: 30 days in advance
Make your FastPass+ reservations. Non-resort guests with linked valid tickets, can make FastPass+ reservations 30 days in advance of the date of each day of your visit (i.e. you can make the reservations one day at a time, 30 days in advance of each day). Check the schedule you put together a few months ago, including your ADRs, follow the instructions in Step 5, above, to make your selections. Check updated park hours and make changes to your schedule, as appropriate.
Offsite guests (or anyone who wants a more interesting MagicBand) can order a MagicBand in advance from the www.disneystore.com (from about $12.95 each for plain colored bands, to $19.95 each for bands with character and other decorations, before taxes and delivery charges). You don't have to have a MagicBand, however. Your RFID-enabled ticket media will allow you to access your FastPasses at the ride entrances. MagicBands in a variety of colors and styles are also available in almost any merchandise location inside the parks. You can also purchase "bling" for your bands: "Bandits" (which pop into open holes on the band) and "Sliders" (which slip onto the band). Cast members will help you to link your tickets to the Bands once you have purchased them.
PhotoPass and My Disney Experience
My family does not usually purchase Memory Maker PhotoPass packages, but if yours does, the packages can be linked directly to your MagicBands, making subsequent photo viewing very simple. Even if you do not prepurchase a package, but want to stop for a few character meet-and-greets, the MagicBands also make this process much simpler. The photographer takes the photo, you hold out your wrist, she touches a sensor to the band, and you are on your way. One strange thing I discovered after a recent trip, however, is that the Bands can "find" you on rides where photos are taken, and those photos will automatically (without asking for it) be available on the Disney Photopass website after your trip.
(A note here: If you are squeamish about the technology in the bands that "track" where you are, current ticket media will allow you to enter the parks and use your FastPass reservations. You can also request a "regular" room key for your Disney resort room. I am by no means a technology expert, so I can't really explain how all of this works, but if you have concerns about the technology, you may wish to contact Disney.)
I do think that having to use the My Disney Experience website to plan so far in advance and the limitation of three pre-reserved FastPasses per day in only one park has taken away the ability for guests to be spontaneous during park visits, drifting from one attraction to another based on current wait times and paper FastPass availability. This is especially difficult for local or single-day visitors, who must wait to make FastPass reservations when they enter the park, most likely being disappointed that FastPasses for many attractions will not be available. I also think that it is a bit creepy that the MagicBands allow Disney to "find" you on rides and send you unsolicited ride photos. On the other hand, once you get the hang of the advance planning required, and settle into new ways of touring the parks, you may be quite happy with the results. My husband, for one, has told me that he doesn't really miss the days of leaving the rest of us at an attraction on one end of the park, then sprinting to the other side to grab paper FastPasses for later.
Do you have any tips and tricks for getting the most out of My Disney Experience? We would love to hear from you!
= = = = = = = = = = = = =
RELATED LINKS
= = = = = = = = = = = = =
— Planning a Trip Using My Disney Experience
— MagicBands at Walt Disney World
— My Magic+
— FastPass+
— Using RFID Touch-Point Turnstiles
— PhotoPass/Memory Maker
— VIDEO: The Debs Answer Questions about FastPass+
Many other planning feature articles by Alice McNutt Miller can be found in the AllEars® Archives.
-=-=-=-=-=-=-=-=-=-=-
ABOUT THE AUTHOR:
Alice McNutt Miller is a lifelong Disney fan whose fondest childhood memories include "The Wonderful World of Disney" on Sunday nights and her first trip to Disneyland when she was 10 years old. Alice and her family are Disney Vacation Club members and have now visited every one of the (existing) Disney parks throughout the world (looking forward to Shanghai!). They live in Alexandria, Virginia.
-o-o-o-o-o-o-o-o-o-o-o-
Editor's Note: This story/information was accurate when it was published. Please be sure to confirm all current rates, information and other details before planning your trip.