Overlooked Attractions at WDW Moderate Resorts
by Debra Martin Koma
AllEars® Editor
Feature Article
This article appeared in the April 21, 2015 Issue #813 of ALL EARS® (ISSN: 1533-0753)
Editor's Note: This story/information was accurate when it was published. Please be sure to confirm all current rates, information and other details before planning your trip.
If you're a regular, longtime reader of AllEars®, you've seen our columns over the years urging you to take the time to observe the little things at Walt Disney World. After all, it's the details that set a Disney park or resort apart from all the non-Disney counterparts in the world.
A few years ago, I took a look at these "stop-and-smell-the-roses" details that you can find at the Walt Disney World resorts. With so many changes happening all around the "World," I figured it was high past time to refresh this list of things (many of them free!) that you can find if you take some time before you rush off to ride that next roller coaster. Just last month, I highlighted my favorite "Overlooked Attractions" in Walt Disney World's Deluxe Resorts. This month, the Moderate resorts get the star treatment.
HIDDEN DELIGHTS
If you're like me (a theme park commando who MUST ride every ride and see every show!), you may not often want to take the time to meander around your resort and explore its architectural details, its hidden nooks and crannies, the finer points of its theming. But if somehow you should find yourself with some free time between strategic strikes on the Magic Kingdom Mountain Range and the Moons of Endor, there's no place better than a Disney resort!
Oh sure, everyone knows about the great themed pools the Disney resorts have, as well as the many "quiet" pools where you can sit and sun yourself. It's just about impossible to overlook them. But if you're searching for something different or unusual, something a little off the beaten path, take a look at some of our favorite "little things" you can find at these resorts.
===============
CARIBBEAN
BEACH
===============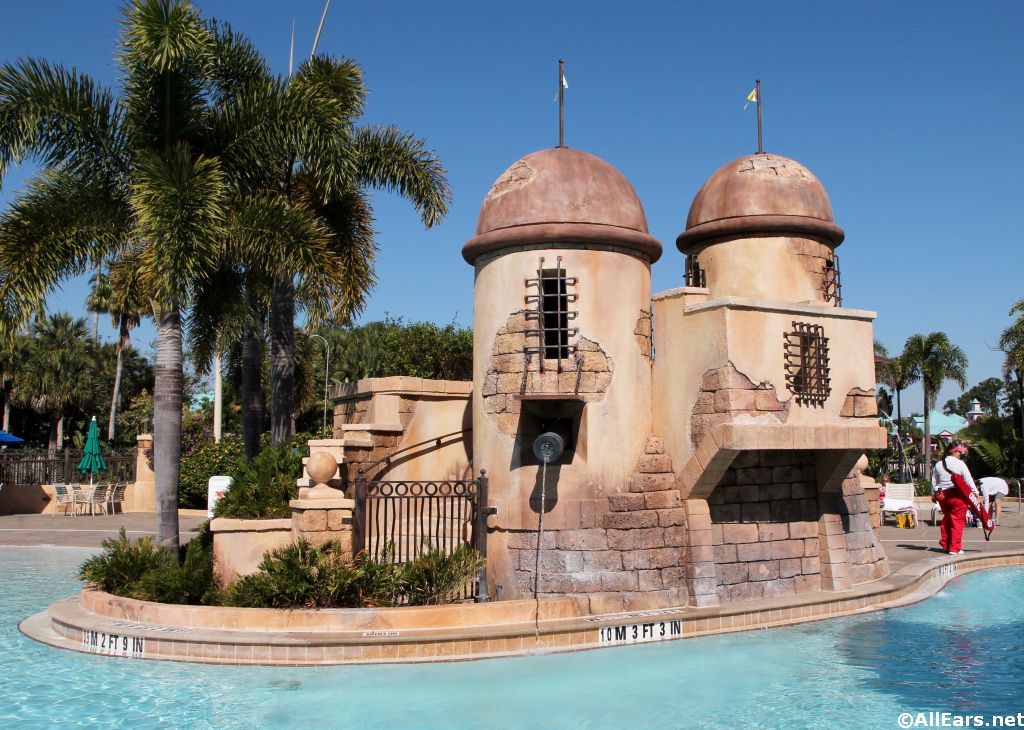 The laid-back feeling of the islands is pervasive as you're strolling around the grounds of the sprawling Caribbean Beach Resort. And, believe me, this resort covers so much territory, you WILL have to stroll around it to get to your room or the food court or the Front Desk. So why not enjoy it?
Of course you'll want to check out the main, pirate-inspired pool with its cannons and waterslides, but if you're in a quieter mood, and don't feel like a swim, don't overlook the sandy beaches surrounding Barefoot Bay, the resort's 45-acre lake. There are lounging chairs scattered here and there, along with strategically placed hammocks, for the ultimate in lazing around. (The stretch of beach located along the Aruba cluster of buildings is probably the most private.)
There's also a beautiful 1.2-mile promenade around Barefoot Bay that is perfect for jogging or bicycling (bicycles are also available for rent, adjacent to the boat dock).
===============
PORT ORLEANS
===============
Each of Port Orleans' two distinct sections, Riverside and French Quarter, has its own flavor. Accordingly, it takes numerous theming details to create their individual personalities.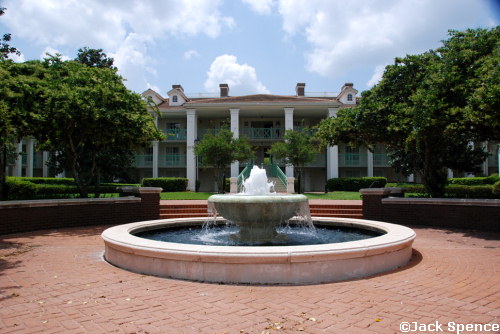 As the larger section of the two, Riverside offers more to do and see — and Riverside itself is divided into two sections: rustic Alligator Bayou and the charming Magnolia Bend, which exudes the grace and charm of the "Gone with the Wind" era.
It's a given at a resort like this that you'll be spending time poolside, but there's so much else to do at Port Orleans Riverside.
I like to walk around the lovely grounds, soaking up the atmosphere. (Yes, I'm trying to mend my park commando ways and chill out more often!) If you begin in the Magnolia Bend area, and you'll soon see the amazing attention to detail that makes the theming at this resort so impressive. The first cluster of buildings in Parterre Place, for example, are regal and very posh — mini-southern plantations from which Scarlett O'Hara could walk any minute. As you follow the river, dubbed the Sassagoula, around toward the Alligator Bayou section of the resort, you'll notice that the buildings grow more run-down and backwoodsy. This is all in keeping with the colorful backstory Disney Imagineers created for Riverside: The further pioneers traveled up the Sassagoula River (which they tell us is the American Indian word for "Mississippi"), the scarcer building supplies became, thus leading to poorer quality housing. This "story" is also played out in the facade of Riverside's main building — the side facing Magnolia Bend is lovely, but as you walk around the building toward the marina, it becomes more rustic, especially by the time you view the Riverside Mill, which, by the way, has a working water wheel!
As you walk along the Sassagoula River between Magnolia Bend and Alligator Bayou, you'll see that not only the buildings are themed — even the landscaping is used to delineate the areas. The stately flowering trees of Magnolia Bend gradually become more scarce, until they are replaced by the scraggly pines and Spanish moss of Alligator Bayou.
If you're a nature lover, you might want to take some extra time to appreciate the grounds on this beautifully themed resort. Did you know there are more than 100,000 flowering trees and bushes between the two resorts? I've never counted them, but that's what I'm told!
Besides the flora, there's an abundance of fauna located in and around the Riverside's rustic grounds. You'll see ducks and other aquatic birds, and you might even spy an otter! Of course, there are the usual rabbits, squirrels, and even a chipmunk or two… and there are rumors of the occasional gator. OK, so maybe that's one overlooked attraction that should *stay* overlooked!
Speaking of critters, did you know that you can go fishing on Ol' Man Island over in Riverside? There's a fun catch-and-release program operating from 7 a.m. to 3 p.m. daily at the Fishin' Hole, which is stocked with catfish, bass, and bluegill. (There's a fee for cane pole rental.) And if you're after a bigger, better fishing experience, you can head over to Downtown Disney via the resort's ferry and sign on for a two-hour fishing excursion.
Ol' Man Island is also home to a playground, which parents (and kids) will never overlook — gotta burn off that excess energy! But the little things here you won't want to miss are the special activities that Cast Members often host near the pool, especially if you're visiting around a holiday. Be sure to ask at Lobby Concierge if anything special is going on during your stay.
A body's gotta eat, so you may well find yourself at Boatwright's, the resort's quaint table service restaurant. But even if you don't plan a meal there, the theming in this eatery makes it worth a visit. Details like antique saws, axes and other tools mounted on the walls and scattered around the rustic tables and chairs conjure up the feel of an old shipyard, and you can't miss the hull of a 46-foot lugger fishing boat that dominates the spacious dining area as the shop's "current project." Look to the left of the check-in podium for photos and a description of the building of the boat.
Can you believe that Riverside has one of the largest video arcades in Walt Disney World? If you're an aficionado of that sort of thing, you'll want to stop by the Medicine Show Arcade in the main building.
And while you're there, in the main lobby rotunda, look down. You'll find a compass on the floor.
Over at the New Orleans-inspired French Quarter, there are a number of theming details too clever to miss, as well. For example, as you're standing at the registration desk, look for the musical notes dancing around you — they may look random, but if played, you'd recognize the first verse of "When the Saints Go Marching In."
The grounds of the smaller, more intimate French Quarter are worth rambling around, too. As you wander, make note of the punny names, Rue D'Baga and Beaux Regards Square. They always make me chuckle.
The French Quarter boasts what I consider a real gourmet goodie — the beignet. A deep-fried donut-type treat, rolled in powder sugar. Be sure to get them (at the FQ's Sassagoula Floatworks and Food Factor food court) when they're warm! Heavenly!
Looking for a little romance? Port Orleans, both sides of it, has it in abundance.
Drift along the Sassagoula River via boat from either Port Orleans Riverside or French Quarter to Downtown Disney. Or take an evening horse and carriage ride. The 30-minute carriage rides start in front of Boatwright's Dining Hall at Riverside nightly between 6 and 9:30 p.m. (Carriage rides have a fee, the boat rides are Disney transportation — free.)
If you'd rather walk, the carriage path between the French Quarter and Riverside makes for an ideal little romantic stroll (about a half-mile, or 10 minutes, each way).
===============
CORONADO SPRINGS
===============
Once you see the The Dig Site pool complex of this beautiful resort, you might forget that there's anything else to do or see here, but you'd be missing an awful lot.
As with all of Disney's resorts, the Coronado Springs grounds are worth investigating. This resort, in particular, is a flower lover's paradise. There are colorful hibiscus, canna, and innumerable multicolored blossoms scattered generously beside walkways, between resort buildings, along the lake's shore. And don't miss the short Nature Trail that winds behind the Dig Site for a private, quiet walk amidst the foliage.
If a longer walk appeals to you, there's a one-mile (approximately) path encircling the lake. It takes you past the three separate sections of Coronado Springs — the urban Casitas, the remote, somewhat desert-like Ranchos, and the beachfront Cabanas — and gives you a real feel for the diverse themes the architects of this resort attempted to create.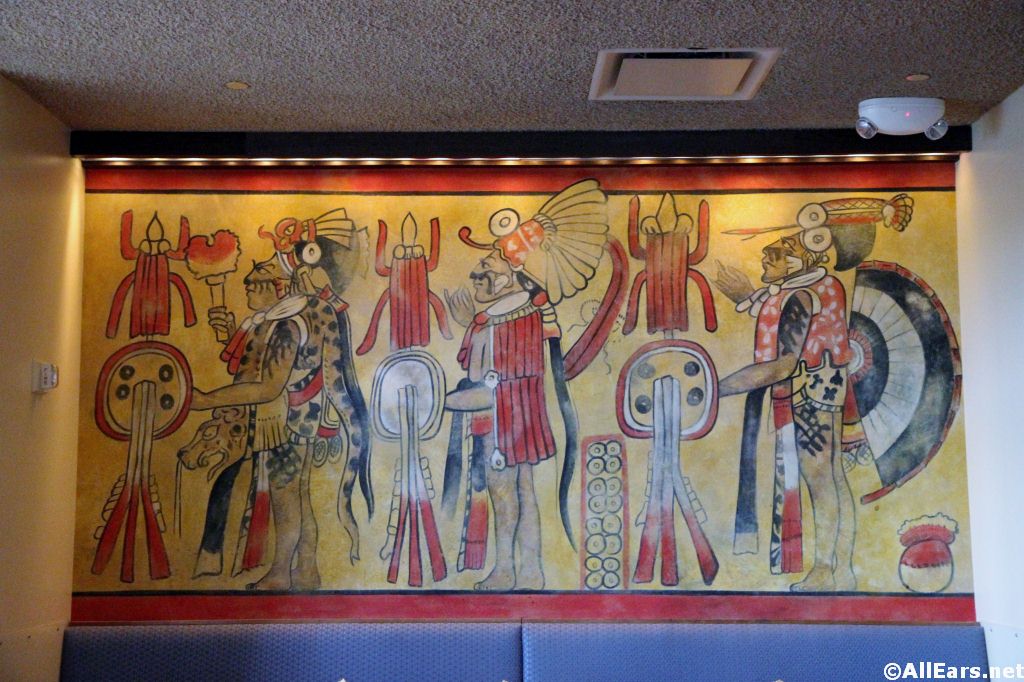 Don't miss the lovely courtyards in between the Casitas buildings with their spouting fountains and lush foliage, particularly at night when the dramatic lighting makes for a very romantic setting.
Need a break from the hubbub of theme park hopping? Just take a swing in one of the many hammocks surrounding Lago Dorado, the 15-acre lake in the center of this resort. Day or night, there's nothing like being waterside with the warm sand beneath you and palm fronds swaying overhead.
Don't miss the umbrella tables behind the resort's main building, El Centro. They offer the perfect place for a quiet drink or lunch, peacefully overlooking the lake, with the resort's Mexican-inspired music gently playing in the background.
With its Mayan pyramid towering overhead, it's hard to miss the resort's main pool area, but what you might overlook here are some of the other aspects of this mini-water park. There's a 123-foot long water slide here, and perched atop is a jaguar who's been known to spit at unsuspecting swimmers. Surrounded by trees as it is, you might walk right past the sand volleyball court. And to the rear of the complex is the children's playground, which features a creepy (to me, at least) Mayan statue's head for the kids to crawl around in, as well as swings, a jungle gym, a slide, and a big sand pit.
Here's an aspect of Coronado Springs you may overlook, but shouldn't. Even though this is a moderate resort, it also hosts many conventions. As a result, it has some amenities that you won't find at the other moderates. Don't miss the Casa de Belleza Beauty Salon and the La Vida Health Club if you're looking for some pamper-yourself "me time." And the Rix Lounge is a great on-site lounge if you're looking for some nightlife fun without having to travel to Downtown Disney or beyond.
The accents scattered around El Centro, which houses registration and the restaurants, may also be easily overlooked. Look on the walls — there are really interesting Mexican and Native American wooden carvings in the lobby. The tiled fountains in Pepper Market sport fiesta-colored frogs and other creatures. The plants, including tropical birds-of-paradise, lining the hallways and adorning tables delight the eyes with bursts of color. The decor in the Maya Grill restaurant continues the theme.
And then there's the dome. You can NOT miss the beautiful domed atrium that greets you when you walk into the main entrance of El Centro. Look up. White doves fly in a blue sky with puffy white clouds — it's just a stunning piece of art.
All of these little things come together to create a very authentic Southwestern/Mexican feel, making Coronado Springs one of my favorite Disney resort hotels.
===============
AT ALL
DISNEY RESORTS
===============
To round out this overview of my favorite "overlooked attractions" at the Disney Moderate resorts, I thought I ought to mention a few things that you can find at all Disney resorts.
You probably know about Hidden Mickeys — those subtly placed tri-circle symbols designed by the Imagineers that can be found in and around theme park attractions. Well, not surprisingly, Hidden Mickeys have been incorporated in the resorts as well. It's a fun pastime to try to scout these out — check out Steve Barrett's book "Hidden Mickeys: A Field Guide to Walt Disney World's Best Kept Secrets" for lists of where they're hiding.
Finally, one of the *most* fun things at the resorts, which I didn't even know about on my first trip many moons ago, is not so much something to look at, but something to experience. It's not something I would have ever thought I'd look forward to when on vacation — a Wake-Up Call! If you're staying at a Disney resort, use your room phone to request a free-of-charge wake-up call. When you answer the call, Mickey or Stitch or Baymax will welcome you to the day! And, even better, if you want to wish someone in your group a Happy Birthday, Dial 0 and request the special birthday greeting!
-=-=-=-=-=-=-=-=-=-=-=-=-=-=-=-=-=-=-=-=-=
These "little things" are just to get you started. There are so many other details that offer chances for funny photos or merry memories — all you have to do is take the time to look for them!
Do you have a favorite "overlooked attraction" in one of the resorts? Drop me a line at [email protected] to share your story!
= = = = = = = = = = = = =
RELATED LINKS
= = = = = = = = = = = = =
Overlooked Attractions at the WDW Deluxe Resorts
Port Orleans Riverside Fact Sheet
Port Orleans French Quarter Fact Sheet
Caribbean Beach Fact Sheet
Coronado Springs Fact Sheet
Searching Disney with Hidden Mickey Guy Steve Barrett
-o-o-o-o-o-o-o-o-o-o-o-
Editor's Note: This story/information was accurate when it was published. Please be sure to confirm all current rates, information and other details before planning your trip.