Overlooked Attractions at Disney's Value Resorts
by Debra Martin Koma
AllEars® Editor
Feature Article
This article appeared in the May 24, 2016 Issue #870 of ALL EARS® (ISSN: 1533-0753)
Editor's Note: This story/information was accurate when it was published. Please be sure to confirm all current rates, information and other details before planning your trip.
If you've been reading ALL EARS® over the years, you've probably read our periodic columns on observing all the little things at Walt Disney World. I'm sure many of you already do that, but perhaps some of you are thinking, "What are they talking about? What 'little things?' I'm in a hurry to get to (Splash Mountain, Mission: SPACE, Rock n' Roller Coaster, fill in thrill ride of your choice)."
This is another in the ALL EARS® occasional series designed to point out some of those little things you might have missed — some of the "stop-and-smell-the-roses" details (often free!) that help enhance the magic of a Disney trip. This week I'm updating our listing of what we like to call the "Overlooked Attractions" in Walt Disney World's Value Resort Hotels.
===============
THE LITTLE THINGS
===============
When we talk about "Overlooked Attractions" in the theme parks, we usually point to some unadvertised experience that could be easily passed by — improvisational street performers in Disney's Hollywood Studios or The Sword in the Stone in Magic Kingdom, for example. At the resorts, though, these overlooked treasures are even more subtle. Perhaps it's some detail in the architectural design, or part of the resort's Imagineering "back story." It's exactly these little things that can change the way you look at the place you're resting your bones for the night. So if you think you might want to spend some time taking things at a slower pace, have a look at some of our favorite "little things" you can find at these resorts.
Remember, just because the Value Resorts offer only the most basic of amenities for the budget-conscious, it doesn't mean there are no hidden extras lurking here and there (although, I'll admit, there aren't as many as you'll find at the pricier Deluxe resorts). They are just as richly themed as their more expensive counterparts and yield some unique surprises.
===============
ALL-STAR MOVIES/
SPORTS/MUSIC
===============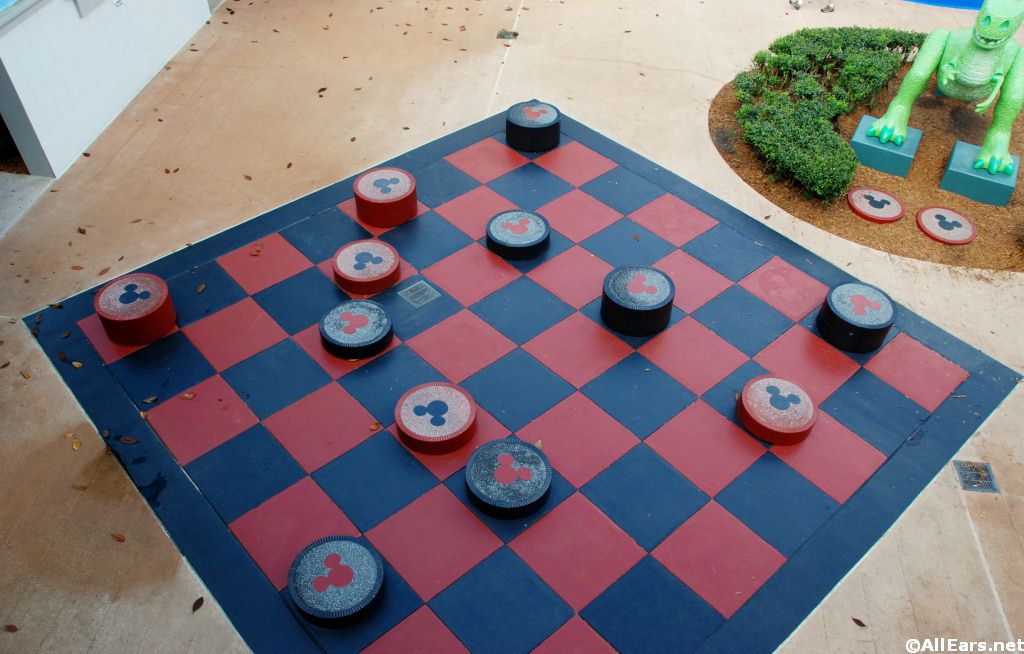 Obviously, it's darn near impossible to overlook the 35-foot-tall Buzz Lightyear that looms large overhead, or a cup of Coke that would hold 20 million 12-ounce cans of the fizzy drink, but after seeing these giant-sized icons around the All Star resorts once or twice, you might take them for granted. Don't rush by. They make for some terrific photo opportunities. And as you're walking around, you might want to contemplate some of the amazing trivia related to these icons. For example, you'd need nearly 9.5 *million* tennis balls to fill just one of the tennis ball cans you'll find at Center Court Hotel in Disney's All-Star Sports!
While you're looking at those big icons, mosey over to the Movies resort. If you count all the Dalmatians that you spot (see what I did there?), you'll come up with — guess how many? Exactly 101.
See those musical notes sprinkled across the main lobby at the All-Star Music resort? Well, unless you can read music, you might not realize that they actually represent a real tune. Which one? "When You Wish Upon A Star"! And when you head into the food court, Intermission Court, there's another famous song score over the beverage counter — appropriately it's "Be Our Guest."
In general, the All-Star Resorts are places that are just plain fun to walk around, as you try to spot all the subtle (and not-so-subtle) details that have been planted to enhance whatever the resort's theme is. I mean, how can you not appreciate the courtyard in the Touchdown section of All Star Sports, which is designed to look like a stadium, right down to the goal posts? And while you're walking around, be sure to stop and listen every now and then. There's different ambient music playing to match the theme of the area — jazz music in All Star Music's Jazz Inn section, for instance, and show tunes in the Broadway section.
===============
POP CENTURY
===============
Pop Century can be a real nostalgia trip if you take the time to look around. Take for example, The Wall, a memory lane of wall-mounted "shadow boxes" brimming with the fads, fashions, music, toys and trinkets from the 1950s, '60s, '70s, '80s and '90s. It's across from the check-in desk. You may spy, among many other things, old TV Guide magazines, Cabbage Patch Kids, a Trivial Pursuit game, a "Where's the beef?" plate from Wendy's, platform shoes, an aluminum ice-cube tray, 45 RPM records, and an 8-track player. (Kids, you'll have to ask your parents, or maybe your grandparents, what all those things are.)
When you walk out to the resort grounds, you'll find the super-sized icons that Walt Disney World value resort hotels are known for. One of the icons here in the 1950s section is a giant-sized jukebox. Be sure to read some of the song titles: "My Car's Jacked Up But My Heart's Broke Down"; "My Love Is Deep (Like A 3D Movie)"; and "She's Got A Color TV (Now She Never Looks At Me)."
One other thing to keep an eye out for: Remember the lovely cocker spaniel Lady, of Lady and the Tramp fame? You can find a special bed for her located on the side of a small building in the '50s section. It's just across from her larger-than-life icon.
Similarly, you might want to spend a few minutes checking out the 28′ x 21′ laptop in the 1980s/'90s section — you just might find a Disney reference or two.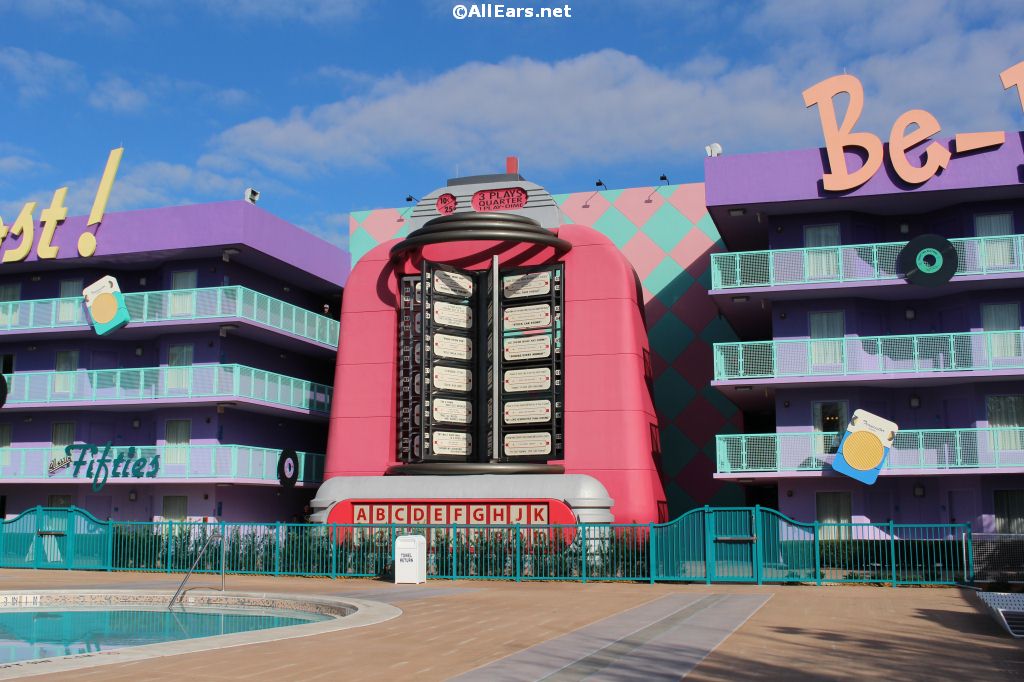 Play-Doh Pete, the artful child that adorned Play-Doh labels in the 1960s, is featured on a giant can of the popular modeling compound. Peeking out the top of the can are several Play-Doh animal creations, including a blue elephant and a yellow giraffe. See if you can spot the "thumbprints" on the elephant's ears, seemingly created by the child who modeled the Play-Doh pachyderm.
If you're taking stroll on the lake side of the resort, watch for the trivia signs posted along the way — a fun way to exercise your brain while logging your daily steps.
Finally, if you're lucky, you may stumble upon the reception area cast members doing the popular '70s dance The Hustle at random times. They don't do it as regularly as they did when the resort first opened, but I hear that they still do prove periodically that disco lives!
===============
ART OF ANIMATION
===============
The newest of the Value resorts, Art of Animation is chock full of "little things" that are easy to miss unless you're in the know.
Start with the main reception area, Animation Hall, which tells the story of the animation process in phases from pencil drawings to close-ups. If you look at the walls, you'll see the evolution of Ariel, Lightning McQueen, Nemo and Simba from early artist sketches to finished image. Don't forget to look up: the whimsical chandelier composed of 77 animation storyboards contains a hidden treasure — a Lightning McQueen sketch signed by John Lasseter, who now is the chief creative officer at Pixar and Walt Disney Animation Studios.
Most of the artwork displayed here, and throughout the resort, had never been seen by the public before it was installed here. There are plush benches set back from the wall so you can sit while you take it all in. (And if you check out the fabric on the benches, you'll find at least one hidden Mickey in the scrawled pattern.)
Pay attention to some of the details in the Landscape of Flavors food court, too. It features original art backgrounds from animated films delineating the four themed dining areas: Little Mermaid, Finding Nemo, Lion King and Cars — backgrounds, but no distracting characters.
The Big Blue Pool, in the resort's Finding Nemo section, is the largest swimming pool at Walt Disney World and has three sections – the pool, the School Yard wet play area and Squirt's Righteous Reef (play area with no water) — but here's something you might miss: if you dip down under the water's surface in the main pool area, underwater speakers periodically pipe in music and messages from Finding Nemo characters.
Here's something else you might not expect to find in the pool area: outdoor ping-pong tables. They're on the Mr. Ray side of the pool.
Don't bypass the store, the Ink & Paint Shop, thinking it will have the same old-same old Disney merchandise you see all over the World. Here you can actually buy in-room decor pieces, such as the Bruce (the shark from "Finding Nemo") shower curtain you might find in your room, or Cozy Cone lamps that are straight out of the "Cars" films. Even if you don't buy, it's fun to browse.
Attention runners: There's a scenic 1.38-mile trail that loops around Hourglass Lake.
Sure, you've seen the surrey bikes around the BoardWalk, but you can also rent these fun fringed vehicles, for two, four or six people, at the Art of Animation. You can pedal all the way over to neighboring Pop Century and back!
Cast members host family friendly activities, such as bingo, water basketball and hula hoop games, poolside each day from 1 to 7:30 p.m. The most popular events are The Big Blue Pool Party at 3 p.m. and the Righteous Dance Party Extravaganza at 4 p.m. And, as you'll find at many Disney resorts, each night a "Movie Under the Stars" is shown on a huge inflatable screen near the pool.
Out in the lobby, tucked next to the front doors, is an area where guests can learn to draw various Disney characters step-by-step. An animator is there on certain days to lead guests through the process. Classes usually start on the hour and are free. Check at the front desk for specifics.
===============
AT ALL
DISNEY RESORTS
===============
To round out this look at my favorite "overlooked attractions" at the Disney Value resorts, I wanted to remind you of a few things that you might overlook at all Disney resorts.
As I've mentioned previously in this series on "Overlooked Attractions," you should really take a few minutes to find some Hidden Mickeys — those subtly placed tri-circle Mickey-head symbols designed by the Imagineers that have been woven into theme park attractions. Not surprisingly, Hidden Mickeys have been incorporated into the design of the resorts as well. Check out www.hiddenmickeyguy.com or Steve Barrett's book "Hidden Mickeys: A Field Guide to Walt Disney World's Best Kept Secrets" for lists of where they're hiding, or ask a resort cast member — I've found that they usually know where a few are located. Pay close attention to the carpeting, bedding, curtains and shower curtains for Hidden Mickeys, too. You're sure to find them there.
Here are some goodies scattered around the Value Resorts that I know of first-hand:
— In All-Star Movies, check out the checkers in "Andy's Room" at the foot of Buzz Lightyear.
— Also in All-Star Movies, in the window in front of the gift shop next to the lobby, there's a small black classic Mickey in the lower right of a mural.
— In the Jazz Inn courtyard at All-Star Music, classic Mickey ears serve as wing-nuts holding the cymbal stands together.
— At the Art of Animation's Landscape of Flavors Food Court seating area, the painting on the bottom of a large circular light fixture includes a very faint full-body image of Mickey Mouse.
— In Pop Century, in the check-in area near the main lobby, there is a place for kids to sit and watch TV. To the right of the TV there is a fish tank painted on the wall. Find Mickey in the bubbles.
Finally, I want to be sure you all know about one of my absolutely favorite things at the resorts. It's something I would have never thought I'd look forward to when on vacation — a Wake-Up Call! If you're staying at a Disney resort use your room phone to request a free-of-charge wake-up call. When you answer the phone in the morning, a Disney character (I've had Stitch, Mickey, even Baymax!) will wish you a wonderful day. And, even better, if you want to wish someone in your group a Happy Birthday, Dial 0 and request the special birthday greeting.
These "little things" are just to get you started. There are so many other details that offer chances for funny photos or merry memories — all you have to do is take the time to look for them! What are some of yours that I may have missed?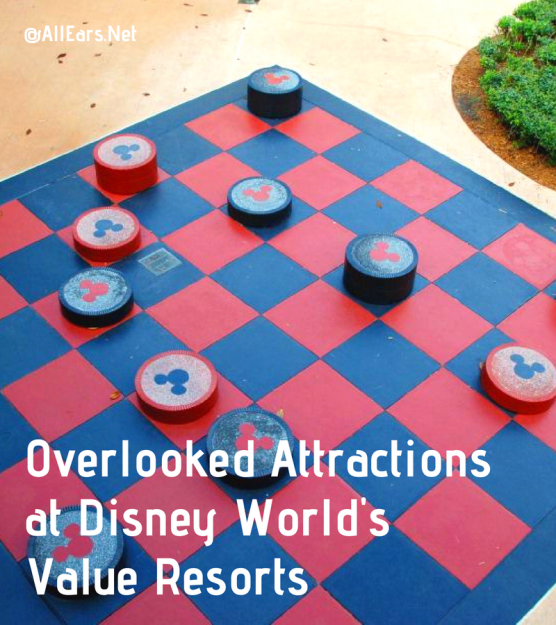 -=-=-=-=-=-=-=-=-=-=-
RELATED LINKS
Overlooked Attractions at the WDW Moderate Resorts
Overlooked Attractions at the WDW Deluxe Resorts
Lobby Collection at Pop Century Resort
Lady's Bed at Pop Century Resort
Searching Disney with Hidden Mickey Guy Steve Barrett
-=-=-=-=-=-=-=-=-=-=-
EDITOR'S NOTE: Would you like to be an AllEars® Guest Columnist? Check out our Writers' Guidelines and send your idea for a feature to AllEars® Editor Deb Koma HERE.
-o-o-o-o-o-o-o-o-o-o-o-
Editor's Note: This story/information was accurate when it was published. Please be sure to confirm all current rates, information and other details before planning your trip.