November 2017 Walt Disney World Bits and Bites
Feature Article
This article appeared in the October 31, 2017 Issue #945 of ALL EARS® (ISSN: 1533-0753)
Editor's Note: This story/information was accurate when it was published. Please be sure to confirm all current rates, information and other details before planning your trip.
= = = = = = = = = = = = = = = = =



STEP BACK IN TIME
= = = = = = = = = = = = = = = = =
by Joan L. Feder
AllEars® Contributor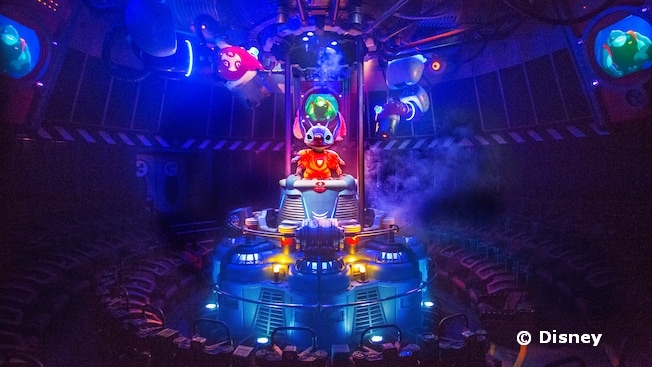 We hunt through our archives for this monthly featurette, which looks at the history of Walt Disney World and The Walt Disney Company. This month we take a long look back at Stitch's Great Escape! and the other attractions that once sat on that same location.
Yes, Stitch's Great Escape! is the fourth attraction to occupy the site at the entrance of Tomorrowland. The first, Flight to the Moon, opened on December 24, 1971. After a pre-show, guests would learn about their flight and Mission Control from Mr. Tom Morrow (an audio-animatronic figure). Passengers then took their seats on the Lunar Transport that would "fly" them to the moon. This theater-in-the-round had large viewing screens in the center of the floor and ceiling as well as on the walls. During the experience, seats would be lowered and raised, simulating G-forces caused by acceleration and weightlessness, respectively. Upon reaching the moon, guests watched an interview with an astronaut, and visited the dark side. The trip was interrupted by a meteoroid shower, which set off blaring alarms, flickering lights, and bobbing seats before the return to Earth.
Flight to the Moon was obsolete before it opened. Four moon landings had already taken place before its debut at the Magic Kingdom. The ride closed in under four years on April 15, 1975. Just a few months later, on June 7, 1975, Mission to Mars took its place. The quick turnover was possible due to the minimal changes made between the two attractions. Mr. Morrow became Mr. Johnson, who explained the workings of Mission Control. The same theater, screens and seats were used. This time the ship flew over Mars until a meteor shower necessitated the return to Earth.
In 1993, Mission to Mars closed, making way for ExtraTERRORestrial Alien Encounter which officially opened on June 20, 1995. This was an attempt by Disney to make the theme parks more edgy and therefore more popular with teenagers and young adults. Alien Encounter used the same theater-in-the-round as the prior incarnations; a tube in the center of the room replaced the floor and ceiling viewing screens. Shoulder harnesses were installed, and the seats were upgraded, allowing for higher quality sound and better special effects. In this version, a corporate demonstration of teleportation goes wrong. A terrifying alien is beamed into the theater. The power fails and the room is plunged into darkness. Glass shatters, giant wings take flight. The Alien escaped! Horrified guests felt the Alien's warm breath, the drip of his drool and even the lick of his tongue. While this attraction developed a cult following, it was too frightening for Disney's core audience. It closed on October 12, 2003.
Stitch's Great Escape! opened a little more than a year later on November 18, 2004. The same theater space and seats were reused. Many of Alien Encounter's animatronics and other show elements remained, albeit in a less scary and purportedly more comedic way. Guests were trainees at an intergalactic prison, and were shown how to handle a Level 1 criminal. Unexpectedly, the recruits are ordered to help transport an extraordinarily dangerous Level 3 prisoner. They proceeded to the high security teleportation chamber where they were harnessed into their seats for safety. The tube in the middle of the room filled with smoke, receiving the prisoner, which turned out to be an audio-animatronic Stitch. Spitting into the cannons meant to contain him, Stitch caused them to misfire and shorted out the system. The lights flashed, and the room went black. Guests could hear and feel the escaped Stitch running around misbehaving. Eventually power was restored, just as Stitch transported himself to a place called Floor-ee-dah. The screens showed cartoon Stitch climbing Cinderella Castle and running amok, as the training came to an end.
Stitch's Great Escape! was not a success. It was not terrifying enough for teens, yet it was too scary for little kids. Many felt the story was weak and not very funny or charming. In October last year it became a seasonally operated attraction and, on September 30, 2017, the sign was changed to read "Stitch's Alien Encounter Character Greeting." Right now, Stitch's Great Escape! is still included as an attraction on Disney's website, but no hours of operation are listed. There were rumors that a Wreck-It Ralph virtual reality experience was in the works, but that has not been confirmed. Hopefully it won't be long before we know more.
RELATED LINKS:
ExtraTERRORestrial Alien Encounter
= = = = = = = = = = = = = = = = =


HIDDEN MICKEYS ALERT
= = = = = = = = = = = = = = = = =
Steve Barrett, author of the Hidden Mickeys Field Guide books and webmaster of HiddenMickeyGuy.com, brings you a few Hidden Mickeys around Walt Disney World. Check them out when you can!
1. If you ride on the General Joe Potter ferryboat to or from the Magic Kingdom, look for this classic Hidden Mickey on the middle of an inside wall and below a "Life Vest Instructions" poster. It's on the port side between two doors and about 20 to 30 feet back from the front staircase (as your ferry approaches the Magic Kingdom). (Thanks to Dawson McFarlin.)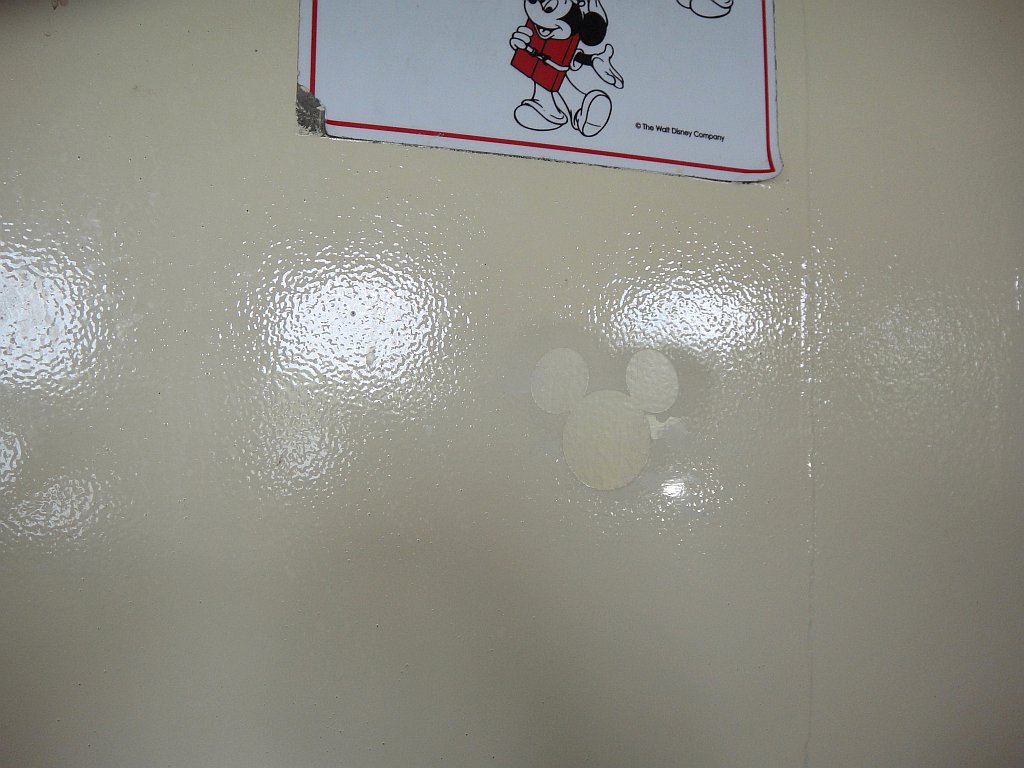 2. Inside ImageWorks at the Imagination Pavilion at Epcot, a group of circles (bubbles?) rotates in place on a wall. At times, three circles come together at the lower right to form a classic Hidden Mickey. (Thanks to Denise Morelli.)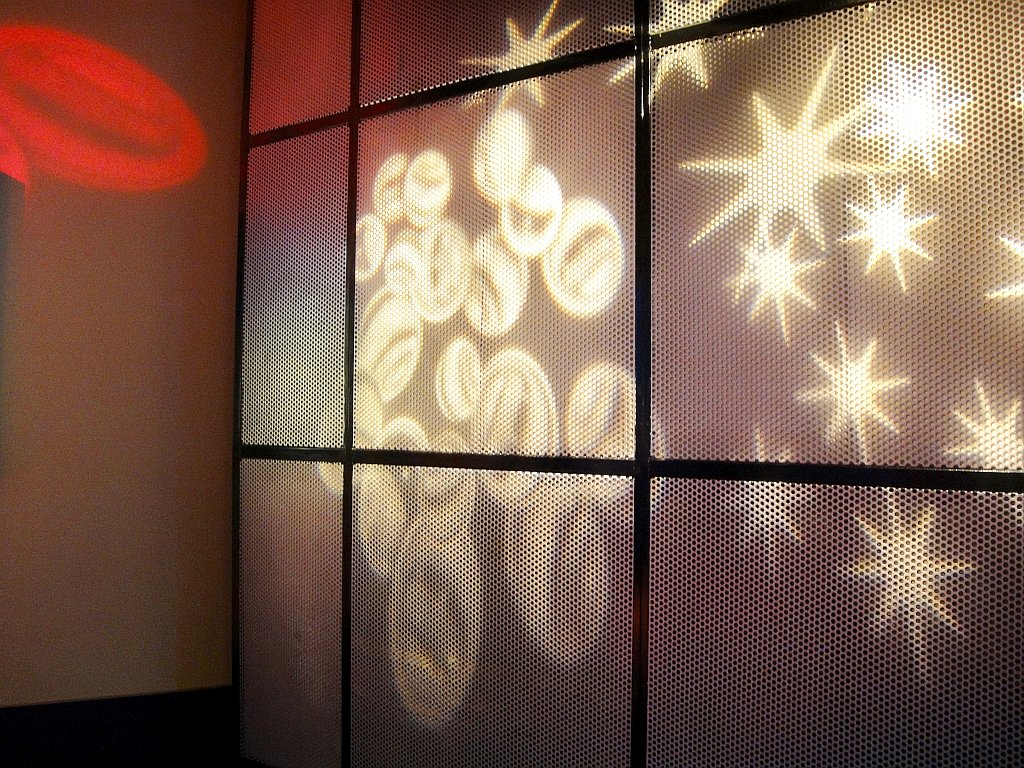 3. After meeting Mickey and Minnie at "Red Carpet Dreams" on Commissary Lane at Disney's Hollywood Studios, smile at Goofy who holds a Hidden Mickey in "The Sweethearts of Swing" poster on the wall to your left as you exit. (Thanks to Bill and Kari Middeke.)
=-=-=-=-=-=-=-=-=-=-=-=-=-=-=-=
You can find an archive of past Hidden Mickey Alerts HERE.

And check out our latest Searching Disney with Steve blog.
= = = = = = = = = = = = = = = = =



SOUVEN-EARS
= = = = = = = = = = = = = = = = =
by Kristin B. Ford
AllEars® Staff Writer

Walt Disney World celebrated Epcot's 35th anniversary on October 1 as it does best — with plenty of special food and merchandise! Our own Deb Wills, Linda Eckwerth and Deb Koma were there for the celebration, and they reported the lines for merchandise were hours long.
Many guests were seeking the collectible merchandise that sold out quickly, such as the Special Edition Figment Funko Pop! figure. Luckily for the rest of us, there is still a nice selection of items to commemorate the occasion for sale at MouseGear in Epcot, on the Shop Disney parks app and at shopDisney.com. These collections were planned to mimic merchandise designs of Epcot's opening year, which did not feature characters for the most part except Figment, and focused on a color palette of five muted tones, according to the Disney Parks Blog.
Here are the highlights of what you should still be able find now:
— T-shirts galore in both short-sleeve and long-sleeve styles in youth and adult sizes. Prices range from $24.99 to $42.99 plus tax.
— Sweatshirts ($49.99), hoodies ($42.99) and even an adult varsity jacket ($54.99)
— Figment Epcot 35th Anniversary Fan pack, which includes a pin-back badge, bumper sticker and pennant ($19.99)
— Two different graphic MagicBand 2 styles; one with Figment and one with the vintage logo ($32.99)
— An Epcot 35th Figment backpack ($75) and a wristlet ($50), both by Loungefly
— Hats ($19.99 to $21.99) and a visor ($19.99)
— Pins ($14.99) and a lanyard pouch ($8.99)
— Keychain ($9.99)
— Mugs ($13.99), a metal tumbler ($24.99), a glass ($9.99) and a mini glass ($9.99)
— A Christmas tree ornament ($16.99)
— Commemorative medallion ($29.99)
— Logo License plate ($12.99)
Happy shopping!
= = = = = = = = = = = = = = = = =


MONTHLY REMIND-EARS
= = = = = = = = = = = = = = = = =
Through Nov. 13: Epcot International Food and Wine Festival continues. In addition, the Eat to the Beat Concert Series will run the length of this year's Epcot International Food and Wine Festival.
Through Nov. 26: Disney-Pixar's Coco Family Celebration — Guests can celebrate the release of the new Disney-Pixar film "Coco" with a family-friendly fiesta that will take place at Disney Springs West Side.
Nov. 1: Last night for Mickey's Not So Scary Halloween Party!
Nov. 2-5: Disney Wine and Dine Half Marathon Weekend 2017
Nov. 3: Sneak Peek of Disney-Pixar's Coco begins at Disney's Hollywood Studios, as part of the Walt Disney Presents attraction, where artwork and character sculptures from the production will also be on display.
Nov. 9, 10, 12, 14, 16, 17, 26, 28: Mickey's Very Merry Christmas Party!
Nov. 9 – Dec. 31: Disney's Hollywood Studios' Flurry of Fun runs throughout the holiday season, including the new Sunset Seasons Greetings and the returning Jingle Bell! Jingle BAM! projection show.
Nov. 16: Pin-Trading Night — Pin Trading Night will be held from 5 to 9 p.m. in the Coronado Springs Convention Center's Veracruz A. Admission to the event is $15 per person and includes: Pin Trading Area; One edible treat; preview of upcoming pin releases; first opportunity to pre-purchase select themed pins from the Aladdin 25th Anniversary Collection via the Random Selection Process. Space is limited.
Nov. 16: Rooftop Beer Dinner, a five-course pairing featuring Crooked Can beers, at 6:30 p.m. at Paddlefish in Disney Springs. $65/person.
Nov. 19 – Dec. 30: Epcot International Festival of the Holidays
Nov. 23: THANKSGIVING DAY
Check our Events page for a full schedule of upcoming events.
-=-=-=-=-=-=-=-=-=-=-=-=-=-=-=-=-=-=-
Resort-Wide
Disney Skyliner construction: Walt Disney World is in the process of creating a new transportation system, Disney Skyliner, which will give you a bird's-eye view of the resort while traveling via gondolas. During this time, construction noise will be seen or heard throughout the resort, but noise should not be heard from Disney hotel rooms between dusk and 9 a.m.
Grand Avenue is a re-imagined area of Disney's Hollywood Studios made up of part of the former Streets of America and the Muppets Courtyard. Inspired by present-day downtown Los Angeles, Grand Avenue will be where vintage office buildings and warehouses are being converted.

Star Wars: Galaxy's Edge — Work is under way on the 14-acre Star Wars-themed land at Disney's Hollywood Studios that was announced during the 2015 D23 EXPO. It's set to open sometime in 2019.

Toy Story Land — Construction is under way for the new Toy Story Land that will open in Disney's Hollywood Studios in Summer 2018.
Hall of Presidents in Liberty Square is closed for refurbishment. A reopening date is yet to be announced.

Splash Mountain will be closed for refurbishment until November 16, 2017.
Art of Animation Resort is currently undergoing some general refurbishment projects. During this time, the resort will be in full operation with all amenities available, including dining, merchandise and recreation locations. It is possible that construction may be seen or heard, but noise should not be heard from guest rooms between dusk and 9 a.m. No end date for these projects has been announced as yet.
Through Fall 2018, Old Port Royale Food Court, Shutters at Old Port Royale, Cabana Pool Bar and Calypso Trading Post will be undergoing refurbishment. A variety of dining options will be available for all meals. Centertown will serve breakfast and dinner. Grab 'n' Go options will be available in three island markets: Aruba, Jamaica, and Martinique. In addition, buildings in Barbados and Martinique islands are being demolished to make way for new construction.
Contemporary
Chef Mickey's will be closed for refurbishment Nov. 28 to sometime in December 2017. During this time, the Chef Mickey's dining and character experience will relocate to the Convention Center at the Contemporary.
The resort rooms are undergoing a "hard goods refurbishment" that will continue for some time into 2017.
Grand Floridian Resort and Spa
Beach Pool and Beaches Pool Bar will close for refurbishment Nov. 20, 2017, through Spring 2018. The water play area and the mug refill station will still be available during this period.
Disney's Old Key West Resort is undergoing a wholesale refurbishment, which is expected to be completed in 2019.
Pop Century resort rooms are currently undergoing refurbishment, with work expected to be completed by Summer 2018. In addition, there are a number of other refurbishment projects going on around the resort, but all amenities are available.
The Yacht and Beach Club Convention Center is undergoing expansion and renovation now and throughout 2018. No end date has been specified.
Resort room refurbishment is taking place through late 2017.

Captain's Grille reopening has been delayed until November 26. For now, the Captain's Grille breakfast and lunch menus are being served in the Yachtsman Steakhouse at the Yacht Club. There will be no Captain's Grille dinner service. When Captain's Grille reopens, it will be known as the Ale and Compass Restaurant.
Run-off Rapids is closed for refurbishment. No reopening date has been announced.
Portobello Country Italian Trattoria at the Disney Springs Landing will be closed for refurbishment until sometime in Fall 2017. When it reopens, it will be known as Terralina Crafted Italian.
ESPN Wide World of Sports Complex
ESPN Wide World of Sports has teamed up with the nation's top cheerleading organization, Varsity Spirit, to create a new state-of-the-art cheerleading and dance team competition venue, the first in the world specifically designed for cheerleading and dance team competitions. The venue will include a flexible design for one large competition space that can be set up for as many as four competition areas. Additional areas are being tailored for warm-up and practice, along with areas for judges and officials. With the ability to seat more than 8,000 guests, plus performance and warm-up space, the new multi-use sports and entertainment venue will also have the ability to host six regulation basketball courts, six regulation volleyball courts or concert configurations. There will be concessions throughout the building, and an additional box office and entry to the complex. Construction is ongoing until further notice, with intermittent overnight lane closures, lane shifts, traffic congestion and noise along Osceola Parkway/Victory Way.
Blizzard Beach is closed for its annual refurbishment through Jan. 7, 2018.

Winter Summerland miniature golf is closed for refurbishment through Nov. 11, 2017.
-=-=-=-=-=-=-=-=-=-
A complete list of known rehabs can be found HERE.
= = = = = = = = = = = = = = = = =


MAGICAL MOMENTS
= = = = = = = = = = = = = = = = =
Each month, we like to share a few heart-warming Magical Moments brought to us by the amazing Disney cast members!
Ben Sargent: It was a hot day at Animal Kingdom, so to take a break from the heat/sweat/crying we ventured on the train to Rafiki's Planet Watch. Upon arrival the two little ones had calmed after the train ride and we ventured inside. Once we entered, our 3-year-old couldn't believe his eyes. It was Doc McStuffins! We got several pictures and everyone was ecstatic! But as we ventured through the building, Doc kept coming back to our 3-year-old! The two of them winked, high-fived, and hugged for a good 10 minutes as the rest of our party checked everything out. We've been home for almost a month and our 3-year-old still talks about it. Thanks, Doc!
Kelli Heintz: My husband and I recently enjoyed a short stay at the Grand Floridian and a wonderful 10-night Disney cruise. This was our first trip without our son, who is now in the Navy. As we pulled up to the check-in I began to cry — it finally hit me that he was not with us. In fact, he was home on leave and would be heading to his first duty station (Japan) the day we were to board the Fantasy. I walked up to the concierge kiosk with tears streaming. The poor cast member was quite taken aback (I'm sure most people are not crying when they check in). He asked if I was OK and I explained the situation. He quickly asked if we were celebrating anything and I said yes, our 30th wedding anniversary. At that point my husband arrived and we went to our room. The next evening (after a soaking wet trip to Epcot) we opened to door to our room to find amazing treats at every turn! From a beautiful picture frame, fruit platter, wine chilling, and coffee mugs (plus more). We searched for a card with no luck. I went to the concierge desk and they let us know that it was a gift from the resort to help us celebrate our anniversary. Needless to say were WOWED! We had a wonderful trip. It was different without our son, but it was great. He arrived at his duty station and will be meeting his ship soon. I've warned him it won't be like the Disney Cruise Line…
Lori DeWall: Back in March, my two daughters and I went on a last-minute trip to Disney World over spring break. We are DVC members and I was able to get a room at Old Key West Resort. My oldest daughter was about to graduate from high school, and had enlisted in the US Marine Corps. She was leaving for boot camp at the end of June, so we don't know when the next trip together will be. I mentioned this during a phone call, and when we checked in, the cast member said that they would do something special for her. The next day after a full day at the parks, we arrived back in our room to find a beautifully packaged certificate signed by Mickey Mouse (the CEO — Chief Ear Officer) and a medal celebrating her "Commitment to our Country." The gift was signed from "Your Old Key West Family." My 18-year-old daughter said that it was the coolest thing she'd ever seen! As our family enters a new chapter in our lives, it's nice to see that Disney recognizes and appreciates the military. The three of us had a fantastic trip together, and I am so thankful that we were able to spend this time together. This was a very special memory that we will all treasure.
-=-=-=-=-=–=-=-=-=-=-=-=-=-=-=
We just bet you have a story to tell about an unforgettable moment during your Disney vacation! Please send your favorite memory for inclusion in a future AllEars® via our Contact Us page. Thank you all for sharing!
-o-o-o-o-o-o-o-o-o-o-o-
Editor's Note: This story/information was accurate when it was published. Please be sure to confirm all current rates, information and other details before planning your trip.