March 2018 Walt Disney World Bits and Bites
Feature Article
This article appeared in the February 27, 2018 Issue #962 of ALL EARS® (ISSN: 1533-0753)
Editor's Note: This story/information was accurate when it was published. Please be sure to confirm all current rates, information and other details before planning your trip.
= = = = = = = = = = = = = = = = =



STEP BACK IN TIME
= = = = = = = = = = = = = = = = =
by Joan L. Feder
AllEars® Staff Writer
We hunt through our archives for this monthly featurette, which looks at the history of Walt Disney World and The Walt Disney Company. This month, we travel back 35 years to visit the attraction formerly known as Journey into Imagination.
Turning the abstract concept of imagination into a concrete experience presented Imagineers with a difficult task. Plans for an abandoned Disneyland project called Discovery Bay included a bearded scientist who bred dragons. This was the inspiration for the characters that would inhabit a new Epcot attraction. That scientist became Dreamfinder, a full bearded redhead, with a long blue coat and top hat. Figment, the adorable purple dragon, soon followed. The project took more time than expected, so while the Imagination pavilion opened with Epcot on October 1, 1982, the Journey into Imagination ride did not debut until March 1983.
The ride began with guests boarding their purple Omnimovers to the catchy tune "One Little Spark", written by the Sherman Brothers (creators of many earworms, including "it's a small world"). Dreamfinder, on his flying machine, explained his mission to travel the universe seeking anything that sparks new ideas. He uses some of his finds to create the irrepressible Figment with "a dash of childish delight." This classic dark ride then followed Figment on his journey to discover ways to use his imagination. The white Art room featured an origami carousel and Dreamfinder painting with fiber optics. The dark and haunting Literature scene found Dreamfinder typing a mystery story, while Figment used alphabet blocks to transform the shadow of a bat into a cat and back again. In Performing Arts, Figment was ready to hit the stage dressed as Dreamfinder. The Science and Technology scene showed crystals growing and seeds germinating using time-lapse photography. In the finale, Figment envisioned himself as everything from a mountain climber to a superhero. Guests exited through the ImageWorks, where they could try their hand at various activities.
The attraction closed on October 10, 1998 for renovation, and reopened a year later as Journey Into YOUR Imagination. This dark ride through the "Imagination Institute" was hosted by Dr. Nigel Channing (Eric Idle). Dreamfinder was removed from the attraction and Figment was left with a few cameos. The ride was 40 percent shorter and so disliked that it lasted just over two years before closing again.
The current version, Journey Into Imagination with Figment opened in June 2002. Figment is back but gone is his childlike nature; he is more of a prankster as he and Dr. Channing take guests on a tour of the Imagination Institute. In a tip of the top hat to Figment's old companion, an Institute office door bears the name "Dean Finder." While this version is better than the last, it pales in comparison to the original. Now more than 15 years old, the attraction is ready for another update. With any luck it will regain more of its initial charm.
RELATED LINKS:
Walt Disney World Chronicles: Dreamfinder
Read Ron Schneider's account of his experiences as Dreamfinder in his book, "From Dreamer to Dreamfinder: A Life and Lessons Learned in 40 Years Behind a Name Tag." It's available in the AllEars.Net Amazon Store HERE.
You can read AllEars.Net's review of Schneider's book HERE.
= = = = = = = = = = = = = = = = =


HIDDEN MICKEYS ALERT
= = = = = = = = = = = = = = = = =
Steve Barrett, author of the Hidden Mickeys Field Guide books and webmaster of HiddenMickeyGuy.com, invites you to search for the following Hidden Mickeys at Walt Disney World.
1. Rock 'n' Roller Coaster Starring Aerosmith, Disney's Hollywood Studios. Near the loading dock, an instructional safety video about the roller coaster plays continuously overhead on several screens. After a car speeds away, a tiny, black classic Mickey floats across the screen with other black smoke exhaust circles. (Thanks to Kelsey Knee, and Matt Mellarkey.)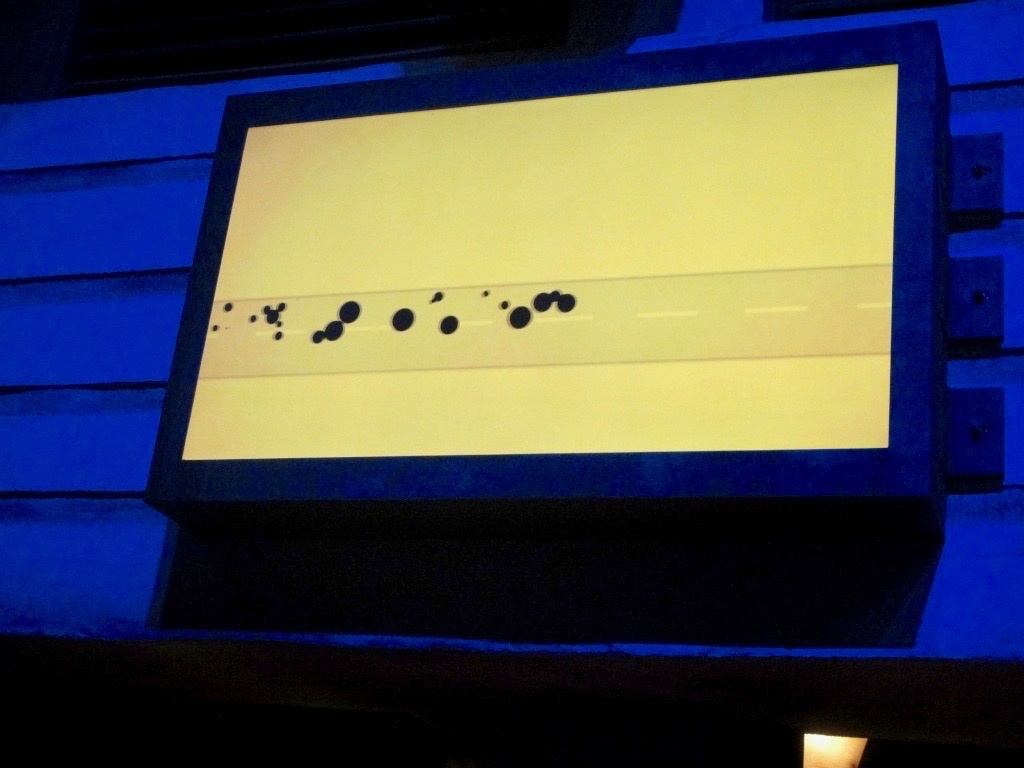 2. Star Wars Launch Bay, Disney's Hollywood Studios. In the second room of the queue to meet BB-8, a dark classic Mickey is on the rear wall near the ceiling, above an exit sign and behind a light fixture. (Thanks to Adrian Vasquez.)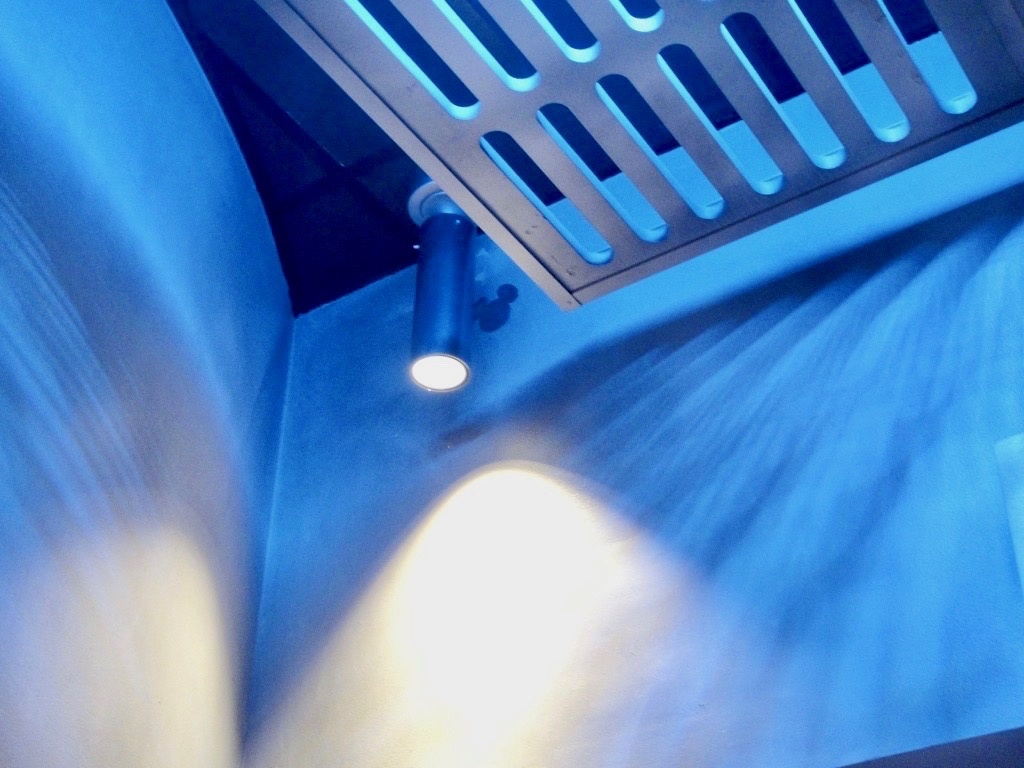 3. Kali River Rapids, Disney's Animal Kingdom. Along the entrance queue, in a small museum room to your right, a dark classic Mickey is on the back of a light brown boot, which is high on a shelf near the ceiling in the middle of a collection of boots. To find it, walk through the first door to the museum and look up behind you to the shelf. (Thanks to Tim Devine, and Anthony and Kristin Neglia.)
=-=-=-=-=-=-=-=-=-=-=-=-=-=-=-=
You can find an archive of past Hidden Mickey Alerts HERE.
And check out our latest Searching Disney with Steve blog.
= = = = = = = = = = = = = = = = =



SOUVEN-EARS
= = = = = = = = = = = = = = = = =
by Kristin B. Ford
AllEars® Staff Writer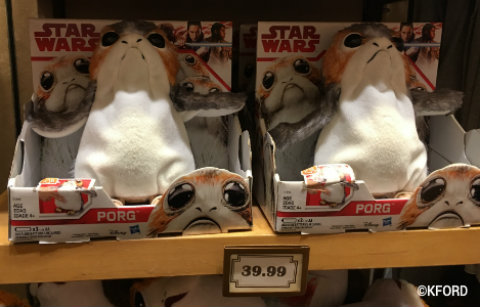 If you're looking for Star Wars merchandise, the Disney Parks can be a great resource — and not just for ride-themed apparel. There is a huge selection of all different specialty items, including those from the latest films.
With the release of The Last Jedi in December came a new collection of souvenEARS at Walt Disney World. Here's a look at some of what you will find in the theme parks, on the Shop Disney Parks app and ShopDisney.com.
Of course, there are T-shirts galore, but some of the more unusual apparel comes from the Her Universe clothing brand by Ashley Eckstein. (She's the voice of Ahsoka Tano in "Star Wars: The Clone Wars," "Star Wars Rebels" and "Star Wars Forces of Destiny.") Look for a Kylo Ren dress (marked down to $44.99), a stormtrooper sweater ($59.99) and a Porgs skirt (marked down to $44.99).
Speaking of Porgs: "The Last Jedi" introduced us to the adorable Porgs and the BB-9E droid, and there is plenty of merchandise to cuddle and "ooh" and "ahh" over. From Porg plush animals that move ($39.99) and mugs ($19.99) to stationary BB-9E beanbags ($11.99) and droid factory kits ($29.99), Disney Parks have you covered.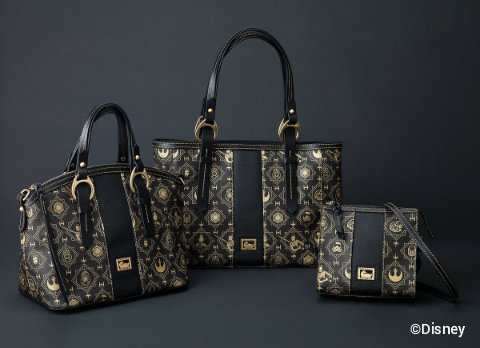 At Hollywood Studios and the Magic Kingdom, Star Wars fans can make their own name badges ($9.99) and choose from five different designs, including "The Last Jedi" and "Porgs."
Those who like the popular designer brands will find a special "The Last Jedi" pattern on three Dooney & Bourke handbags ($178 to $308). Alex and Ani has a collection of Star Wars bangles. Three are on sale for half off ($19.98) right now: Jedi Order, Imperial Crest and Alliance Starbird designs.
Collectors will find pin sets for the film ($29.99) and more unusual these days, 11 Vinylmation figures from The Last Jedi ($14.99).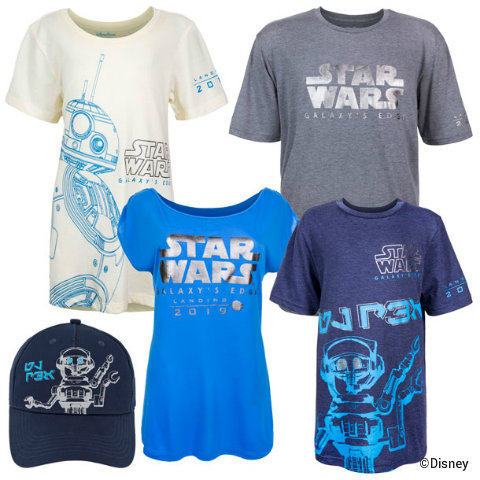 And there is much, much more. You can even find some of the first merchandise for Star Wars: Galaxy's Edge, which does not open at Walt Disney World and Disneyland until 2019. There are T-shirts ($24.99 to $34.99), including a passholder exclusive; pins ($16.99) and a lanyard ($19.99); a patch ($7.99); hats ($21.99); a travel tumbler ($22.99); and artwork ($39.99 to $195). The new logo is on many of the pieces.
Happy Shopping!
= = = = = = = = = = = = = = = = =


MONTHLY REMIND-EARS
= = = = = = = = = = = = = = = = =
Through May 28: Epcot International Flower and Garden Festival. See "News Bites" below for more details.
Through March 24: Atlanta Braves Spring Training at ESPN Wide World of Sports Complex.
March 9-11: "STEVE": Filming at Epcot — Steve Harvey will bring his show to Epcot for filming. The shows are set to air March 19-23.
March 16-18: The 2018 Mighty St. Patrick's Festival will be held at Raglan Road Irish Pub & Restaurant in Disney Springs. Award-winning bands are lined up for three nonstop days of live music, Irish dance, first-rate food and fun. Reservations can be booked by calling 407-938-0300. The full entertainment schedule will be posted at raglanroad.com.
Check our Events page for a full schedule of upcoming events.
-=-=-=-=-=-=-=-=-=-=-=-=-=-=-=-=-=-=-
Resort-Wide
Disney Skyliner construction: Walt Disney World is in the process of creating a new transportation system, Disney Skyliner, which will give you a bird's-eye view of the resort while traveling via gondolas. During this time, construction noise will be seen or heard throughout the resort, but noise should not be heard from Disney hotel rooms between dusk and 9 a.m.
Flights of Wonder closed December 31 to make way for a new show, UP! A Great Bird Adventure, which is set to open at Disney's Animal Kingdom on April 22, 2018. This new experience will offer guests the chance to see Senior Wilderness Explorer Russell and his furry friend Dug from the Disney-Pixar film UP! as they discover species of birds from around the world in their newest adventure at the Caravan Theater.
Star Wars: Galaxy's Edge — Work is under way on the 14-acre Star Wars-themed land at Disney's Hollywood Studios that was announced during the 2015 D23 EXPO. It's set to open sometime in 2019.

Toy Story Land — Construction is under way for the new Toy Story Land that will open in Disney's Hollywood Studios on June 30, 2018.
Liberty Square Riverboat closed for refurbishment on January 8, 2018. No reopening date has been announced.

Pirates of the Caribbean in Adventureland is closed for refurbishment until March 18, 2018. During this refurbishment, the well-known "Redhead" scene will be updated. In the new scene the "Redhead," who is up for auction in the ride's current Mercado scene, will become one of the buccaneers helping relieve the townsfolk of their goods and money.

Cinderella's Royal Table is closed for refurbishment from February 28 through March 2, 2018.
Kringla Bakeri og Kafe in the Norway Pavilion has changed its refurbishment dates. It closed February 26, 2018 (instead of February 4), so that seating and overall shop space can be enlarged. While it's closed, a temporary kiosk will open to sell the spot's most popular items (including School Bread). No reopening date has been announced.
Duck Pond Pool is closed for refurbishment through Spring 2018.

The entire resort is undergoing a major room refurbishment that will continue until late 2018.
Calypso Pool is closed for refurbishment until early March 2018.
Art of Animation Resort is currently undergoing some general refurbishment projects. During this time, the resort will be in full operation with all amenities available, including dining, merchandise and recreation locations. It is possible that construction may be seen or heard, but noise should not be heard from guest rooms between dusk and 9 a.m. No end date for these projects has been announced as yet.

Big Blue Pool closed for refurbishment in mid-January 2018. A reopening date has not been announced.
Through Fall 2018, Old Port Royale Food Court, Shutters at Old Port Royale, Cabana Pool Bar and Calypso Trading Post will be undergoing refurbishment. A variety of dining options will be available for all meals. Centertown will serve breakfast and dinner. Grab 'n' Go options will be available in three island markets: Aruba, Jamaica, and Martinique. A new dining location, Spyglass Grill, is set to open in Trinidad South in Spring 2018. It will serve breakfast, lunch and dinner, offering a variety of items, including hot breakfast entrees, sandwiches, salads, tacos and beverages.

In addition, buildings in Barbados and Martinique islands are being demolished to make way for new construction, the Disney Riviera Resort.
The resort room "hard goods refurbishment" at Coronado Springs has been extended to continue throughout summer 2019.
Disney's Old Key West Resort is undergoing a wholesale refurbishment, which is expected to be completed in 2019.
Pop Century resort rooms are currently undergoing refurbishment, with work expected to be completed by Summer 2018. In addition, there are a number of other refurbishment projects going on around the resort, but all amenities are available.

Bowling Pin Pool is closed for refurbishment through May 2018.
Rooms at the resort are undergoing refurbishment, including a soft goods refurbishment, through late Spring 2018.
The Yacht and Beach Club Convention Center is undergoing expansion and renovation throughout 2018. No end date has been specified.
Portobello Country Italian Trattoria at the Disney Springs Landing closed last year. Terralina Crafted Italian is due to open on that site in Spring 2018.

World of Disney at Disney Springs Marketplace will be "reimagined" this year, starting in mid-February. Work will be completed in phases so guests can continue shopping during construction. Shops in Town Center at Disney Springs, such as Ever After Jewelry Co. or The Disney Corner carry select merchandise during renovations.
Typhoon Lagoon is closed for its annual refurbishment until March 18, 2018.
-=-=-=-=-=-=-=-=-=-
A complete list of known rehabs can be found HERE.
= = = = = = = = = = = = = = = = =


MAGICAL MOMENTS
= = = = = = = = = = = = = = = = =
Each month, we like to share a few heart-warming Magical Moments brought to us by the amazing Disney cast members!
Tracy Wulf-Uhrie: Our magical moment does not involve any special perks or being gifted something from Mickey. It came from just the simple kindness of a cast member. My son decided that he wanted to celebrate his 10th birthday at Disney World. He planned his entire celebration, from hotel to Fast Passes and even all of our dining reservations. He decided for his birthday dinner he wanted to eat at the Skipper Canteen. When we were checking in for dining reservation Troy, the host, noticed my son's birthday pin and wished him a happy birthday. After Troy's birthday wish, my son turned to me and said,"16." (All day my son had been keeping a count of how many random people wished him a happy birthday and Troy was number 16.) I explained this to Troy, who smiled and said he was sure they could get that number higher at the Skipper Canteen. Turns out, Troy told everyone working at the restaurant about my son and his birthday count. Randomly staff would pop by our table to say Happy Birthday. At one point, Troy even lead a parade of six cast members to our table for them to all stop and wish my son a happy birthday. It was such a simple gesture that completely made my son's day.
Vince W.: Our stay at the Grand Floridian was just plain fantastic! We were lucky to receive a room upgrade with a beautiful view of the lagoon and the Magic Kingdom and the service and the treats are beyond compare. Our dinner on Saturday night was at Boma. Our waiter gave us two chocolate cupcakes for our 45th anniversary. The only way to describe those cupcakes would be "Death by Chocolate!" On our first night I ordered a bottle of wine and some chocolate-covered strawberries to surprise my wife and to our surprise there were some complimentary chocolates from the Grand Floridian. These chocolates were to die for! On Monday afternoon we received another surprise. A bottle of sparkling wine and another plate of chocolates were delivered compliments of the Grand Floridian for our anniversary. These chocolates are the best that my wife and I have ever tasted! My compliments to the Grand Floridian. On our third night we received a true Magical Moment. When we returned from dinner we found in our room a bottle of sparkling wine, two crystal wine glasses, one with Minnie engraved around the top and my wife's name engraved on the face of the glass and one with Mickey around the top and my name engraved on the face of the glass. Everything was sitting on a tray of rose petals along with a Walt Disney World photo album. All I can say is thank you, Walt Disney World. We were treated like royalty.
Kristy Cooper: In 2009 about 14 of us, including family and friends, went to Disney World. I made all the kids backpacks with their names on them. They kept their drinks, snacks and an autograph book in it. The autograph book is something we cherished. We worked so hard standing in long lines to get them. My 15-year-old daughter was helping my 6-year-old carry his backpack. After we rode Peter Pan, I asked my daughter where his backpack was. We all panicked and ran back to the ride. It wasn't there. I was so upset and began to cry. They told us to keep checking back to see if anyone turns it in. The cast member we talked to on the phone told us if we didn't get our autograph book back, they would have every character sign us a new one. I cried harder! The next day when we called back, they said they had found it. It had my daughter's spending money, along with the autograph book. Everything was there. This was just one trip where we were touched by the magic.
Bobbie Young: My Magical Moment happened in Mickey Star Traders. I was looking for a replacement keychain as mine had just broken and we were headed home soon. I had chosen one, but wasn't quite sure so I started to leave the store. As I left, a wonderful cast member handed me a bag with the new keychain in it. We had spoken about how sometimes you like something but then can't ever find it again. She didn't want me heading home without a new one. What a sweetheart. She made my day with a bit of Disney Magic.
-=-=-=-=-=–=-=-=-=-=-=-=-=-=-=
We just bet you have a story to tell about an unforgettable moment during your Disney vacation! Please send your favorite memory for inclusion in a future AllEars® via our Contact Us page. Thank you all for sharing!
-o-o-o-o-o-o-o-o-o-o-o-
Editor's Note: This story/information was accurate when it was published. Please be sure to confirm all current rates, information and other details before planning your trip.