I've Heard that Voice Before: Bret Iwan
by
Joan Feder
Feature Article
This article appeared in the September 17, 2019 (#1043) edition of ALL EARS®
Editor's Note: This story/information was accurate when it was published. Please be sure to confirm all current rates, information and other details before planning your trip.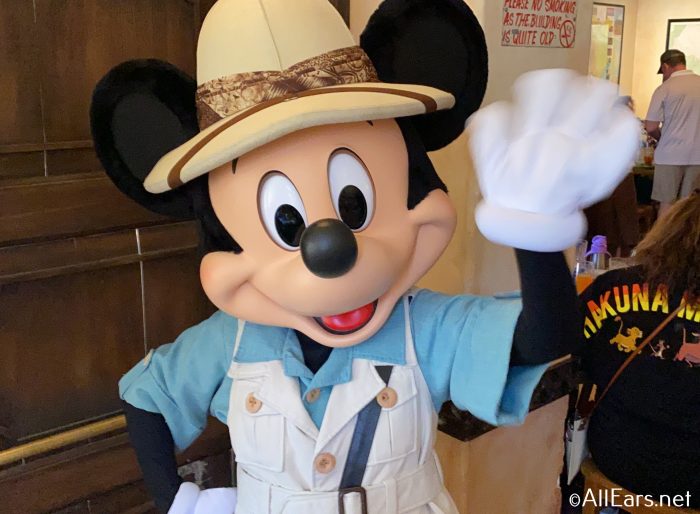 Lots of folks can imitate Mickey Mouse, but over the years he has only had four official voice actors. Let's take a look back at this history, with a focus on the career of Bret Iwan, who has been speaking for Mickey for the last 10 years.
Did you know that Mickey Mouse did not speak until his ninth cartoon? It's true! In his first eight appearances, Mickey whistled, laughed and blew raspberries, but did not say a word. It was not until 1929's The Karnival Kid that Mickey said, "Hot dogs! Hot dogs!" His voice was provided by none other than Carl Stalling. That's right, not Walt Disney. Stalling was the studio's first music director; he later went to Warner Bros. and wrote the scores for Looney Tunes and Merrie Melodies for 22 years. Walt Disney did, in fact, voice a character in The Karnival Kid, but in this case, he played Minnie Mouse! After that Disney spoke for Mickey for the next seventeen years.
Walt became too busy running the studio to continue voicing Mickey. He turned the job over to Jimmy MacDonald, who oversaw Disney's sound effects department. When MacDonald retired 30 years later, his associate Wayne Allwine took the role. Allwine worked with Mickey the longest, providing his voice for 32 years, until his untimely passing at the age of 62. It was then that Mickey's current voice actor, Bret Iwan, took the reins.
Bret Iwan was born in Pasadena, California, on September 10, 1982. He was a devoted Disney fan. Just getting his parents to drive him past Disneyland was a special treat. Bret always wanted to be an artist, and more specifically, an animator. Classic Disney films were his inspiration. He practiced his skills by learning to draw Mickey Mouse. At the age of 6 or 7, he wrote a letter asking for a job at the Disney Studios. He offered to do whatever they would let him, even if it was sharpening pencils! While they didn't hire him, he was thrilled to get a reply that explained how to pursue his goal of becoming an artist.
Bret and his brother used to act out the show Fantasmic! when they were kids. That was when Bret first realized that he could sound like Mickey Mouse. When he got older, he used this as a party trick to entertain his high school and college friends.
In 2000, Bret finished high school and continued to pursue his dream of working for Disney, as either an animator or an Imagineer. He attended the Ringling College of Art and Design, graduating in 2004. He got a job drawing greeting cards for Hallmark in Kansas City (the same town where Walt Disney got his start as a professional artist). Just before Bret's 5th anniversary, he got an intriguing email from a college friend who worked at Pixar.
According to the email, Disney was searching for an understudy to work with Mickey's voice actor, Wayne Allwine. The email was sent out to Disney and Pixar employees asking for applications. At first, Bret thought this was an elaborate hoax. He had been at home renovating his bathroom when he got the email. Earlier that day, Bret had been kidding around talking to his dog as Mickey. He thought maybe one of his friends had heard him playing with Lilly Belle (named after the train at Disneyland), and that the email was a prank. Spoiler alert: it wasn't.
The first audition was done by phone. Candidates were sent MP3 files. Included were clips of Walt Disney's version of Mickey in the Brave Little Tailor and Wayne Allwine as Mickey in the Three Musketeers. Applicants were encouraged to take their time, practice and phone in their best match to those performances. Bret rehearsed for a day or so, got impatient, and recorded his audition.
Several weeks later, Iwan got a call asking him to go to Los Angeles and try out in person. It was Bret's first time in a recording studio, and he was terrified. This second audition was 45 minutes long. Until then, Iwan had never attempted to do Mickey's voice for that length of time. He wasn't sure that he could. To make matters worse, it was a cold reading, meaning that Iwan had to perform the script with little or no chance to practice. It was nerve-wracking but Bret made it through.
The same day, Wayne Allwine was hospitalized. He passed away shortly thereafter, on May 18, 2009. It wasn't long before Disney got in touch with Bret. They were not ready to offer him the role of Mickey but wanted him to come back out to California and give it a try. On his second day of recording, Bret's dream came true — he got a job working at Disney. He was following in Walt's footsteps again, this time as the official voice of Mickey Mouse.
Bret was disappointed that he wouldn't be able to learn more about playing Mickey from Wayne Allwine. But in developing his Mickey, Bret relied on a bit of advice that Allwine got from his mentor Jimmy MacDonald. According to Allwine, "The main piece of advice that Jim gave me about Mickey helped me keep things in perspective. He said, 'Just remember kid, you're only filling in for the boss'."
Iwan's first assignment was recording additional dialogue for the Animal Kingdom's Adventurers' Celebration Gathering that Allwine had almost finished. Bret's first full performance as Mickey was for the 2009 show Disney On Ice: Celebrations. Since then he has worked on all things Mouse from television to toys.
For Disney Junior, Bret recorded the final seven years of Mickey Mouse Clubhouse, as well as finishing the dialogue for season three. He currently stars in Mickey and the Roadster Racers, soon to be renamed Mickey Mouse: Mixed-Up Adventures.
Iwan's voice has also been utilized all over the Disney parks. He was the voice of talking Mickey that used to do meet and greets with guests at Disneyland and the Magic Kingdom. On the Tomorrowland Transit Authority PeopleMover, as you pass by Mickey's Star Traders, you'll hear him say "That's right, it's outta this world!" It is also his voice that you hear during stage shows like Bret's favorite, Fantasmic!
Bret has performed Mickey for merchandise as well. For video games, he recorded the English version of Mickey for Kingdom Hearts, beginning with Kingdom Hearts: Birth By Sleep. Additionally, he is Mickey's voice actor in both the Epic Mickey games.
In an unusual twist, Iwan is the official but not exclusive voice of Mickey. In the 2013 short, Get a Horse!, Mickey's voice comes from the past. Instead of taping new lines, archival recordings were used. Most of the dialogue was provided by Walt Disney, with one line by Jimmy MacDonald.
Similarly, Bret Iwan does not voice Mickey in the Mickey Mouse cartoons that have been appearing on the Disney Channel since 2013. These shorts are fast-paced adventures, that are more akin to the cartoons of the 1930s. The producer wanted Mickey to have an edgier sound. Actor Christopher Diamantopoulos was chosen to speak for Mickey in these films. A new attraction at Hollywood Studios, Mickey and Minnie's Runaway Railway, promises to put guests inside one of these shorts. As a result, Chris Diamantopoulos will be providing the voice of Mickey in this upcoming ride as well.
In addition to his voice work, Bret Iwan has been able to fulfill his dream of becoming a Disney artist. He was introduced to the Disney Fine Art program by another old college friend, Tim Rogerson. Iwan has created several portraits of Mickey, merging his work as a voice actor with his life as an artist and illustrator. Outside the world of Disney, Iwan runs a design company which focuses on the vintage restoration of old buildings.
Bret Iwan's path may not have been the one he expected, but he made it to his goal. The journey has taken him from playing Fantasmic! as a kid to performing in it as an adult. He has been an integral part of the Disney family for a decade, voicing their most beloved character and corporate symbol. We can't wait to hear what he'll do next while he's "filling in for the boss"!