Heimlich's Chew Chew Train Flik's Fun Fair Disney's California Adventure
"a bug's land" and all attractions within it closed as of September 5, 2018. The area is slated to become the new Marvel Super Heroes land, scheduled to open in 2020.
Introduction | Attraction | Dining | Shopping | Interesting Facts
INTRODUCTION
Experience the sights and smells of Heimlich the caterpillar's favorite snacks as you take a slow ride aboard this hungry caterpillar's train.
ATTRACTION
Heimlich's Chew Chew Train completes its route in 1 minute and 35 seconds. The track is smooth and flat and slowly winds through a watermelon, a box of animal crackers, and past other delicious treats. There are nine seating sections to Heimlich, each will accommodate up to two adults. Passengers must wear a seatbelt.
TOURING TIPS
The queue is wheelchair/ECV accessible, but guests using ECVS must transfer to the vehicle. Guests in wheelchairs may remain in their chair and board a specially designed vehicle.
The wait for this attraction tends to be under 10 minutes.
The closest restroom is next to Flik's Fliers – in a "tissue box"!
KIDS AND CHARACTERS
There's no height requirement for this attraction.
Flik and Atta make appearances in front of the attraction It's Tough to be a Bug in a bug's land.
PLACES TO DINE
There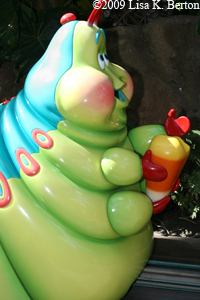 are several snack carts in Flik's Fun Fair, but otherwise the closest dining is in the Bountiful Valley area.
Bountiful Valley Farmer's Market– Chicken and fish strips, salads. Outdoor seating at picnic tables.
Sam Andreas Shakes is the place for cool ice cream shake refreshment on a hot CA day. Hold the earthquake.
Restaurants At A Glance
Menus From the Disneyland Resort
PLACES TO SHOP
P.T. Flea Market, an all things pin collecting-related shop is located to the right of the entrance to A Bug's Land.
INTERESTING FACTS
In the movie, "A Bug's Life", Heimlich's transformation into a butterfly leaves him with wings that are too small to carry him.
The watermelon is very juicy so you might get a little wet.
Pixar animator Joe Ranft performs the voice of Heimlich.
If you have comments or tips to share with others about touring Disney's California Adventure, please email us. Thank you.